The weather might be changing but the momentum in our showroom is certainly not. Since our last post Bruce has waved goodbye to a number of cars, some of which were sold to clients before reaching the website. If you are looking for a particular classic car, or have a car to sell, once again we urge you to get in touch. The market is vibrant for both buyers and sellers.
New In Stock… Return of the SportLine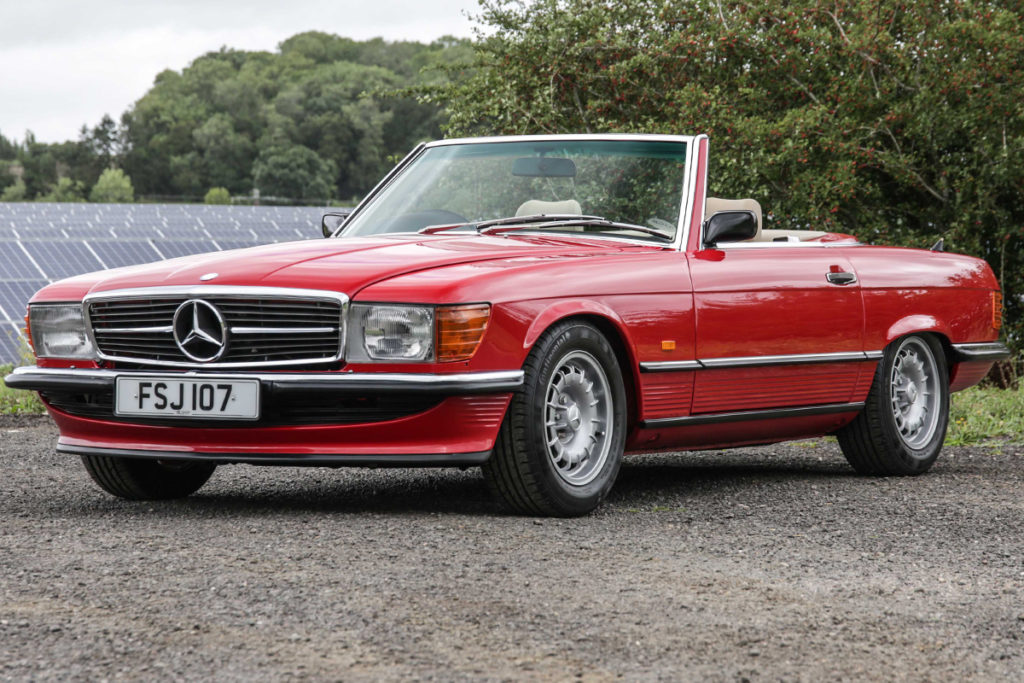 Built by SLSHOP and sold to a private collector, our original SportLine is now available to buy. This widely documented R107 SL became an internet sensation, with more than 100,000 YouTube views. A pure driver's car and an SL like no other.
Click here to view this 300SL SportLine in our showroom
New In Stock… White with Black 280SL Auto Pagoda
Readers familiar with our articles will know that we take Pagoda restoration and set-up very seriously. A Pagoda restoration cannot be rushed, and must be done correctly, with the right approach. This car was owned and enjoyed by the same gentleman for a large portion of it's life, and was by no means in bad shape when the restoration began. The story goes that the owner had sold a business, and told the restorer to do everything possible to make the car perfect. We won't disclose what was spent, but needless to say it wasn't far off the asking price… Which has already been paid. Apologies to interested parties, this car has already sold.
Click here to view this 280SL Pagoda in our showroom
New In Stock… Silver with Red 280SL Auto Pagoda RHD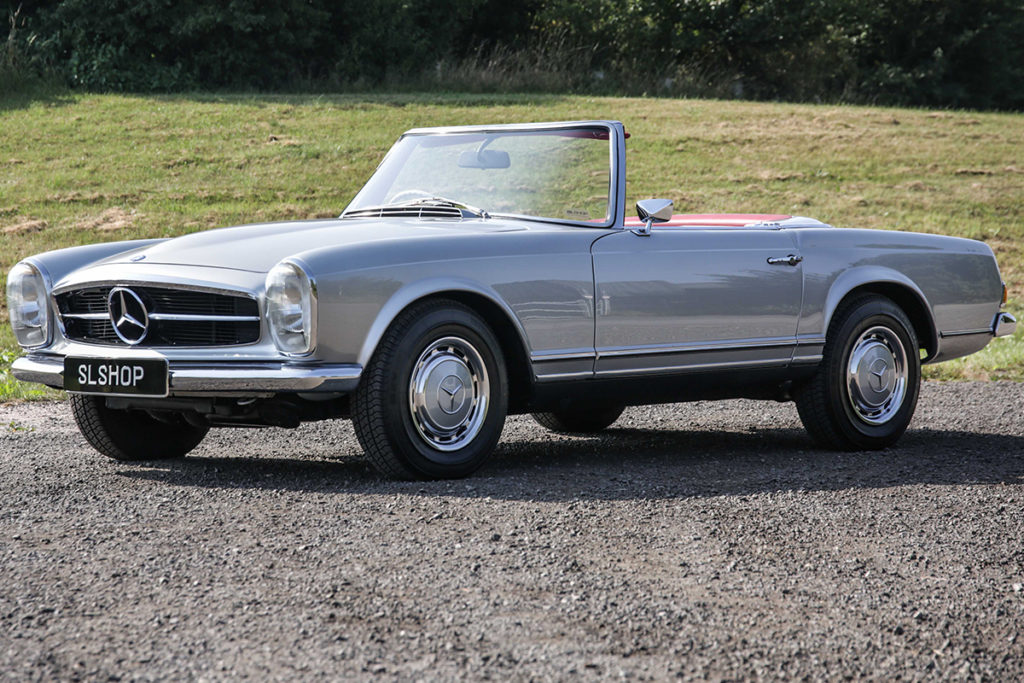 We've shown you two desirable Mercedes-Benz stars, but a late 280SL Pagoda with Automatic Gearbox in Silver with Red Leather should need no introduction. Not only is this the ultimate Pagoda, it's also one of the finest we've seen to date.
Click here to view this 280SL Pagoda in our showroom
New In Stock… Silver with Red 230SL Manual Pagoda LHD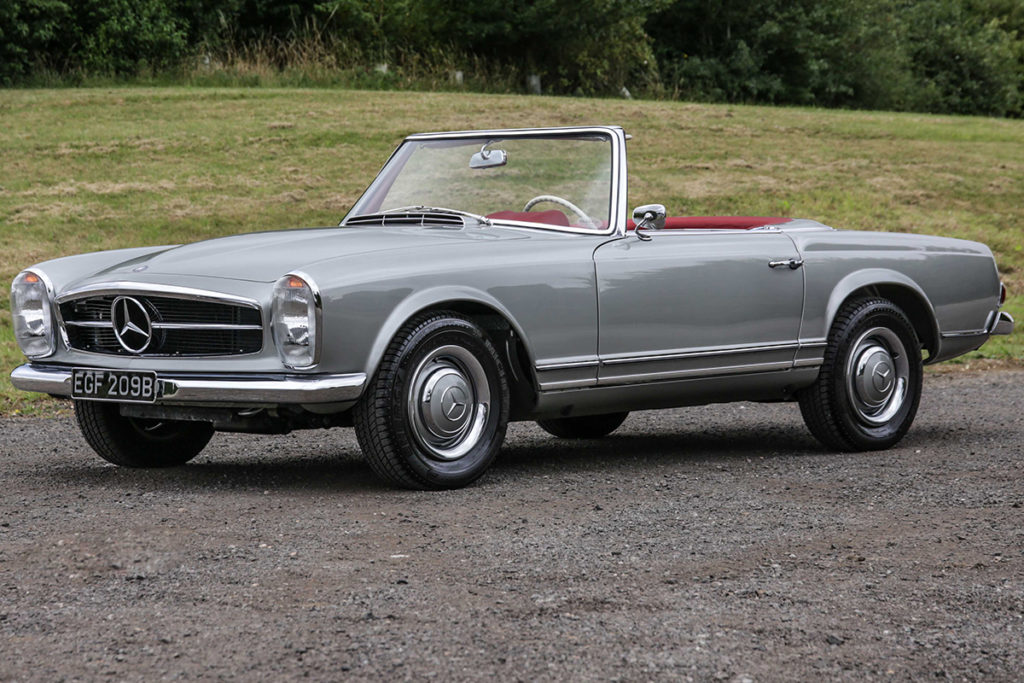 Park these two Pagoda's side by side and gaze on from a distance, you'd be forgiven for thinking we have two the same. Up close there's some key distinctions between our two Silver with Red Pagodas.
Being a 230SL this earlier car has the charm of the smaller engine, which is perfectly matched with a manual four-speed gearbox. If you must have a 'stick shift' Pagoda and Silver with Red isn't for you, then keep scrolling…
Click here to view this 230SL Pagoda in our showroom
New In Stock… Blue with Cream 230SL Manual Pagoda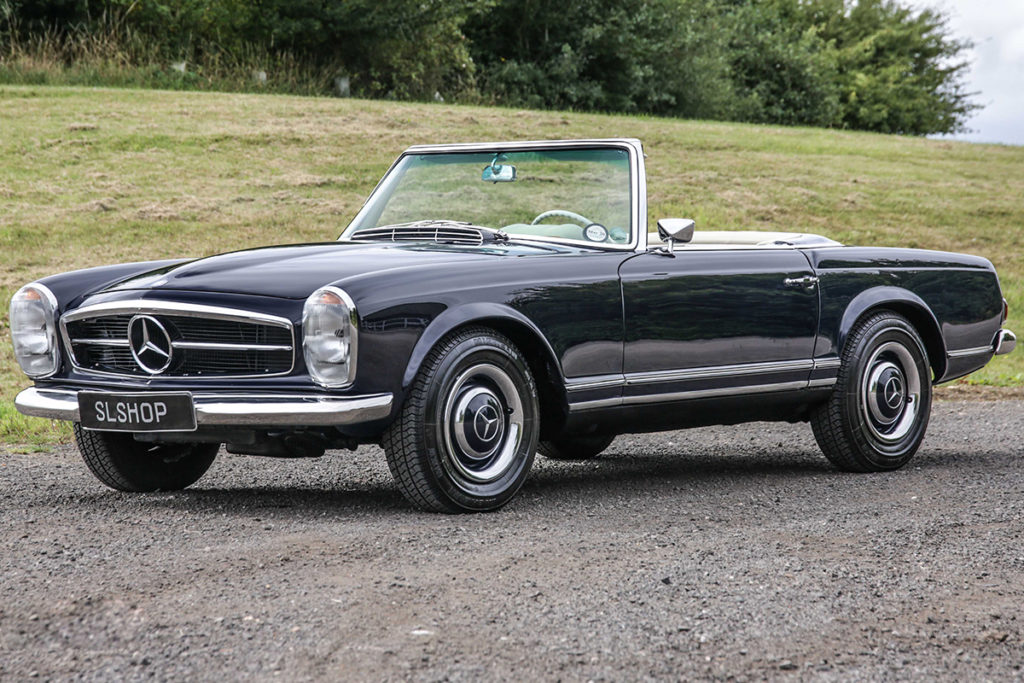 There is no such thing as a cheap Pagoda, and cheap isn't a word that's ever been associated with SLSHOP cars. It's easy to get carried away and look at the top of the market, only to drive the car home and find yourself too scared to use it. This 230SL Automatic makes a superb 'entry level' Pagoda, being the subject of an older restoration but still looking just as good as the day it was finished. Why is it much more affordable than other cars shown here? The market dictates that immaculate, recently restored 280SL Automatics in 'financially safe' colours lead the way, and all other Pagoda's follow. That's not a hard and fast rule, but with Midnight Blue paintwork and Cream Leather interior, this little Pagoda has all the makings of being one highly enjoyable long term investment. That is, an investment in your own well-being and motoring happiness, because we always say 'buy the car you love'.
Click here to view this 230SL Pagoda in our showroom
New In Stock… The 300SL that was nearly white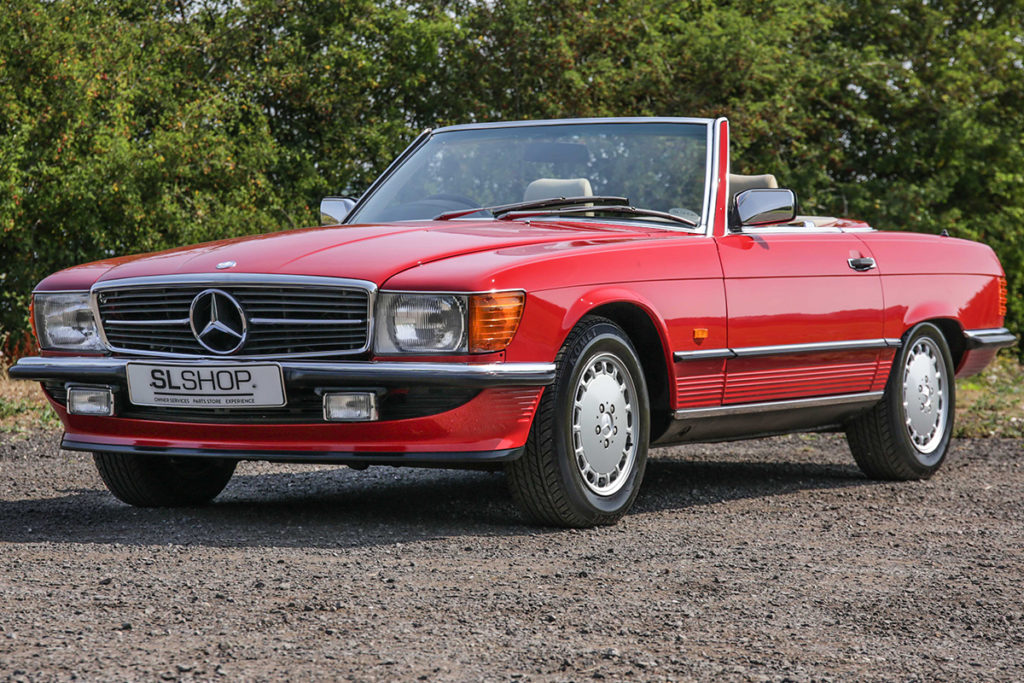 This is the first of two cars featured in our recent 'Buried Treasure' article due to nuggets of gold buried within the paperwork. Not only does this car have a very interesting origin, it's also very low mileage… and sold. Sorry about that, this car didn't spend long on the open market.
Click here to view this Signal Red 300SL in our showroom
New In Stock…. The 300SL that couldn't be more 80s
The second car from our 'Buried Treasure' article, this 300SL in Impala Brown boasts an enviable list of options including… wait for it… a mobile telephone fitted back in 1989, complete with a bill equating to £3,000 in today's money! A lovely car, in a great specification, and we weren't the only ones to notice. Once again this car sold before it reached the website.
Click here to view this Impala Brown 300SL in our showroom
New In Stock… The 500SL in highly desirable Triple Black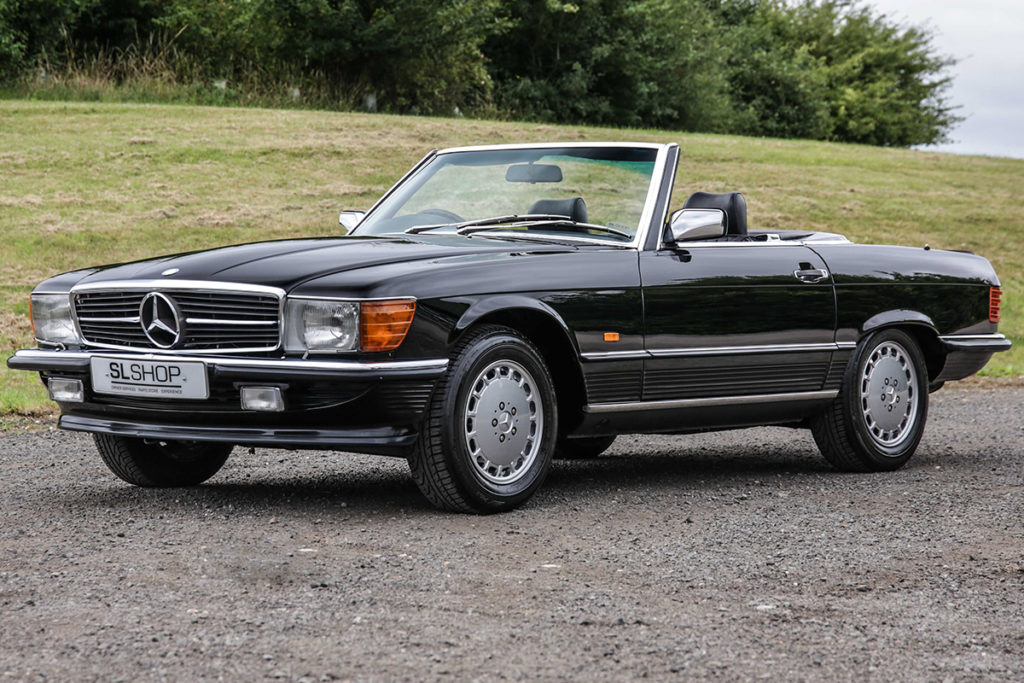 Triple Black is a rare colour combination, and we've only sold one other SL in this colour in recent years. With low mileage, a 5.0 litre V8 engine and that deliciously deep paintwork, this is one SL that stops you in your tracks.
Click here to view this Triple Black 500SL in our showroom
New In Stock… The 300SL in rare Anthracite Grey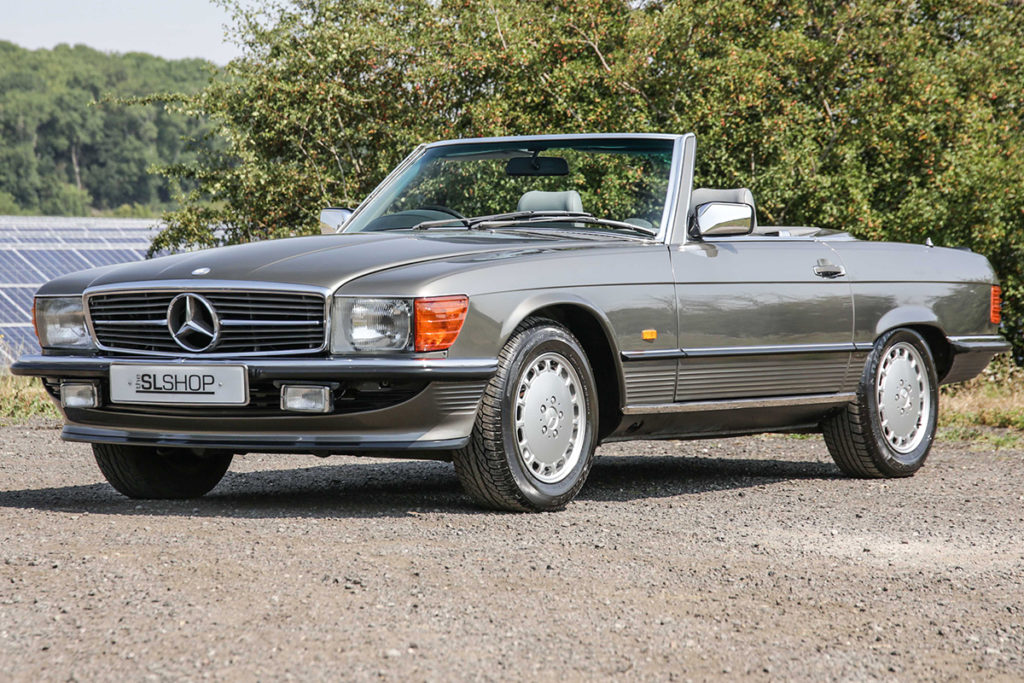 Here at The SLSHOP we take care of our customers, and we get to know the cars. Over time, relationships develop and 10 years down the line, there are cars that we have cared for consistently for one, two or three different owners. This car has been on the SLSHOP radar for some years, and now returns to the showroom for another client to use and enjoy. With the mileage a little higher and the price a little lower than the SLs we are usually known for, this is an excellent chance to get behind the wheel of a high quality R107 to be driven.
Click here to view this Anthracite Grey 300SL in our showroom
New In Stock… The Grandfather of every fast Saloon Car
The Mercedes-Benz 300SEL 6.3 is the grandfather of every classic saloon car. If you enjoy a quick German four-door today, it's thanks to the work of renowned Mercedes-Benz engineer Erich Waxenberger. You can read the history of this car in our ClubHouse article here. The key things to know about this particular 300SEL 6.3 is that it's low mileage and Right Hand Drive. Its just beautiful.
Click here to view this 300SEL 6.3 in our showroom
Thanks for reading. Looking for a different classic Mercedes-Benz, or have a car to sell? Please contact our showroom to discuss.
Increase the value it brings you
For every SL owner we have met, the key aspect in ownership and running these amazing motorcars is ensuring that this prized possession remains a joy to use whenever, wherever and however; protecting and increasing its value over time.
As the World's largest specialist in classic SL's we have drawn upon our experience with our customers, with hundreds of cars and thousands of hours behind the wheel and under the ramp to develop CARE; a way of engaging a community of owners and protecting the value of their investments as well as enhancing their cars condition, reliability and desirability.
Be the First to Know
We don't mind whether you are in the market for one of our awesome cars or just interested in seeing whats new and whats going on in the market. Pop your details in here to receive updates on all thats "hot" in the showroom.