Welcome to Workshops by SLSHOP. A classic car is more than just metal, it's the key to a whole world of experiences. Journeys short and long, average and epic become so much more of an adventure in the right classic car.
At SLSHOP, our business is grounded in caring for the needs of classic and modern classic Mercedes-Benz owners.
Below we've outlined the essential services we supply for owners of different models from the 1950s to the early 2000s.
Our aim is to give you more enjoyment from your Mercedes=Benz, whether that's through the restoration and service work we do, the parts we provide, the events we host or the experiences we create.
Your SL adventure starts here.
TAILORED SERVICES BY MERCEDES MODEL & ERA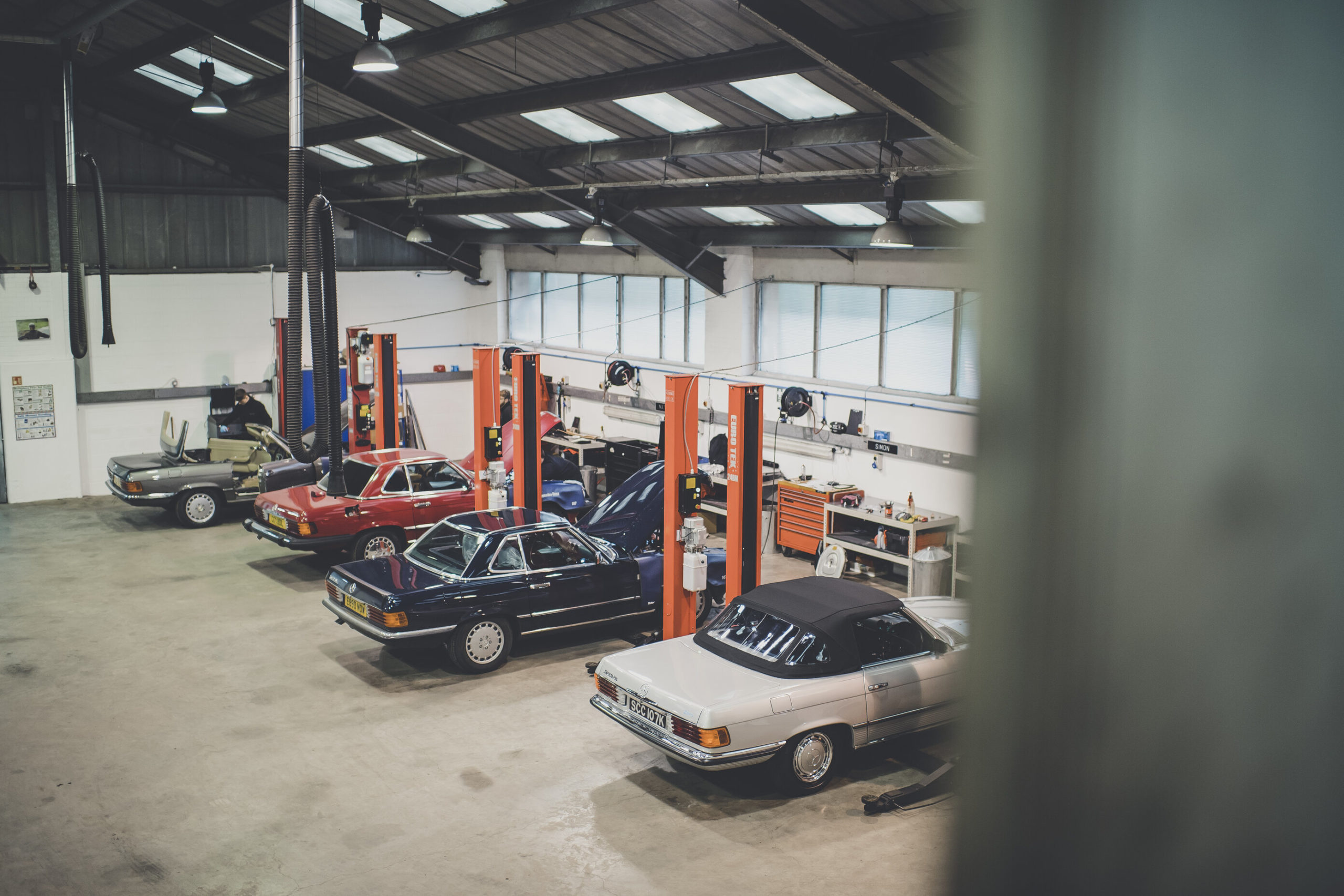 SPECIALIST MODELS (1970S – 1980S)
Our largest Workshop supports Mercedes models from this era, providing everything from restoration, interior re-trims, basic servicing to performance modifications.
Pagoda & 60's Shop Tour
In the beginning, R107 customers started bringing their 1960s cars to SLSHOP. Following this, we've grown into a dedicated workshop specifically for cars of this era. Here, you'll find a wide variety of Pagodas. Of those, some are here for final touches, some for initial assessment, and everything in between. After all, every Pagoda's needs are different. And it's not just SLs in this workshop, either… In addition, we regularly see earlier SLs and all manner of saloons, coupes, and convertibles from this glorious era of style and statement.
So step back in time and browse our 1960s workshop here. Because who doesn't love eyeing beautiful old cars!
Revive your classic Mercedes with a newly hand painted body.
THE ULTIMATE CERTIFIED SERVICING INVESTMENT PLAN
Your ownership journey matters to us, which is why we have created a simple certified servicing investment plan, tailored to your individual needs and aspirations.
Start investing today and our dedicated CARE team will work with you to increase the value and enjoyment you receive from your vehicle.