MERCEDES R129SL UK REGISTRATION
The R129 SL was sold all over the world, with units exceeding 200,000 over the course of production. Of this number, was of course a variety of special additions and unique AMG examples which are rare and sought after these days. These facts often lead us to look abroad for the more unique R129 examples.
Whatever your motivation for looking overseas for an R129 SL, there are key things to consider before going ahead with a purchase. In our time, we have seen an array of SL600s, SL60s and SL73s roll through our doors, most of which have been left-hand drive configuration. We've enabled these cars and their owners to legally surf the UK's roads.
Our managed service allows you to sit back and simply await the arrival of your car. We utilise our relationships through direct access to the right people in government departments, allowing us to get your R129 registered swiftly and affordably. We manage aspect of this journey, from the paperwork and enquiries to the transportation, official testing and road-certification process.
OUR MANAGED SERVICE INCLUDES
Managed Shipping Process
Transportation to and from ports domestic and foreign
Registration filing and management
Servicing and Testing for road-certification
Organisation of all paperwork for your records
Standard/personal license plate acquisition, printing, registration and affixing
Additional Support: New Owner Health Check
To help get you driving, we offer a New Owner Health Check, focused on ensuring your vehicle is safe, dependable and enjoyable condition. We'll prepare your vehicle for your first 12 months of usage, with confidence that you won't encounter any issues.
Modern Classics (1990s – 2000s)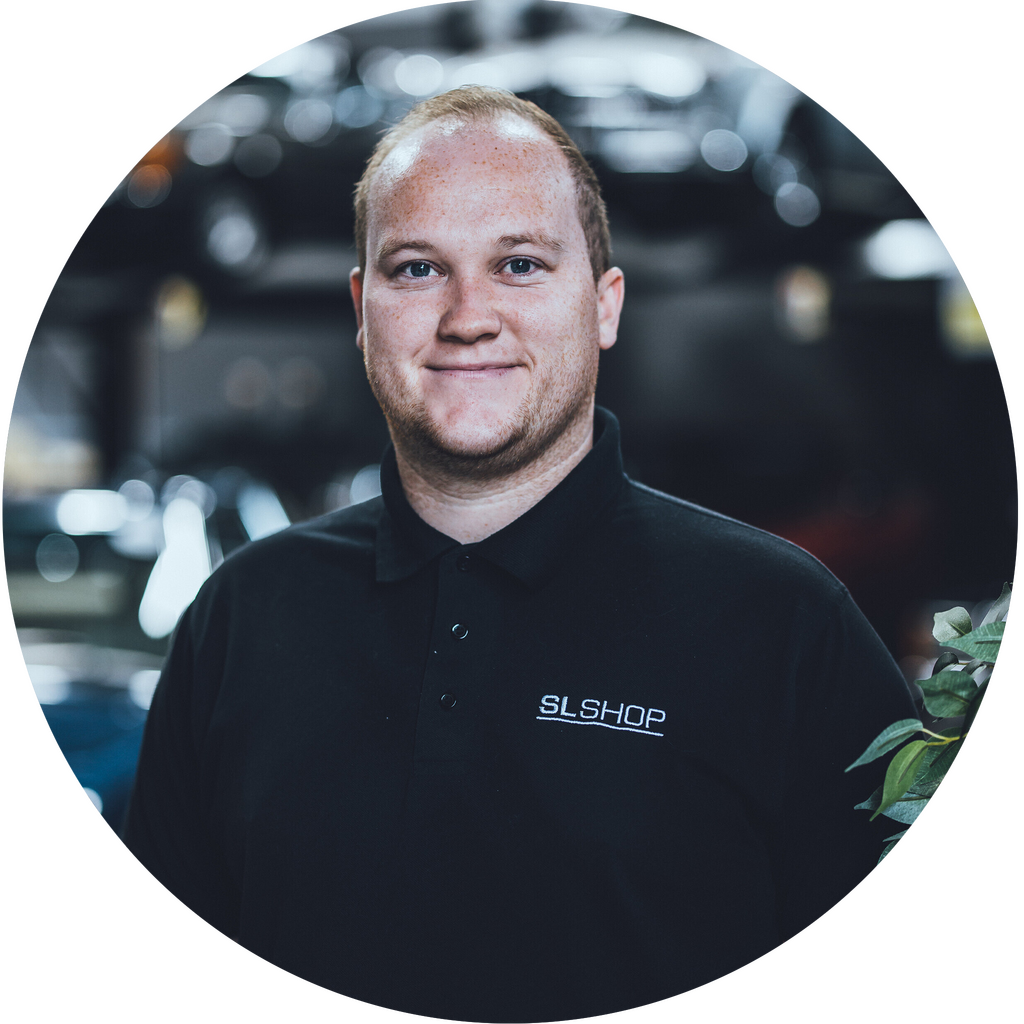 Tom is our dedicated model expert for vehicles produced from the nineties onwards. He is part of a team of five craftsmen dedicated to models from this era.
Speak to Tom today to discuss your ownership goals and how we can help you focus solely on enjoying your classic Mercedes.
Heath Check
SLSHOP's Sam Bailey explains what an SLSHOP Health Check is all about, what it achieves and what areas it covers. Does your SL need a health check?
Fabrication Tour
Undoubtedly, the fabrication shop is the beating heart of SLSHOP. Here, our team of experts work to save cars from extinction. An R107's structure is complex. It needs to be approached in exactly the right way. We're proud of our fabrication team and the work they do. Ultimately, it's the foundation that the other departments rely on.
Poke your head inside our fabrication shop.
Why Choose SLSHOP?
As the world's leading SL specialist, more than 10,000 SLs have passed through our workshops and showroom. As such, the level of knowledge possessed by our technical department is unsurpassed. Our service team lives and breathes on the sharp edge of the market. Undoubtedly, there's no better place to go for advice and guidance on your SL.
Keep your Classic Mercedes-Benz running like the day it left the factory.
Also, sign up here for hints and tips, because we all love to learn more about our classic Mercedes-Benz!
Following, you'll also get access to our "workshop life" updates, so you can stay in the loop.
THE ULTIMATE CERTIFIED SERVICING INVESTMENT PLAN
Your ownership journey matters to us, which is why we have created a simple certified servicing investment plan, tailored to your individual needs and aspirations.
Start investing today and our dedicated CARE team will work with you to increase the value and enjoyment you receive from your vehicle.