MERCEDES W113 PAGODA REGISTRATION
As the availability of high-calibre cars reduces year on year here on the European continent, the temptation to look abroad is clear. If one desires a classic Mercedes W113 Pagoda, one must have one – whether it be left-hand or right-hand drive. A Pagoda is a Pagoda. This temptation requires discreet and supported planning.
There are a number of steps that need to be considered from a legal, financial and enjoyment perspective. Over years of supporting owners importing and caring for their vehicles, we have established the most streamlined processes to help you acquire an overseas W113 Pagoda and register it for UK roads.
This process utilises our strong relationships with local authorities to ensure we push your W113 Pagoda swiftly through the legal registration process. Our team will manage aspect of this journey, from the paperwork and enquiries to the transportation, official testing and road-certification process.
OUR MANAGD SERVICE INCLUDES:
Managed Shipping Process

Transportation to and from ports domestic and foreign

Registration filing and management

Servicing and testing for road-certification

Organisation of all paperwork for your records

Standard/personal license plate acquisition, printing, registration and affixing
NEW OWNER HEALTH CHECK
Once your Pagoda SL is with us, you have the option to take advantage of our New Owner Health Check – the perfect way to guarantee you your first hassle free 12 months of motoring. This check helps us all understand the condition of your vehicle, making any necessary improvements and getting you and your vehicle primed and ready for the road.
This US 280SL was imported by Matthew in the middle of 2022. Matthew commissioned us to carry out a New Owner Health Check and prepare the vehicle for road use before registering it with the UK authorities. This particular vehicle was a lovely example of a US-specification Pagoda that we managed to swiftly register.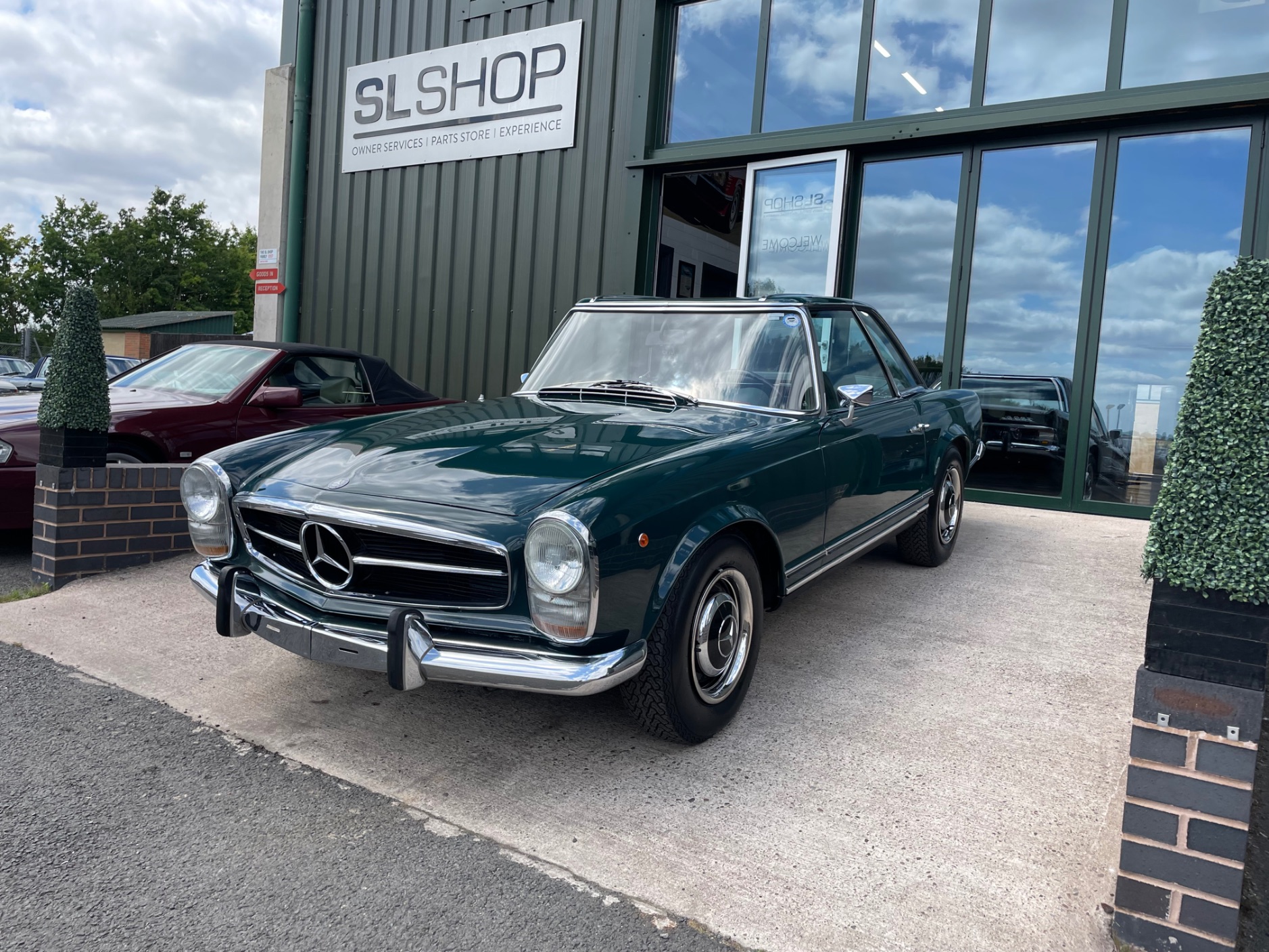 Introducing CARE by SLSHOP
SLSHOP's Sam Bailey explains what CARE is and how it works. If you have a classic Mercedes, join CARE today to benefit from unique discounts and preserve your car the right way.
Pagoda & 60's Shop Tour
In the beginning, R107 customers started bringing their 1960s cars to SLSHOP. Following this, we've grown into a dedicated workshop specifically for cars of this era. Here, you'll find a wide variety of Pagodas. Of those, some are here for final touches, some for initial assessment, and everything in between. After all, every Pagoda's needs are different. And it's not just SLs in this workshop, either… In addition, we regularly see earlier SLs and all manner of saloons, coupes, and convertibles from this glorious era of style and statement.
So step back in time and browse our 1960s workshop here. Because who doesn't love eyeing beautiful old cars!
Keep your Classic Mercedes-Benz running like the day it left the factory.
Also, sign up here for hints and tips, because we all love to learn more about our classic Mercedes-Benz!
Following, you'll also get access to our "workshop life" updates, so you can stay in the loop.
THE ULTIMATE CERTIFIED SERVICING INVESTMENT PLAN
Your ownership journey matters to us, which is why we have created a simple certified servicing investment plan, tailored to your individual needs and aspirations.
Start investing today and our dedicated CARE team will work with you to increase the value and enjoyment you receive from your vehicle.