SLSHOP'S:
Mercedes SL Brake Inspection
Mercedes SL brake inspection: There's no more crucial area of the car than the way it comes to a stop. Of course, your brakes should inspire confidence. Poor performance, squeaks, sponginess and slow response can be traced to any number of items within the braking system. If a component in the system is weak, more strain falls on other parts. Ultimately, this could result in brake failure.
Contact
Why do I need it?
A Mercedes SL brake inspection is used to diagnose symptoms of poor braking. Also, it helps us work out the condition and life expectancy of components in the system. Our goal is to identify all possible areas of weakness and make sure your car stops exactly as it should. A Mercedes SL brake inspection works through each area of the system, from the sole of your shoe to the disc itself. 
What does it do for the car?
Properly working brakes shouldn't feel weak, spongy or sticky. They shouldn't squeak or pull or fade. The SL is a heavy car! As such, it relies on a capable braking system. Without this, undue strain falls on the transmission, the tyres and most importantly, the driver.
What does it do for me?
A Mercedes SL brake inspection gives a complete report on your entire braking system. Ultimately, this puts you in the best possible position to make a decision on what to do next to improve your SL. After a comprehensive inspection, all braking issues will be isolated and identified. Finally, you'll get the information you need to get your car to stop just as well as Mercedes-Benz intended.  
Health Check
SLSHOP's Sam Bailey explains what an SLSHOP Health Check is all about, what it achieves and what areas it covers. Does your SL need a health check?
Why Choose SLSHOP?
As the world's leading SL specialist, more than 10,000 SLs have passed through our workshops and showroom. As such, the level of knowledge possessed by our technical department is unsurpassed. Our service team lives and breathes on the sharp edge of the market. Undoubtedly, there's no better place to go for advice and guidance on your SL.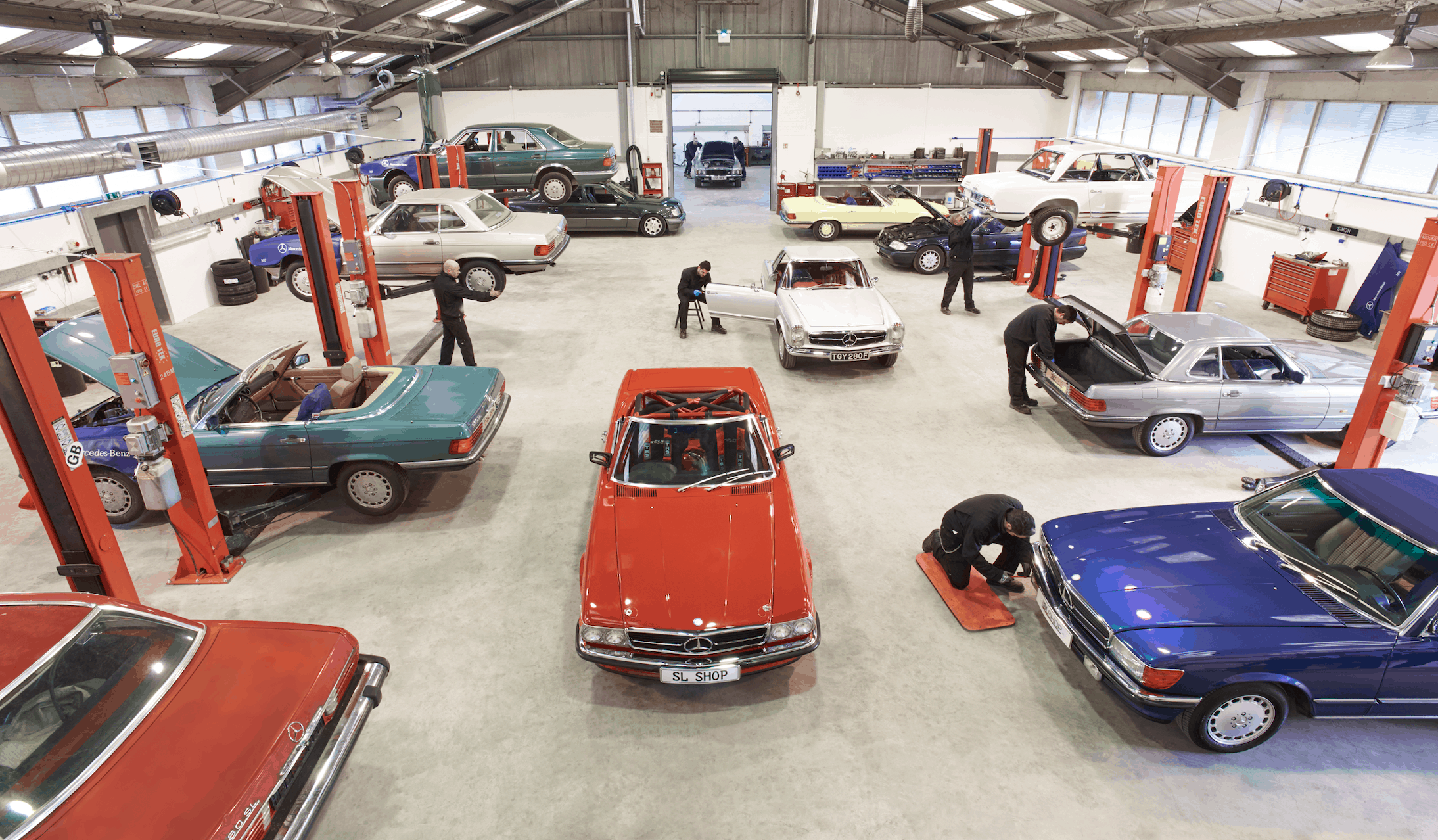 Workshop Life
Keep your Classic Mercedes-Benz running like the day it left the factory.
Also, sign up here for hints and tips, because we all love to learn more about our classic Mercedes-Benz!
Following, you'll also get access to our "workshop life" updates, so you can stay in the loop.
[mc4wp_form id="1053"]
THE ULTIMATE CERTIFIED SERVICING INVESTMENT PLAN
Your ownership journey matters to us, which is why we have created a simple certified servicing investment plan, tailored to your individual needs and aspirations.
Start investing today and our dedicated CARE team will work with you to increase the value and enjoyment you receive from your vehicle.