MERCEDES W113 PAGODA STORAGE
SLSHOP's Collector Car Storage Facility is located in the heart of Warwickshire, situated on a private estate away from prying eyes but close enough to the hustle and bustle of Stratford-upon-Avon for easy access. Our head office and storage facility is accessible from the M40, M5 and M6 by road and by train from Stratford-upon-Avon, enabling you to easily choose SLSHOP as your Pagoda or exotic car's storage centre.
PERFECT PAGODA STORAGE:
As the country's leading W113 Pagoda specialist, we understand how to care for your Pagoda and models of the same era in the correct way. Our craftsmen are in tune with how a Pagoda should sit, sound and steer; and will ensure your vehicle leaves us in the same condition that it arrives in. Whilst in storage, we will give your Pagoda the exercise and attention it requires to keep its mechanicals flexed and topped up where necessary.
So, ask yourself, why would I store my Mercedes-Benz W113 Pagoda anywhere else?
OUR APPROACH TO YOUR COLLECTOR CAR STORAGE:
COLLECTION & DELIVERY:
Whilst a Pagoda is a more than capable machine, we understand if you'd prefer to have your Pagoda trailered to our high end car storage facility and back to your address when you desire. This relieves you of time and avoids putting unnecessary miles on your Pagoda. This is an additional service, that can be arranged with prior notice.
W113 PREPERATION
Upon arrival, we start with an induction process involving:
Photographs of your car inside and out
Recording of mileage
Fluid level checks (oil, antifreeze, screen wash etc.)
Tyre tread depth check
Battery fluid level check (n/a for sealed batteries)
Once this is complete, all Pagodas go through a strict cleaning routine to remove any contaminants that may cause harm to your Pagoda's paintwork during storage.
Once this is completed, your Pagoda will be placed in our secure storage facility under cover, with your tires inflated to 50psi to prevent flat spots. A battery conditioner will then be fitted, and a drip tray placed underneath to prevent damage to our facility.
All Pagoda fuel tanks must be brimmed before going into storage. This can be arranged at an additional cost.
TEMPERATURE CONTROLLED
Our facility is set to optimum temperature to prevent any changes in composition of your Pagodas metal or wooden components and materials.
INSURED & SECURED
SLSHOP is aligned with the UK's leading Insurance providers to give your Pagoda the most comprehensive protection while in storage. In addition, our site is covered by CCTV; with only a few personnel permitted entry into our Storage facility.
MAINTENANCE AND EXERCISE OF YOUR HERITAGE COLLECTOR-GRADE MERCEDES
Whilst in storage we make every effort to stretch your Pagodas legs, ensuring all fluids and mechanicals are in working order. For more comprehensive maintenance, we can arrange for quarterly or six-monthly health checks to give you further peace of mind.
THE PERFECT ADVENTURE STARTING POINT
To give you flexibility, we can arrange for your Pagoda to be released on to the open road with 72 hours' notice. We will of course, check over your fluids, lights and levels to ensure you are ready for the drive ahead and advise of any urgent or non-urgent maintenance that may be required.
This is not just storage, this is SLSHOP Pagoda Perfect storage.
MERCEDES W113 HARD TOP STORAGE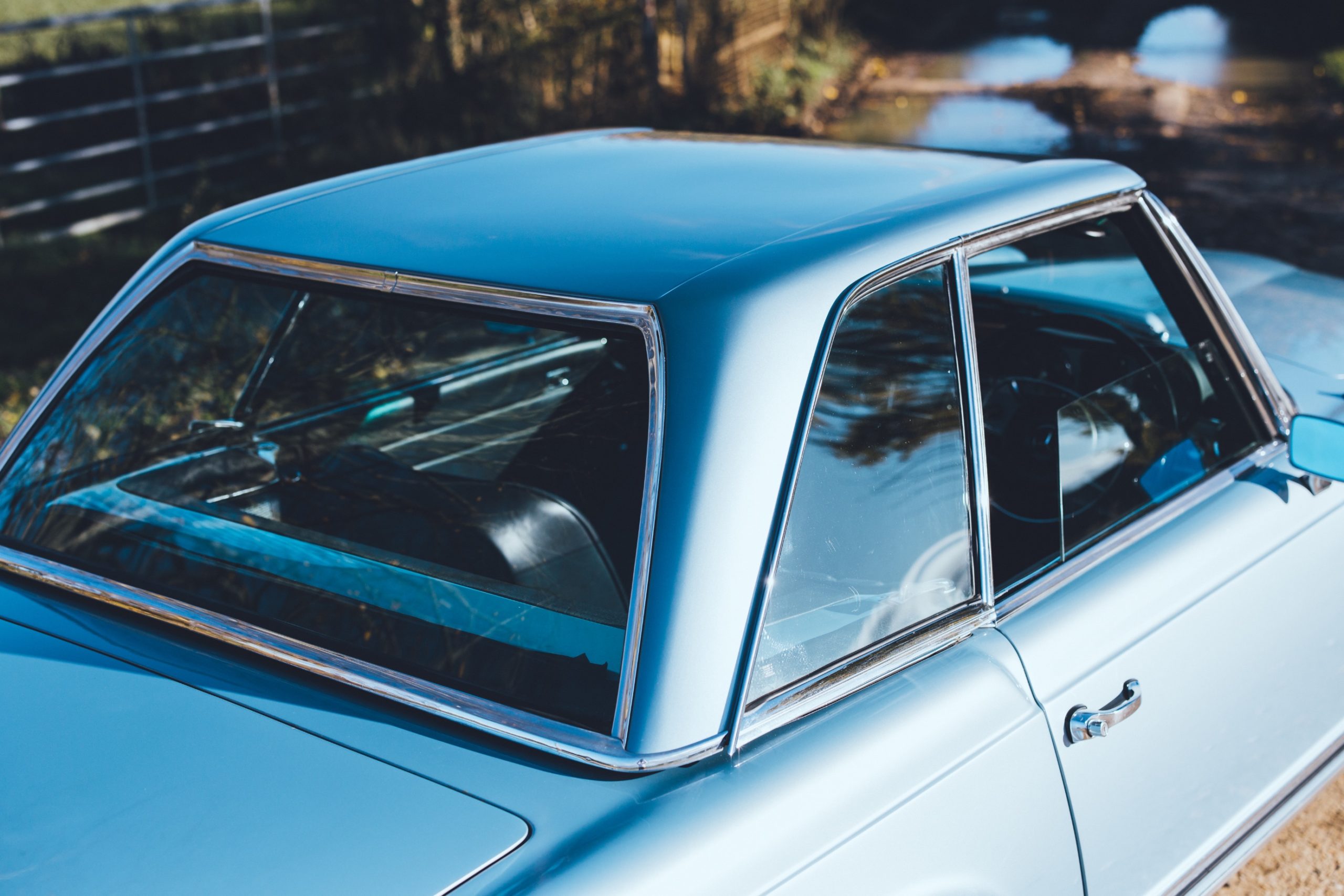 The Pagoada's hard top is renowned for its sturdy and weighty character – something that makes it difficult to move around the garage at home. We offer storage for hard top so you can free-up space at home and focus on enjoying your SL. Should you want your Hard Top fitted, we can arrange for your hard top to be returned to you and even give you that all so important extra hand to fit it.
Introducing CARE by SLSHOP
SLSHOP's Sam Bailey explains what CARE is and how it works. If you have a classic Mercedes, join CARE today to benefit from unique discounts and preserve your car the right way.
Pagoda & 60's Shop Tour
In the beginning, R107 customers started bringing their 1960s cars to SLSHOP. Following this, we've grown into a dedicated workshop specifically for cars of this era. Here, you'll find a wide variety of Pagodas. Of those, some are here for final touches, some for initial assessment, and everything in between. After all, every Pagoda's needs are different. And it's not just SLs in this workshop, either… In addition, we regularly see earlier SLs and all manner of saloons, coupes, and convertibles from this glorious era of style and statement.
So step back in time and browse our 1960s workshop here. Because who doesn't love eyeing beautiful old cars!
Keep your Classic Mercedes-Benz running like the day it left the factory.
Also, sign up here for hints and tips, because we all love to learn more about our classic Mercedes-Benz!
Following, you'll also get access to our "workshop life" updates, so you can stay in the loop.
THE ULTIMATE CERTIFIED SERVICING INVESTMENT PLAN
Your ownership journey matters to us, which is why we have created a simple certified servicing investment plan, tailored to your individual needs and aspirations.
Start investing today and our dedicated CARE team will work with you to increase the value and enjoyment you receive from your vehicle.