MERCEDES R107 SL VEHICLE & HARD TOP STORAGE
We are the world's leading and only R107 SL specialist. Located in Warwickshire, England, our 50,000 sq.ft facility is home to three workshops, a Showroom, Parts Store, Valeting centre and storage facilities. Our storage centre offers an array of long-term and short-term storage functions, all configured to suppor R107 SL owners.
SLSHOP's R107 SL Car Storage Facility is situated on a private estate away from prying eyes but close enough to the hustle and bustle of Stratford-upon-Avon for easy access. Our storage facility is accessible from the M40, M5 and M6 by road and by train from Stratford-upon-Avon.
REFINED R107 SL STORAGE:
We understand exactly how to store your R107 for short and long-term periods. Our team will ensure your vehicle is adequately prepared prior to, during and upon release from storage. This tailored approach to storage is unlike any other on the market.
OUR APPROACH TO STORAGE
COLLECTION & DELIVERY:
Our transportation service allows us to collect and deliver your R107 SL according to your diary, relieving you of time and adding unnecessary miles to the odometer.
R107 SL PREPARATION:
Upon arrival, we start with an induction process involving:
Photographs of your car inside and out
Recording of mileage
Fluid level checks (oil, antifreeze, screen wash etc.)
Tyre tread depth check
Battery fluid level check (n/a for sealed batteries)
Part of the preperation process includes a cleaning regime to remove any contaminants from your vehicle. This prevents any damage to your paintwork and prevents the onset of rust.
Once this is completed, your R107 SL will be placed in our secure storage facility with your tires inflated to 50psi to prevent flat spots. A battery conditioner will then be fitted, and a drip tray placed underneath to prevent damage to our facility.
We advise brimming your tank if placing your vehicle in long-term storage.
TEMPERATURE CONTROLLED
The right temperature is used to limit degradation to your R107's metal, wood or plastic components. 
INSURED & SECURED
SLSHOP utilises the UK's leading Insurance providers to give your R107 SL the most comprehensive protection while in storage. In addition, our site is covered by CCTV; with only a few personnel permitted entry into our Storage facility.
MAINTENANCE AND EXERCISE OF YOUR MERCEDES R107 SL
Whilst in storage we make every effort to stretch your R107's legs, ensuring all fluids and mechanicals are in working order. For more comprehensive maintenance, we can arrange for quarterly or six-monthly health checks to give you further peace of mind.
THE PERFECT ADVENTURE STARTING POINT
Your R107 SL can be released with 72 hours notice, allowing us time to check your vehicle's fluids, lights and levels; also to ensure that if any urgent works are required to your vehicle, you are made aware.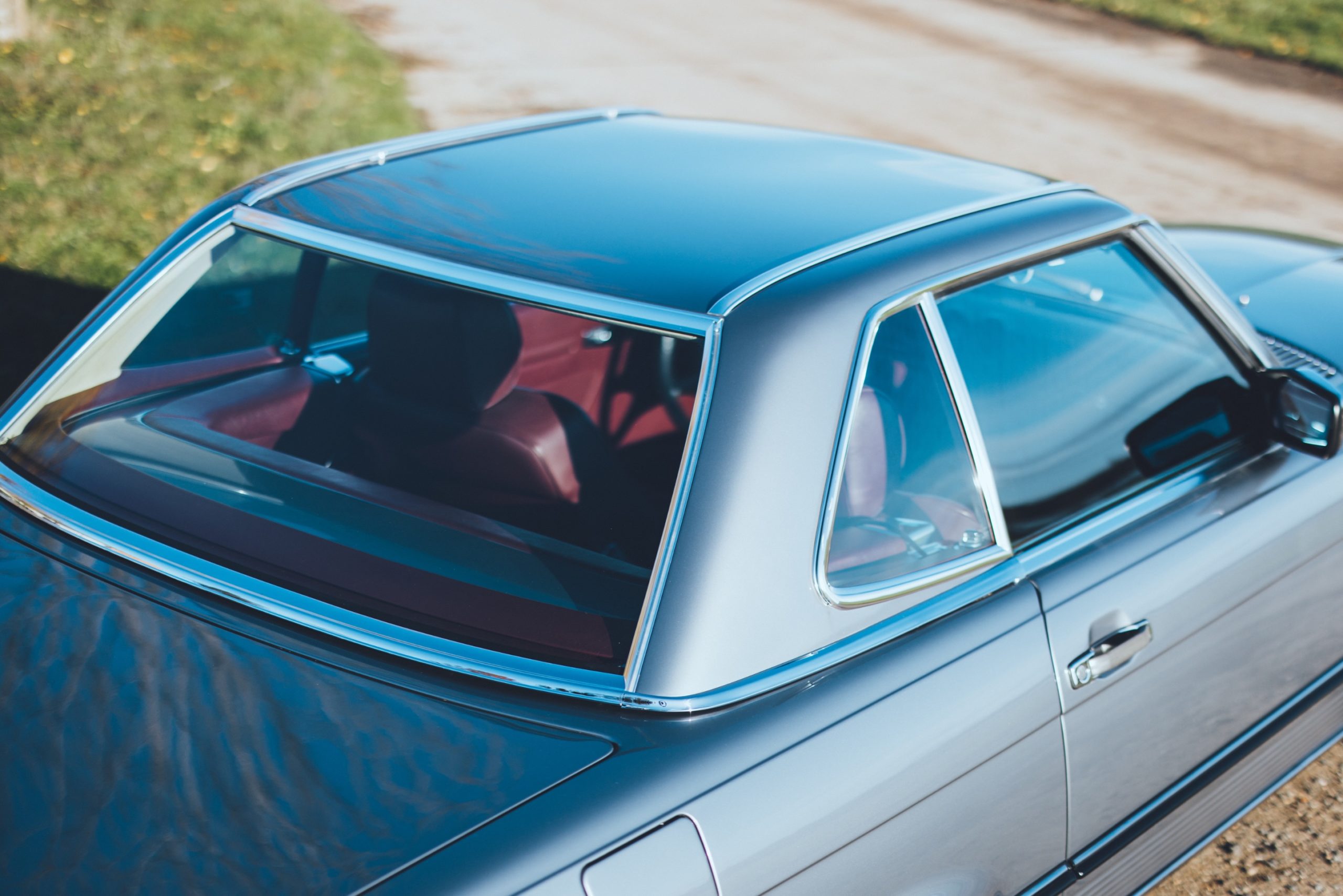 The R107's hard top is renowned for its sturdy and weighty character – something that makes it difficult to move around the garage at home. We offer storage for hard top so you can free-up space at home and focus on enjoying your SL. Should you want your Hard Top fitted, we can arrange for your hard top to be returned to you and even give you that all so important extra hand to fit it.
HEALTH CHECK
SLSHOP's Sam Bailey explains what an SLSHOP Health Check is all about, what it achieves and what areas it covers. Does your SL need a health check?
Fabrication Tour
Undoubtedly, the fabrication shop is the beating heart of SLSHOP. Here, our team of experts work to save cars from extinction. An R107's structure is complex. It needs to be approached in exactly the right way. We're proud of our fabrication team and the work they do. Ultimately, it's the foundation that the other departments rely on.
Poke your head inside our fabrication shop.
Why Choose SLSHOP?
As the world's leading SL specialist, more than 10,000 SLs have passed through our workshops and showroom. As such, the level of knowledge possessed by our technical department is unsurpassed. Our service team lives and breathes on the sharp edge of the market. Undoubtedly, there's no better place to go for advice and guidance on your SL.
Keep your Classic Mercedes-Benz running like the day it left the factory.
Also, sign up here for hints and tips, because we all love to learn more about our classic Mercedes-Benz!
Following, you'll also get access to our "workshop life" updates, so you can stay in the loop.
THE ULTIMATE CERTIFIED SERVICING INVESTMENT PLAN
Your ownership journey matters to us, which is why we have created a simple certified servicing investment plan, tailored to your individual needs and aspirations.
Start investing today and our dedicated CARE team will work with you to increase the value and enjoyment you receive from your vehicle.