1968 Mercedes-Benz 300SEL 6.3 (W109) #2233 Midnight Blue with Blue Leather
Stock Number:

2233

Make / Model:

Mercedes-Benz / 300SEL 6.3 (W109) RHD Blue Leather

Mileage:

48758

Paint Colour:

Midnight Blue

Interior Colour:

Blue Leather

Year:

1968

Price:

P.O.A
Interested in this car then call us now on 01789 337070
1968 Mercedes-Benz 300SEL 6.3 (W109) 
48,758 miles
Blue Coachwork with Blue Leather Interior
(please click here to request more photos)
Road Tax Exempt. ULEZ Exept.*
Long before the AMG badge appeared on production cars, 4 years before BMW founded the M Division and more than 10 years before Audi Sport came into existence, Mercedes-Benz produced the fastest ever 4 door production saloon car. The rest, as we say, is history.
Erich Waxenberger was an engineer at Mercedes-Benz. The story goes that Waxenberger was told by a particular motoring journalist that he was making 'granny' cars… He responded by squeezing a mighty 6.3 litre V8 into a car normally powered by an engine half that size.
Chief Mercedes-Benz engineer Rudolf Uhlenhaut (the very same man who ran the 1955 300SLR Uhlenhaut Coupe as his company car) was invited to test the prototype, and legend has it that at the first set of traffic lights he jumped out and opened the bonnet to find out how the mighty engine and running gear had been squeezed inside the engine bay.
We have a lot to thank that journalist for.
The 300 SEL 6.3 was a masterstroke; a car capable of carrying 5 occupants in great comfort at more than 120mph, an incredible feat for the 1960s. It was praised by the press at the time as 'the greatest saloon car in the world', praise indeed when luxury saloon car competition came from Rolls Royce and Cadillac.
To further prove the concept, Waxenberger took the 300 SEL 6.3 to Macau, entering in the 6 hour endurance race to prove it could cope with hour after hour of demanding driving. In the testing that followed, Waxenburger met up with a Mr Hans Werner-Aufrecht, one of the founding fathers of the company we would affectionally know as AMG.
These two pioneers then began experimenting with increased air flow and bore, resulting in the famous Red Pig – a 6.8 litre race prepared version of the 300 SEL, a car that would take second place in the 1971 24 hours of Spa race.
The 300 SEL 6.3 proved to the world not only that an unassuming car could pack a significant punch, but that such a car would be hugely popular and commercially viable, carving a path for many great cars of the 1970s, 80s, 90s and 00s.
If it wasn't for Waxenberger's creative (and genius) response to the journalist's comments, we may never have gotten iconic super saloons such as the Mercedes E55 AMG, BMW M5, Audi RS6 and even the Lotus Carlton… and all of the other fast four doors that we know and love!
In short, the 300SEL 6.3 is the founding father of the sports saloon movement, making it a hugely important car to enthusiasts, collectors and investors alike.
Whether you use it for a run to Goodwood, stretch the legs on a continental trip or just admire it in your collection, this car will not disappoint.
About this 1968 Mercedes-Benz 300SEL 6.3:
Accompanying this car is an impressive document file detailing many years of careful stewardship.
Most recently this car was the prized property of SLSHOP director Sam Bailey, before it became part of a private collection. It is now offered for sale along with a number of very special Mercedes-Benz cars through SLSHOP.
Under Sam's ownership this car has had over £10,000 lavished on it, addressing all of the areas that could be classed as 'lurking investments', or areas that would be cause for future concern. The engine, suspension, bushes and mechanicals have been dealt with by a renowned 6.3 specialist, who was given carte blanche to make this car drive as well as a 300SEL 6.3 can.
The 300SEL 6.3 features advanced air suspension, the system for which can be complicated to set up and difficult to get right. This car has recently undergone significant work to the air suspension with the UKs premier 6.3 specialist, the same specialist who has cared for this car for the previous 10 years.
In 2018 it was noted that the car would 'settle' overnight, indicating an issue with the air suspension. The entire system was inspected, and a very small leak was discovered in the centre of one of the passenger air bellows, causing the problem. After further investigation it was discovered the bag was leaking where the bellow meets the housing, so a comprehensive repair was devised. The bellow was replaced, rust proofed, treated and painted. All the fittings and bolts were cleaned, with all new seals used before the tank was fitted back to the subframe. A new passenger front air suspension switch was fitted, along with new pipe seals. All of the linkage was then checked and the entire system adjusted to millimetre perfect measurements.
After all of this work, the documentation even states that 'measurements (of the suspension height) were taken at 4 points and suspension hasn't moved a millimetre'.
The very same specialist also spent time getting the timing and ignition set up just right, including the addition of hand made HT leads.
This is a small snapshot of the sort of calibre of maintenance this car has enjoyed, both under Sam's ownership and with previous owners. It has covered very few miles in the last few years and is now ready for a new owner to cherish and enjoy.
A 300SEL 6.3 is rare in it's own right, however this car is a Right Hand Drive model – we know of only 4 of these in existence. This car is also a 'non sunroof' model, which makes it all the more intriguing. As many 300SEL 6.3s were specified with all the options ticked, finding one without a sunroof points to a first owner who very carefully considered the options list before placing the order (if you know any different, please do get in touch so we can update our records).
1968 Mercedes-Benz 300SEL 6.3 (W109) 
Factory Specification:
Air suspension and automatic level control, power steering, four-speed automatic gearbox, locking differential.
Air conditioning, four electric windows, central locking, tinted glass, driver & passenger arm rests, Becker Monza radio cassette,
Why Choose SLSHOP?
Is it our unrivalled experience with three generations of SL? Is it our attention to detail, our award winning quality? Is it our selection of hand picked, superb cars for sale? Is it the family feel, the friendly faces and consistency of our work? Most people say it's all of these things.
A classic car offers a world of opportunities – it is an invitation to explore the open road and share life-affirming experiences with like-minded individuals.
Where will your Mercedes-Benz take you?
Bulkhead Corrosion
Although the R107 is renowned for build quality, there is one chink in the armour – the bulkhead. Many cars that present well from the outside are hiding internal rust. Water from outside the car should drain out through specially designed channels, but over time, these become blocked forcing water inside the car. Once water has breached the blower motor cover in front of the windscreen, it slowly wreaks havoc from inside out. This delicate area did not have rust protection from the factory, and as the metal deteriorates it the water ingress can lead to faulty electrics, damp carpets and musty smells inside the cabin.
All our cars come with a 36 month bulkhead warranty.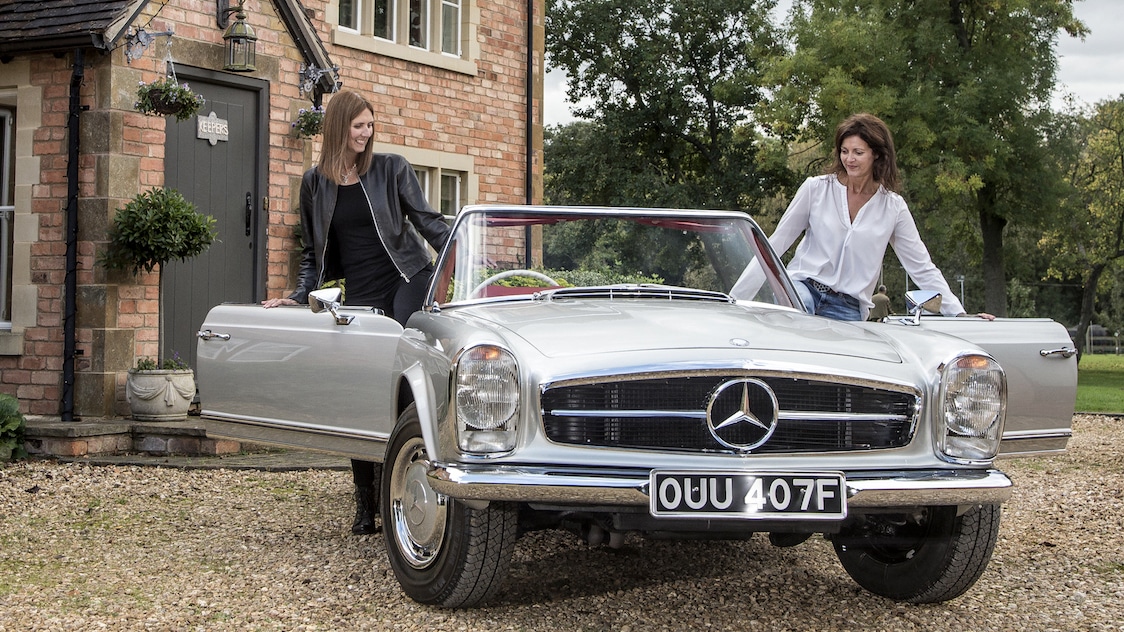 Next Steps: Experience
We believe in the capabilities of these classic cars, and want our customers to get out and use them. Welcome to Experience from The SLSHOP, aimed at helping you get more out of your classic Mercedes-Benz. We offer a number of trips, tours and events in the UK and abroad. See you there!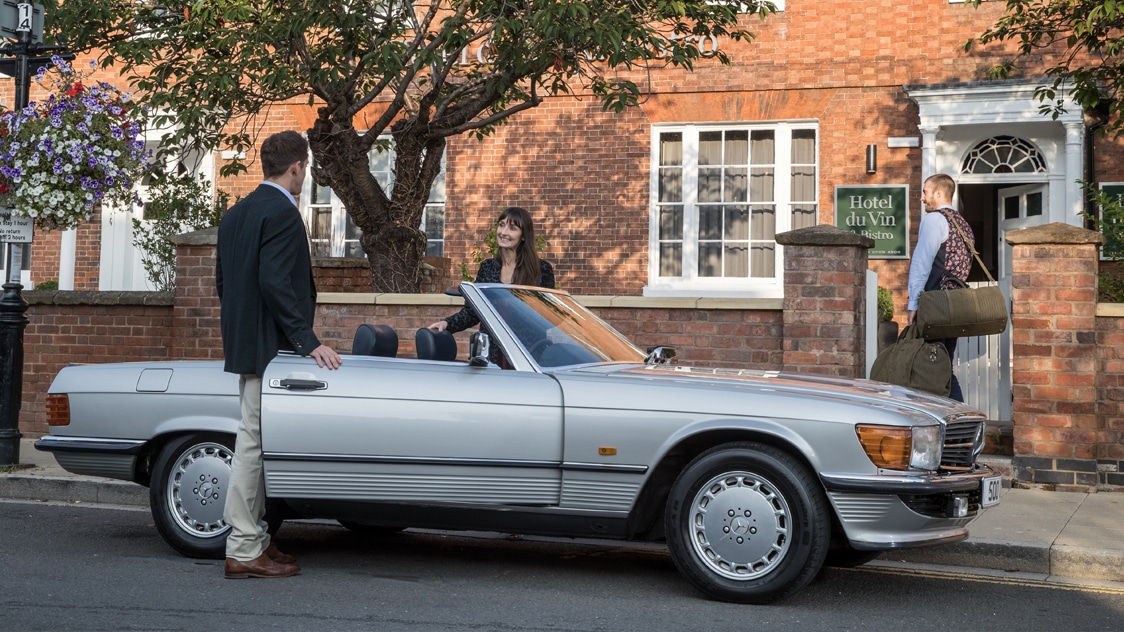 Next Steps: 24hr Test Drive
Tempted by an R107 SL but not sure if it's for you? Fancy trying a weekend at the wheel before you dive in? We offer a 24hr test drive through our hire business. Hire a classic Mercedes-Benz for a day or longer, and if you subsequently buy a car from our showroom, we will refund the entire hire fee. What are you waiting for?
Be the First to Know
Stay up to date with the latest from SLSHOP by subscribing to our newsletters. We update our readers with key announcements, new stories and of course… cars that are fresh into stock. Be the first to know and you might just sneak a car on your driveway before anyone else gets a chance.