MERCEDES-BENZ DETAILING BY SLSHOP
Our passion extends well beyond the realms of perfect restoration and top down driving.
We're obsessed with the detail too and as a member of our community, you can take full advantage our team of dedicated detailers devoted to exquisite presentation.
Focusing on the detail brings out the true characteristics of each vehicle, rejuvenating the paintwork and restoring your interior with protection for the future.

Like our internationally recognised service stamp, a vehicle detailed by SLSHOP benefits from long term cosmetic and financial security.
This is SLSHOP Detailing.
DETAIL IN A DAY – THE BASE OF ALL OUR PACKAGES | £195.00
From the exterior and interior to the engine bay, this package is ideal for those short on time. Using tried and tested products from our partners, Auto Glym, this carefully constructed package ensures your vehicle leaves with three months protection.
Intricate Alloy Clean and Decontamination

Engine Bay Wash and Air Dry

Paint Clay Bar Decontamination

Chrome and Exhaust Polish
SINGLE STAGE ENHANCEMENT | £295.00
This package restores the rich hue and gloss shine of your paintwork, focusing specifically on reversing marred and swirled paint. This two-day package utilises techniques that more quickly achieve the desired results without investing in a full detailing session.
Single Stage Machine Polish (1-Day)
MINOR PAINT CORRECTION | £495.00
One of our most comprehensive packages commences with our 'Detail in a Day' package and builds takes the 'Single Stage Enhancement' to the next level.
In addition, this package removes swirls, scratches and oxidation by using a cutting compound on the first round of polishing.
The second round of polishing refines the vehicles paintwork from the cutting stage, revealing the maximum amount of clarity possible and achieving up to 80% defect removal.
The machine polishing element of this procedure takes approximately 3 days.
Major PAINT CORRECTION | £695.00
This service is ideal for car enthusiasts looking to give their vehicle a concours aesthetic.
Building upon our previous packages, a 'Major Paint Correction' is about time investment. Our team dedicate days to multiple rounds of machine polish cutting and refining, achieving absolute definition of your paintwork. Once the dust has been wiped clean, a 95% correction level will have been achieved.
The most comprehensive paint correction service we offer, this process involves approximately 4 days of machine polishing, with the remaining time dedicated to our carefully curated wash procedure.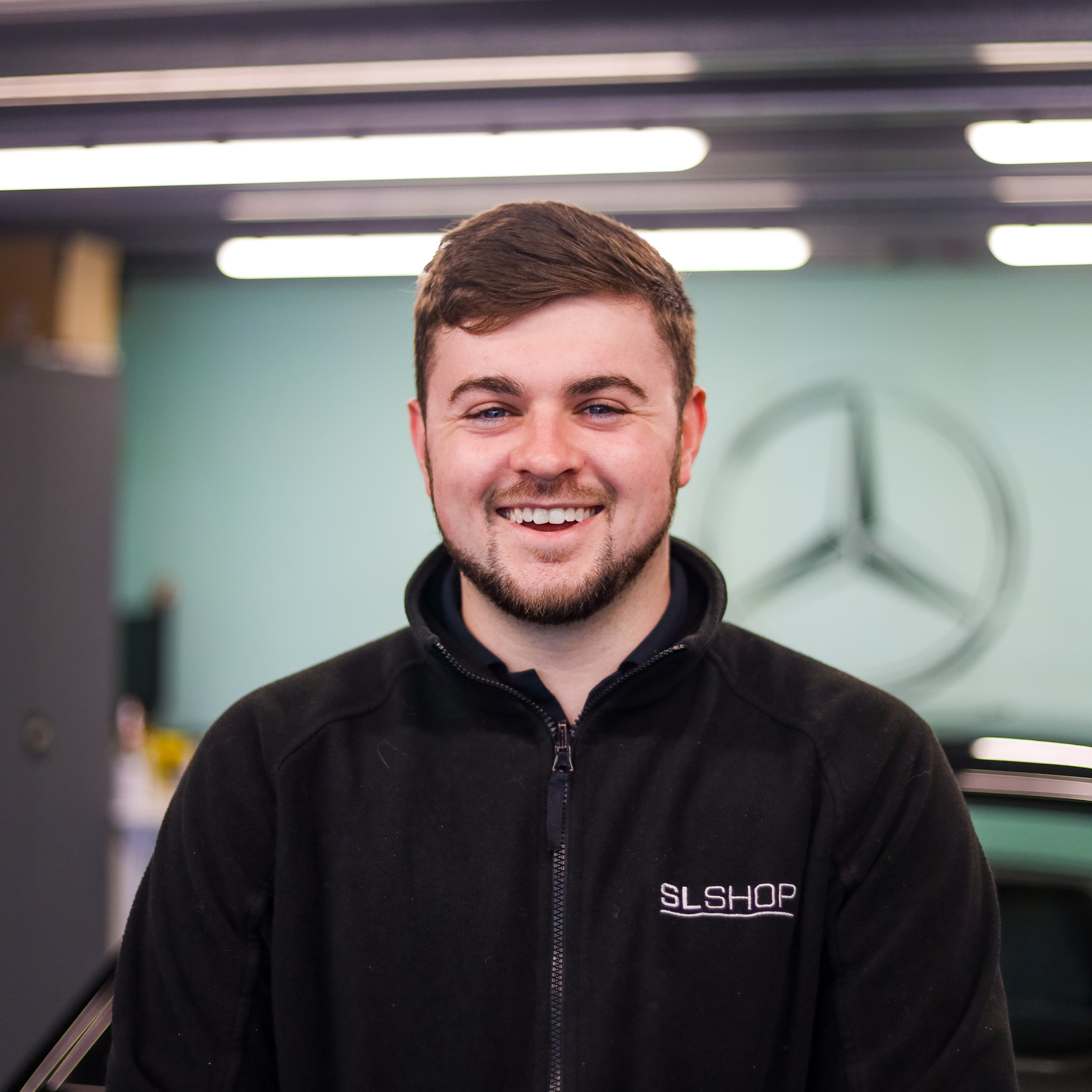 James
Like many at SLSHOP, James is a true Petrolhead with the belief that a classic car should be used and cleaned regularly. James has been responsible for devising our unique car detailing packages, ensuring every vehicle that leaves us has had a thorough interior and exterior revival. James spends hours detailing bodywork to highlight those oh so important classic Mercedes-Benz lines.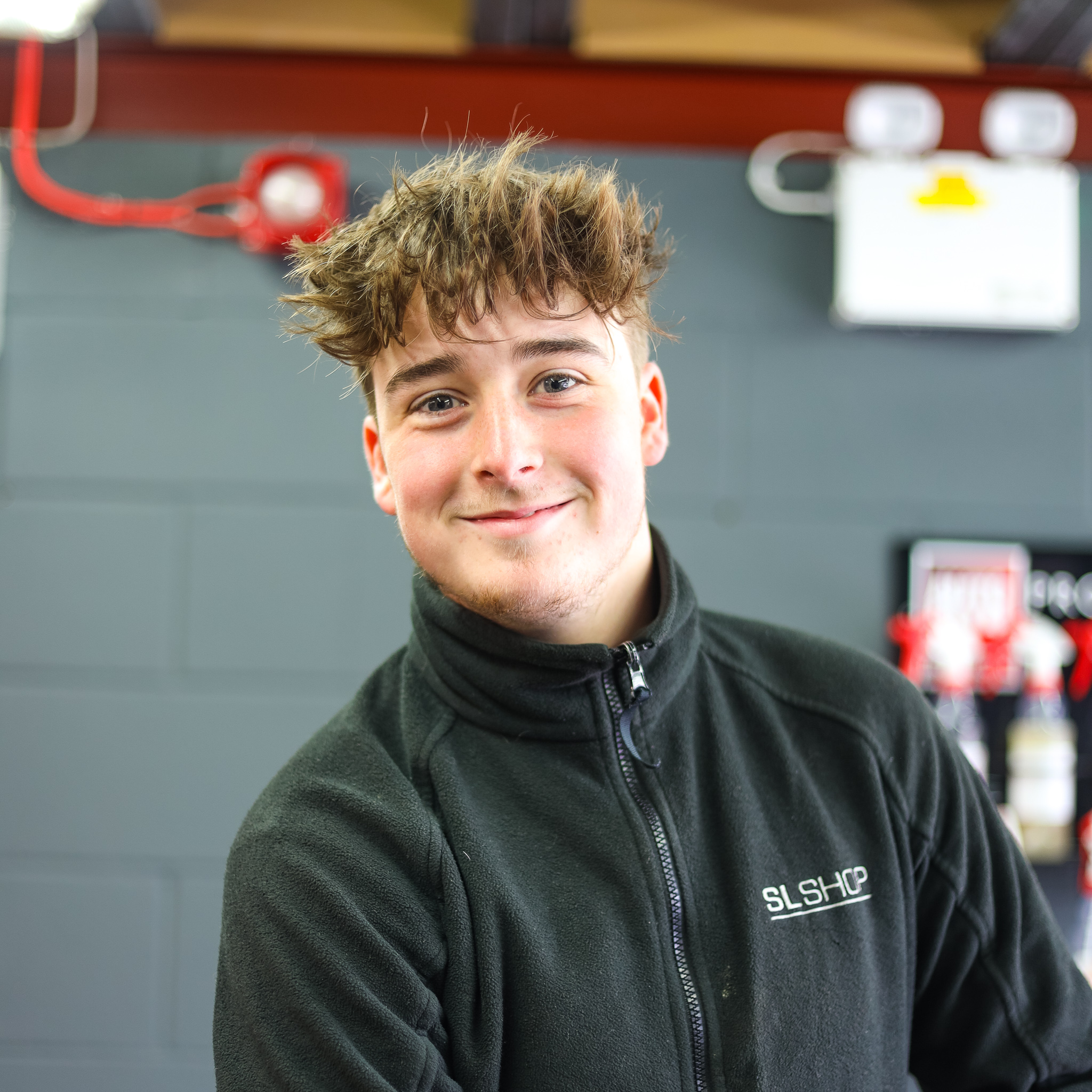 Joe
Following in the footsteps of his father, Russell and Uncle Bruce, Joe joined SLSHOP after leaving school to help support with SLSHOP's detailing services. With an excellent eye for detail and appreciation for how precious every vehicle in SLSHOP's custody is, Joe revives the bodywork and interior of vehicles from the fifties through to the modern day. As a young man in a digital age, Joe is helping inspire his generation to admire and preserve the future of classic Mercedes-Benz models.
RECOMMENDED PRODUCTS
Take the care and love of your classic home with you and utilise our selection of approved detailing products suitable for all age of classic and modern classic Mercedes-Benz models.
CLEAN WHEELS
James swears by this product, advising that is a guaranteed solution to releasing all of the contaminants that build up on your alloy wheels. Limited scrubbing is required.
POLAR BLASTER
Cleaning your car at home is much more rewarding and effective with a foaming gun. Fill this with Polar Blast and you'll have your car caked in the good stuff in under two minutes.
PURE SHAMPOO
This essential shampoo is the perfect scrubbing solution. This product is what James and Joe use following the use of the Polar Blast foam.
CLAY DETAILING KIT
Utilise the clay across the whole of your vehicle's bodywork for a silky finish. This is how the professionals do it…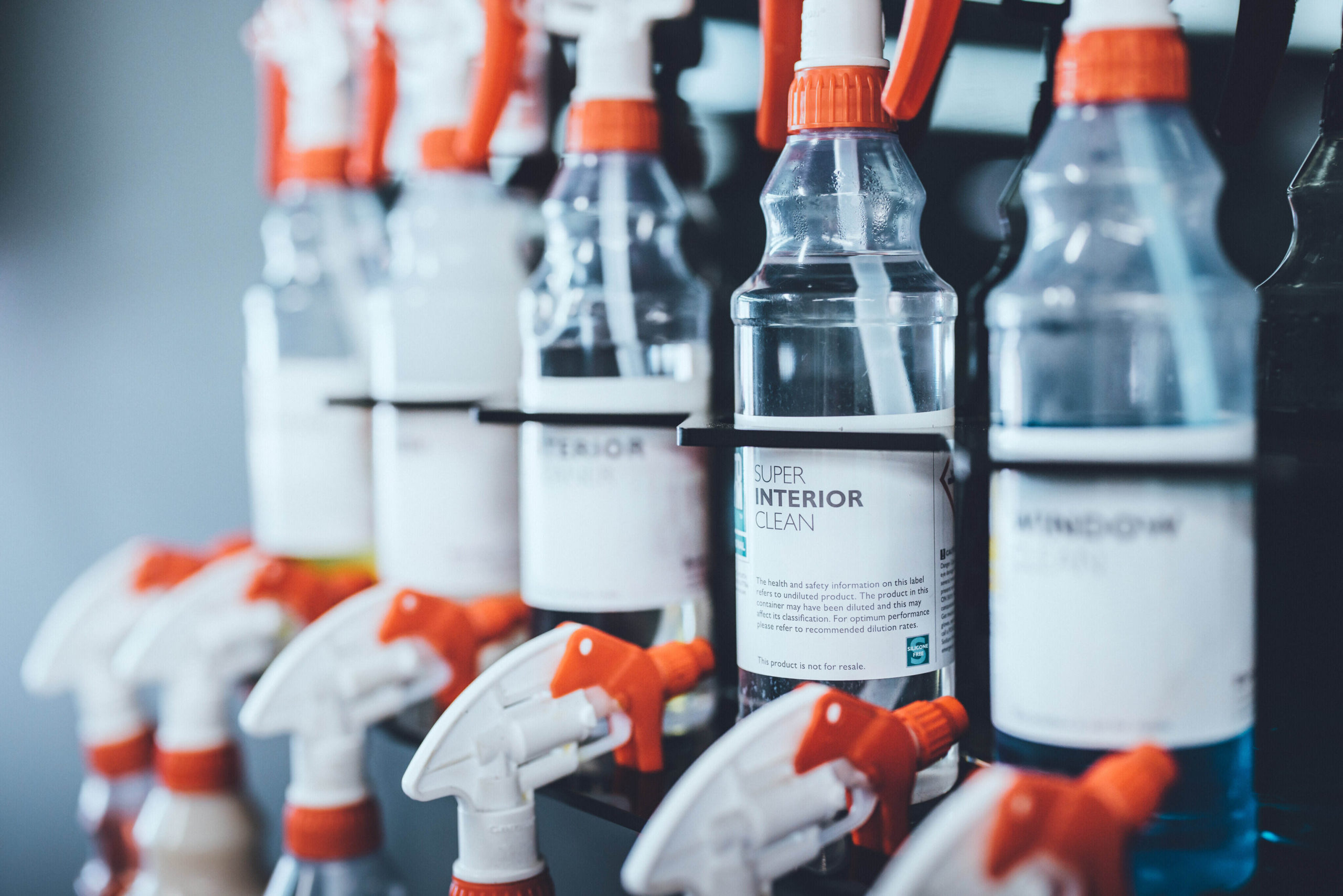 Find all the detailing products you'll ever need over on our Parts Store. Can't see what you're looking for, just send us an email.
Keep your Classic Mercedes-Benz running like the day it left the factory.
Also, sign up here for hints and tips, because we all love to learn more about our classic Mercedes-Benz!
Following, you'll also get access to our "workshop life" updates, so you can stay in the loop.
THE ULTIMATE CERTIFIED SERVICING INVESTMENT PLAN
Your ownership journey matters to us, which is why we have created a simple certified servicing investment plan, tailored to your individual needs and aspirations.
Start investing today and our dedicated CARE team will work with you to increase the value and enjoyment you receive from your vehicle.