On November 16th our Open Day took place, the first public open day since the SLSHOP moved to new premises.
After a terrible five week run of weather, it was clear that the weather gods have a soft spot for the SL – our day started under glorious skies, with uncharacteristic winter sunshine and warmth.
Guests arrived from all around the country, with the dedicated SL parking filling up through the day. All three car parks began to swell, with Mercedes-Benz cars in abundance. There were some interesting customer cars on site, including a number of modern SLs and some rather rare special editions.
Race car rides began at 10am, with guests enjoying the thrill of racing down the mile long driveway in both the Ponton and 450SL race cars. Sign up was busy, with the cars entertaining guests all throughout the day. Trepidation would turn to smiles, giving way to big grins as Jake and Harry showed what the two classic racers were capable of.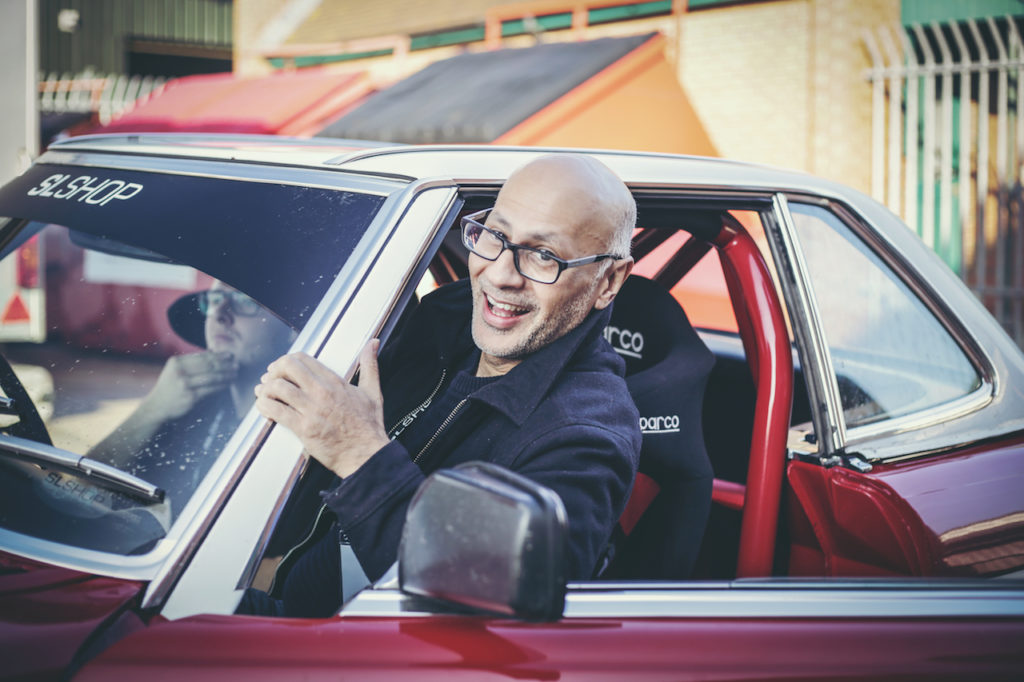 Inside the showroom the Shakespeare Distillery were offering gin tasting, warding off the chill as guests enjoyed spending time around 60 pristine showroom cars. The informal atmosphere gave visitors a chance to get up close to the cars, to talk about specification and see all manner of different SLs from four decades of Mercedes-Benz production.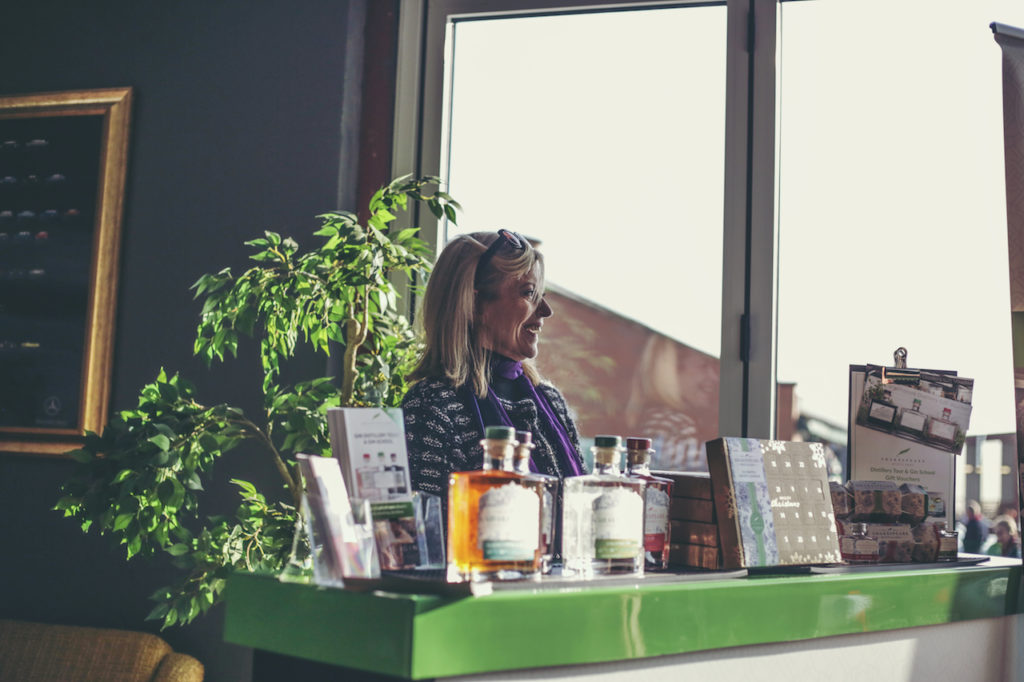 The workshop was busy all day, with staff on hand to discuss everything from replacement parts to complete restoration. It was this time with technicians that visitors particularly enjoyed, being able to talk candidly about the best way to approach a job, and to ask in detail how it's done the SLSHOP way.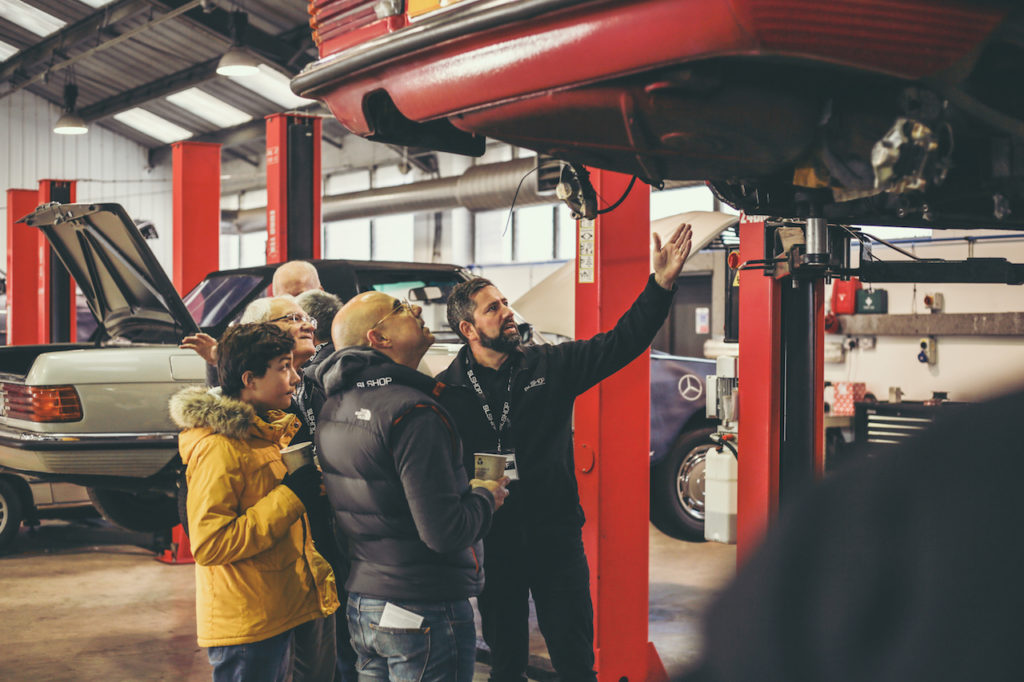 At 1.30pm guests were gathered in the showroom for a prize giving presentation. The Car Of The Day award, as voted for by all attendees was won by an Michael Ward's Almandine Red 500SL – a rare colour that clearly captured the imagination of guests on the day. A special award was presented to Graham Laing. The Tourer Award is set to be an annual prize given to someone who goes above and beyond a weekend away with an SL. For Graham's epic 10,000 mile European adventure (covered in the SLSCenic Route on ClubHouse), Graham took the 2019 award.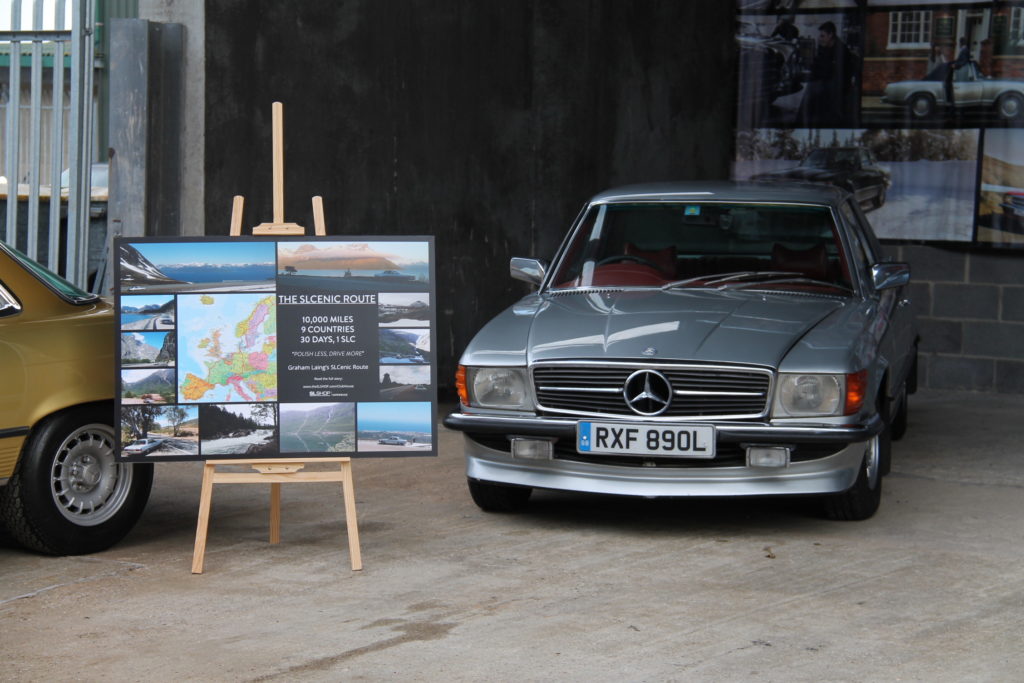 As the sun began it's decline towards the horizon, guests prepared for the Market Review. Sam Bailey an Bruce Greetham, SLSHOP directors were joined by Rob Johnson of Classic & Sports Finance. The open Q&A session was a chance for guests to raise concerns about the market, while Sam and Bruce were able to assuage doubts by giving their own point of view on the market and the future. Rob helped guests understand how equity release can finance a restoration of a second car, and the active floor clearly indicated a thirst for knowledge on the finance side of classic SL ownership.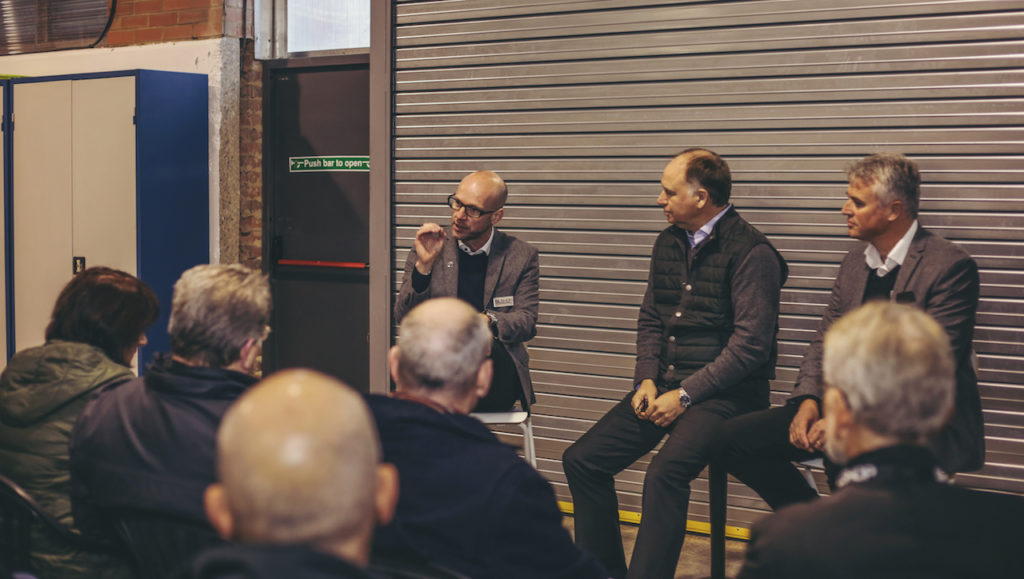 The sun set on a fantastic day, with the last customer car leaving the car park around 4.15pm. The day was a great success, and the feedback we've received so far indicates that all guests thought so too.
We'd like to thank everyone who attended for making it such an enjoyable day.
Be sure to subscribe to the newsletter and keep an eye on ClubHouse and social media for details of the 2020 Open Day.
Full gallery (photo credit Pete Seabrook):
In your words:
I Really enjoyed the visit. To see so many SLs was brilliant and chating about all the various stages and processes of refurbishment was fascinating. The SL team there were really welcoming and helpful. It was a real pleasure to put a face To a name, having spoken on the phone so often! – Mr M
My wife and I learnt a great deal and look forward to becoming regular customers of the parts department ! My wife's SL is currently undergoing major restoration – Mr A
Just wanted to say I visited the open day on Saturday and thought it was well run, I got some helpfull tips in the mechanics area and also the bulkhead section, the guys in the store area were also very helpful. I have purchased various items from yourselves over the last 2.5 years and called on a few occasions the guys I have spoken to have always been helpful, it was good to look around your showroom and I enjoyed a ride in the 1957 Ponton. It was also good to meet other with an R107 and chat with them. – Mr T
Thank you for hosting such a great open day last Saturday. As a life long (since my first ride in a 220 fintial in 1965) MB enthusiast I thoroughly enjoyed the day. You managed to provide a warm and friendly welcome and every one of of the team I spoke to was helpful, informative, friendly and enthusiastic about their own role and the business they served. It was a great event and obviously a lot of thought and work had gone into it to making it happen. It was also good to meet up with like minded enthusiasts and customers. I look forward to the next one! – Mr R
I'd like to say a big thank you for a great day on Saturday. It was good to see other cars like mine, and to see the work being done. The staff were very obliging and informative. I now have the confidence to make an appointment to have a bit of work done on my 300 SL in the near future. – Mr J
Increase the value it brings you
For every SL owner we have met, the key aspect in ownership and running these amazing motorcars is ensuring that this prized possession remains a joy to use whenever, wherever and however; protecting and increasing its value over time.
As the World's largest specialist in classic SL's we have drawn upon our experience with our customers, with hundreds of cars and thousands of hours behind the wheel and under the ramp to develop CARE; a way of engaging a community of owners and protecting the value of their investments as well as enhancing their cars condition, reliability and desirability.
Be the First to Know
We don't mind whether you are in the market for one of our awesome cars or just interested in seeing whats new and whats going on in the market. Pop your details in here to receive updates on all thats "hot" in the showroom.