When it comes to buying an R107 SL, the traditional advice has always been 'buy one from the last three years of production'. The late cars built from 1986 to 1989 offer upgraded handling and styling, meaning cars built from 1986 to 1989 have always overshadowed cars from 1971 to 1985… That's starting to change.
As the market progresses, people are beginning to appreciate the appeal of an early R107. The narrower track, smaller wheels and ever-so-slightly old fashioned feel of these cars makes them a natural progression from the ever popular Pagoda. With Pagoda values continuing on a relentless upward climb, it's no wonder that more attention is being paid to these early cars.
Finding a high quality 'early' R107 (pre-1986) can be very difficult indeed. Finding one with low miles in a rare colour combination is another task entirely. This Light Ivory 380SL sports the Brazil Brown interior, a fantastic combination of colours and textures that makes it a very unusual car to behold. The colour combination can impact the way a car looks and feels. The metallic paints of the 1980s combined with the Beige interiors make the late cars look newer than they are, but the colour scheme of this 380SL dates it back to the Pagoda era… With interest in cars of the 1960s at an all time high, there has never been a better time for a 'coffee and cream' R107 SL.
With the painted hub caps and elegant stance provided by the narrower front wheels, these pre-86 cars are appealing to an all-new generation of R107 buyer… Jude Law and Lana Del Ray are both known to drive these cars.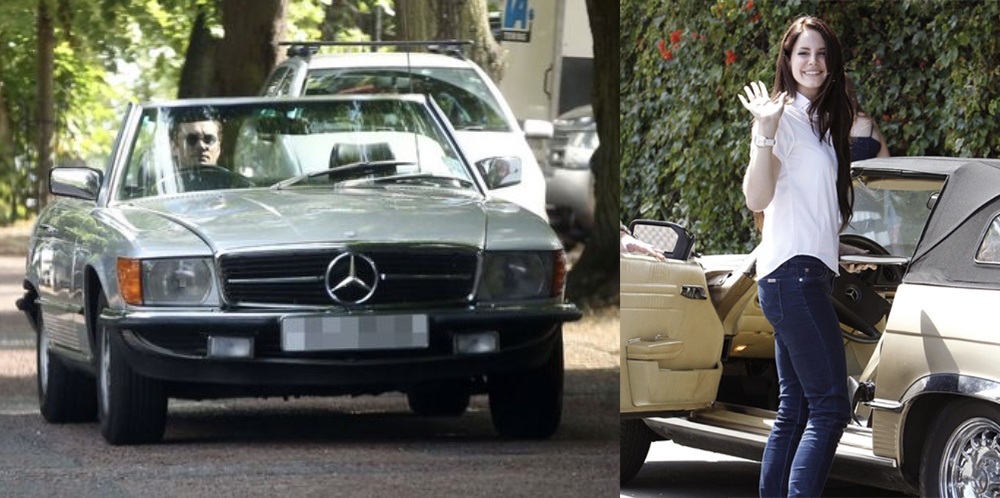 Where traditionally the post-86 cars have been most in demand, we are now seeing the beginnings of a rising wave of retro leaning. The older an R107 looks, the more a certain enclave of the R107 community seem to appreciate it. We find it's wonderful to see new buyers entering the market, and look forward to demonstrating this rather rare SL to a prospective owner.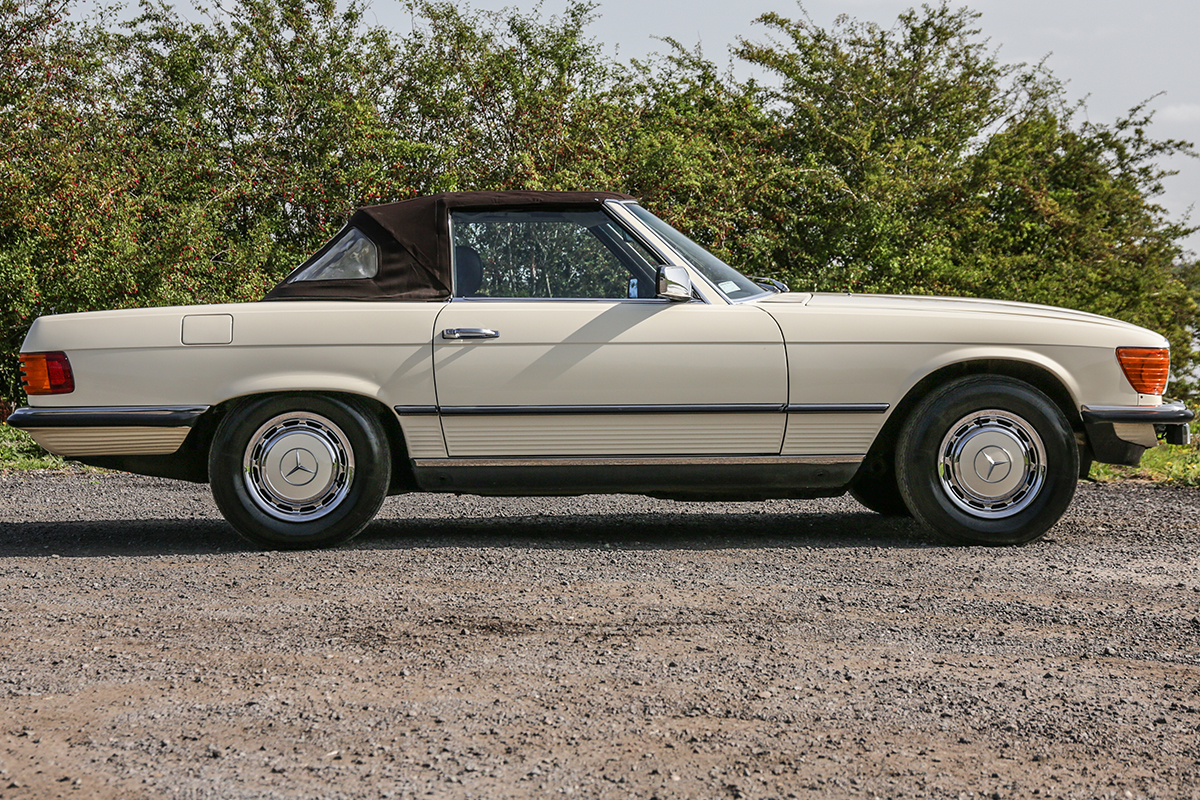 Our showroom currently hosts this exceptional example, being the very essenence of retro styling down to the colour combination and year. A 1982 car with just 22,000 miles on the clock, finished in fantastic Light Ivory with Brazil Brown interior, it looks every inch the 1970s icon and is sure to be a hit wherever you happen to drive it.
A rather unique R107 SL and not something we at SLSHOP see every day.
To find out more about this car, or any of the other cars in our showroom, please contact Bruce Greetham.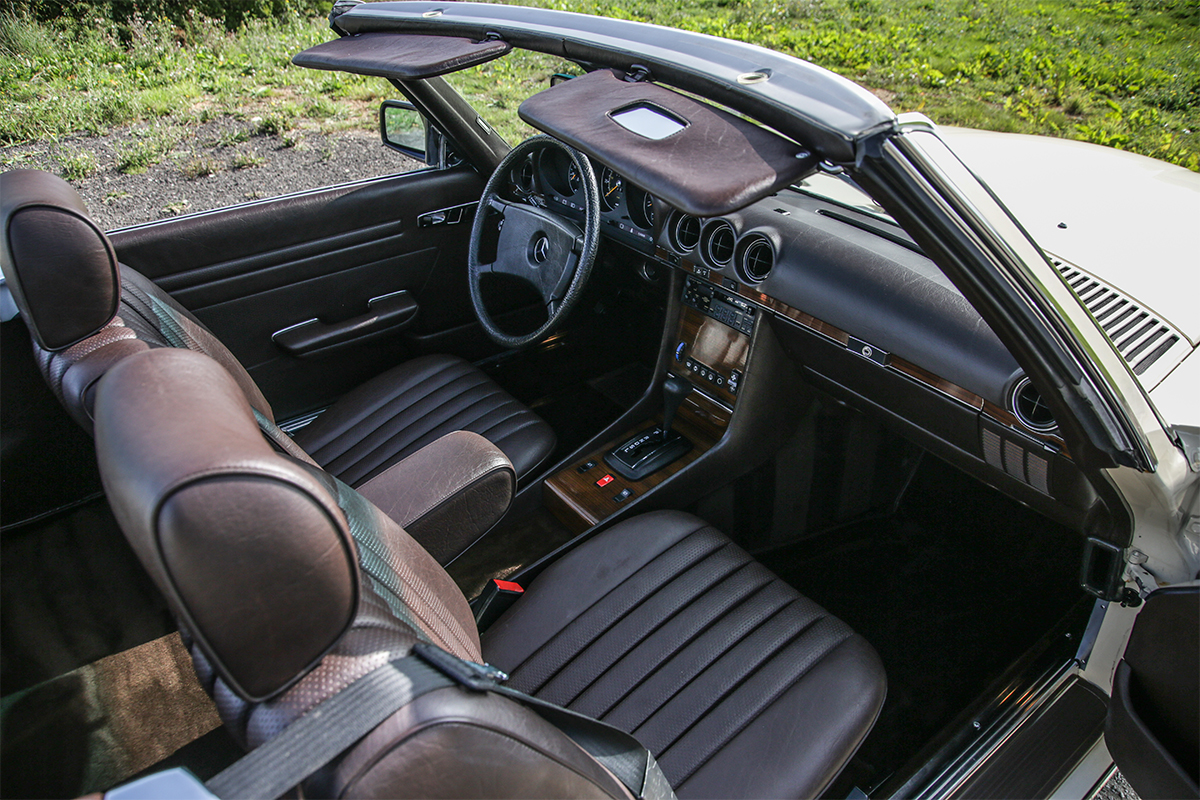 Increase the value it brings you
For every SL owner we have met, the key aspect in ownership and running these amazing motorcars is ensuring that this prized possession remains a joy to use whenever, wherever and however; protecting and increasing its value over time.
As the World's largest specialist in classic SL's we have drawn upon our experience with our customers, with hundreds of cars and thousands of hours behind the wheel and under the ramp to develop CARE; a way of engaging a community of owners and protecting the value of their investments as well as enhancing their cars condition, reliability and desirability.
Be the First to Know
We don't mind whether you are in the market for one of our awesome cars or just interested in seeing whats new and whats going on in the market. Pop your details in here to receive updates on all thats "hot" in the showroom.