Writer and Scottish Resident Andrew Martin usually drives a Mercedes-Benz R230 Brabus, a special car in it's own right… So we leant him a rather special R107 500SL to compare the two.
Words by Andrew Martin
Who do you think you are?
Sometimes I catch a look at myself in a mirror, or in a photo, and think, yikes, I've become my father. There are some mannerisms and physical resemblances that are direct copies. I wouldn't tell him, but, yes, I look up to him and we're very similar in our attitudes, thinking and how we behave. Despite me wanting to be my own person, the genes are strong. But what about my daughters? How much of their grandparent's DNA is evident a generation on? There is maybe a look around the eyes, but how about attitudes, thinking and how they behave? Which got me thinking… how much DNA is passed down two generations in the car world? Pitching up at the SL SHOP in Stratford-on-Avon I engineered a photo of my car nose to nose with what is known as a W107 series Mercedes Benz 500 SL. Although you might know it as a Booby Ewing car from Dallas, or the Hart to Hart car.
Then a genius plan was hatched. I'll take the 1988 car away for a couple of weeks, subject it to a rigorous scientific examination across all roads in the UK and come back with clear evidence of how similar the two cars are in how they behave. Unbelievably they fell for it, so, bags swapped over, we were off. Quickly.
Coming straight from my car to the classic my first thoughts were how small it is. Reinforced immediately as a wave to acknowledge a driver who has let me through traffic, resulted in me smacking my hand in the windscreen. That is close. That said for an orangutan driver it is a perfectly snug fit. The initial impression is that of driving a 1970's Triumph TR 6; you're close to the screen and dashboard, the handbrake is between you and passenger, my driving position is slightly arms bent, and there's a big wheel to operate the steering. Yes, this car is alive, and needs to be driven rather than fly by wire, but this is a luxury carriage too. You sit on heated leather seats, the cabin features beautiful wooden veneer, there are electric windows, and one electric mirror. Once you master the manual adjustment of the seat, the door arm rest is exactly where my elbow needs to be and you're ready to cruise. Radio speakers are rubbish though.
Here's a revelation; the R107 500 SL is more of a driver's car than I had given the model credit for. The underpinnings show their hippy era age, but I am happy to pour on the ample power to keep the chassis in line and corner safely. The torque from the V8 engine, of course, makes for lazy progress. 71 mph is 2150 rpm, so if I did open it up and use over 4000 rpm this should be a fast car indeed, But I didn't, I wasn't inclined to. Remember that large steering wheel? Well, I liked it. On the move it's not too large and gives me the right amount of feel allowing the car and road to talk to me. Mostly in hushed tones through power assistance. The brakes feel as good as a modern and are spot on.
A book on my shelf is titled "Big Is Beautiful – Debunking the Myth of Small Business". In the SL world I disagree. Arguably my SL is too big, it certainly feels too big, in a way that the 500 SL did not. Yes, yes, there's modern crumple zones, but for me smaller is better. And I'm talking over motorways, B roads and in the carpark, in each case the older car felt easier to manage and place.
Yes, both are convertibles. Any similarities here? Nope. In the modern car you press a button and everything folds away. The classic is a bit Chrystal Maze (Richard O'Brien era of course) in operation; with the two of us arguing what the sequence is, and which lever has to be pushed or pulled, then a large metal implement is needed to secure the soft-top to the windscreen frame.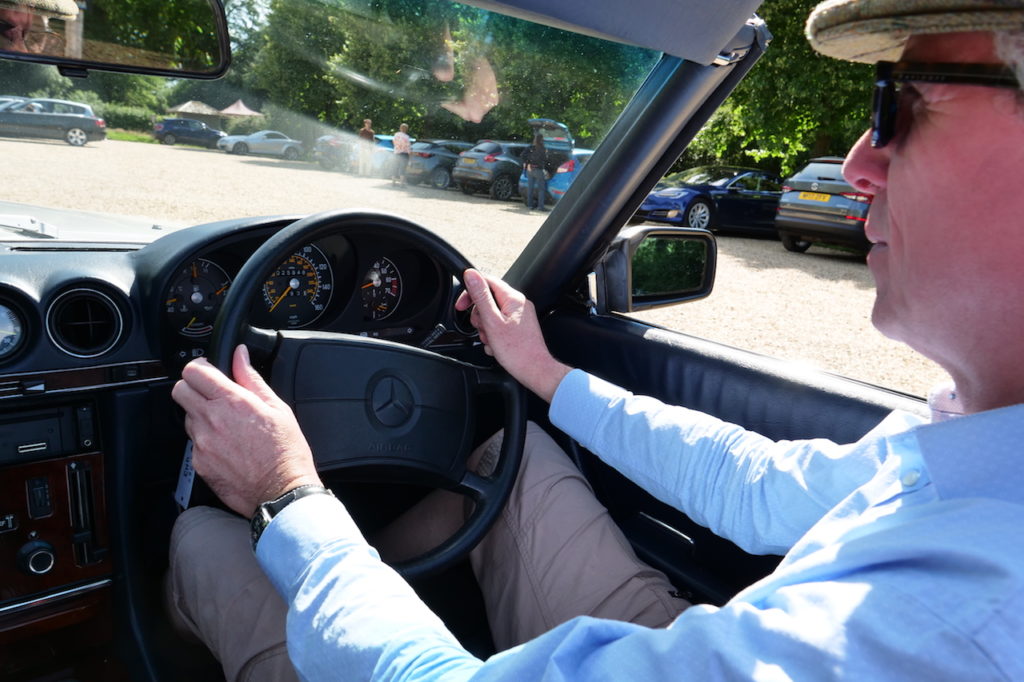 So, these two cars, born 18 years apart are hugely different. There are no similarities in how they look, feel to drive and behave in any way. The DNA is not apparent. However, like my daughters and father, people do like them. Both cars get admiring comments at petrol stations (both cars drink heavily, which is a grandparent trait). Both make you feel special. But the appeal is totally different. The classic looks, well, classy. It's coothy and competent with a 1970's British feel. The modern is a stunning looker and an incredibly competent performer (it is a Brabus with at least 550 bhp), but teutonic in feel and soulless.
Which one would I choose? That's like asking if I'd rather spend time with my father or daughters. In the post lock-down world I would like to spend time with them both. There is your answer, they are both so different and engaging in their own ways, that you need to love them both.
Have you got an SL Adventure planned, or have you been on one before? We'd love to hear all about it. Send your words and photos to Joe.
Increase the value it brings you
For every SL owner we have met, the key aspect in ownership and running these amazing motorcars is ensuring that this prized possession remains a joy to use whenever, wherever and however; protecting and increasing its value over time.
As the World's largest specialist in classic SL's we have drawn upon our experience with our customers, with hundreds of cars and thousands of hours behind the wheel and under the ramp to develop CARE; a way of engaging a community of owners and protecting the value of their investments as well as enhancing their cars condition, reliability and desirability.
Be the First to Know
We don't mind whether you are in the market for one of our awesome cars or just interested in seeing whats new and whats going on in the market. Pop your details in here to receive updates on all thats "hot" in the showroom.