As the world's leading Mercedes-Benz R107 SL specialist, we have seen our fair share of different R107 SLs. This is a car that was built for two decades, was available in more than 100 different paint shades with more than 50 different interior colours.
We try to keep our showroom supplied with a wide range of different colours, and there is nothing we love more than finding a high quality R107 in an unusual colour combination… and that is exactly what we have here.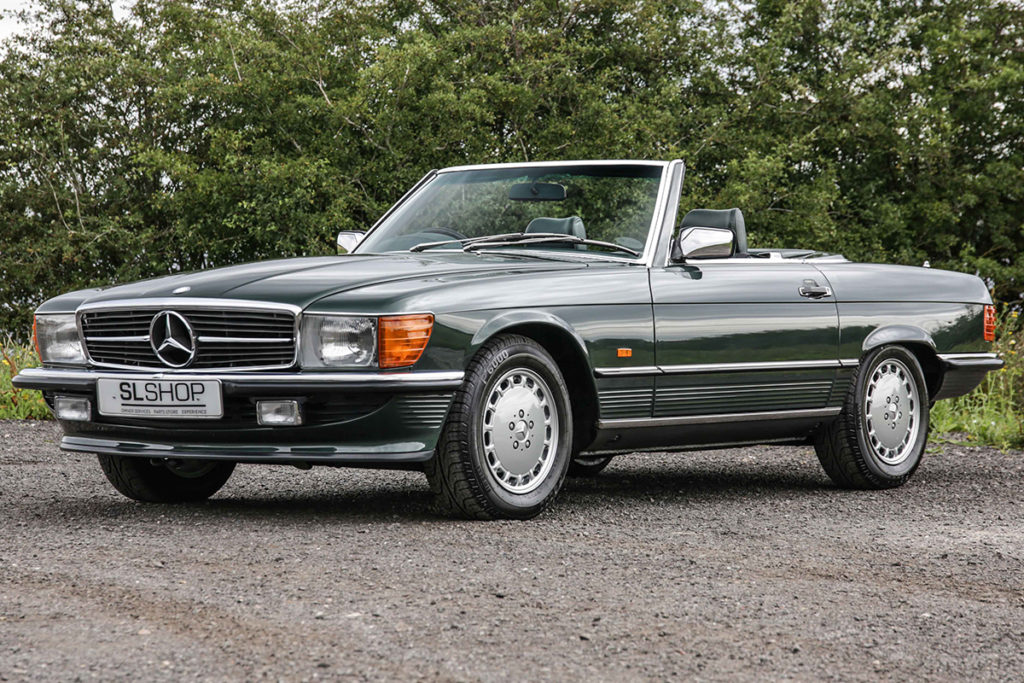 More Green in the Green, please!
1989 Mercedes-Benz 300SL – Pine Green Metallic with Fir Green Leather
This unique 300SL was ordered from new in Pine Green Metallic (254) with Fir Green Leather (276). Pine Green itself is rare to find, as this colour was only available for the final three years of production (1986 to 1989). We have seen a handful of Pine Green cars, and currently have two in the showroom… a 500SL with Beige Leather and the 300SL shown here.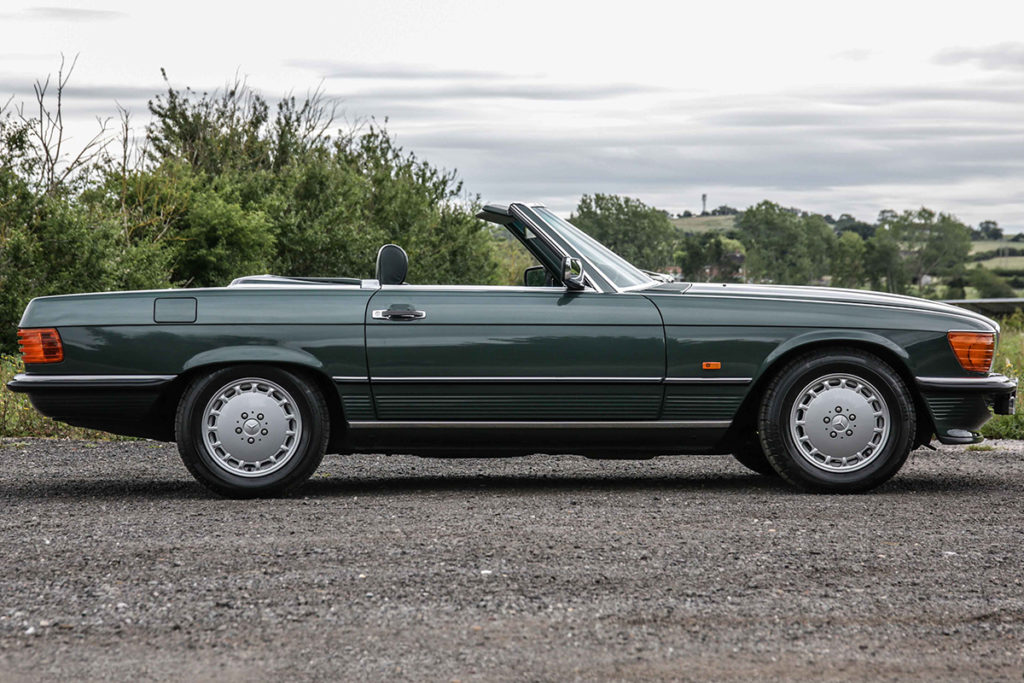 The combination of Pine Green with Fir Green works superbly. It's the small details that stand this car out from the crowd, the way the wood is in immaculate condition and how the light bounces off the veneer, in contrast with the delicate gold typeface of the original Blaupunkt stereo.
Interestingly this 300SL was ordered from Rose & Young in Caterham, Surrey. The site was once a beautiful Art Deco car dealership, which Surrey residents will know from local news. After the dealer vacated the premises, the building fell into disrepair and has been the subject of much debate over recent decades regarding the future of the site. An interesting connection to the past, and another curious feature of what is a very enticing Mercedes-Benz.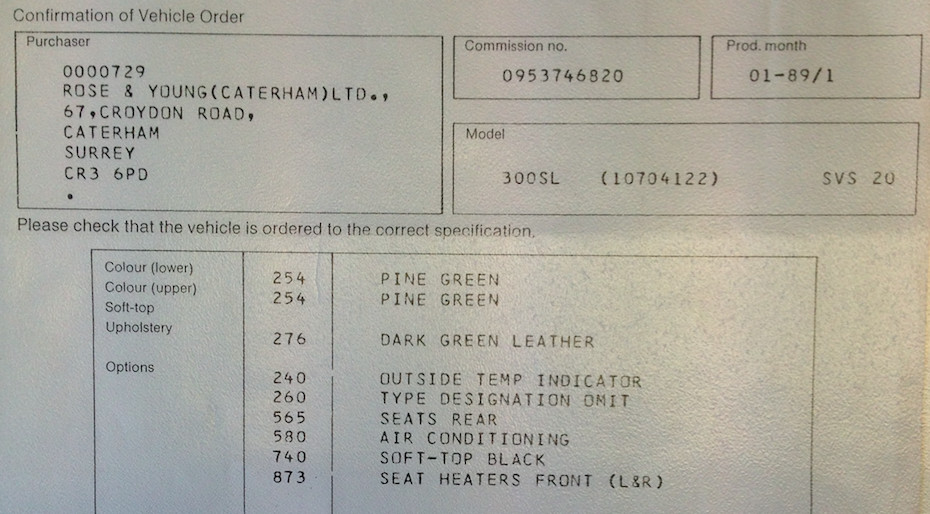 Ordered in March of 1989, this car shows a pre-delivery inspection date and stamp on 2nd August 1989, showing as Rose & Young. The original order form is present with the car, both in terms of the hand written dealer note and the printed Mercedes-Benz confirmation. With expensive options including air conditioning, outside temperature indicator, leather, rear seats and heated front seats, this would have been a very expensive 300SL.
We are confident this car won't be with us for very long – interested parties should contact us to arrange a viewing.
View the car in our showroom here
This fantastic car is a great example of a low mileage 300SL, and that colour combination makes it a sure fire hit at any classic car show you might wish to attend. We aren't sure we'll find another one!
Have you seen an R107 SL in an unusual colour combination? Send us some photos, we are always on the lookout for combinations we haven't seen.
Increase the value it brings you
For every SL owner we have met, the key aspect in ownership and running these amazing motorcars is ensuring that this prized possession remains a joy to use whenever, wherever and however; protecting and increasing its value over time.
As the World's largest specialist in classic SL's we have drawn upon our experience with our customers, with hundreds of cars and thousands of hours behind the wheel and under the ramp to develop CARE; a way of engaging a community of owners and protecting the value of their investments as well as enhancing their cars condition, reliability and desirability.
Be the First to Know
We don't mind whether you are in the market for one of our awesome cars or just interested in seeing whats new and whats going on in the market. Pop your details in here to receive updates on all thats "hot" in the showroom.