Graham Laing decided to retire 10 years earlier than planned to enjoy an epic driving tour with his SLC. The plan, inspired by conversations with his Father, was to drive the SLC from the southern most tip of mainland Europe in Spain to the northernmost tip of mainland Europe in Norway.
When he told his children, they said 'you should write a blog about it'… So that's exactly what Graham is doing. Graham approached the SLSHOP and asked whether we would be interested in hosting his work, and we were only too happy to share his story. The SLCenic Route was born!
In this episode Graham enjoys an Alpine Route, or two.
The SLCenic Route
Episode 13 – Oberreute to Ramsau via Oberjoch Pass (210 miles)
Germany has a number of interesting well documented and signposted routes. This one is known as the German Alpine Route, you can google it and get information on thing to do and see along the way. Don't be surprised that it takes you into Austria a number of times, but do be surprised if you see a sign you've changed countries, I didn't. Programming the Satnav to follow the route was impossible so I gave it a final destination and happily listened to it not get annoyed every time I went off route when following the many Alpine Route signposts.
It turned out to be the perfect day to recharge my batteries and recover some of the emotional energy consumed by the fantastic highs and lows of the past 2 weeks, mostly highs! That's not to say it was boring, there were still some wow moments, but the gentle rolling countryside with the Bavarian Alps in the background are the perfect tonic for a weary traveller. The scenery was very lush and green, throughout the whole route. I kept expecting Julie Andrews from the Sound of Music or Steve McQueen from the Great Escape to appear round the next gentle smooth tarmac bend.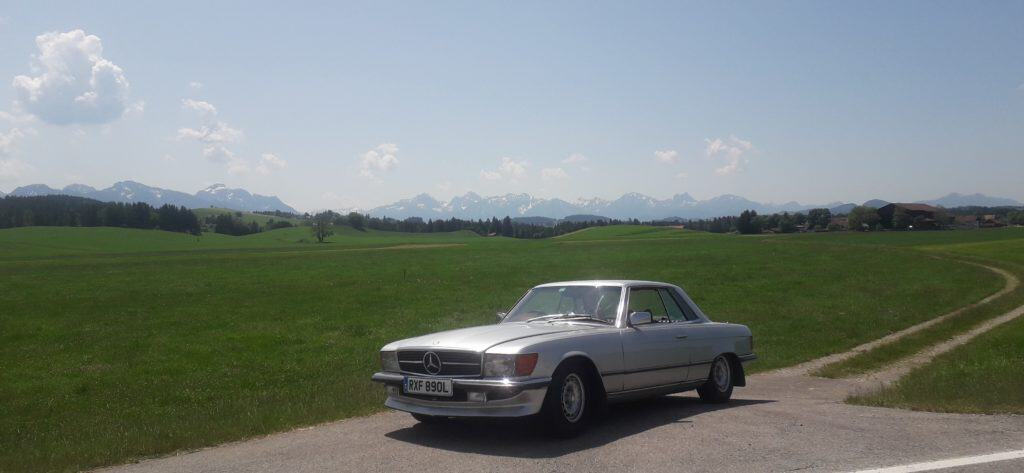 The Oberjoch Pass at 3864ft is noted as one of the highlights on the route, and is lovely, but after the 2 Swiss Passes yesterday, cruising all the way up in third gear seemed like a simple stroll in the park and at only half the height, meant no snow. Oh how I longed to get to third while climbing the Oberalp yesterday. As with the Swiss passes, stop short of the top for some peaceful walks in the forests and don't worry about racing cars and bikes in the middle of the road, this is Germany and much more observant of rules.
The Bavarian Alps are not so much "in your face", there was room for some sky above them, often yesterday in the Swiss Alps, all I could see out of the windscreen was impressive snow topped mountain after snow topped mountain.
Somewhere can't remember where, on the route I stopped to look at a ski jump. Obviously at this time of year it was empty and black, with no snow. Seeing it up close without anyone around, I could see the attraction of wanting to hurtle down and jump out into the unknown. At least, I know the 17 year old in me would have been desperate to do it, now at the sensible (?) age of 55 I'm happier to watch.
One annoying thing today, Germany doesn't like google street view. I've used it every day on this trip so far, both to see what is coming up tomorrow and figure out where I went wrong today. Somebody need to have a word!
One good thing for me, is the language problem, most Germans speak at least a little English. I did German at school, but I was rubbish and 40 years later I remember more German from watching war films in my youth than anything I did in class. Apologies to any hard working language teachers, it's just my brain is more numerate than literate.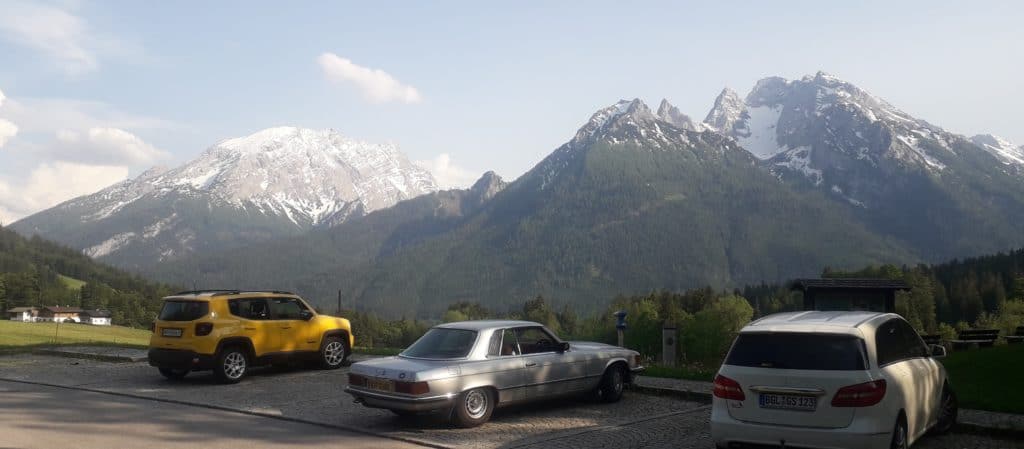 A short note on the SLC itself; as you can imagine, at 46 years old, it has a bit of history, at some point in the past (probably 10 years ago) the original 4 speed gearbox was replaced with a perfectly spaced Mercedes 5 speed which makes cruising speeds even more pleasant. If anybody does know who had this SLC previously I would love to meet them.
Another day, another perfect performance from the SLC. (Am I tempting fate?)
Increase the value it brings you
For every SL owner we have met, the key aspect in ownership and running these amazing motorcars is ensuring that this prized possession remains a joy to use whenever, wherever and however; protecting and increasing its value over time.
As the World's largest specialist in classic SL's we have drawn upon our experience with our customers, with hundreds of cars and thousands of hours behind the wheel and under the ramp to develop CARE; a way of engaging a community of owners and protecting the value of their investments as well as enhancing their cars condition, reliability and desirability.
Be the First to Know
We don't mind whether you are in the market for one of our awesome cars or just interested in seeing whats new and whats going on in the market. Pop your details in here to receive updates on all thats "hot" in the showroom.