Mercedes W113 'Pagoda' For SALE IN OUR SHOWROOM
Since SLSHOP's inception we have been the custodians, creators and revivers of hundreds of Mercedes W113 Pagodas – all of which have become Mercedes W113s for sale or showcased in museums. The connecting thread? All our Pagodas have been responsible for propelling the global demand and interest in this iconic roadster. Our reputation, reliability and unrivalled knowledge of the W113 Pagoda has bestowed us with the title as the go-to destination for the finest Mercedes W113s for sale.
With a concours winning Sales Director at the helm, SLSHOP's sales team scan the globe in pursuit of the highest calibre Mercedes W113 for sale, using their meticulous minds to assess and confirm the calibre of a small selection of W113 Pagodas. Each Mercedes Mercedes Pagoda for sale has been verified by our expert team; with a comprehensive inspection carried out before arrival at SLSHOP. This enables us to qualify each W113 and establish what may need further investigation by our Heritage Craftsmen once the W113 has arrived SLSHOP. This carefully planned operation is just the start of how we prepare a Mercedes Pagoda for sale and is methodical for many reasons…
The enthusiast will be familiar with the ever-increasing popularity of online auction sites, where Mercedes Pagodas for sale are presented beautifully but without certification from a specialist. SLSHOP believes in telling a true story, which is why our craftsmen devote hours, days and weeks to each W113 Pagoda we decide to sell. This gives buyers the confidence that their desired Mercedes W113 has been thoroughly inspected by the best in the business.
PREPARING A MERCEDES W113 PAGODA FOR SALE THE SLSHOP WAY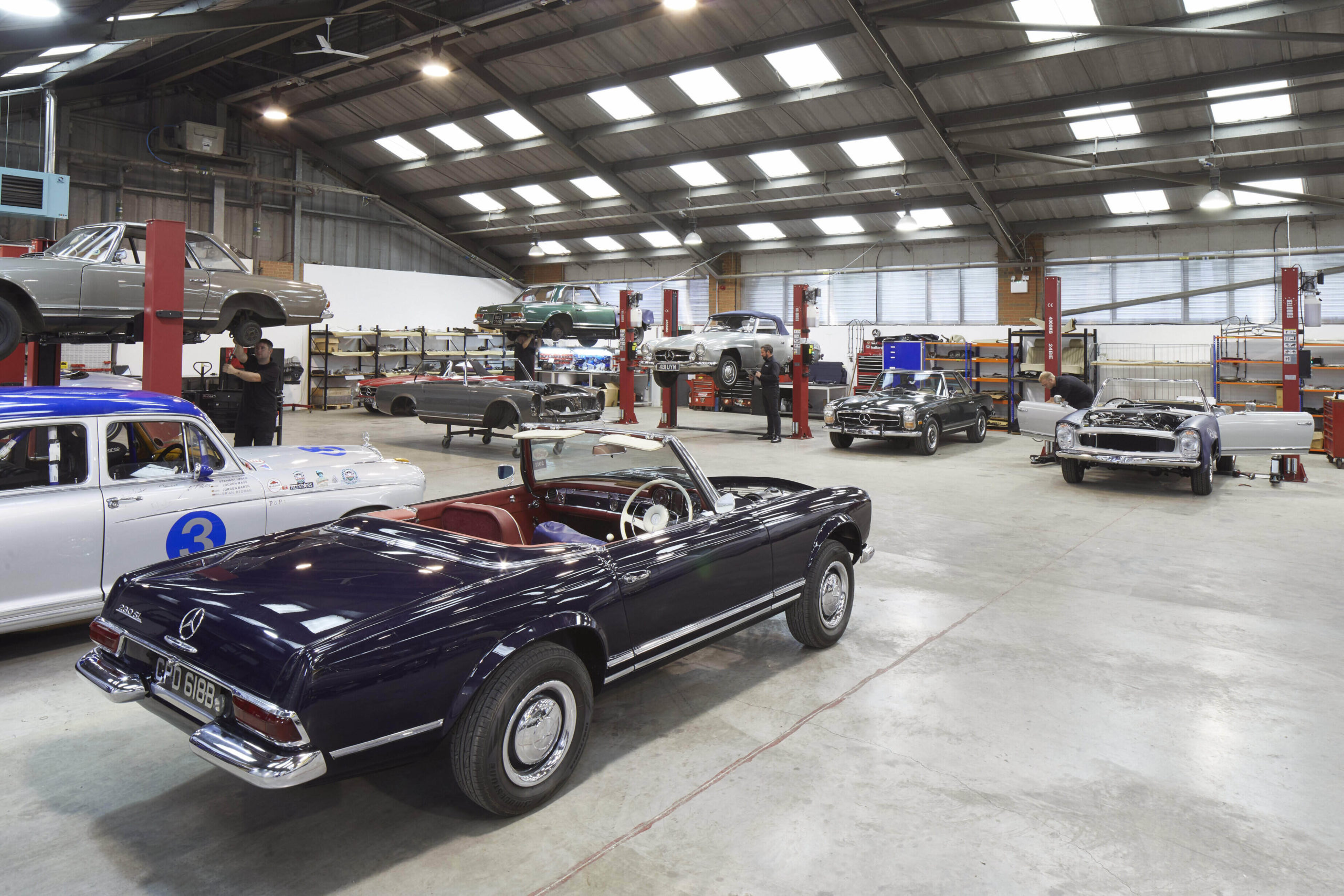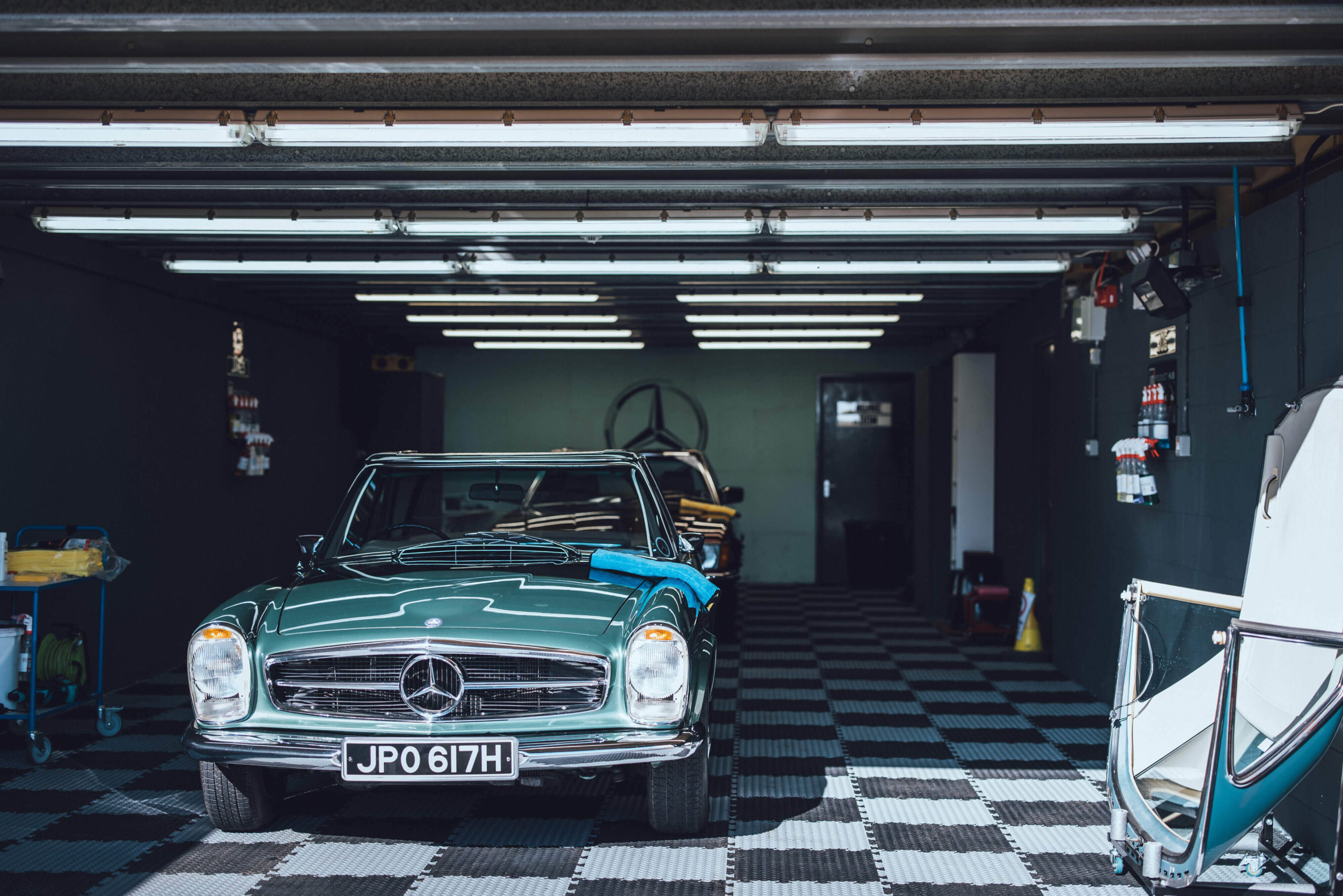 Following the rigorous pre-arrival inspection schedule each Mercedes W113 undergoes, our dedicated Heritage craftsmen then inspect the W113 on our ramps and on the road. This enables them to further assess the mechanical performance, quality of the interior and exterior, ensuring that every intimate detail is understood. A report is then compiled outlining any necessary improvements to be made prior to sale. This gives you the confidence that all our Mercedes W113s for sale, leave our premises in an unrivalled and ready-to-be-enjoyed condition.
By certifying the quality of each Mercedes W113 for sale, we can offer new owners a 12-months mechanical warranty on their Pagoda. Like a newly purchased car, a SLSHOP certified Pagoda is ready to be used with complete confidence.
Before you take hold of the keys of your Pagoda, our expert detailing team carry out a thorough and precise deep cleaning process to accentuate the beautiful lines and chrome brightwork quintessential of the W113 Pagoda. The exterior is cleaned twice and washed with a PH neutral foam before the bodywork is hand polished. The team then deep-clean the wheels and dress the tyres and plastics. After that, we clean the glass inside and out. Then, we clean the interior and wet vacuum if needed. Lastly, we treat the leather. The car is then returned to our showroom where it receives a final clean, with the tyres blackened.
Handing Over Your Mercedes W113 Pagoda
Choosing a SLSHOP certified Mercedes Pagoda W113 for sale is not simply a click and collect relationship… Each Mercedes W113 we handover is a celebration of our shared appreciation for an automotive saint – a segment of history that deserves to be enjoyed and preserved for future generations to discover. This is our opportunity to walk you around the W113, explaining how everything from the roof mechanisms to the headlights work. Each Mercedes W113 for sale also comes with a video outlining all the essential controls; you'll even get a consultation with our service department to schedule your first annual service.
Our investment in your new Pagoda W113 is part of our desire to build relationships with owners, to give them the confidence that they have made the right purchase. Our objective is to make new owners feel as passionate about their acquisition as we do. A SLSHOP certified W113 is more than just an investment, it's a gateway to new experiences and friendships with like-minded individuals. As a W113 owner you'll be invited to join our carefully curated European driving tours, as well as our servicing plans and membership schemes. When you choose a Mercedes Pagoda W113 for sale with SLSHOP, you're entering a new realm of classic car ownership.
DON'T MISS OUT ON NEW MARKETPLACE STOCK