R107 SportLine | 0-60 in 5.9 Sec | 255 BHP
R107 SportLine Signal Red / Cream Alcantara
The R107 SportLine was
superbly
engineered. But we always knew it was capable of more.
Customers wanted it to drive, respond and brake to modern performance standards
. With this in mind, we started the SportLine project. 
Using the 300SL as a base, we made the crank and flywheel lighter. Then, we ported and polished the cylinder head. We also installed a performance camshaft.
Lastly
, we made the ignition and fuelling more modern. 
Our team also shortened the throttle linkage. This transforms the way the three litre six cylinder responds through the gears. With a custom exhaust and manifold, the R107 SportLine produces 255bhp. It's more than a factory standard 500SL!
The car now drives and handles unlike any other R107 SportLine. It's lively, it's agile, and it wants to
be driven
.
Looking for the classic car feel without compromising on performance? The SportLine is the perfect solution!
Want the most responsive and rewarding 107 SL you've ever experienced
? Then the SportLine is for you! 
Performance
Lightened and balanced flywheel and crank
Revised injection system (featuring larger Mercedes-Benz injectors)
Distribution Pack replaced with modern ignition coil pack for a more precise spark and better throttle response
Mapped ignition via Omex ECU
Free-flow performance air filter
Re-engineered throttle linkage for better pedal response
Performance camshaft with revised cam profile, tuned for torque
Ported and polished head for better breathing
Bespoke stainless steel exhaust system
Mercedes-Benz 5 speed manual gearbox
The Handling
Adjustable progressive springs and bespoke dampers, tuned to the weight and feel of the car
Bespoke anti-roll bar
Aluminium rear trailing arms with anti-squat links
Stronger, uprated suspension bushes
Performance discs, vented and grooved for effective cooling
Performance brake pads
Limited-slip differential for improved traction and acceleration
Full professional geometry set-up
The Interior
Reprofiled sports steering wheel for greater control and better feel
Hand stitched dashboard, steering wheel, gear knob and gear lever gaiter
Interior SportLine badging
Dash mounted fuel/air mix gauge
High gloss dark pepper wood finish
Seat Heating
Period style Nappa leather with Alcantara centres, pleated and double stitched
Upgraded Becker Hi-Fi audio system with Bluetooth technology
It began as our dream. It can now be your reality. The order books are open!
Before the ink dried on our electric car brochure, m
any around the world had caught wind of the SportLine Zero project and wanted to get involved
. 
Electric vehicles have moved
firmly
into the limelight. As daily drivers, they're
here to stay. Now, capital cities around the world have increased restrictions on emissions. But why let that impact your classic car enjoyment? 
At the time of writing, 21 towns have low emissions zones.
The trend is increasing across the world. European cities are embracing clean air zones and pushing petrol heads out of cities. We don't believe this should be the end of classic car enjoyment. Instead,
we see it as
an opportunity. To make a statement of style, sophistication and forward-thinking. 
A SportLine Zero project is a joint venture between SLSHOP and you
. Just like our Mercedes SportLine projects. This isn't an off-the-shelf product. It's a custom build, set and finished to your exact requirements. The cabin, chrome, down to the way the car handles.
Choose from a range of standard SL or SportLine touches, the finest materials, and custom colour palettes
. 
It doesn't
just
have to be an R107 SportLine, either. 
SportLine ZERO: For Everyone
Picture Paul Bracq's Pagoda.
Drifting
silently
along the lawn at your local Rotary Club show
. Hear the electric motor humming, with an air of dignity. All the while, packing more acceleration than even the 280SL managed.
Or the 1950s fashion icon, the 190SL.
A timeless shape,
stylistically
future-proof. Freed from the shackles of its ancient engine
. Imagine this classic using electric power. 
We have the expertise to build your dream classic electric Mercedes SportLine. An R107, a W113 Pagoda, a W121 190SL or something else… We have donor cars ready and waiting. The only limit is your imagination… 
Should it be Nautic Blue, Classic White, Impala Brown or Icon Gold? Will you follow our lead on muted acceleration? Or would you like to be a bearer of traffic light surprises? 
Ultimately, whatever path you choose, we're excited to start working on your very own SportLine Zero
. 
Sportline Driven
Our R107 SportLine has been featured in magazines, including Octane and Mercedes Enthusiast Magazine. It's been displayed at classic car shows and used for classic car events around the country. Interested in the SportLine project? If you'd like to discuss a SportLine restoration of your own SL, do get in touch.
Sportline Parts
But it doesn't have to stop there. Our large range of upgrade parts will give you a taste of Mercedes SportLine at home. Engine and gearbox upgrades to sports suspension and even cosmetic touches… Ultimately, you don't have to undergo the full SLSHOP conversion. Now, you can make improvements to the look and feel of your Mercedes SL at home.
We've picked out some of our favourites. However, you can view our full range of Mercedes SportLine performance parts in the catalogue below.
Performance anti-roll bars
Reduce pitching and body roll with our up-rated sway bars. With these, you'll get better stability but remain comfortable. This is thanks to a combination of superior materials, a thicker diameter, and polyurethane bushes.
Adjustable tow and camber kits
One of the biggest benefits to a car's handling is having it setup and balanced properly.  So, our adjustable trail arm bushes allow tow and camber to be altered. Take note that the factory set-up doesn't include this.
Adjustable coil springs
Stiffer coils with adjustable spring cups offer a more modern feel to the drive of your SL. And it adds stability of lowering the ride height by 70mm or more.
Drilled & Vented brake discs
Whether you prefer city or mountain roads, you want the assurance that your Mercedes SL stops as well as it goes.  We've got it covered! Try these heavy-duty brake rotors, with the option for performance pads.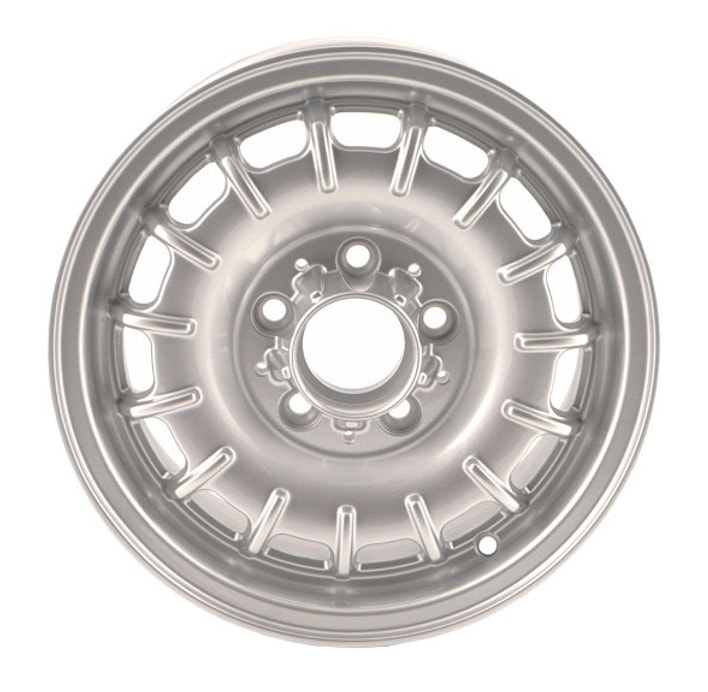 7×15" Bundt Alloys
Our dished 15" 'Mexican Hat' wheels fill the arch nicely. Also, it retains the classic look.  Also unlocking a plethora of compatible tyres, in a very limited market for the now-dated 205/14 size.
Stainless Steel performance exhausts
At SLSHOP, we offer nothing but the best. Our stainless steel exhaust systems have been hand-crafted in the UK, since the days when these cars were new. Also, with the option to turn up the volume if you wish!
Re-profiled steering wheel
Finally, take control our your Mercedes SL with the SportLine steering wheel. A thicker profile, thumb pads, and hand stitching give this old helm a new lease of life. Leather, of course!
At SLSHOP, we have up to 60 hand-picked models of classic Mercedes SL for sale at any given time. We're the leading supplier of the R107 and W113 SL and one of the top classic Mercedes dealers UK. As such, we choose only the finest examples to add to our showroom.
All our cars are carefully selected on their merits. It takes something special to wear the SLSHOP badge of honour. That makes us the perfect place to get a Mercedes car valuation.
Bruce works tirelessly to match cars to customers. Can't see one you like? Interestingly, some cars get sold before they reach the showroom. Contact Bruce to discuss your requirements. Or you can join us for a digital stroll through the showroom of Mercedes SL for sale here.

Experience Sportline
Why not get behind the wheel of our Mercedes
SportLine race car and see how it feels?
THE ULTIMATE CERTIFIED SERVICING INVESTMENT PLAN
Your ownership journey matters to us, which is why we have created a simple certified servicing investment plan, tailored to your individual needs and aspirations.
Start investing today and our dedicated CARE team will work with you to increase the value and enjoyment you receive from your vehicle.