Mercedes SL Bulkhead Inspection
Mercedes SL Bulkhead Inspection: The bulkhead is the well-known Achilles heel of the R107 SL and SLC. Blocked drainage holes and failing seals are common. They combine to produce internal corrosion that can run deep inside the structure of your SL. The danger is hidden behind dashboards and underneath carpets. Often, problems go undiagnosed for years. However, our Mercedes SL Bulkhead Inspection reveals the true extent of bulkhead corrosion hidden within your SL.  
Contact
Why do I need it?
The telltale signs of a compromised bulkhead are water in the cabin, damp foot wells, musty smelling carpets, erratic electrics and noisy fans. However, some cars present no symptoms at all. Is your car suffering any of these ailments? First, you need to find out just how deep the problem goes. 
What does it do for the car?
Both early and later galvanised cars fall victim to rust in the plenum chamber. Therefore, the potential for extensive repairs cannot be understated. Truly, the bulkhead area is a car killer! First and foremost, understanding the condition of your bulkhead is vital to the overall health and value of your car.
What does it do for me?
Without a doubt, the bulkhead is one area of your car with the potential to produce the largest bills. Therefore, establishing the health of this area is essential. In the case of issues, resolving the problem quickly creates a good foundation for the future of your car to be built on. A car that presents beautifully can hide a huge internal rot problem. On more than one occasion we've found evidence of poor repair work. Or, blatant attempts to hide an issue! Excessive underseal and black paint can't stop the water from getting into the car! Ultimately, the only way to approach a bulkhead is methodically and comprehensively.
Health Check
SLSHOP's Sam Bailey explains what an SLSHOP Health Check is all about, what it achieves, and what areas it covers. Does your SL need a health check?
Why Choose SLSHOP?
As the world's leading SL specialist, more than 10,000 SLs have passed through our workshops and showroom. As such, the level of knowledge possessed by our technical department is unsurpassed. Our service team lives and breathes on the sharp edge of the market. Undoubtedly, there's no better place to go for advice and guidance on your SL.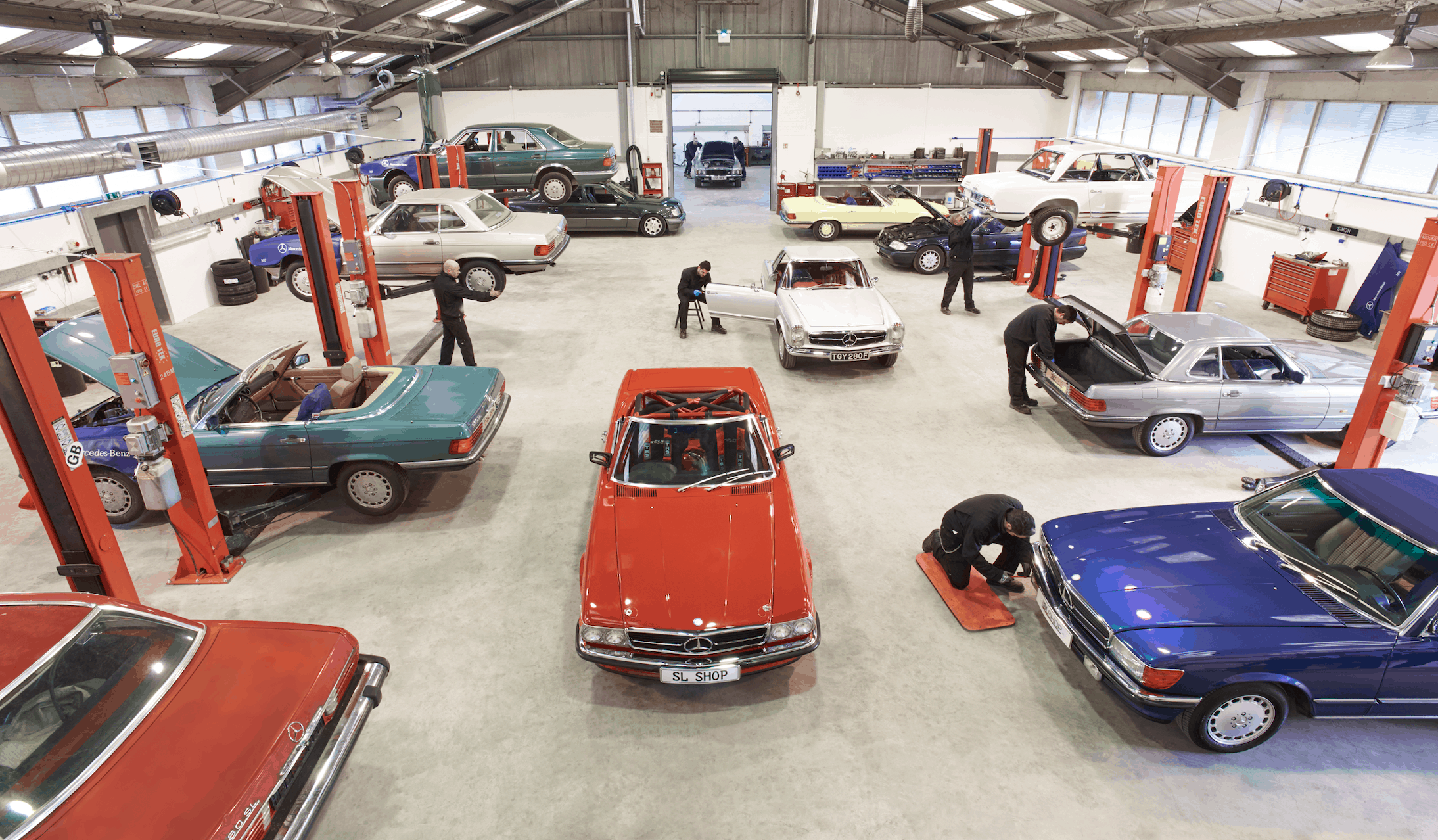 Workshop Tour
For almost a decade, our team have carved a path through the classic car industry. We have, undoubtedly, become the world's leading R107 SL expert. There's no question that our approach and our experience is unrivalled in the industry. As a result, it's no surprise that R107 clients began to ask us to work on other Mercedes-Benz vehicles. Our breadth of knowledge and passion serves us and them well.
Before you go, take a digital walk through the workshop see the what a classic Mercedes specialist looks like on the inside.
Keep your Classic Mercedes-Benz running like the day it left the factory.
Also, sign up here for hints and tips, because we all love to learn more about our classic Mercedes-Benz!
Following, you'll also get access to our "workshop life" updates, so you can stay in the loop.
THE ULTIMATE CERTIFIED SERVICING INVESTMENT PLAN
Your ownership journey matters to us, which is why we have created a simple certified servicing investment plan, tailored to your individual needs and aspirations.
Start investing today and our dedicated CARE team will work with you to increase the value and enjoyment you receive from your vehicle.