SLSHOP SportLine Zero Electric Car
Stock Number:

0000

Make / Model:

Mercedes-Benz / SportLine Zero - The Zero Emission Electric SL

Paint Colour:

Astral Silver

Interior Colour:

Black Leather

Price:

P.O.A
Interested in this car then call us now on 01789 337070
A chance to buy the very first Electric R107 SL…
Astral Silver with Black Leather
Built in 2019 by SLSHOP. Ready to use, with a range of 150 miles.
This is not an R107 converted to electric power… This is a complete, ground up, restoration and rebuilt incorporating electric power right from the drawing board. What we see here is an immaculate, fully restored classic Mercedes-Benz SL, running a modern electric powertrain via an automatic gearbox. There is no other SL quite like this one.
It's also LEZ charge exempt!
Serious enquiries should be directed to Bruce.
MEET SPORTLINE ZERO
The worlds first fully electric Mercedes-Benz R107 SL
From a distance, the styling remains sublime. Those distinctive lines, that iconic shape, the way the light dances on the chrome. It's unmistakably a classic Benz.
Look closer and there's quality in the detail. Every crease, every curve, every panel and every join is set exactly as Mercedes-Benz intended. The finish, the material, the craftsman's touch… It's undeniably an SLSHOP classic Benz.
Pull the chrome door handle, sidle yourself across the leather and find a comfortable position, reach for the luxurious padded door pull… wait for the reassuring thud as one of Stuttgart's all time greats envelops you in a luxurious cocoon. Strap yourself in, focus on the horizon and turn the key…
Nothing… Observe the silence and depart in electrified opulence.
Welcome to SportLine Zero. A modern take on a classic look.
Click here to read more on our website
Click here to read the Daily Telegraph's review of the first SportLine Zero
OWN SPORTLINE ZERO
What began as our dream can now be your reality – the order books are open. Even before the ink dried on our electric car brochure we began seeing enquiries from around the world, interested parties who had caught wind of the SportLine Zero project and wanted to be involved.
Electric Vehicles have now moved out of the shadows and firmly into the limelight, and as daily drivers, they are certainly here to stay. Many capital cities around the world are now increasing the restrictions on emissions, so why let that impact your classic car enjoyment?
At the time of writing there are 21 towns with low emissions zones, including London and Edinburgh. Worldwide the trend is increasing, with European cities embracing clean air zones and pushing petrol heads out of key cities. We don't believe this should be the end of classic car enjoyment in these places, we believe it presents an opportunity to make the ultimate statement of style, sophistication and forward thinking.
As with our SportLine collaborations, a SportLine Zero project is a joint undertaking between SLSHOP and yourself. This is not an off the shelf product, this is a custom build, finished to your specification. Everything can be set to your exact requirements, from the finish of the cabin, to the paint and chrome, down to the way the car handles and accelerates. Choose from a range of standard SL or SportLine touches, the finest materials and set your own palette when it comes to colour.
It doesn't just have to be an R107, either.
Picture the delicate lines of Paul Bracq's Pagoda drifting silently along the lawn at your local Rotary Club show, electric motor humming along giving an air of dignity while packing more acceleration than even the 280SL ever managed.
Or the sweeping, curvaceous lines of that 1950s fashion icon, the 190SL. A timeless shape that's stylistically future proof, freed from the shackles of its ancient four-cylinder engine and instead using electric power to bring beauty to the world?
We have the expertise and the know how to build your dream classic electric Mercedes-Benz, whether that's an R107, a W113 Pagoda, a W121 190SL or something else. We have donor cars ready and waiting, the only limit is your imagination…
Should it be Nautic Blue, Classic White, Impala Brown or Icon Gold? Will you follow our lead on the subdued acceleration or would you like to be a bearer of traffic light surprises?
Whatever path you choose for your electric SL, we are excited to start working on your very own SportLine Zero.
This car can be built to your exact specification.
We are excited to discuss your dream zero emissions classic Mercedes-Benz…
Why Choose SLSHOP?
Is it our unrivalled experience with three generations of SL? Is it our attention to detail, our award winning quality? Is it our selection of hand picked, superb cars for sale? Is it the family feel, the friendly faces and consistency of our work? Most people say it's all of these things.
A classic car offers a world of opportunities – it is an invitation to explore the open road and share life-affirming experiences with like-minded individuals.
Where will your Mercedes-Benz take you?
Bulkhead Corrosion
Although the R107 is renowned for build quality, there is one chink in the armour – the bulkhead. Many cars that present well from the outside are hiding internal rust. Water from outside the car should drain out through specially designed channels, but over time, these become blocked forcing water inside the car. Once water has breached the blower motor cover in front of the windscreen, it slowly wreaks havoc from inside out. This delicate area did not have rust protection from the factory, and as the metal deteriorates it the water ingress can lead to faulty electrics, damp carpets and musty smells inside the cabin.
All our cars come with a 36 month bulkhead warranty.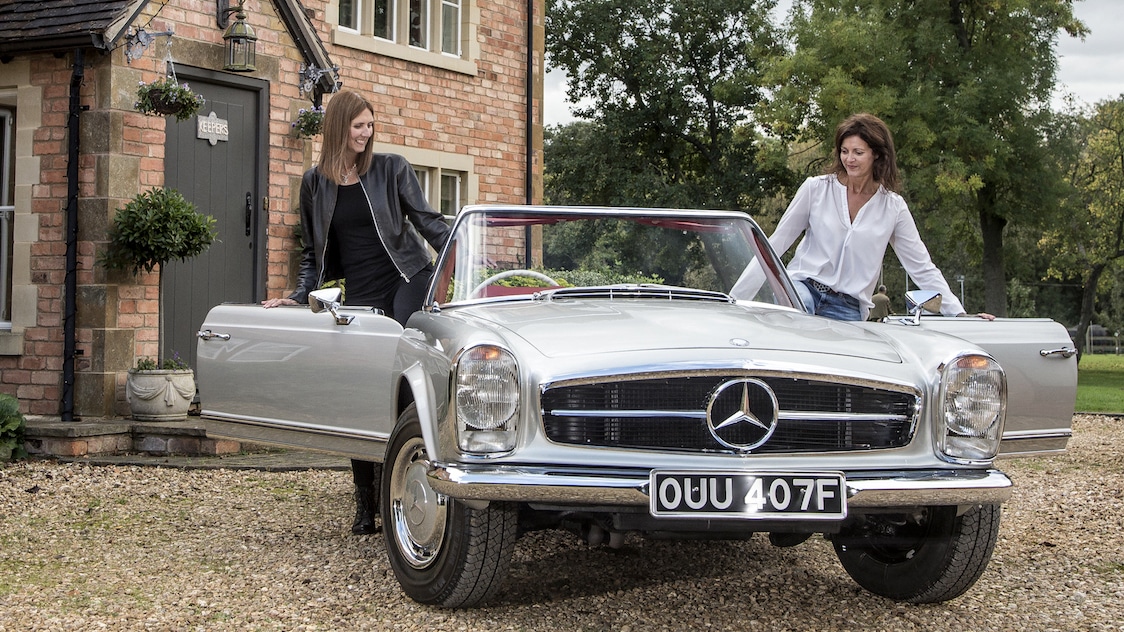 Next Steps: Experience
We believe in the capabilities of these classic cars, and want our customers to get out and use them. Welcome to Experience from The SLSHOP, aimed at helping you get more out of your classic Mercedes-Benz. We offer a number of trips, tours and events in the UK and abroad. See you there!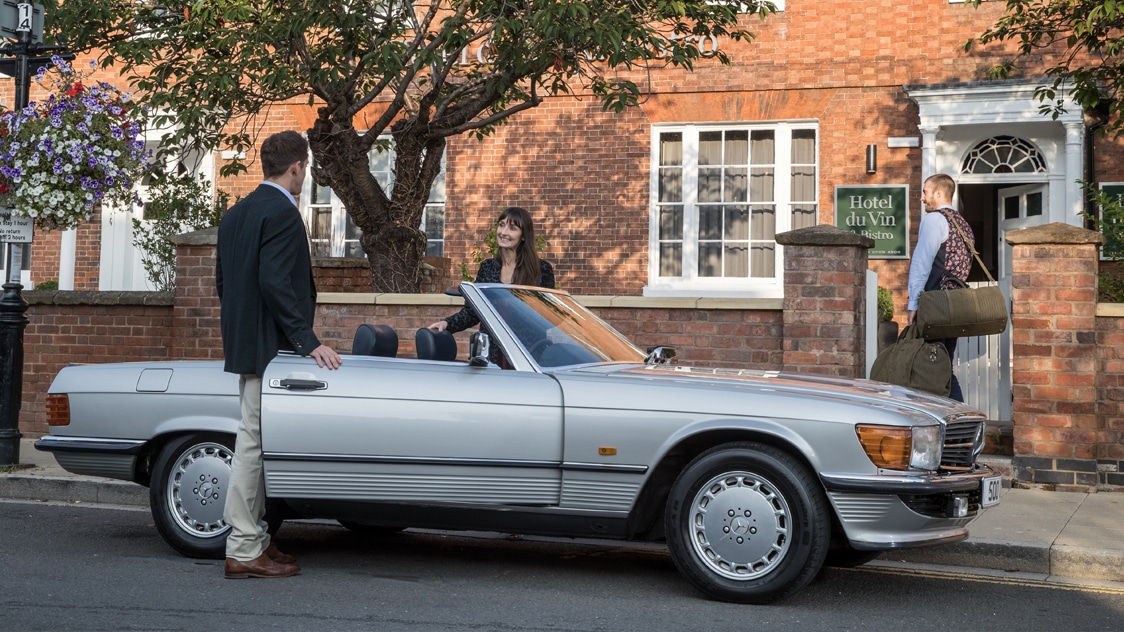 Next Steps: 24hr Test Drive
Tempted by an R107 SL but not sure if it's for you? Fancy trying a weekend at the wheel before you dive in? We offer a 24hr test drive through our hire business. Hire a classic Mercedes-Benz for a day or longer, and if you subsequently buy a car from our showroom, we will refund the entire hire fee. What are you waiting for?
STAY IN TUNE WITH SLSHOP MOMENTS
As part of SLSHOP's community of enthusiasts, you'll be the first to hear about events and tours, key product offers, exciting stories from owners around the world and of course… our latest additions to the showroom. So, be the first to know and you might just sneak a car on your driveway or take your car's condition to new heights with our exclusive replacement parts.