Back to Assured Listings
1987 Mercedes-Benz R107 420 SL with Beige Leather (275)
Blue-Black Metallic (199O) with Beige Leather (275) / 420 SL
Principal Facts:
1987 Mercedes-Benz 420 SL (R107) Blue-Black Metallic (199O)
with Beige Leather (275) and a Black Fabric Soft Top (9001)
One owner from new, beautiful condition all round with Air Conditioning
In 1987 a Mrs Ann B ordered this 420 SL from her local Mercedes-Benz dealer in Ipswich, taking delivery of this high specification example, not knowing that the vehicle would be in her custody for another 30+ years. Remaining in the family until very recently, the vehicle has been cherished by its former keeper, living a rich life between two homes in Norfolk and London. During this time, the 420 SL has been serviced and cared for ONLY by main Mercedes-Benz dealers.
Mrs B ordered the 420 SL in a beautiful contrasting combination of Blue-Black Metallic (199O) and Beige leather (275). With thanks to the Paintwork Preservation chosen from the factory, combined with the care taken to preserve the paintwork, the exterior is in remarkable condition. With very few signs of age and every inch sparkiling in the sun light, this is a fine 420 SL that stands out from the more common Signal Reds of the R107 world.
Inside, the Beige leather (275) is completely original with no rips or stains – simply the characterful creasing expected of worn-in leather. The interior has been subject to some improvements and possesses all the creature comforts of a modern-day vehicle. These include Behr Air Conditioning – an expensive option that will serve the new owner well, as well as an Outside Temperature Gauge as pictured in the centre of the dashboard. Mrs B also opted for a Fire Extinguisher and rear seats, taking the original asking price of this 420 SL to stately levels back in 1987. As standard, the 420 SL benefits from Cruise Control, a Limited Slip Differential, Headlamp Wipers and more. See the optional extras section below.
More recently, this 420 SL has enjoyed some recommissioning to prepare it for more regular time on the road. This work includes the following:
Refurbishment of all four wheels
Fitment of four new Michelin 205/65/15 Tires
Four new subframe mounts
Two new anti-roll bar bushes
Brake Pads all round
New gearbox mounting
New air conditioning condenser, dryer and switches
New interior handbrake cover
Most importantly though, the bulkhead has been checked and cleaned, before being wax oiled. This process has confirmed the state of the Bulkhead and enables us to offer our leading three-year bulkhead warranty.
This is a low mileage 420 SL – one of only circa 2500 ever produced, in an unusually low mileage condition with just one owner. You won't find an example like this very often, particularly in this beautiful colour combination with air conditioning. Given the amount of work carried out recently (on top of main dealer service history), this is the opportunity to enjoy a car that will ask nothing of you.
History File: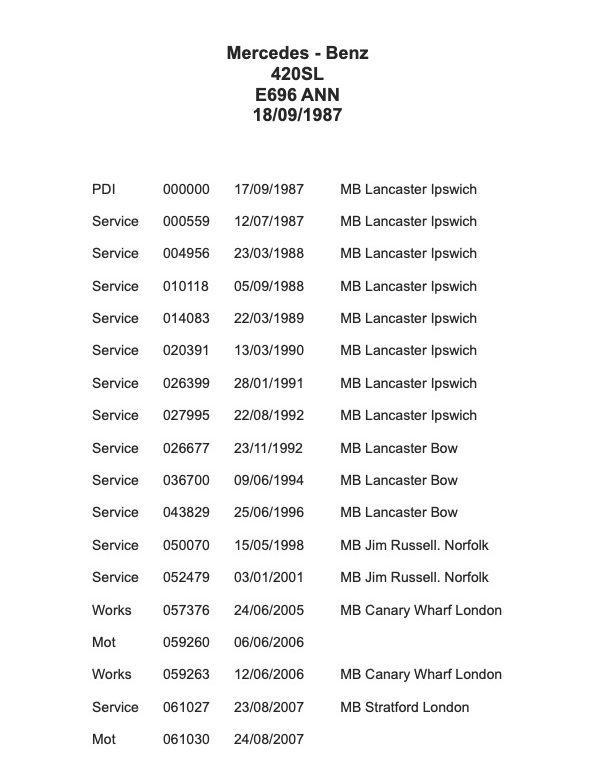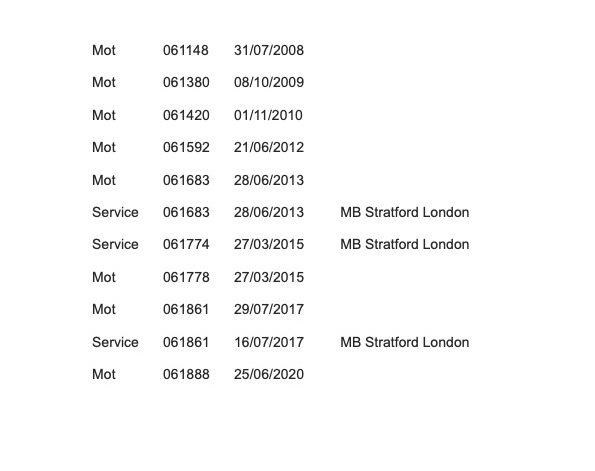 Please note, the most recent service was completed at Mercedes-Benz Beaconsfield on the 29th April 2022. Mileage: 62391
SLSHOP Summary:
Code & Description
238 CITY DRIVE LIGHT FOR GREAT BRITAIN
240 OUTSIDE TEMPERATURE INDICATOR
256 REAR AXLE WITH LIMITED-SLIP DIFFERENTIAL
341 ADDITIONAL BLINKER LAMPS
362 RHD VEHICLES AS PER EC REGULATIONS (CONTROL CODE)
405 MULTI-CONTOUR SEAT, FRONT RIGHT
440 TEMPOMAT (CRUISE CONTROL)
461 INSTRUMENT WITH MILES IND. AND ENGLISH LEGEND
507 OUTSIDE REAR VIEW MIRROR, LEFT AND RIGHT, HEATED (ELECTRICALLY ADJUSTABLE ON THE RIGHT)
524 PAINTWORK - PRESERVATION
543 SUN VISOR WITH VANITY MIRROR, ILLUMINATED, LEFT AND RIGHT
565 REAR SEATS USED ON SL MODELS
585 BEHR AIR CONDITIONER AND ELECTRIC WINDOW LIFTERS (FRONT DOORS)
592 HEAT-INSULATING GLASS, ALL-AROUND, HEATED REAR WINDOW PANE, BAND FILTER
603 HEADLAMP WIPER UNIT AND OIL FOR REAR AXLE WITH LIMITED-SLIP DIFFERENTIAL, IN CANISTERS AND CONTAINERS
613 HEADLAMP LEFT-HAND TRAFFIC
682 FIRE EXTINGUISHER
740 BLACK SOFT TOP FABRIC 9001
62000
1987
Automatic
Blue-Black Metallic (199O)
Beige Leather (275)
Petrol
Not Exempt
BUYING SUPPORT
Assured is not just a service or a product, it's a promise. A promise that we make to our customers that gives them the confidence to purchase the car of their dreams. We will offer you support on every step of your journey.
Transport
SLSHOP can deliver your car to your home, business or we can store it for you.
Our Finance partners provide market leading bespoke, competitive financing.
Allow us to take onward care of your prized investment.
Join us on a mini meet, open day or tour.
INDUSTRY TRUSTED


I have followed SLSHOP with interest for some years now and recently took the plunge and purchased my dream car – they did not disappoint!
The whole experience from start to finish was superb. Their communication was excellent and they kept me
informed every step of the way. Thank you and I look forward to my next purchase!
[RB]

I have just purchased a 280SL from SLSHOP. I have already purchased several parts from SLSHOP and have found all members of staff most helpful and it is more like dealing with a club than a commercial enterprise I would highly recommend using SLSHOP for cars, parts and most importantly impartial advice.
[RA]

They put up with my indecision, inexperience and last minute demands and my car is the best thing I've ever bought. The most impressive thing about them is the after care though. Nothing is ever too much trouble and they've given me the best advice to make sure I get the most out of my car. Can you tell I'm obsessed with them all?
[GJ]