1996 Mercedes-Benz SL500 (R129) #2284 Green-Black with Mushroom Leather
Stock Number:

2284

Make / Model:

Mercedes-Benz / SL500 (R129) with Mushroom Leather

Mileage:

29000

Interior Colour:

Mushroom Leather

Year:

1996
1996 Mercedes-Benz SL500 (R129)
Green-Black Metallic (189) with Mushroom Exclusive Leather (565) and
Panoramic Glass Hardtop (415) with Black Fabric Soft Top (9001)
29,000 miles
(more photos of the car are available than are shown on the website. Please email Joe for the full photo suite)
This exceptional SL500 is one of the finest specification R129 SL cars that we have come across. Finished in the stunning shade of Green-Black, it is perfectly complimented by the two-tone Mushroom 'Exclusive' Leather. With the complete AMG styling package and an impressive options list, it is no surprise that this car has quite a story – it was first owned by the then UK director of Mercedes-Benz.
Green-Black Metallic is the R129 equivalent of the ever popular Blue-Black Metallic of the R107 SL series. This complex colour can appear both green and black, depending on the light… it is a rare and very desirable shade, that suits the AMG styling of this car perfectly.
Even from a distance it is easy to see that this car is rather special. The sculpted skirts and bumpers of the AMG kit give the car a more sporting look than a standard R129, with those wide 2-piece alloy wheels giving the car a purposeful stance (8.5 at the front and 10 at the rear). The AMG specification is more than just skin deep – an option code details 'shell modification for AMG wheels', a slight widening of the arches to tuck those huge wheels beneath the car.
Inside there is all the usual refinements that the R129 generation SL is known for, with the added bonus of Exclusive Leather, with Rear Seats and that delightful touch in an R129… the wood and leather steering wheel. The two tone leather seats are perforated and heated, as well as being electronically adjustable with memory – this style was more usually found on the V12 models. Heightening the cabin experience further is the panoramic roof, a very desirable R129 optional extra. This is finished in the same colour as the body but with a large tinted glass centre, complete with manually operated sun blinds for passenger comfort.
When it comes to the drive and handling, this SL is propelled by the most powerful variant of the 5.0 litre V8. The R129 used two different versions of the M119 engine, producing both 322hp and 302hp. Due to changes in emissions, cars built after 1998 lost a little horsepower, whilst pre 1995 cars were predominately fitted with 4 speed gearboxes – making the 1995-98 cars some of the best in the range. This is all kept in check by the Adaptive Damping System, allowing the user to adjust the ride height, and the Electronic Stability Program. The ADS System was an expensive option, contributing to the total on the road price at the time of more than £140,000.
Specified from new by the first owner, the car was the personal transport of the UK director of Mercedes-Benz. Can there be a better placed person to go through the options list on an SL? Keeping the car just under a year, it has then passed through a small number of very careful owners before arriving at SLSHOP. It would appear that every keeper of this car has been well aware what a special vehicle it is, demonstrated by the low mileage.
Further bolstering the calibre of this car is the service history file, showing regular maintenance by Mercedes-Benz main dealers, with the most recent service carried out in November of last year. As well as the oil and air filters, this included a gearbox service, clean of the spark plugs and a complete underseal of the vehicle, with a total of £1,056 spent.
The car comes with all the original manufacturer book packs and spare keys, as well as the correct radio card.
This SL500 is a true 'best of breed' example, a beautifully equipped car with an excellent story.
It is an icon of a generation, a low mileage classic car that is ready for a new owner to cherish and enjoy.
| | | |
| --- | --- | --- |
| PDI | 11th July 1996 | Company Car Workshop, Mercedes-Benz UK |
| 7,782 miles | 31st January 1997 | Dick Lovett Mercedes-Benz Swindon |
| 9,771 miles miles | 17th September 1998 | |
| 11,669 miles | 8th November 1999 | |
| 15,936 miles | 24th July 2001 | |
| 18,994 miles | 7th May 2003 | |
| 23,767 miles | 21st April 2006 | |
| 25,459 miles | 3rd May 2008 | |
| 26,942 miles | 16th June 2009 | |
| 27,707 miles | 8th June 2011 | |
| 28,256 miles | 16th May 2014 | |
| 29,047 miles | 9th November 2020 | |
214 ADAPTIVE DAMPING SYSTEM (ADS)
241 FRONT SEAT LH ELECTRIC ADJUSTABLE WITH MEMORY
242 FRONT SEAT RH ELECTRIC ADJUSTABLE WITH MEMORY
249 AUTOMATICALLY DIPPING INSIDE REAR VIEW MIRROR
289 WOOD/LEATHER STEERING-WHEEL
341 ADDITIONAL BLINKER LAMPS
415 GLASS ROOF (R129)
461 INSTRUMENT WITH MILES IND. AND ENGLISH LEGEND
472 ELECTRONIC STABILITY PROGRAM (ESP)
500A LEATHER, EXCLUSIVE
501 OUTSIDE REAR VIEW MIRROR, RIGHT, HEATED (R.H.D.)
511 RADIO MB EXQUISIT WITH TRAFFIC NEWS DECODER (VK), WITH RDS (PANASONIC)
565 REAR SEATS USED ON SL MODELS
600 HEADLAMP WIPER/WASHER
613 HEADLAMP LEFT-HAND TRAFFIC
668 MODE OF PACKING VE III WITH STYROPOR BUMPER RAILS
740 BLACK SOFT TOP FABRIC 9001
772 AMG STYLING PACKAGE – FRONT SPOILER, SIDE SKIRTS AND REAR APRON
774 SHELL MODIFICATION FOR AMG-WHEELS
776 WHEEL COVERING FOR AMG 17-WHEELS (ONLY EXPORT)
793 AMG COMPLETE WHEELS (4 PCS.): – 8.5 X 18 ET25 FR. AXLE 245/40, 10 X 18 ET25 REAR AXLE 275/35, 2-PIECE
806 CHANGE OF MODEL YEAR, THE LAST FIGURE SHOWING THE NEW MODEL YEAR
819 CD CHANGER IN THE TRUNK – ALPINE
833 ADDITIONAL PARTS FOR GREAT BRITAIN VEHICLE VERSION
873 SEAT HEATER FOR LEFT AND RIGHT FRONT SEATS
Why Choose SLSHOP?
Is it our unrivalled experience with three generations of SL? Is it our attention to detail, our award winning quality? Is it our selection of hand picked, superb cars for sale? Is it the family feel, the friendly faces and consistency of our work? Most people say it's all of these things.
A classic car offers a world of opportunities – it is an invitation to explore the open road and share life-affirming experiences with like-minded individuals.
Where will your Mercedes-Benz take you?
Bulkhead Corrosion
Although the R107 is renowned for build quality, there is one chink in the armour – the bulkhead. Many cars that present well from the outside are hiding internal rust. Water from outside the car should drain out through specially designed channels, but over time, these become blocked forcing water inside the car. Once water has breached the blower motor cover in front of the windscreen, it slowly wreaks havoc from inside out. This delicate area did not have rust protection from the factory, and as the metal deteriorates it the water ingress can lead to faulty electrics, damp carpets and musty smells inside the cabin.
All our cars come with a 36 month bulkhead warranty.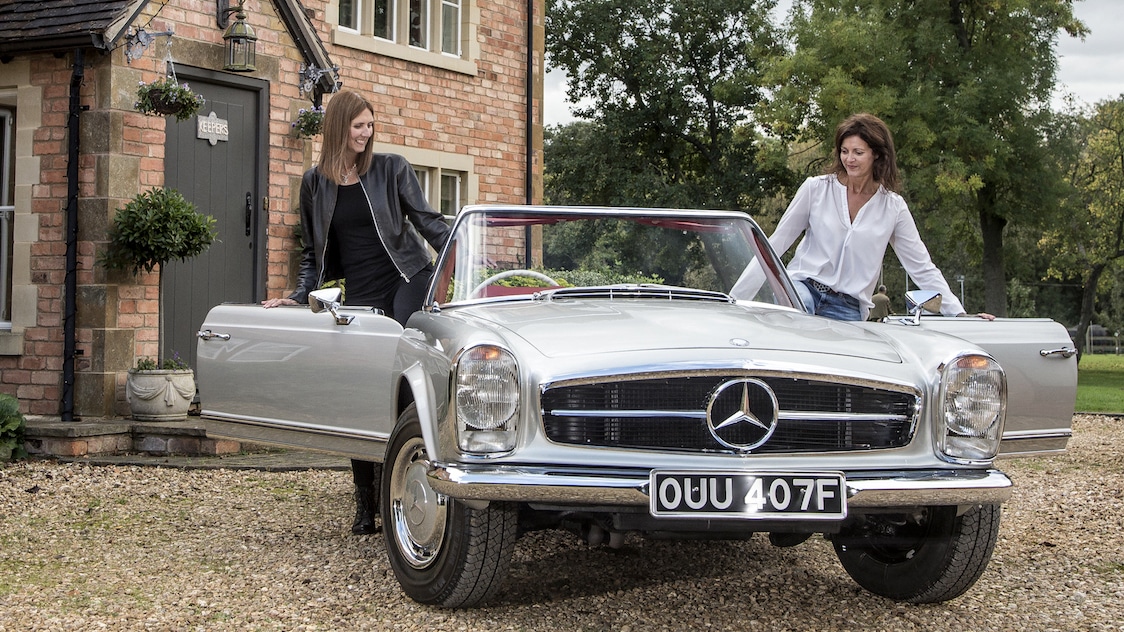 Next Steps: Experience
We believe in the capabilities of these classic cars, and want our customers to get out and use them. Welcome to Experience from The SLSHOP, aimed at helping you get more out of your classic Mercedes-Benz. We offer a number of trips, tours and events in the UK and abroad. See you there!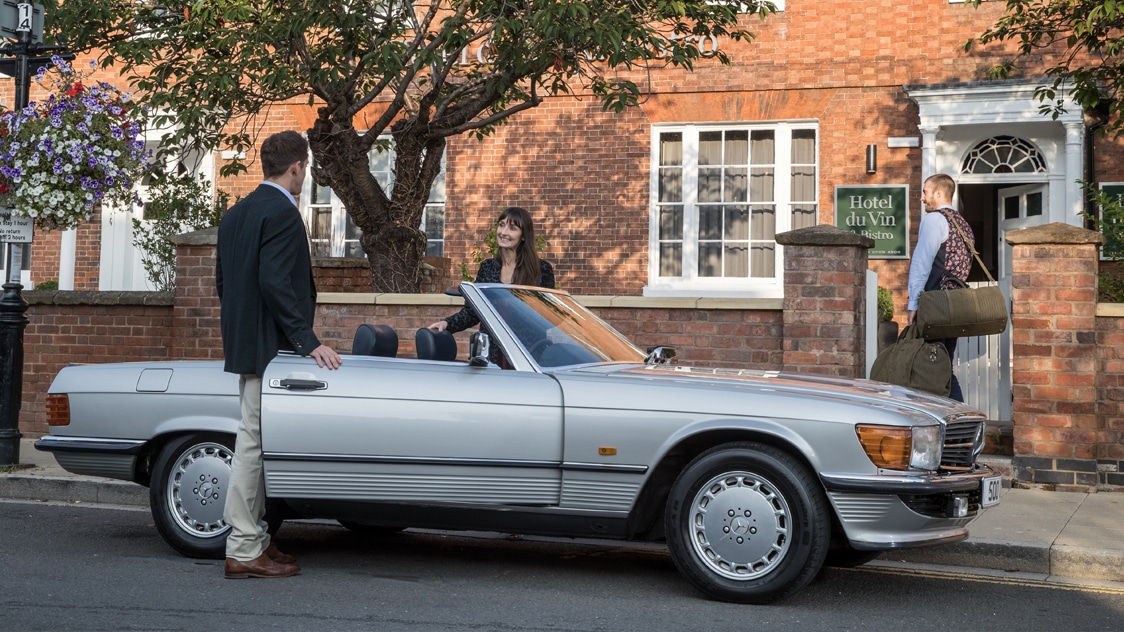 Next Steps: 24hr Test Drive
Tempted by an R107 SL but not sure if it's for you? Fancy trying a weekend at the wheel before you dive in? We offer a 24hr test drive through our hire business. Hire a classic Mercedes-Benz for a day or longer, and if you subsequently buy a car from our showroom, we will refund the entire hire fee. What are you waiting for?
STAY IN TUNE WITH SLSHOP MOMENTS
As part of SLSHOP's community of enthusiasts, you'll be the first to hear about events and tours, key product offers, exciting stories from owners around the world and of course… our latest additions to the showroom. So, be the first to know and you might just sneak a car on your driveway or take your car's condition to new heights with our exclusive replacement parts.