1990 Mercedes-Benz 560SEC (C126) #2219 Blue Black Metallic with Beige Leather
Stock Number:

2219

Make / Model:

Mercedes-Benz / 560SEC (C126) with Beige Leather

Mileage:

137000

Paint Colour:

Blue/Black

Interior Colour:

Beige Leather (265)

Year:

1990
1990 Mercedes-Benz 560SEC (C126)
Blue Black Metallic (199) with Beige Leather (265)
137,000 miles
More photos available by request.
Built from 1989 to 1991, the W126 was the second generation of the S Class – the ultimate large luxury saloon. Sitting at the top of the Mercedes-Benz model hierarchy, this was the S Class was (and has been since) the absolute pinnacle of fine motoring.
As a luxury automobile, the W126 introduced a world of firsts for Mercedes-Benz. This S Class was the first Mercedes-Benz to use power seats, and the first to have an option of a factory fitted theft deterrent system. This included a neat feature whereby turning the key in a particular way bolts the doors to make them difficult to pry open, with a secondary option of the same feature for the boot – Mercedes-Benz knew their clientele and target market well indeed!
If the W126 S Class was the peak of automotive experience in it's day, then the 560 SEC Coupe was the fluttering flag sitting proudly atop the peak. With a price before options* of £63,200, the 560SEC was one of the most expensive motorcars one could buy. For a little context, a Lotus Excel in the same year had a recommended retail price of £27,800, whilst the more exotic Ferrari Testarossa had a window sticker showing £62,666.
Adjusted for inflation, an equivalent figure in today's money would translate as £166,713 – this was a highly exclusive car.
Naturally for a car at the very top of the Mercedes-Benz model tree, the 560SEC arrived 'fully loaded' from the factory, but there were still some additional choices to be specified by customers when ordering new. The car we see here benefits from Acceleration Skid Control (£1198 list price) and a driver Airbag (£1227 list price) giving a total price with options of £64,427.15, or £169,950.19 in today's money.
That's a large enough number to make it the most expensive car we have ever sold…
The 5.6 litre naturally aspirated V8 engine is perfectly suited to the big coupe, offering impressive performance despite the not insignificant size and weight of the vehicle. These engines were incredibly reliable, capable of covering astronomical distances when diligently maintained. We have seen cars with this engine reach well over 200,000 miles without major issues, the under stressed nature of the lazy V8 helping these cars to really last forever.
As with most classic Mercedes-Benz cars, it's not the engine that causes the car to fall into disrepair. Rust, rot and interior wear and tear are the usual hallmarks of a W126, which makes the example shown here really stand out. It is a superb survivor in fantastic condition inside and out.
First registered in London on June 29th 1990, this car has been in constant use for three decades, carefully maintained and always cherished. It is accompanied by an impressive array of paperwork, including the original manufacturer book pack and service manuals.
It is rare to find a 560SEC in such good original order, the fact that this car has a demonstrable history of regular use provides an opportunity for a new custodian to continue to use and adore this fine luxury coupe.
They don't make them like they used to… Climb aboard this 560SEC and you'll immediately fall in love. This is one fantastic motorcar, a relic of a time now forgotten, a time before easy finance and hire purchase, a time when a Mercedes-Benz was reassuringly expensive… after all, this car cost more than a Ferrari Testarossa.
Perfect for touring the continent in style and great comfort.
Service Stamps
PDI 31st May 1990
877 miles 10th August 1990
6,987 13th July 1993
11,889 23rd February 1994
18,810 miles 5th May 1997
23,977 miles 9th January 1998
29,565 miles 22nd October 1998
29,942 miles 11th March 1999
35,778 miles 21st December 2000
43,090 miles 15th October 2002
48,926 miles 22nd April 2003
55,484 miles 8th December 2003
61,648 miles 21st June 2004
69,820 miles 14th March 2005
76,140 miles 20th October 2005
85,521 miles 21st June 2006
93,659 miles 1st February 2007
99,252 miles 30th July 2007
104,874 miles 14th January 2008
111,686 miles 3rd October 2009
118,723 miles 11th June 2009
124,814 miles 26th November 2009
129,913 miles 16th March 2010
135,894 miles 15th October 2010
136,928 miles 10th July 2012
137,059 miles 21st May 2015
137,139 miles 16th May 2017
137,213 miles 16th May 2018
*Mercedes-Benz prize list, dated 1989.
**Approximate figures adjusted for inflation
251 BECKER RADIO MEXICO CASSETTE, FULL STEREO, ELECTRONIC
341 ADDITIONAL BLINKER LAMPS
362 RHD VEHICLES AS PER EC REGULATIONS (CONTROL CODE)
442 AIRBAG IN STEERING WHEEL
461 INSTRUMENT WITH MILES IND. AND ENGLISH LEGEND
471 ACCELERATION SKID CONTROL (ASR)
524 PAINTWORK – PRESERVATION
613 HEADLAMP LEFT-HAND TRAFFIC
873 SEAT HEATER FOR LEFT AND RIGHT FRONT SEATS
Why Choose SLSHOP?
Is it our unrivalled experience with three generations of SL? Is it our attention to detail, our award winning quality? Is it our selection of hand picked, superb cars for sale? Is it the family feel, the friendly faces and consistency of our work? Most people say it's all of these things.
A classic car offers a world of opportunities – it is an invitation to explore the open road and share life-affirming experiences with like-minded individuals.
Where will your Mercedes-Benz take you?
Bulkhead Corrosion
Although the R107 is renowned for build quality, there is one chink in the armour – the bulkhead. Many cars that present well from the outside are hiding internal rust. Water from outside the car should drain out through specially designed channels, but over time, these become blocked forcing water inside the car. Once water has breached the blower motor cover in front of the windscreen, it slowly wreaks havoc from inside out. This delicate area did not have rust protection from the factory, and as the metal deteriorates it the water ingress can lead to faulty electrics, damp carpets and musty smells inside the cabin.
All our cars come with a 36 month bulkhead warranty.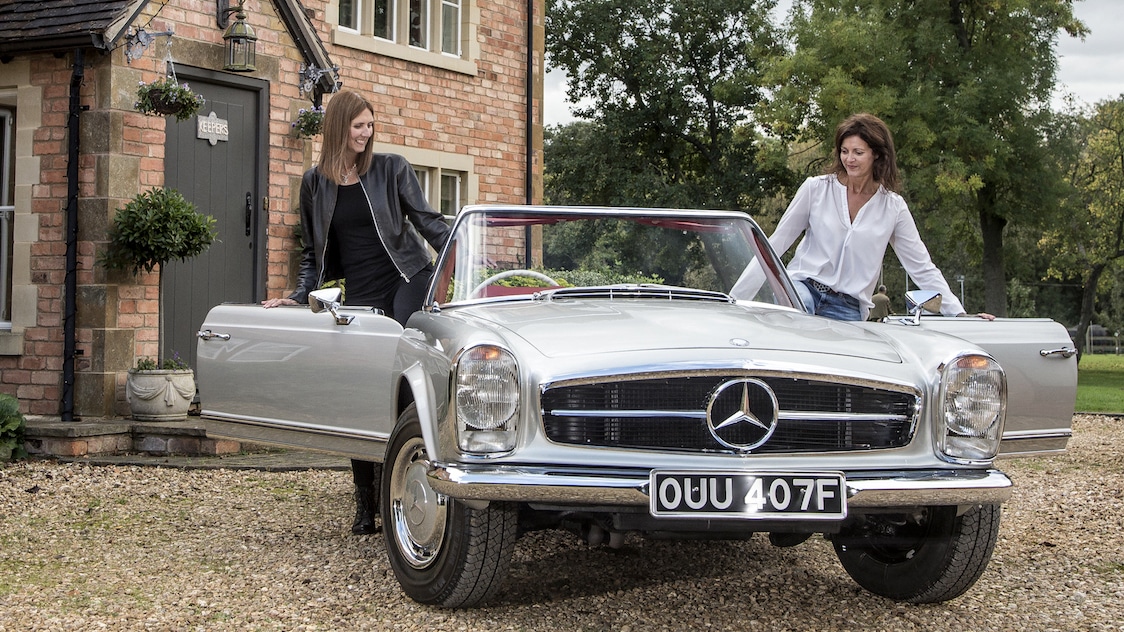 Next Steps: Experience
We believe in the capabilities of these classic cars, and want our customers to get out and use them. Welcome to Experience from The SLSHOP, aimed at helping you get more out of your classic Mercedes-Benz. We offer a number of trips, tours and events in the UK and abroad. See you there!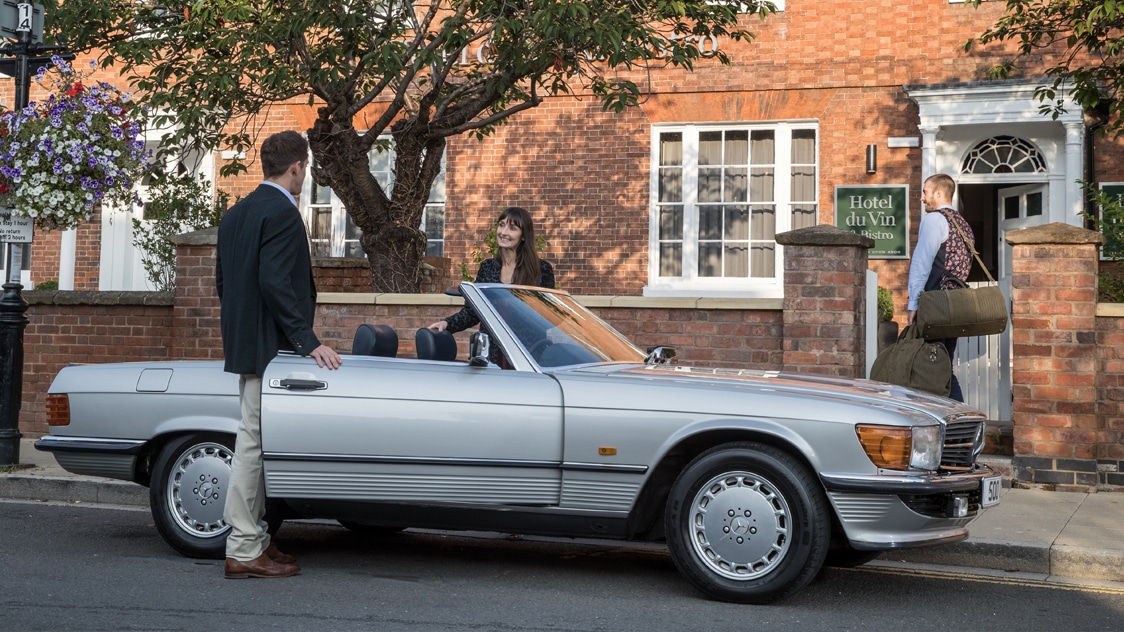 Next Steps: 24hr Test Drive
Tempted by an R107 SL but not sure if it's for you? Fancy trying a weekend at the wheel before you dive in? We offer a 24hr test drive through our hire business. Hire a classic Mercedes-Benz for a day or longer, and if you subsequently buy a car from our showroom, we will refund the entire hire fee. What are you waiting for?
STAY IN TUNE WITH SLSHOP MOMENTS
As part of SLSHOP's community of enthusiasts, you'll be the first to hear about events and tours, key product offers, exciting stories from owners around the world and of course… our latest additions to the showroom. So, be the first to know and you might just sneak a car on your driveway or take your car's condition to new heights with our exclusive replacement parts.