1989 Mercedes-Benz 500SL (R107) #0000 6,500 Miles Astral Silver with Black Leather
Stock Number:

0000

Make / Model:

Mercedes-Benz / 500SL (R107) with Black Leather

Mileage:

6500

Paint Colour:

Astral Silver

Interior Colour:

Anthracite Leather (211)

Year:

1989
1989 Mercedes-Benz 500SL (R107) 6,500 Miles
The Mercedes-Benz R107 SL is an automotive icon with international appeal that spans multiple generations and age groups. Incredibly, the R107 remained in consistent production largely unchanged for 18 years. An 18 year production run is rare, though not unheard of in the automotive world – there are models from manufacturers with similar or longer production runs, but many of these enjoyed twilight years of both production and sale under license in developing countries.
For a luxury, high end car to remain competitive, relevant, popular and desirable in it's core market for 18 years is an achievement that really has no equal.
For 18 years the R107 SL was a symbol of quality and craftsmanship, of technology and engineering. Towards the end of production, the world was changing. In the late 1980s the digital revolution was beginning, and the R107 SL had been a favourite luxury convertible for almost two decades. A replacement for the R107 was designed in 1984, and 5 years later, the R129 was ready for the first buyers.
In 1989 the world was introduced to the R129 Mercedes-Benz SL – an SL for the electronic generation, a digital newcomer in an analogue world. The first R129 customers took delivery of cars in mid 1989 with the very last R107 SL produced on August 4th of that year.
This must have been a very interesting time to work in the Mercedes-Benz sales team. With an all-new replacement looming, would customers be tempted by heavily specced end-of-the-line R107s or would the forthcoming R129 prove more alluring?
It is at this point where we must introduce this particular 500SL.
Built in January 1989, the first owner of this car was eagerly awaiting a phone call to say his iconic R107 was ready for collection. Once the gentleman arrived at the Mercedes-Benz dealership, instead of driving away in this R107 he instead cancelled the order and left in one of the newly launched R129 500SLs.
Being a 1989 car this SL should wear a G registration, however due to the cancelled order a buyer wasn't found until 1991. For that reason, this car wears a J registration plate, which fittingly reads J500SLW.
It is perhaps fitting that this very late R107 SL is finished in the ultimate Mercedes-Benz combination of silver with black interior – or Astral Silver with Anthracite Leather to be precise. Being a 500SL, metallic paint, cruise control, headlamp wash/wipe and a limited slip differential would all come as standard, however air conditioning, leather, heated front seats, rear passenger seats, an outside air temperature gauge and factory fitted anti-theft device were all expensive options.
The list price for this car in 1989 would have been £41,700, with options adding a further £2,464. That's the equivalent of a £110,000 car with £6,500 of options in today's money, giving it a modern day equivalent price of £121,627. This clearly is a beautiful car, we don't see many with factory fitted heated seats.
This car now shows just 6,500 miles on the odometer, and has been known to SLSHOP for some time. It was sold by us to the current owner in 2016, who has covered just 2,000 miles in that time. Having enjoyed the car, he is now moving back in time and opting for a Pagoda, giving someone else a chance to own this superb 500SL.
The service history file paints a picture of a carefully maintained and highly original car. In 2017 this 500SL attended Mercedes-Benz beaconsfield for a service and MOT. At the time the air conditioning and left passenger seat heater were not operating. A letter on file from the owner requests that these items be addressed, along with the note 'this car is exceptionally low mileage, please keep road testing to a minimum'. The mileage at the time was stated as 5,436.
Paperwork accompanying this car includes the original leather booklet, along with the original 1989 price list for cars and factory fitted extras, 300SL/420SL/500SL brochure, paintwork guide, upholstery guide and every piece of literature that would have been present with the car when new. This includes the official fuel consumption order, cruise control hanger and the original factory data card. The Becker Grand Prix 2000 instruction booklet is present, along with a (still sealed) Mercedes-Benz chamois. Was this a dealer incentive for the first owner….?
PDI March 1989
1,006 miles service
4,195 miles service
4,585 miles service
5,436 miles service
More photos are available – Please ask
1989 Mercedes-Benz 500SL (R107) 6,500 Miles
238 CITY DRIVE LIGHT FOR GREAT BRITAIN
240 OUTSIDE TEMPERATURE INDICATOR
256 REAR AXLE WITH LIMITED-SLIP DIFFERENTIAL
341 ADDITIONAL BLINKER LAMPS
362 RHD VEHICLES AS PER EC REGULATIONS (CONTROL CODE)
440 TEMPOMAT (CRUISE CONTROL)
461 INSTRUMENT WITH MILES IND. AND ENGLISH LEGEND
524 PAINTWORK – PRESERVATION
551 ANTI-THEFT/ANTI-BREAK-IN WARNING SYSTEM
565 REAR SEATS USED ON SL MODELS
580 AIR CONDITIONER
592 HEAT-INSULATING GLASS, ALL-AROUND, HEATED REAR WINDOW PANE, BAND FILTER
603 HEADLAMP WIPER UNIT AND OIL FOR REAR AXLE WITH LIMITED-SLIP DIFFERENTIAL, IN CANISTERS AND CONTAINERS
613 HEADLAMP LEFT-HAND TRAFFIC
682 FIRE EXTINGUISHER
740 BLACK SOFT TOP FABRIC 9001
873 SEAT HEATER FOR LEFT AND RIGHT FRONT SEATS
Why Choose SLSHOP?
Is it our unrivalled experience with three generations of SL? Is it our attention to detail, our award winning quality? Is it our selection of hand picked, superb cars for sale? Is it the family feel, the friendly faces and consistency of our work? Most people say it's all of these things.
A classic car offers a world of opportunities – it is an invitation to explore the open road and share life-affirming experiences with like-minded individuals.
Where will your Mercedes-Benz take you?
Bulkhead Corrosion
Although the R107 is renowned for build quality, there is one chink in the armour – the bulkhead. Many cars that present well from the outside are hiding internal rust. Water from outside the car should drain out through specially designed channels, but over time, these become blocked forcing water inside the car. Once water has breached the blower motor cover in front of the windscreen, it slowly wreaks havoc from inside out. This delicate area did not have rust protection from the factory, and as the metal deteriorates it the water ingress can lead to faulty electrics, damp carpets and musty smells inside the cabin.
All our cars come with a 36 month bulkhead warranty.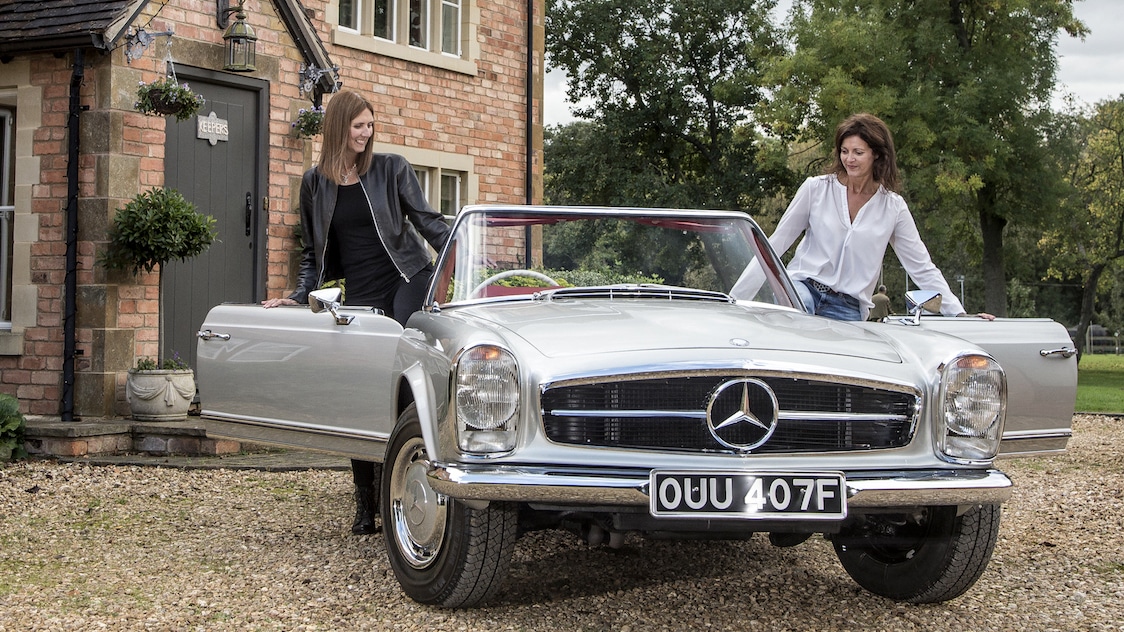 Next Steps: Experience
We believe in the capabilities of these classic cars, and want our customers to get out and use them. Welcome to Experience from The SLSHOP, aimed at helping you get more out of your classic Mercedes-Benz. We offer a number of trips, tours and events in the UK and abroad. See you there!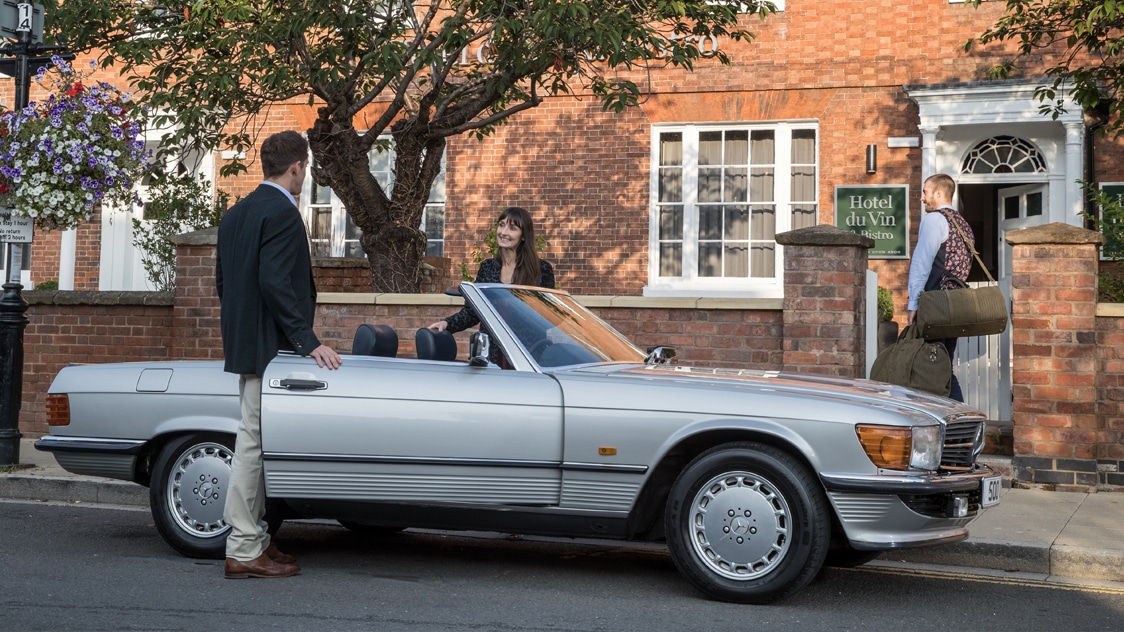 Next Steps: 24hr Test Drive
Tempted by an R107 SL but not sure if it's for you? Fancy trying a weekend at the wheel before you dive in? We offer a 24hr test drive through our hire business. Hire a classic Mercedes-Benz for a day or longer, and if you subsequently buy a car from our showroom, we will refund the entire hire fee. What are you waiting for?
STAY IN TUNE WITH SLSHOP MOMENTS
As part of SLSHOP's community of enthusiasts, you'll be the first to hear about events and tours, key product offers, exciting stories from owners around the world and of course… our latest additions to the showroom. So, be the first to know and you might just sneak a car on your driveway or take your car's condition to new heights with our exclusive replacement parts.