1989 Mercedes-Benz 300SL (R107) #2243 Midnight Blue with Grey Leather 46k miles
Stock Number:

2243

Make / Model:

Mercedes-Benz / 300SL (R107) with Grey Leather

Mileage:

46000

Paint Colour:

Midnight Blue

Interior Colour:

Grey Leather

Year:

1989
1989 Mercedes-Benz 300SL (R107)
Midnight Blue (904) with Grey Leather (278)
Midnight Blue Hardtop (904) with Dark Blue Fabric Soft Top (5010)
46,000 miles
Ordered new from Normand Mercedes-Benz LTD (Mayfair) on 27th July 1989, this rare Midnight Blue 300SL has covered just 46,000 miles in 31 years.
It isn't just the colour that makes this car so unique – this might just be the highest specification 300SL that has ever visited SLSHOP.
The optional extras included with this car include Air Bag, Air Conditioning, Cruise Control, Headlamp Wash Wipe, Seat Heaters for Front Seats, Leather Seating, Rear Seats, Orthopaedic Front Seat Backrest, Outside Air Temp Gauge, Becker Mexico, Sump Shield and Theft Warning Device…. Indeed the only optional extras that this car dismissing other than Metallic Paint is a Tow Bar…!
These options would have given the car a 'new' equivalent price in today's money of £103,261.44. We enjoy calculating the equivalent price in today's money when we write these car descriptions, and it's not often that a car tips over the £100,000 point. If anyone has a higher specification 300SL, we'd love to hear about it.
A detailed box file accompanies the car, complete with a photocopy of the original invoice from the supplying dealer. The documentation for this car would satisfy even the most fastidious librarian, with every piece of paper present since the car was new.
PDI Normand (Mayfair)
724 miles Mercedes-Benz Woking
1,640 miles Mercedes-Benz Woking
5,971 miles Macclesfield Garages Mercedes-Benz
6,481 miles Macclesfield Garages Mercedes-Benz
7,876 miles Macclesfield Garages Mercedes-Benz
8,635 miles Macclesfield Garages Mercedes-Benz
9,184 miles Macclesfield Garages Mercedes-Benz
9,599 miles Macclesfield Garages Mercedes-Benz
9,672 miles Macclesfield Garages Mercedes-Benz
11,219 miles Macclesfield Garages Mercedes-Benz
12,552 miles Mercedes-Benz Chelsea
17,054 miles Mercedes-Benz Hertford
25,058 miles Mercedes-Benz Hertford
32,331 miles Mercedes-Benz Hertford
38,814 miles Mercedes-Benz Hertford
42,340 miles Mercedes-Benz Hertford
44,225 miles Autobarn Classic and Sports
45,078 miles Mercedes-Benz Orpington
Amongst the wide array of documents and receipts are three interesting sheets, dealing the story of the early years for this car. On 4th June 1990 a TVR 450 SEAC was part exchanged against this 300SL, with the owner keeping it until 1992 when it was once again sold by the same dealer. This time a BMW 535i was part exchanged, with this owner enjoying the car until it was sold again, with another Mercedes-Benz 300SL taken in part exchange. Throughout this time the paperwork was always kept in impeccable order.
This is a fantastic opportunity to get into a very unusual 300SL, a car that will always be a talking point. The future owner of this car rest safe in the knowledge that there really is no other 300SL out there that is quite like it…
Order Location GREAT BRITAIN
Interior LEATHER – GRAY (278)
Paint 1 MIDNIGHT BLUE (904O)
Paint 2 MIDNIGHT BLUE (904O)
Approx. Build Date 1989-06
238 CITY DRIVE LIGHT FOR GREAT BRITAIN
240 OUTSIDE TEMPERATURE INDICATOR
251 BECKER RADIO MEXICO CASSETTE, FULL STEREO, ELECTRONIC
260 TYPE DESTINATION ON TRUNK LID – ELIMINATION
341 ADDITIONAL BLINKER LAMPS
362 RHD VEHICLES AS PER EC REGULATIONS (CONTROL CODE)
406 SINGLE SEAT WITH ORTHOPAEDIC FRONT SEAT BACKREST, LEFT AND RIGHT
444 TEMPOMAT (CRUISE CONTROL) AND AIRBAG
461 INSTRUMENT WITH MILES IND. AND ENGLISH LEGEND
481 UNDERSHIELDS
524 PAINTWORK – PRESERVATION
531 AUTOMATIC ANTENNA
551 ANTI-THEFT/ANTI-BREAK-IN WARNING SYSTEM
565 REAR SEATS USED ON SL MODELS
585 BEHR AIR CONDITIONER AND ELECTRIC WINDOW LIFTERS (FRONT DOORS)
592 HEAT-INSULATING GLASS, ALL-AROUND, HEATED REAR WINDOW PANE, BAND FILTER
600 HEADLAMP WIPER/WASHER
613 HEADLAMP LEFT-HAND TRAFFIC
682 FIRE EXTINGUISHER
744 DARK BLUE SOFT TOP FABRIC 5010
873 SEAT HEATER FOR LEFT AND RIGHT FRONT SEATS
Why Choose SLSHOP?
Is it our unrivalled experience with three generations of SL? Is it our attention to detail, our award winning quality? Is it our selection of hand picked, superb cars for sale? Is it the family feel, the friendly faces and consistency of our work? Most people say it's all of these things.
A classic car offers a world of opportunities – it is an invitation to explore the open road and share life-affirming experiences with like-minded individuals.
Where will your Mercedes-Benz take you?
Bulkhead Corrosion
Although the R107 is renowned for build quality, there is one chink in the armour – the bulkhead. Many cars that present well from the outside are hiding internal rust. Water from outside the car should drain out through specially designed channels, but over time, these become blocked forcing water inside the car. Once water has breached the blower motor cover in front of the windscreen, it slowly wreaks havoc from inside out. This delicate area did not have rust protection from the factory, and as the metal deteriorates it the water ingress can lead to faulty electrics, damp carpets and musty smells inside the cabin.
All our cars come with a 36 month bulkhead warranty.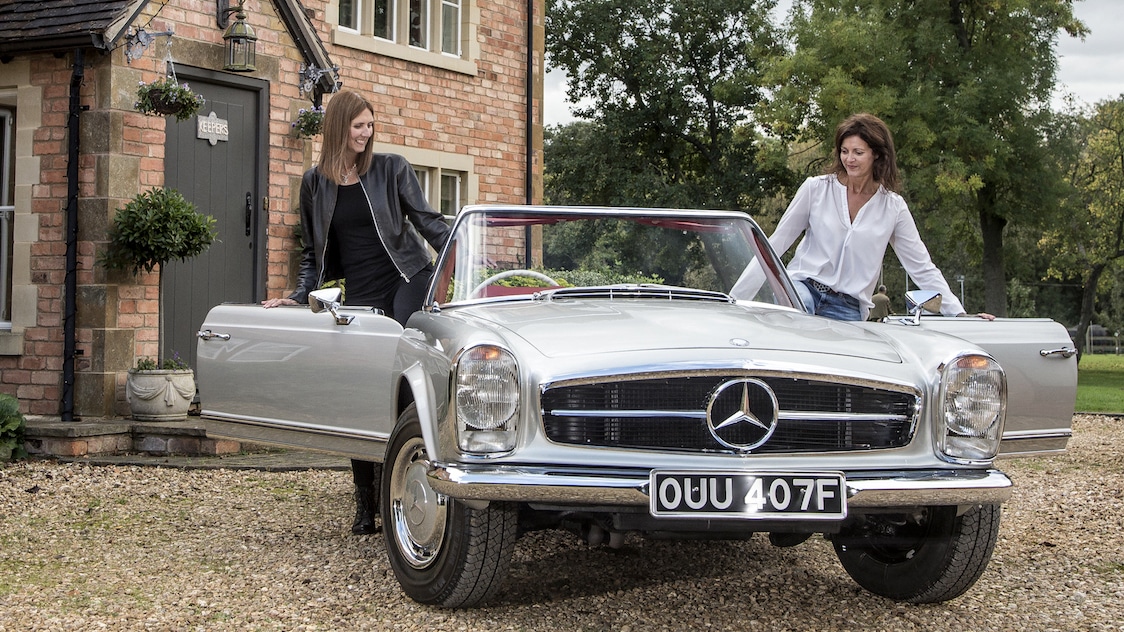 Next Steps: Experience
We believe in the capabilities of these classic cars, and want our customers to get out and use them. Welcome to Experience from The SLSHOP, aimed at helping you get more out of your classic Mercedes-Benz. We offer a number of trips, tours and events in the UK and abroad. See you there!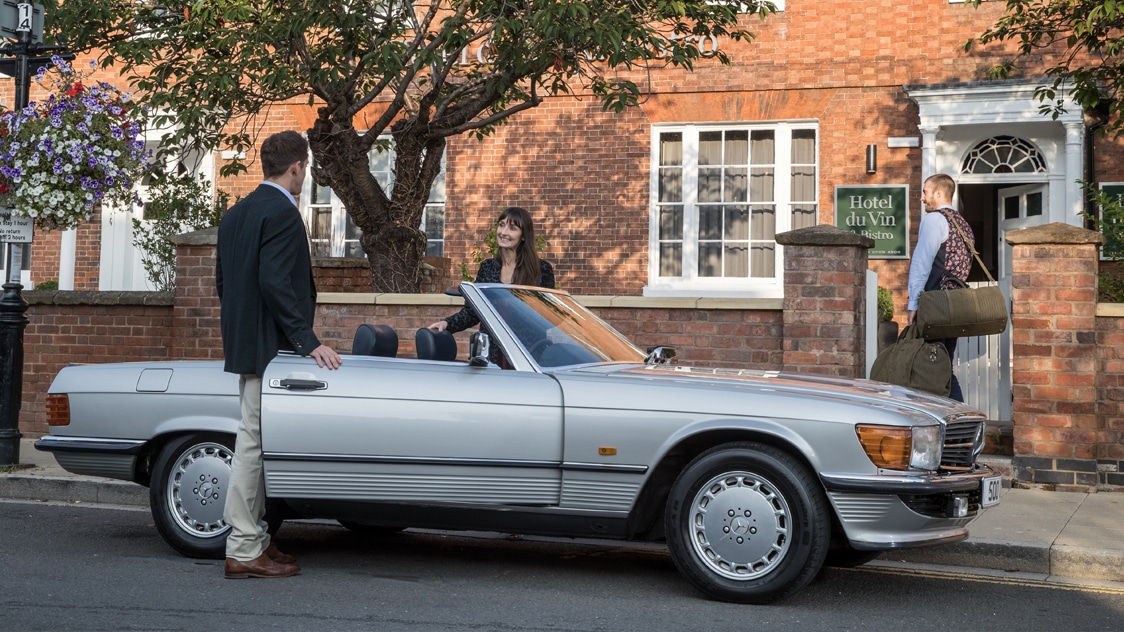 Next Steps: 24hr Test Drive
Tempted by an R107 SL but not sure if it's for you? Fancy trying a weekend at the wheel before you dive in? We offer a 24hr test drive through our hire business. Hire a classic Mercedes-Benz for a day or longer, and if you subsequently buy a car from our showroom, we will refund the entire hire fee. What are you waiting for?
STAY IN TUNE WITH SLSHOP MOMENTS
As part of SLSHOP's community of enthusiasts, you'll be the first to hear about events and tours, key product offers, exciting stories from owners around the world and of course… our latest additions to the showroom. So, be the first to know and you might just sneak a car on your driveway or take your car's condition to new heights with our exclusive replacement parts.