1989 Mercedes-Benz 300SL (R107) #2228 Impala Brown with Beige Leather HEATED SEATS 71k
Stock Number:

2228

Make / Model:

Mercedes-Benz / 300SL (R107) with Beige Leather

Mileage:

66000

Paint Colour:

Brown

Interior Colour:

Beige Leather

Year:

1989
1989 Mercedes-Benz 300SL (R107) 
Impala Brown Metallic (441) with Beige Leather (275) and
Impala Brown Metallic Hard Top (441) with Light Brown Fabric Soft Top (8023)
67,000 miles
Impala Brown was the 12th different brown offered throughout the R107 timeline, available only for the last 3 years of production. This beautiful metallic colour was ahead of it's time, a shade that wouldn't look out of place in the glossy brochures of a modern Mercedes-Benz dealership.
Late model R107 SLs are highly desirable, with cars built from 1986 to 1989 commanding the biggest price premium for a number of reasons… These cars offered revised handling, better braking, larger wheels and a slightly revised interior over the earlier R107s. Equipment levels also increased, along with a smart new range of colours. Shades such as Diamond Blue, Almandine Red and Impala Brown were luxurious new metallic paints that have become synonymous with these late cars.
Metallic Paint was a cost option in 1989, and it isn't the only cost option that this car boasts. Leather Seats (with Rear Seats), Outdoor Temperature Gauge, Cruise Control, Paint Preservation, Headlamp Wash Wipe and of course Seat Heaters for both Front Seats would have added an extra £3,200 onto the £32,750 list price. That equates to just under £95,000 in today's money.
Leather with the Rear Seat Option is a highly desirable factory original component for an R107 SL. Although the rear seats are small, it does make the SL more usable for transporting small children (or grand children) to your local classic car show – and it helps residual values. The outside temperature gauge is also a neat addition, something we take for granted in modern cars that was a cost option back in 1989! This isn't a digital display, it's a beautifully designed dial that's only active when the ignition is engage. A lovely touch and something 107 SL connoisseurs like to see. Headlamp Wash Wipe and Cruise Control were both standard with the 500SL, meaning this 300SL enjoys all luxurious benefits of the range-topping V8 whilst utilising the more spirited six-cylinder 3.0 litre engine.
This beautiful Impala Brown 300SL is a genuine one owner from new car, with a complete Mercedes-Benz service history.
A print out from Mercedes-Benz documents almost £13,500 spent with three different official dealerships with the earliest entry dated 1995.
Further bolstering the provenance of this car is the presence of the original order form, along with an undated invoice pertaining to the fitment of a telephone with the first advance rental… This type written sheet is from Rawsons TMS Mercedes-Benz, the supplying dealer.
This would lead one to conclude that this £1,178 (or more than £3,000 in today's money) for the fitment of a portable phone would date back to 1989 when the car was new… The phone is still with the car, but sadly it doesn't work!
If you don't fall in love with this car for the colour, options and mileage, then the service history and provenance really ought to sway the vote… A fantastic opportunity to acquire a car that's quite simply 'all there'.
PDI 15th May 1989     Rawsons TMS LTD (Mercedes-Benz)
1,889 miles      10th Nov 1989     Rawsons TMS LTD (Mercedes-Benz)
6,903 miles     21st Nov 1991     Rawsons TMS LTD (Mercedes-Benz)
11,223 miles     23rd Jun 1995     Rawsons TMS LTD (Mercedes-Benz)
19,517 miles     4th Apr 1996     Rawsons TMS LTD (Mercedes-Benz)
26,064 miles     28th May 1997     Rawsons TMS LTD (Mercedes-Benz)
33,283 miles     15th Dec 2000     Rawsons TMS LTD (Mercedes-Benz)
36,315 miles     6th Mar 2002     Rawsons TMS LTD (Mercedes-Benz)
42,639 miles     14th Nov 2007     Mercedes-Benz of Tonbridge
55,049 miles     25th Oct 2013     Mercedes-Benz of Tonbridge
62,923 miles     9th Dec 2015     Mercedes-Benz of Tonbridge
63,890 miles     19th Dec 2016     Mercedes-Benz of Tonbridge
65,692 miles     26th Feb 2018     Mercedes-Benz of Gatwick
441 IMPALA METALLIC
275 LEATHER CHAMPIGNON
238 URBAN DRIVING LIGHTS UK
240 OUTDOOR TEMPERATURE DISPLAY
275A LEATHER PERFORATED CREAM BEIGE
341 ADDITIONAL FLASHING LIGHTS
362 RIGHT-HAND DRIVE VEHICLE ACCORDING TO EC REGULATION (CONTROL CODE)
440 CRUISE CONTROL
441O IMPALA
441U IMPALA
461 INSTRUMENTS IN ENGLISH
524 PAINT PRESERVATION
565 REAR SEATS FOR SL TYPES
583 ELECTRIC WINDOW REGULATOR 2-WAY
592 THERMAL INSULATING GREEN GLASS ALL AROUND, HEATED REAR WINDOW, BAND FILTER
600 HEADLIGHT CLEANING SYSTEM
613 LIGHTING UNIT – ASYMETRIC LEFT-HAND TRAFFIC
682 FIRE EXTINGUISHERS
746 TOP FABRIC DARK BROWN (8023)
873 HEATING SEAT, DRIVER'S SEAT LEFT AND RIGHT
Why Choose SLSHOP?
Is it our unrivalled experience with three generations of SL? Is it our attention to detail, our award winning quality? Is it our selection of hand picked, superb cars for sale? Is it the family feel, the friendly faces and consistency of our work? Most people say it's all of these things.
A classic car offers a world of opportunities – it is an invitation to explore the open road and share life-affirming experiences with like-minded individuals.
Where will your Mercedes-Benz take you?
Bulkhead Corrosion
Although the R107 is renowned for build quality, there is one chink in the armour – the bulkhead. Many cars that present well from the outside are hiding internal rust. Water from outside the car should drain out through specially designed channels, but over time, these become blocked forcing water inside the car. Once water has breached the blower motor cover in front of the windscreen, it slowly wreaks havoc from inside out. This delicate area did not have rust protection from the factory, and as the metal deteriorates it the water ingress can lead to faulty electrics, damp carpets and musty smells inside the cabin.
All our cars come with a 36 month bulkhead warranty.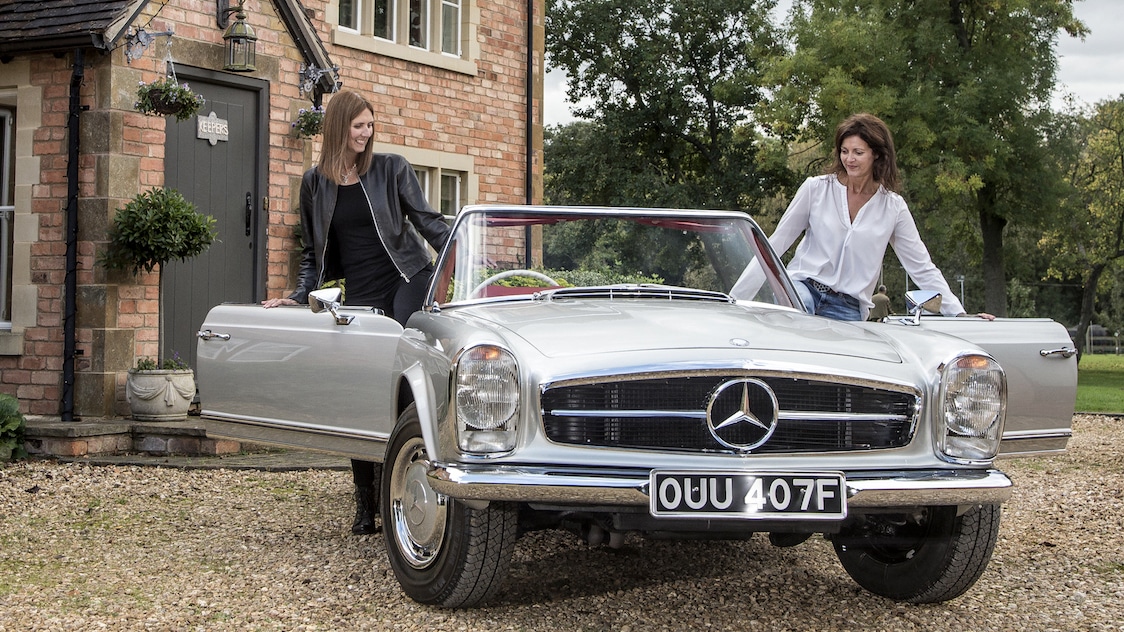 Next Steps: Experience
We believe in the capabilities of these classic cars, and want our customers to get out and use them. Welcome to Experience from The SLSHOP, aimed at helping you get more out of your classic Mercedes-Benz. We offer a number of trips, tours and events in the UK and abroad. See you there!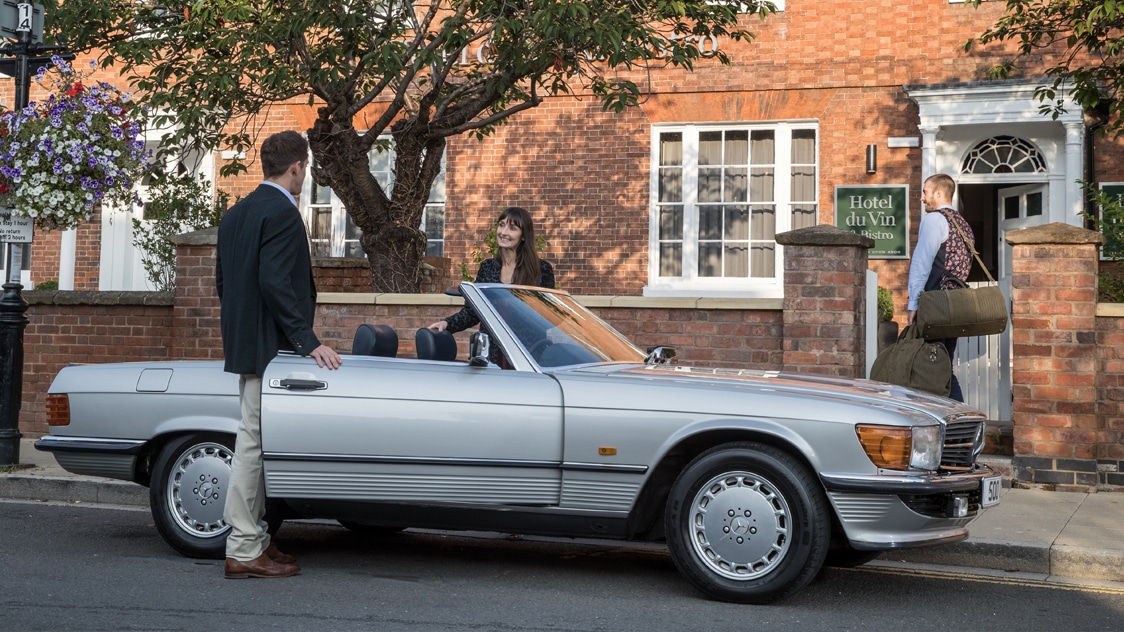 Next Steps: 24hr Test Drive
Tempted by an R107 SL but not sure if it's for you? Fancy trying a weekend at the wheel before you dive in? We offer a 24hr test drive through our hire business. Hire a classic Mercedes-Benz for a day or longer, and if you subsequently buy a car from our showroom, we will refund the entire hire fee. What are you waiting for?
STAY IN TUNE WITH SLSHOP MOMENTS
As part of SLSHOP's community of enthusiasts, you'll be the first to hear about events and tours, key product offers, exciting stories from owners around the world and of course… our latest additions to the showroom. So, be the first to know and you might just sneak a car on your driveway or take your car's condition to new heights with our exclusive replacement parts.