1987 Mercedes-Benz 560SL (R107) #2294 Signal Red with Beige Leather
Stock Number:

2294

Make / Model:

Mercedes-Benz / 560SL (R107) with Beige Leather

Mileage:

21465

Year:

1987

Price:

£59,995
Interested in this car then call us now on 01789 337070
1987 Mercedes-Benz 560SL (R107)
Signal Red (568) with Beige Leather (275) and
Signal Red (568) Hardtop and Black Fabric Soft Top (740)
21,465 miles
This superb USA specification 560SL first resided in Arkansas, USA until it was imported to the UK in 2018. For the first three decades of it's life it was cared for by just one owner, covering a mere 20,000 miles between 1987 and 2016. Interestingly an original Arkansas registration document states that the license plate for the car was 'SOHAPPY', a lovely anecdote in the history file of what is a very fine car indeed.
Finished in the iconic shade of Signal Red over Beige Leather, this 5.6 litre SL is every inch the Hollywood icon. USA specification cars were generally very high specification, and this car is no exception. Insider the is the optional Outside Temperature Gauge, Rear Spoiler Delete, Steering Wheel Airbag, Heated Mirrors on both sides, Automatic Antenna, Folding Arm Rest, Illuminated Vanity Mirrors, Air Conditioning, Paintwork Preservation and the Becker Mexico Radio… A huge specification that would have equated to ticking almost every option box on a European order form at the time.
These Left Hand Drive 560SLs have a foot brake instead of a parking break, which means the centre armrest came as standard on export cars. This is a nice addition to an R107 SL, making a big difference to occupant comfort when touring long distance.
This car must have looked a million dollars cruising the streets of Little Rock wearing it's SOHAPPY license plate.
Since arriving in the UK it has seen very little use, and is a car we are proud to offer from our showroom. The largest displacement R107 SL in the finest colour combination, boasting incredibly low mileage and a verified history. A lovely cruiser for cross continent blasts, or simply popping to the shop… wherever you take it this car is sure to be a show stopper.
Service History:
| | | |
| --- | --- | --- |
| 1,282 miles | 2nd August 1988 | Danny Anderson, Riverside Motors, Arkansas, USA |
| 6,666 miles | 22nd February 1990 | Danny Anderson, Riverside Motors, Arkansas, USA |
| 11,239 miles | 22nd February 1991 | Danny Anderson, Riverside Motors, Arkansas, USA |
| 13,771 miles | 30th December 1992 | Danny Anderson, Riverside Motors, Arkansas, USA |
| 16,778 miles | | Danny Anderson, Riverside Motors, Arkansas, USA |
| 18,423 miles | 29th February 2000 | Danny Anderson, Riverside Motors, Arkansas, USA |
| 19,544 miles | 3rd July 2007 | Danny Anderson, Riverside Motors, Arkansas, USA |
| 20,003 miles | 19th May 2016 | Mercedes-Benz of Little Rock, Arkansas, USA |
| 20,578 miles | 11th June 2018 | |
240 OUTSIDE TEMPERATURE INDICATOR
262 ELIMINATION OF REAR END SPOILER
442 AIRBAG IN STEERING WHEEL
461 INSTRUMENT WITH MILES IND. AND ENGLISH LEGEND
491 U.S. VERSION
506 OUTSIDE REAR VIEW MIRROR, LEFT AND RIGHT, HEATED (ELECTRICALLY ADJUSTABLE ON THE RIGHT)
519 BECKER RADIO MEXICO GRAND PRIX, ELECTRONIC (USA)
524 PAINTWORK – PRESERVATION
531 AUTOMATIC ANTENNA
543 SUN VISOR WITH VANITY MIRROR, ILLUMINATED, LEFT AND RIGHT
551 ANTI-THEFT/ANTI-BREAK-IN WARNING SYSTEM
570 FOLDING ARMREST, FRONT
581 AUTOMATIC CLIMATE CONTROL
592 HEAT-INSULATING GLASS, ALL-AROUND, HEATED REAR WINDOW PANE, BAND FILTER
639 ELIMINATION OF FIRST-AID BOX AND WARNING TRIANGLE
740 BLACK SOFT TOP FABRIC 9001
808 CHANGE OF MODEL YEAR, THE LAST FIGURE SHOWING THE NEW MODEL YEAR
Why Choose SLSHOP?
Is it our unrivalled experience with three generations of SL? Is it our attention to detail, our award winning quality? Is it our selection of hand picked, superb cars for sale? Is it the family feel, the friendly faces and consistency of our work? Most people say it's all of these things.
A classic car offers a world of opportunities – it is an invitation to explore the open road and share life-affirming experiences with like-minded individuals.
Where will your Mercedes-Benz take you?
Bulkhead Corrosion
Although the R107 is renowned for build quality, there is one chink in the armour – the bulkhead. Many cars that present well from the outside are hiding internal rust. Water from outside the car should drain out through specially designed channels, but over time, these become blocked forcing water inside the car. Once water has breached the blower motor cover in front of the windscreen, it slowly wreaks havoc from inside out. This delicate area did not have rust protection from the factory, and as the metal deteriorates it the water ingress can lead to faulty electrics, damp carpets and musty smells inside the cabin.
All our cars come with a 36 month bulkhead warranty.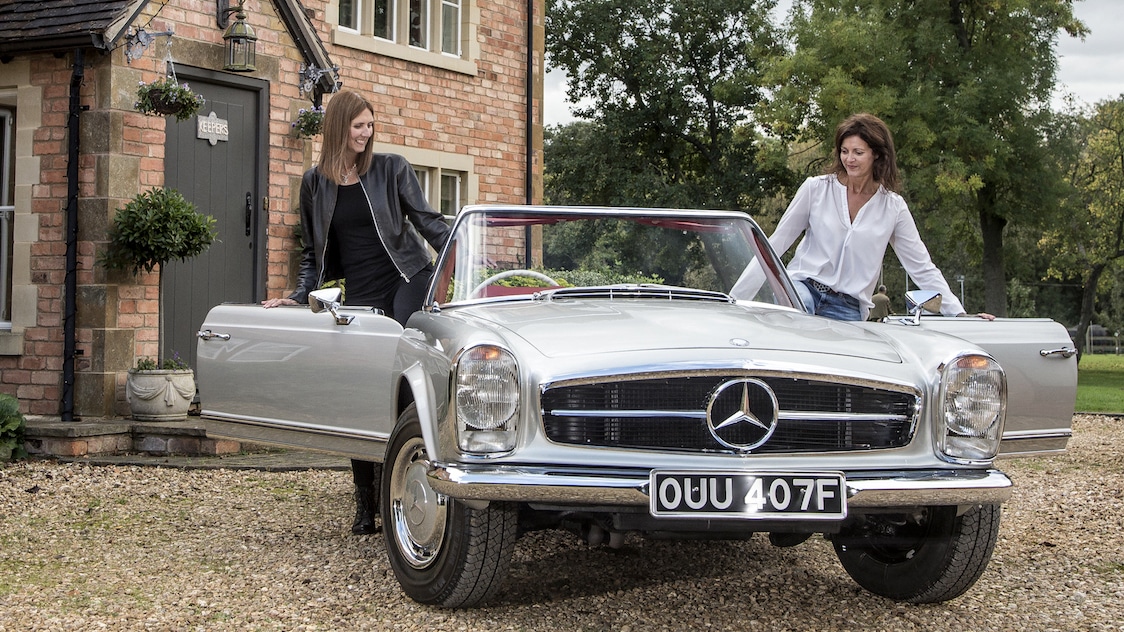 Next Steps: Experience
We believe in the capabilities of these classic cars, and want our customers to get out and use them. Welcome to Experience from The SLSHOP, aimed at helping you get more out of your classic Mercedes-Benz. We offer a number of trips, tours and events in the UK and abroad. See you there!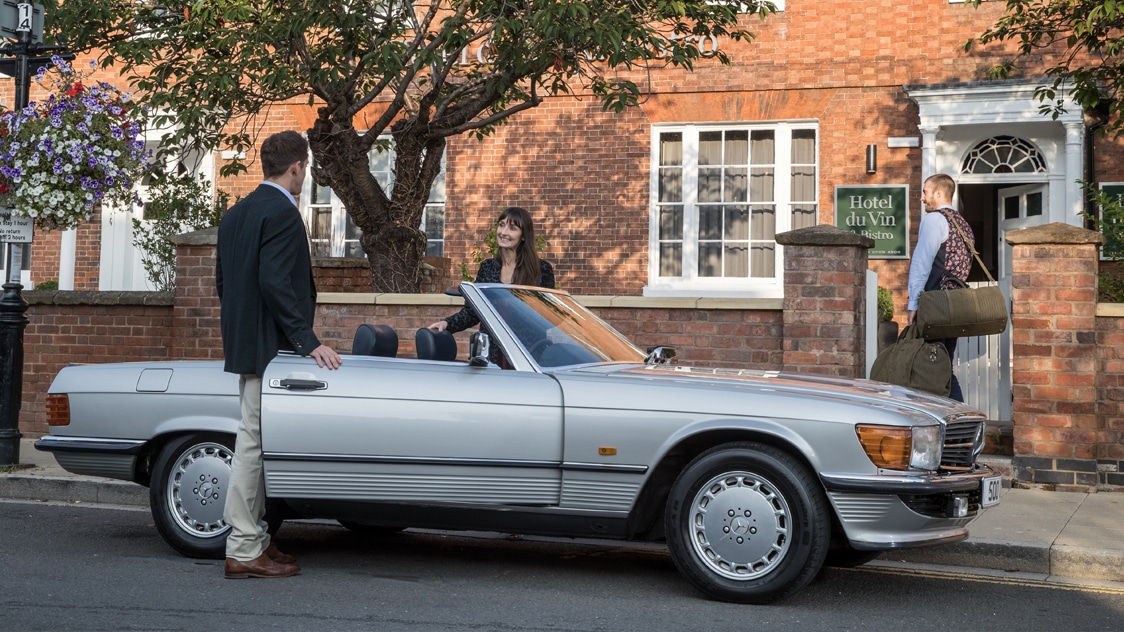 Next Steps: 24hr Test Drive
Tempted by an R107 SL but not sure if it's for you? Fancy trying a weekend at the wheel before you dive in? We offer a 24hr test drive through our hire business. Hire a classic Mercedes-Benz for a day or longer, and if you subsequently buy a car from our showroom, we will refund the entire hire fee. What are you waiting for?
Be the First to Know
Stay up to date with the latest from SLSHOP by subscribing to our newsletters. As often as we can, we update our readers with key announcements, new stories and of course… Classic Mercedes SL for sale that are fresh into stock. So, be the first to know and you might just sneak a car on your driveway before anyone else gets a chance.