1987 Mercedes-Benz 300SL (R107) #2244 Pine Green with Mushroom Leather
Stock Number:

2244

Make / Model:

Mercedes-Benz / 300SL (R107) with Mushroom Leather

Mileage:

86000

Paint Colour:

Pine Green

Interior Colour:

Mushroom Leather

Year:

1987
1987 Mercedes-Benz 300SL (R107) Pine Green with Mushroom Leather
86,000 miles
Pine Green Metallic (254) with Beige Leather (275) and
Pine Green Metallic (254) Hard Top and Dark Black Fabric Soft Top (9000)
This high specification 300SL would have been one very expensive car when it was new, fitted with a plethora of desirable factory extras including Heated Seats, Outside Air Temperature Gauge, Cruise Control, Paintwork Preservation and Fire Extinguisher.
A beautifully specified car in the 3-year only colour of Pine Green, with Mushroom Leather and a detailed service history file. This very well cared for, 3 owner car is the perfect SL for touring – a car that is ready to be used and enjoyed.
Regular visitors to our online showroom will know that any green is a rare colour for an SL. It is not often that we are able to offer high calibre cars in any shade of green, despite the fact that throughout it's life cycle the R107 was available in no less than 17 different greens!
These shades were:
Dark Green 1971-72
Dark Olive 1971-72
Reed Green 1972-75
Caledonia Green 1975-79
Citrus Green 1975-79
Deep Green 1975-79
Nickel Green 1975-79
Mango Green 1980-82
Thistle Green 1980-86
Cactus Green 1981-82
Forest Green 1982-84
Cypress Green 1985-86
Moss Green 1985-86
Agate Green 1986-89
Pine Green 1986-89
Seafoam Green 1986-89
Willow Green 1986-89
Pine Green is a fashionable and smart looking colour, perfectly suited to the contrasting interior and one that's only growing in popularity. Simply lovely.
PDI 16th June 1987 Dick Lovett Mercedes-Benz
705 miles 7th August 1987 Dick Lovett Mercedes-Benz
5,871 miles 25th May 1988 Mercedes-Benz Country Garage Cheltenham
14,987 miles 16th August 1989 Mercedes-Benz Country Garage Cheltenham
21,555 miles 17th July 1990 Mercedes-Benz Country Garage Cheltenham
27,584 miles 15th July 1991 Mercedes-Benz Country Garage Cheltenham
32,600 miles 15th July 1992 Mercedes-Benz Country Garage Cheltenham
36,376 miles 7th July 1993 Mercedes-Benz Country Garage Cheltenham
39,684 miles 6th June 1994 Mercedes-Benz Country Garage Cheltenham
43,482 miles 8th July 1995 Mercedes-Benz Country Garage Cheltenham
48,701 miles 26th June 1996 Mercedes-Benz Country Garage Cheltenham
56,129 miles 20th June 1997 Mercedes-Benz Country Garage Cheltenham
63,042 miles 16th July 1998 Mercedes-Benz Country Garage Cheltenham
66,688 miles 26th July 1999 Mercedes-Benz Country Garage Cheltenham
70,854 miles 21st Nov 2003 Mercedes-Benz & Porsche Cheltenham
80,994 miles 4th May 2017 Stonehill Automotives
84,162 miles 20th March 2019 EL Denney and Son
85,644 miles 4th Feb 2020 EL Denney and Son
238 CITY DRIVE LIGHT FOR GREAT BRITAIN
240 OUTSIDE TEMPERATURE INDICATOR
341 ADDITIONAL BLINKER LAMPS
362 RHD VEHICLES AS PER EC REGULATIONS (CONTROL CODE) 440 TEMPOMAT (CRUISE CONTROL)
461 INSTRUMENT WITH MILES IND. AND ENGLISH LEGEND
507 OUTSIDE REAR VIEW MIRROR, LEFT AND RIGHT, HEATED (ELECTRICALLY ADJUSTABLE ON THE RIGHT)
524 PAINTWORK – PRESERVATION
543 SUN VISOR WITH VANITY MIRROR, ILLUMINATED, LEFT AND RIGHT
583 ELECTRIC WINDOW LIFTERS (FRONT DOORS)
592 HEAT-INSULATING GLASS, ALL-AROUND, HEATED REAR WINDOW PANE, BAND FILTER 600 HEADLAMP WIPER/WASHER
613 HEADLAMP LEFT-HAND TRAFFIC
682 FIRE EXTINGUISHER
746 FOLDING TOP FABRIC 8023, DARK BROWN
873 SEAT HEATER FOR LEFT AND RIGHT FRONT SEATS
Why Choose SLSHOP?
Is it our unrivalled experience with three generations of SL? Is it our attention to detail, our award winning quality? Is it our selection of hand picked, superb cars for sale? Is it the family feel, the friendly faces and consistency of our work? Most people say it's all of these things.
A classic car offers a world of opportunities – it is an invitation to explore the open road and share life-affirming experiences with like-minded individuals.
Where will your Mercedes-Benz take you?
Bulkhead Corrosion
Although the R107 is renowned for build quality, there is one chink in the armour – the bulkhead. Many cars that present well from the outside are hiding internal rust. Water from outside the car should drain out through specially designed channels, but over time, these become blocked forcing water inside the car. Once water has breached the blower motor cover in front of the windscreen, it slowly wreaks havoc from inside out. This delicate area did not have rust protection from the factory, and as the metal deteriorates it the water ingress can lead to faulty electrics, damp carpets and musty smells inside the cabin.
All our cars come with a 36 month bulkhead warranty.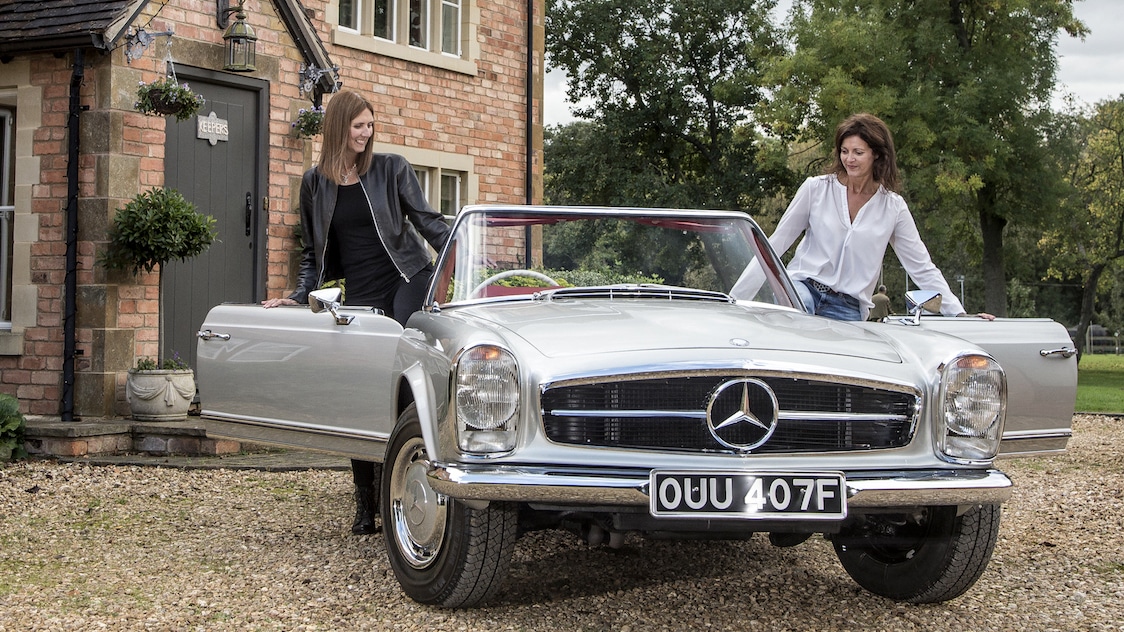 Next Steps: Experience
We believe in the capabilities of these classic cars, and want our customers to get out and use them. Welcome to Experience from The SLSHOP, aimed at helping you get more out of your classic Mercedes-Benz. We offer a number of trips, tours and events in the UK and abroad. See you there!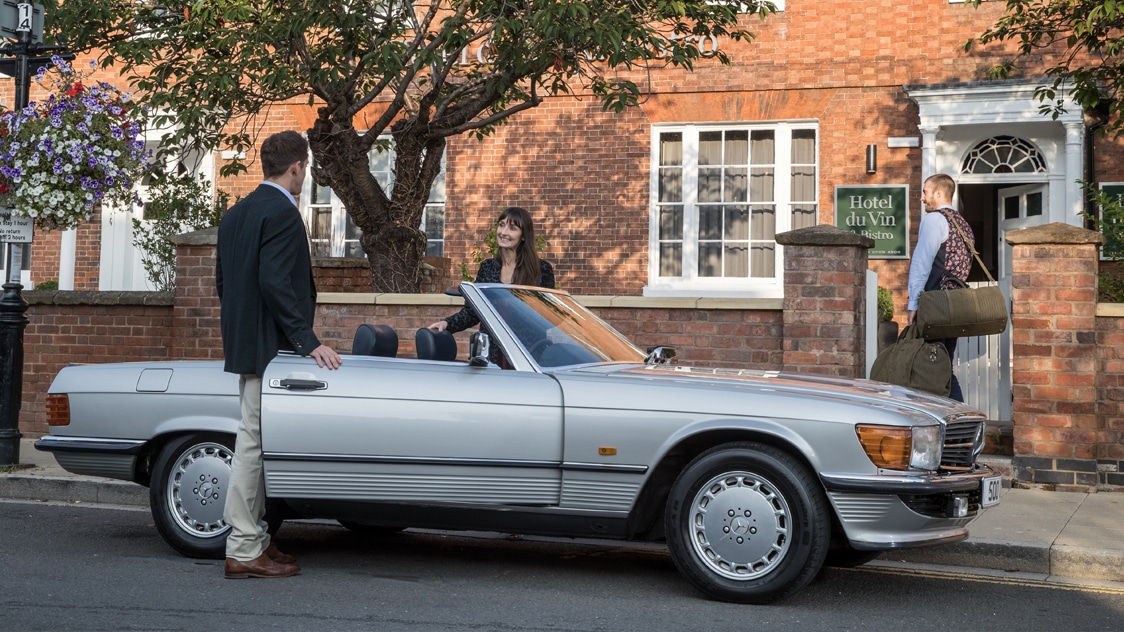 Next Steps: 24hr Test Drive
Tempted by an R107 SL but not sure if it's for you? Fancy trying a weekend at the wheel before you dive in? We offer a 24hr test drive through our hire business. Hire a classic Mercedes-Benz for a day or longer, and if you subsequently buy a car from our showroom, we will refund the entire hire fee. What are you waiting for?
STAY IN TUNE WITH SLSHOP MOMENTS
As part of SLSHOP's community of enthusiasts, you'll be the first to hear about events and tours, key product offers, exciting stories from owners around the world and of course… our latest additions to the showroom. So, be the first to know and you might just sneak a car on your driveway or take your car's condition to new heights with our exclusive replacement parts.