1981 Mercedes-Benz 450SL (R107) #2135 Champagne Metallic with Black Sports Check
Stock Number:

2135

Make / Model:

Mercedes-Benz / 450SL (R107) with Black Fabric

Mileage:

7000

Year:

1979
As seen on our stand at the London Classic Car Show
1981 Mercedes-Benz 450SL (R107)
Champagne Metallic (473) with Black Sports Check interior (031) and Black Fabric Soft Top (9001)
7,000 miles
Please contact Joe for further details and photographs.
This exceptional 450SL has a fantastic story, being one of the last 100 450SLs built.
It was purchased new in Gloucester in 1979 by a Mr Norman Gray, a gentleman who owned the car dealership Grays of Chatham.
The Gray family have been trading from Chatham High Street for over 80 years, and are still trading there today.
Don Gray started his business in 1938 selling bicycles and was joined by his brother Norman. The business expanded as the decades passed, allowing Don and Norman to indulge in their motoring passion. On the very first day of motorcycle racing on the new Brands Hatch track, Norman won the unlimited cc race on his 350cc AJS!
The showroom would go on to become a motorcycling Mecca in Kent, until Don left the business. Norman continued, then joined by his sons Herbert and Donald.
In 1979 Norman Gray purchased a Mercedes-Benz 450SL from County Garage Cheltenham. As a car dealer himself, he retained the V55 allowing him to register the car at a later date – explaining why this is a 1979 car but registered in 1981. He first registered it on 9th February under the name Rowlands of Sittingbourne.
Whilst Norman owned the car it was displayed in his showroom, which explains the low mileage. He used it once for a trip to the South of France, and reportedly never removed the hardtop. During Norman's ownership servicing and fluid changes were done by his garage.
Mr Gray owned the car for 20 years, and upon his death in 2009 it was acquired by a family friend. The MOT on September 14th 2009 showed just 5,355 miles covered in 30 years.
On March 7th 2014 the car was purchased by the current keeper, at which point it showed 5,862 miles and was still wearing the original tyres, which were renewed for safety reasons. It was at this point in the story that the car first appeared on the radar of SLSHOP, arriving with us in August 2014 for a Health Check.
The 2014 Health Check presented a number of issues that were consummate with the age of the car, all of which were resolved. These included the engine and subframe mounts, a service, new distributor cap, rotor arm and ignition leads cleaning of all drain holes and channels, bulkhead check (and waxoyl) and a comprehensive wax and polish of the entire car. The current owner has diligently cared for this unusual car, keeping it garaged and using it only sparingly.
A Mercedes-Benz R107 SL with less than 10,000 miles showing is a remarkable find, something to be cherished and enjoyed, displayed and shown. Despite our experience, knowledge and time with these cars, we have come across very few that show four-figure mileage – even less of these have been early cars. This might just be the only car of it's kind in existence, or at least outside the hallowed walls of Mercedes-Benz themselves.
This is an opportunity to buy one of the very last 450SLs, a museum piece that could be used sparingly, a show stopper and a concours contender. We are unlikely to unearth another.
320 ADDITIONAL PLATE AND REAR SEAT BENCH STOP FOR GREAT BRITAIN
416 HARDTOP MOUNTED
436 ELIMINATION OF FRONT LEFT AND RIGHT SELF-REELING SAFETY BELTS
467 CENTRAL LOCKING MECHANISM AND INSTRUMENTS WITH ENGLISH LETTERING
503 OUTSIDE REAR VIEW MIRROR, ON THE LEFT
524 PAINTWORK – PRESERVATION
583 ELECTRIC WINDOW LIFTERS (FRONT DOORS)
592 HEAT-INSULATING GLASS, ALL-AROUND, HEATED REAR WINDOW PANE, BAND FILTER
600 HEADLAMP WIPER/WASHER
613 HEADLAMP LEFT-HAND TRAFFIC
640 15-HOLE LIGHT ALLOY RIMS
656 MICHELIN TIRES
666 10 LITERS OF FUEL AND MODE OF PACKING VE III
740 BLACK SOFT TOP FABRIC 9001
Why Choose SLSHOP?
Is it our unrivalled experience with three generations of SL? Is it our attention to detail, our award winning quality? Is it our selection of hand picked, superb cars for sale? Is it the family feel, the friendly faces and consistency of our work? Most people say it's all of these things.
A classic car offers a world of opportunities – it is an invitation to explore the open road and share life-affirming experiences with like-minded individuals.
Where will your Mercedes-Benz take you?
Bulkhead Corrosion
Although the R107 is renowned for build quality, there is one chink in the armour – the bulkhead. Many cars that present well from the outside are hiding internal rust. Water from outside the car should drain out through specially designed channels, but over time, these become blocked forcing water inside the car. Once water has breached the blower motor cover in front of the windscreen, it slowly wreaks havoc from inside out. This delicate area did not have rust protection from the factory, and as the metal deteriorates it the water ingress can lead to faulty electrics, damp carpets and musty smells inside the cabin.
All our cars come with a 36 month bulkhead warranty.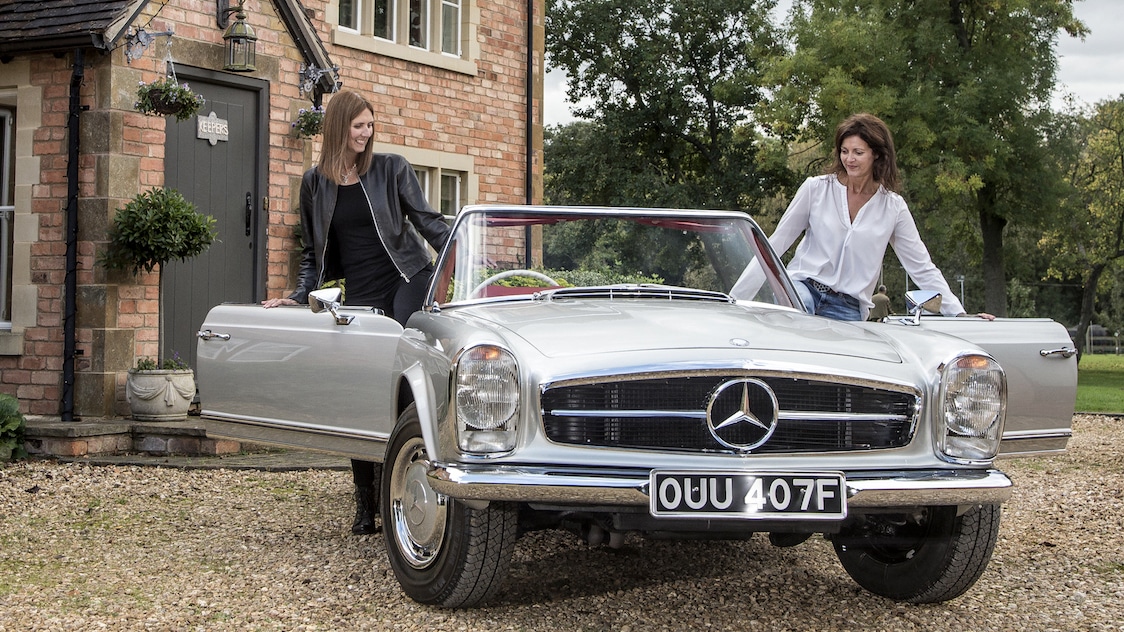 Next Steps: Experience
We believe in the capabilities of these classic cars, and want our customers to get out and use them. Welcome to Experience from The SLSHOP, aimed at helping you get more out of your classic Mercedes-Benz. We offer a number of trips, tours and events in the UK and abroad. See you there!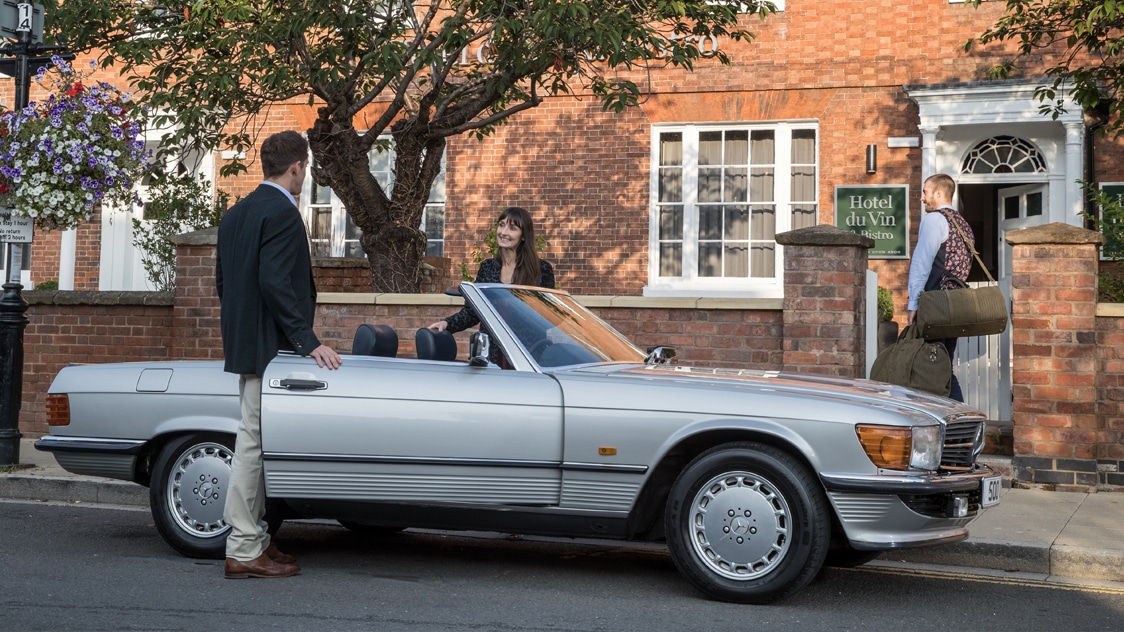 Next Steps: 24hr Test Drive
Tempted by an R107 SL but not sure if it's for you? Fancy trying a weekend at the wheel before you dive in? We offer a 24hr test drive through our hire business. Hire a classic Mercedes-Benz for a day or longer, and if you subsequently buy a car from our showroom, we will refund the entire hire fee. What are you waiting for?
STAY IN TUNE WITH SLSHOP MOMENTS
As part of SLSHOP's community of enthusiasts, you'll be the first to hear about events and tours, key product offers, exciting stories from owners around the world and of course… our latest additions to the showroom. So, be the first to know and you might just sneak a car on your driveway or take your car's condition to new heights with our exclusive replacement parts.