1981 Mercedes-Benz 380SLC (C107) Fully Restored #0000
Stock Number:

0000

Make / Model:

Mercedes-Benz / 380SLC (C107) with Beige Leather

Mileage:

37000

Year:

1981

Price:

£69,995
Interested in this car then call us now on 01789 337070
1981 Mercedes-Benz 380SLC (C107)
Blue Green Metallic (877) with Beige Leather (275) Note, this colour is also known as Petrol Blue
36,000 miles
About the Mercedes-Benz 107 SLC:
History has shown us that if 2+2 = 4, it doesn't always mean that four can travel in comfort – which is where we introduce the SLC.
Arriving in 1972, the SLC was an elongated hardtop coupe version of the popular SL. With it's sleek body, pillarless windows and gigantic sunroof, it offered the very best of top down motoring with room enough for four. The V8 powered 450SLC was the first to arrive, with the 6 cylinder 280SLC arriving two years later in 1974. In 1979 the 450SLC was replaced by the 500SLC, and the 280SLC by the 380SLC. These more refined engines would enjoy a very short production run until the SLC was discontinued in 1981, the point at which the new W126 SEC took over carrying the torch as the flagship luxury coupe in the Mercedes-Benz range.
Today an SLC is an exciting proposition for classic Mercedes-Benz and classic car enthusiasts. It represents a more unusual choice, the connoisseurs coupe for people that understand the value of build quality and understated luxury. The sturdy build quality and solid German dependability gives this car a real place in the Practical Classics stable, being a car that with care and attention, can be enjoyed on a daily basis, rain or shine.
For our two pence on these cars, we'd much rather hop in an SLC for a trip to Le Mans than any British alternative, but then again, we really are rather biased….
About this Mercedes-Benz 107 SLC
Built from 1979 until 1981, a 380SLC is a rare car in any specification. Mercedes-Benz own production figures state just 3,789 built from 1980 to 1981.
The SLC shown here has to be one of the finest currently available. Built on the 29th June 1981, this car left the factory in Blue-Green Metallic (877) with Black Leather Interior (231), wearing 15 inch 'light'  (640) Mexican Hat alloy wheels. It first arrived at SLSHOP in 2014, wearing black paintwork and in need of some improvement.
In recent years this car has been the the subject of a comprehensive, engine out restoration. The details on works that have been undertaken to turn this car into what it is today run to more than 18 pages, with the parts bill alone standing at more than £25,000. It goes without saying that to build an SLC of this calibre from the ground up would cost significantly more than the asking price.
As part of the restoration the car was stripped back to a shell to deal with any rust and corrosion issues. The bulkhead was rectified with all new metal, a were the floor pans, inner and outer sills, boot floor and front crossmember. Every small imperfection that was found along the way was seen to, with all fabrication and rust repair done by our expert team in-house. Once the body was ready it was fully prepared and painted in Blue Green Metallic (877), a colour that was correct for the year having been introduced to the Mercedes-Benz range in March of 1980. The decision was then made to change the interior from the dark moody black to the much lighter beige to improve the cabin ambience, and the colour-coded steel wheels with period correct painted chrome wheel trims complete the picture.
When putting this car back together, it was done with new parts where possible, meaning the exhaust system, braking, suspension (including all bushes) and throttle linkage is all new. The interior is all new, finished in Beige with every component and piece of the puzzle carefully reinstalled to create an as new R107 SLC.
The details of the restoration can be read on request, but to summarise, this car was taken back to a shell, repaired everywhere that was necessary and then rebuilt to it's former glory with a huge amount of new parts replaced at the same time.
What we have here is an opportunity to buy a rare and superb SLC upon which the previous owner has spared no expense. A chance to buy an 'as new' car, ready to be enjoyed and one of the best currently available – if not THE best.
A shining example of the SLC, an interesting car in its own right and one that is well deserving of a place in the classic car hall of fame.
256 REAR AXLE WITH LIMITED-SLIP DIFFERENTIAL
320 ADDITIONAL PLATE AND REAR SEAT BENCH STOP FOR GREAT BRITAIN
410 SLIDING ROOF, ELECTRICALLY OPERATED
440 TEMPOMAT (CRUISE CONTROL)
467 CENTRAL LOCKING MECHANISM AND INSTRUMENTS WITH ENGLISH LETTERING
503 OUTSIDE REAR VIEW MIRROR, ON THE LEFT
524 PAINTWORK – PRESERVATION
586 BEHR AIR CONDITIONER, AND ELECTRIC WINDOW REGULATORS FRONT AND REAR DOORS
592 HEAT-INSULATING GLASS, ALL-AROUND, HEATED REAR WINDOW PANE, BAND FILTER
603 HEADLAMP WIPER UNIT AND OIL FOR REAR AXLE WITH LIMITED-SLIP DIFFERENTIAL, IN CANISTERS AND CONTAINERS
613 HEADLAMP LEFT-HAND TRAFFIC
640 15-HOLE LIGHT ALLOY RIMS
656 MICHELIN TIRES
666 10 LITERS OF FUEL AND MODE OF PACKING VE III
682 FIRE EXTINGUISHER
Why Choose SLSHOP?
Is it our unrivalled experience with three generations of SL? Is it our attention to detail, our award winning quality? Is it our selection of hand picked, superb cars for sale? Is it the family feel, the friendly faces and consistency of our work? Most people say it's all of these things.
A classic car offers a world of opportunities – it is an invitation to explore the open road and share life-affirming experiences with like-minded individuals.
Where will your Mercedes-Benz take you?
Bulkhead Corrosion
Although the R107 is renowned for build quality, there is one chink in the armour – the bulkhead. Many cars that present well from the outside are hiding internal rust. Water from outside the car should drain out through specially designed channels, but over time, these become blocked forcing water inside the car. Once water has breached the blower motor cover in front of the windscreen, it slowly wreaks havoc from inside out. This delicate area did not have rust protection from the factory, and as the metal deteriorates it the water ingress can lead to faulty electrics, damp carpets and musty smells inside the cabin.
All our cars come with a 36 month bulkhead warranty.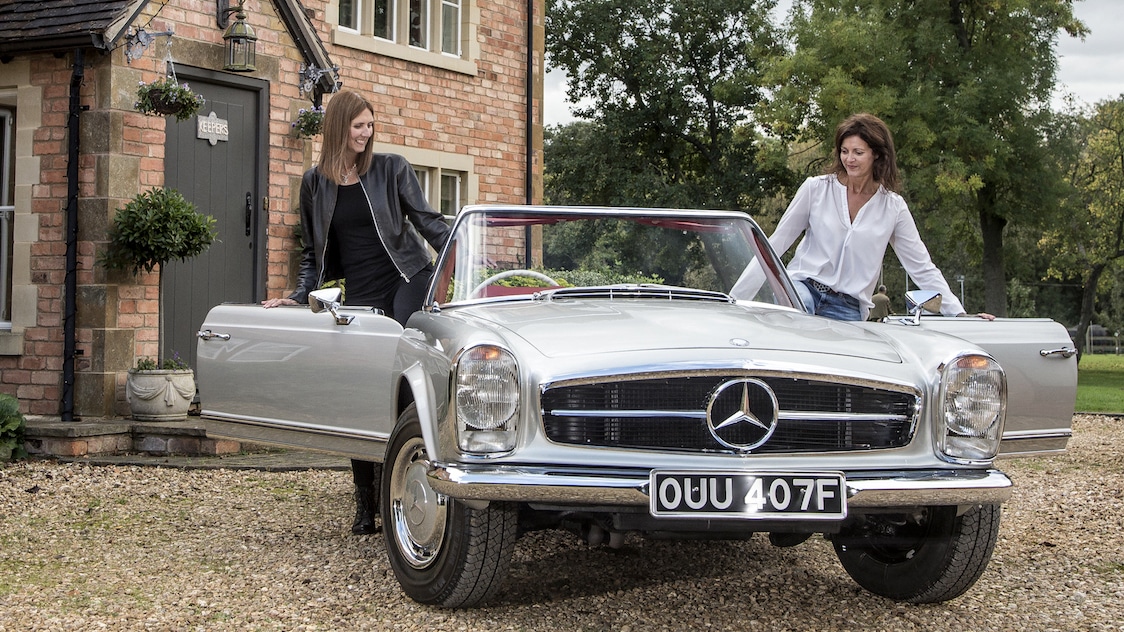 Next Steps: Experience
We believe in the capabilities of these classic cars, and want our customers to get out and use them. Welcome to Experience from The SLSHOP, aimed at helping you get more out of your classic Mercedes-Benz. We offer a number of trips, tours and events in the UK and abroad. See you there!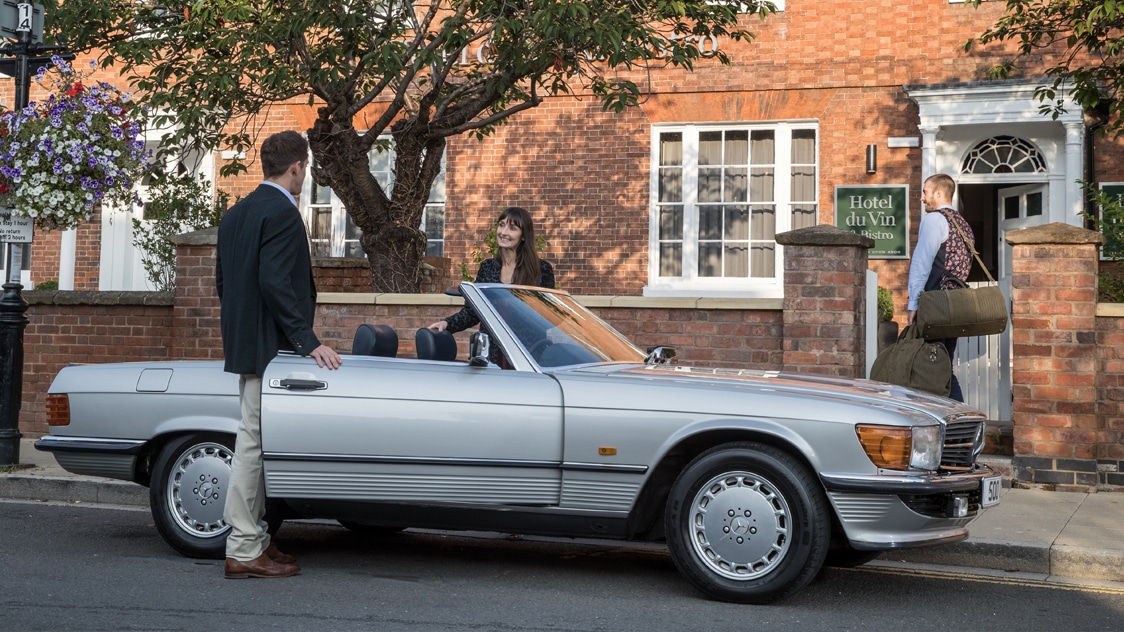 Next Steps: 24hr Test Drive
Tempted by an R107 SL but not sure if it's for you? Fancy trying a weekend at the wheel before you dive in? We offer a 24hr test drive through our hire business. Hire a classic Mercedes-Benz for a day or longer, and if you subsequently buy a car from our showroom, we will refund the entire hire fee. What are you waiting for?
Be the First to Know
Stay up to date with the latest from SLSHOP by subscribing to our newsletters. As often as we can, we update our readers with key announcements, new stories and of course… Classic Mercedes SL for sale that are fresh into stock. So, be the first to know and you might just sneak a car on your driveway before anyone else gets a chance.