1973 Mercedes-Benz 280CE Coupe (W114) #2337 Silver with Blue
Stock Number:

2337

Make / Model:

Mercedes-Benz / 280CE (W114)

Mileage:

53166

Year:

1973

Price:

£79,995
Interested in this car then call us now on 01789 337070
1973 Mercedes-Benz 280CE Coupe (W114)
Astral Silver Metallic (735) with Blue MB Tex Interior (162)
Automatic Gearbox, Power Steering, Halogen Lights and Rear Fog Light, built to UK Specification including Radiomobile 1085 Radio with fitting kit and aerial
53,166 miles
This exceptional car is one third of a small collection of silver coupes commissioned by the current owner. The goal was curate a matching set of iconic Mercedes-Benz coupes, each restored to inch perfect condition by Kienle Automobiltechnik GmbH in Germany – the end result is a trio of incredible cars…. A 1973 Mercedes-Benz 280CE Coupe (W114), 1985 Mercedes-Benz 280CE Coupe (W123) and of course a 1988 Mercedes-Benz 300SL (R107). The cost to build these three cars and create this collection was far more than the stated asking prices. These can be purchased individually, or all three can be secured together as a set. For more photos and information about these cars, please contact Bruce.
This incredible piece of automotive history was ordered new in 1973 by J.B Christian Esq. who parted with his five-year old Daimler Sovereign 4.2 to move into the world of Mercedes-Benz. It stayed with the first owner and was meticulously cared for by Majestic Garage Christchurch until 1988, covering just under 40,000 miles in this time.
The car was used and enjoyed sparingly until 2016, when it was acquired by the current keeper as part of his mission to curate the finest selection of Mercedes-Benz coupes in the world. As with the other two cars currently listed in our showroom, the 280CE was shipped to KIENLE in Germany for assessment before a quotation was provided and work commenced.
Completely stripped down to the shell, the car was rebuilt from the ground up with every nut and bolt being replaced with new items as and when it was necessary. Although the car appeared to be in very good condition before work began, as the project progressed it became clear that this would be a much more involved restoration than was initially conceived. The end result is an inch perfect car, resulting in final invoices for the work completed totalling more than €180,000.
Present within the history file is the original order invoice (with the details of the part exchange Daimler) and what looks to be every single invoice and receipt from the day the car was built. Not only is this a superbly resorted and as new vehicle, but it has the provenance and story to justify the expenditure making it a one of a kind survivor that has been improved beyond all measure.
These W114 Coupes are rare in any condition, but to find a car that has been treated to this sort of restoration is an incredible thing to behold. Each of these cars would cost substantially more to produce today than the stated asking prices.
Additional seat belts, delivery charge and numberplate, as well as anti-freeze.
| | | |
| --- | --- | --- |
| 563 kms | 10th July 1973 | Majestic Garage Christchurch |
| 843 miles | 24th July 1973 | speedo changed from kms to miles |
| 4,292 miles | 19th April 1974 | Majestic Garage Christchurch |
| 9,290 miles | 30th September 1974 | Majestic Garage Christchurch |
| 11,753 miles | 3rd June 1975 | Majestic Garage Christchurch |
| 19,518 miles | 15th March 1977 | Majestic Garage Christchurch |
| 21,978 miles | 6th June 1978 | Majestic Garage Christchurch |
| 24,437 miles | 30th May 1979 | Majestic Garage Christchurch |
| 26,088 miles | 26th May 1981 | Majestic Garage Christchurch |
| 30,504 miles | 29th June 1983 | Majestic Garage Christchurch |
| 32,688 miles | 19th June 1984 | Majestic Garage Christchurch |
| 36,098 miles | 8th July 1985 | Majestic Garage Christchurch |
| 39,249 miles | 13th August 1987 | Majestic Garage Christchurch |
| 39,853 miles | 2nd August 1988 | Majestic Garage Christchurch |
| 45,384 miles | 10th August 1991 | Ringwood Road Service Station |
| 49,596 miles | 7th August 1990 | Ringwood Road Service Station |
| 52,420 miles | 7th July 2011 | Black & White Cars Mercedes Specialist |
| 52,677 miles | 20th September 2013 | Black & White Cars Mercedes Specialist |
| 53,005 miles | 16th December 2016 | KIENLE Automomobiltechnik GmbH |
| 53,760 miles | 10th March 2021 | KIENLE Automomobiltechnik GmbH |
Why Choose SLSHOP?
Is it our unrivalled experience with three generations of SL? Is it our attention to detail, our award winning quality? Is it our selection of hand picked, superb cars for sale? Is it the family feel, the friendly faces and consistency of our work? Most people say it's all of these things.
A classic car offers a world of opportunities – it is an invitation to explore the open road and share life-affirming experiences with like-minded individuals.
Where will your Mercedes-Benz take you?
Bulkhead Corrosion
Although the R107 is renowned for build quality, there is one chink in the armour – the bulkhead. Many cars that present well from the outside are hiding internal rust. Water from outside the car should drain out through specially designed channels, but over time, these become blocked forcing water inside the car. Once water has breached the blower motor cover in front of the windscreen, it slowly wreaks havoc from inside out. This delicate area did not have rust protection from the factory, and as the metal deteriorates it the water ingress can lead to faulty electrics, damp carpets and musty smells inside the cabin.
All our cars come with a 36 month bulkhead warranty.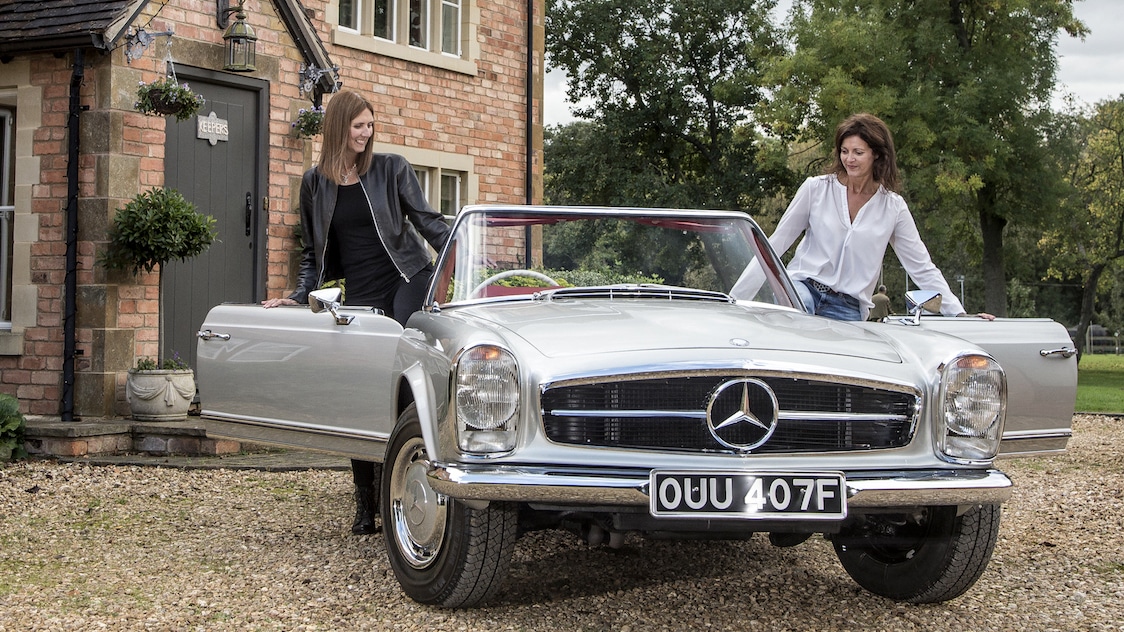 Next Steps: Experience
We believe in the capabilities of these classic cars, and want our customers to get out and use them. Welcome to Experience from The SLSHOP, aimed at helping you get more out of your classic Mercedes-Benz. We offer a number of trips, tours and events in the UK and abroad. See you there!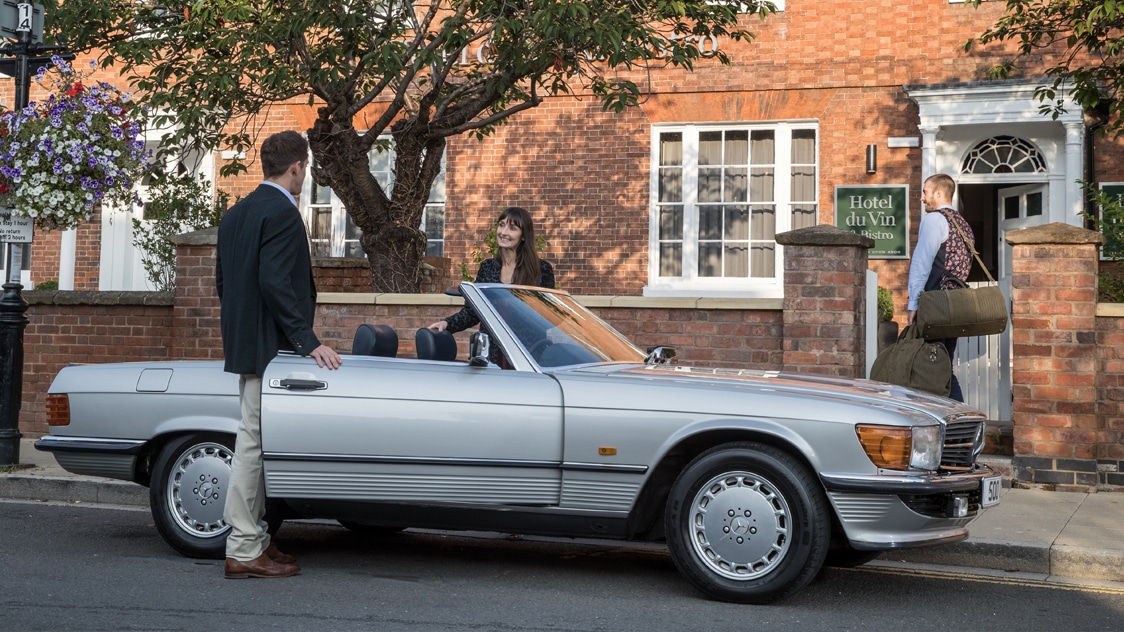 Next Steps: 24hr Test Drive
Tempted by an R107 SL but not sure if it's for you? Fancy trying a weekend at the wheel before you dive in? We offer a 24hr test drive through our hire business. Hire a classic Mercedes-Benz for a day or longer, and if you subsequently buy a car from our showroom, we will refund the entire hire fee. What are you waiting for?
Be the First to Know
Stay up to date with the latest from SLSHOP by subscribing to our newsletters. As often as we can, we update our readers with key announcements, new stories and of course… Classic Mercedes SL for sale that are fresh into stock. So, be the first to know and you might just sneak a car on your driveway before anyone else gets a chance.