1970 Mercedes-Benz 280SL Pagoda (W113) #2302 Arabian Grey with Red Leather
Stock Number:

2302

Make / Model:

Mercedes-Benz / 280SL Pagoda (W113) with Red Leather

Year:

1970

Price:

£159,995
Interested in this car then call us now on 01789 337070
As seen on our stand at the London Classic Car Show
1970 Mercedes-Benz 280SL Pagoda (W113)
Arabian Grey with Red Leather Interior
Arabian Grey Hardtop with Light Grey Softtop
120,000 miles
An opportunity to acquire a car with excellent heritage and story, to improve and make your own at the very top of the Pagoda desirability hierarchy.
This exceptional 280SL is finished in Arabian Grey with Red Leather, the original factory colour in which it was delivered back in 1970.
Not only does this car look every inch the Pagoda that buyers seek, it has a wonderful story to share.
Our tale begins in southern Spain in the 1950s, at the time when Generalissimo Franco's planes were reigning bombs down on the Basque Country, the region which spreads from Northern Spain and the South Western corner of France. This fiercely independent region was home to Vicente Guruceta Azcarrunz (1895-1964), a custom gun maker and trade representative for a group of sporting rifle manufacturers. Vicente was well travelled, and a family man. He was married with a daughter and young son when they were forced to flee the conflict in Spain, taking advantage of his trading connections and establishing the family on the other side of the world in Nicaragua. Although Vicente found success in business, his personal life would take a number of tragic turns. He first lost his young wife to cancer, then his son to a brain tumour.
With just his daughter Juana Maria remaining, her safety was Vicente's top priority. Having escaped the political upheaval in Spain, Vicente would soon be facing his own political problems in Nicaragua… Anastasio Somoza, son of the Nicaraguan dictator, had taken a particular liking to Juana. Vicente was a proud and refined man of Basque lineage and he would have none of it. He wished for Juana to be far away from Nicaragua, so after chasing the young Anastasio off his property with a shotgun, he despatched Juana off to the relative safety of Connecticut College for Women in New London.
In Connecticut Juana would meet Mr Flagg, and it wasn't long before they became Mr and Mrs Flagg. The two were passionate about horses, and it is on a day in 1970 where we are first introduced to this Arabian Grey 280SL. This particular day also happened to be Juana's birthday, spent at a local horse show although no gifts appeared to be forthcoming. Indeed, it appeared that Mr Flagg had entirely forgotten the significance of the date, leaving the bemused Mrs Flagg to describe herself as feeling blue… All this changed when the couple made their way to their stable, only to find it devoid of horses. Instead, occupying the stable was a beautiful Mercedes-Benz sports car, an elegant roadster finished in a beautiful shade of grey, known as Arabian Grey… just like an Arabian Horse, complete with the rare option of a matching grey soft top. Mrs Flagg affectionally christened the German thoroughbred 'the Grey Mare'.
Mrs Flagg would often describe the car has her 'very favourite', and owned it for many years. Under her ownership it was cared for by the mechanic who also looked after the family's private aeroplane. Mrs Flagg truly loved the car, parting with it after many happy years together.
A second owner (also in Connecticut) and then a third owner (in Massachusetts) would enjoy the 'Grey Mare', before it was acquired by a Mr Kim from New York. As a renowned Mercedes-Benz enthusiast, Mr Kim knew a thing or two about a fine Pagoda… he was the president of the US W113 Owners Club. Mr Kim was fascinated with the history of both Juana and the car, and how the two came to be united. In his hands the car enjoyed a cosseted life, being showcased at local events and it became well known among model enthusiasts.
In 2003 Mr Kim parted with the Grey Mare, whereupon it was purchased by another young lady with fine taste in automobiles, a Nicola Colley. Under her ownership the car unfortunately suffered a catastrophic engine failure, and an identical replacement had to be sourced and built to maintain as close as possible the original specifications. This 280SL was used regularly until 2011, at which point the painstaking process of restoration would take place. A complete 'nut and bolt' body off project was commenced, including a bare metal respray and an overhaul of all the mechanicals. The bodywork was handled by multiple concours winner Denny Lal, with the veneer completed by London Carriage Limited. The bare metal respray and finish was of course once again completed n that beautiful shade of Arabian Grey, complimented by the very rare and very special grey fabric roof.
The car is now looking for a new custodian, someone who can love and adore this car in the very way Mrs Flagg did. After all, it now sits proudly in the exact same condition (if not better) than the day she first laid eyes on it parked in a stable back in 1970.
A truly wonderful car with a fantastic story, a 280SL Pagoda that's not to be missed.
Why Choose SLSHOP?
Is it our unrivalled experience with three generations of SL? Is it our attention to detail, our award winning quality? Is it our selection of hand picked, superb cars for sale? Is it the family feel, the friendly faces and consistency of our work? Most people say it's all of these things.
A classic car offers a world of opportunities – it is an invitation to explore the open road and share life-affirming experiences with like-minded individuals.
Where will your Mercedes-Benz take you?
Bulkhead Corrosion
Although the R107 is renowned for build quality, there is one chink in the armour – the bulkhead. Many cars that present well from the outside are hiding internal rust. Water from outside the car should drain out through specially designed channels, but over time, these become blocked forcing water inside the car. Once water has breached the blower motor cover in front of the windscreen, it slowly wreaks havoc from inside out. This delicate area did not have rust protection from the factory, and as the metal deteriorates it the water ingress can lead to faulty electrics, damp carpets and musty smells inside the cabin.
All our cars come with a 36 month bulkhead warranty.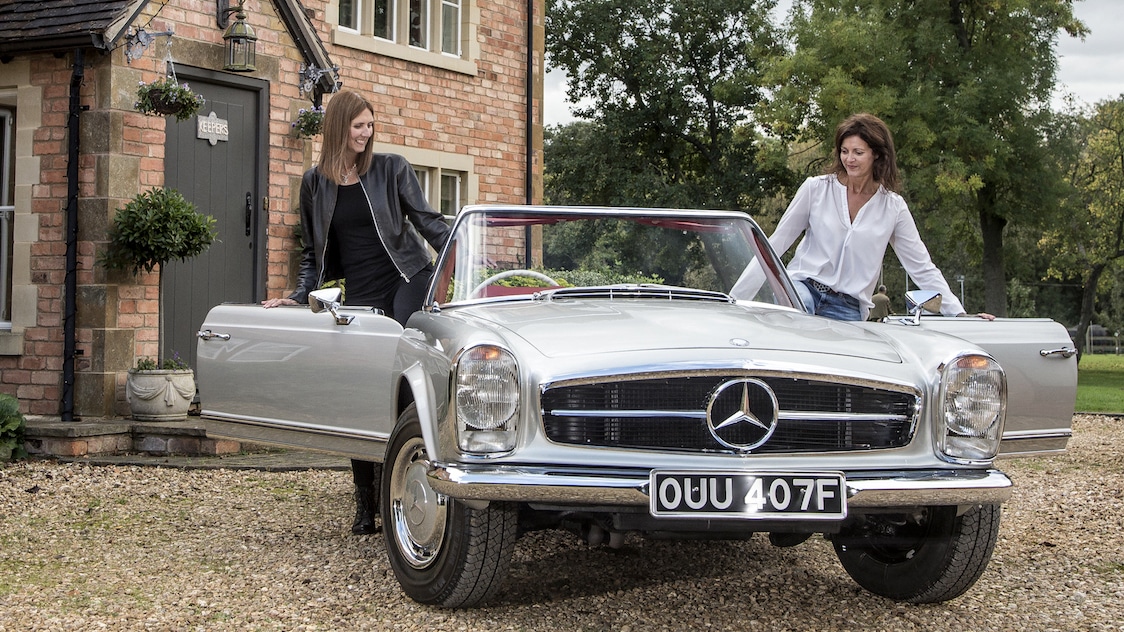 Next Steps: Experience
We believe in the capabilities of these classic cars, and want our customers to get out and use them. Welcome to Experience from The SLSHOP, aimed at helping you get more out of your classic Mercedes-Benz. We offer a number of trips, tours and events in the UK and abroad. See you there!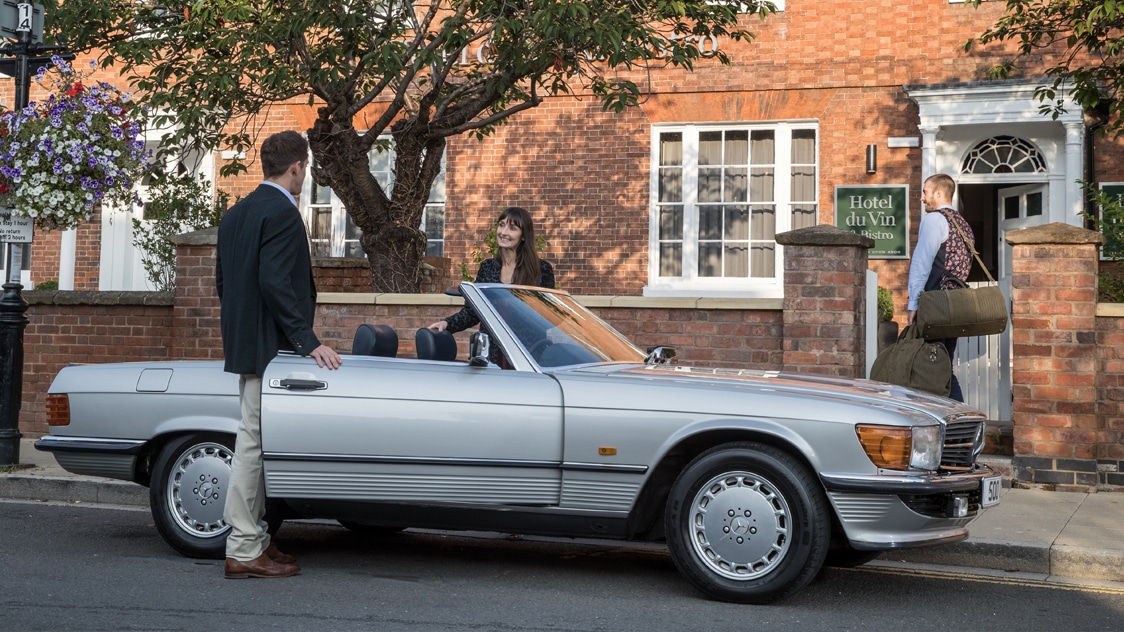 Next Steps: 24hr Test Drive
Tempted by an R107 SL but not sure if it's for you? Fancy trying a weekend at the wheel before you dive in? We offer a 24hr test drive through our hire business. Hire a classic Mercedes-Benz for a day or longer, and if you subsequently buy a car from our showroom, we will refund the entire hire fee. What are you waiting for?
Be the First to Know
Stay up to date with the latest from SLSHOP by subscribing to our newsletters. We update our readers with key announcements, new stories and of course… cars that are fresh into stock. Be the first to know and you might just sneak a car on your driveway before anyone else gets a chance.