1968 Mercedes-Benz 280SL Pagoda (W113) #2220 White with Black Leather
Stock Number:

2220

Make / Model:

Mercedes-Benz / 280SL Pagoda (W113) with Black Leather

Paint Colour:

White

Interior Colour:

Black Leather

Year:

1968
1968 Mercedes-Benz 280SL Automatic Pagoda (W113)
White (040) with Black Leather (241) and Black Soft Top (740)
About the Mercedes-Benz SL W113 Pagoda:
Mercedes-Benz never intended the 300SL Gullwing to go into production as a road car. It was the Austrian-born, New York-based importer Max Hoffman who suggested the idea during a directors meeting in Stuttgart in 1953. With America enjoying a booming post-war economic period, the time was right to introduce a racing car for the road, aimed squarely at wealthy enthusiasts. An initial order of 1000 cars was planned, with the road car making it's debut at the 1954 New York Auto Show.
With the 300SL, Mercedes-Benz and Max Hoffman had pioneered a new section of the market, but the high production costs of the 300SL resulted in a prohibitively high price tag. Mercedes-Benz wanted to capitalise on the racing success of the 300SL and the sales success of the road car – what they needed was a car that could inspire desire like the 300SL while borrowing heavily from the existing Mercedes-Benz parts resources…
This new car had to had to have 100% of the beauty and 50% of the costs… Enter the 190SL.
The new 'mass produced' SL arrived in 1955 and would remain until 1963, utilising many of the styling cues that made the 300SL so desirable. With it's four-cylinder engine and lower price tag than the 300SL, the 190SL was an instant sales hit. This was the car to own and be seen in. It cemented a new direction for Mercedes-Benz, and would begin the development of the SL as a model for the future.
Despite the success of the 190SL, the limitations of it's performance were acknowledged by Mercedes-Benz as early as 1955. Offering just over 100bhp from the 1,897cc engine, company bosses knew that a 190SL replacement had to offer more substance for it's style…
With the market established and driven by the success of the 190SL, the W113 SL was born.
Arriving in 1963, the new SL used a shortened W111 Fintail platform and technology from the new W112… hence W113.
The beautiful styling of the gently inwardly sloping roof would earn it the nickname 'Pagoda'. Penned by Paul Bracq, this now iconic design is widely regarded as one of the most beautiful cars of all time.
The W113 'Pagoda' was the first mass-produced SL to utilise a six-cylinder engine, and no car would combine an 'SL' badge with a four-cylinder engine until the SLK230 arrived some 33 years later.
Across the 9 years of Pagoda production, three different engines were available, with displacement and output growing accordingly.
The 230SL (148 hp) arrived in 1963 and remained until 1966, when it was replaced by the 250SL, which offered the same power output but increased torque from 145 lb ft to 159 lb ft. The 250SL lasted just 14 months before it was replaced by the 280SL (168hp) in 1967.
230SL 1963 to 1967 (148 hp, 145 lb ft)
250SL 1966 to 1968 (148 hp, 159 lb ft)
280SL 1967 to 1971 (168 hp, 180lb ft)
(It should be noted that USA cars operated with reduced power thanks to the stringent emissions regulations at the time.)
Almost 49,000 Mercedes-Benz Pagoda cars were produced between 1963 and 1971, with nearly half that number destined for the USA.
Today the Mercedes-Benz Pagoda is a well established classic car, adored by collectors and enthusiasts alike.
For many, the ultimate Pagoda is a European Right Hand Drive 280SL Automatic. These cars offer the very best of Pagoda technology, being the final incarnation of the W113. Although the manual-gearbox cars are in demand, for many of us the pure simplicity and ease of use that comes with a 4-speed automatic transmission makes touring in a Pagoda an absolute delight.
This is a car that can be admired and adored on the most exclusive boardwalks the globe has to offer, yet that can comfortably cruise at 80mph and contend with modern traffic. With enough driver and passenger conveniences to make winter touring possible, plenty of luggage space and being such an easy car to drive, it's no surprise that the Pagoda is more in demand than ever.
About this Mercedes-Benz SL W113 Pagoda:
Finished in classic White with Black Leather Interior, this original UK 280SL Automatic can only be described as exceptional.
It was restored to an incredibly high standard by John Haynes in 2014, all of which is documented in the extensive photo history spanning four ring binders. Also present is a comprehensive service history detailing not just a lifetime of care and attention; but consistent road use. Often these Pagodas spend time sitting, or in storage, or off the road for a variety of reasons… after all, even the newest Pagoda is now half a century old. Not so with this car, it has been in serviceable use for all of it's life, as is detailed in the paperwork that accompanies the car.
Today this car sits in our showroom looking as proud as ever, it is a superb example of this brilliant classic car inside, outside and underneath. This car has to be seen.
The original manufacturer book pack is present, along with the service manuals in the correct document pouch from 1968. The importance of this provenance and the significance of this car cannot be understated. With cars of the 1950s and 60s it is not unusual to have nothing more than a V5 document and a few scraps of recent paperwork, we have even seen imported examples that arrive with nothing more than a registration certificate.
Finding a Pagoda in impeccable order, with impeccable documentation and a verified history is really something special.
A fantastic opportunity to buy a delightful Pagoda.
Further photos are available by request, please email us directly.
MOT History (Documents Present):
54,498 miles Jul 14th 1983
56,344 miles Sep 13th 1985
60,415 miles Nov 5th 1985
64,901 miles Jul 14th 1987
68,269 miles Jul 27th 1988
70,389 miles Aug 9th 1989
71,896 miles May 15th 1991
71,948 miles June 22nd 1992
85,807 miles Nov 1st 2001
85,853 miles Jan 14th 2003
86,297 miles May 6th 2004
86,861 miles March 12th 2005
88,757 miles April 5th 2007
89,055 miles May 29th 2008
89,100 miles Aug 24th 2010
90,126 miles Aug 22nd 2011
93,519 miles 24th Aug 2012
97,323 miles 1st May 2013
103,118 miles 15th May 2014
106,288 miles 7th Aug 2015
110,460 miles 7th Jul 2016
111,994 miles 26th Oct 2017
Why Choose SLSHOP?
Is it our unrivalled experience with three generations of SL? Is it our attention to detail, our award winning quality? Is it our selection of hand picked, superb cars for sale? Is it the family feel, the friendly faces and consistency of our work? Most people say it's all of these things.
A classic car offers a world of opportunities – it is an invitation to explore the open road and share life-affirming experiences with like-minded individuals.
Where will your Mercedes-Benz take you?
Bulkhead Corrosion
Although the R107 is renowned for build quality, there is one chink in the armour – the bulkhead. Many cars that present well from the outside are hiding internal rust. Water from outside the car should drain out through specially designed channels, but over time, these become blocked forcing water inside the car. Once water has breached the blower motor cover in front of the windscreen, it slowly wreaks havoc from inside out. This delicate area did not have rust protection from the factory, and as the metal deteriorates it the water ingress can lead to faulty electrics, damp carpets and musty smells inside the cabin.
All our cars come with a 36 month bulkhead warranty.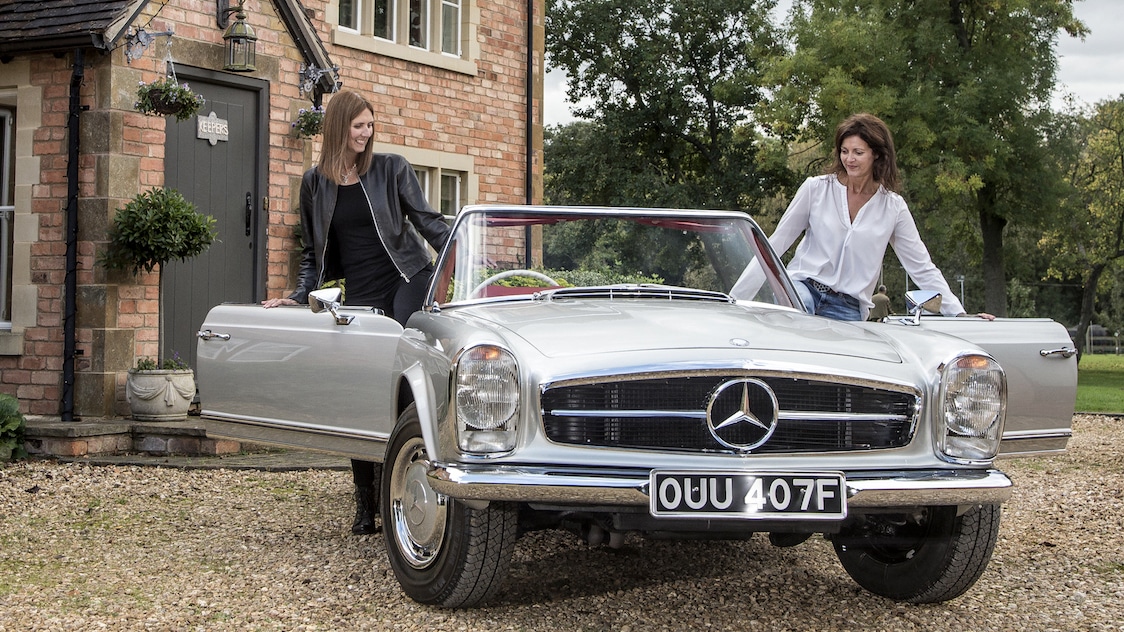 Next Steps: Experience
We believe in the capabilities of these classic cars, and want our customers to get out and use them. Welcome to Experience from The SLSHOP, aimed at helping you get more out of your classic Mercedes-Benz. We offer a number of trips, tours and events in the UK and abroad. See you there!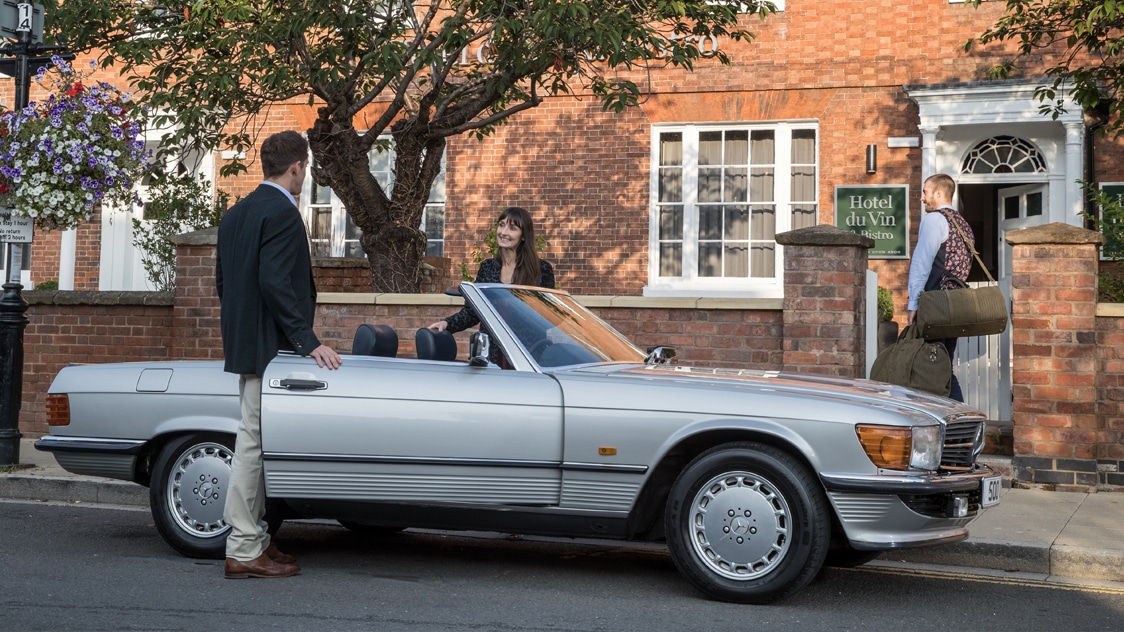 Next Steps: 24hr Test Drive
Tempted by an R107 SL but not sure if it's for you? Fancy trying a weekend at the wheel before you dive in? We offer a 24hr test drive through our hire business. Hire a classic Mercedes-Benz for a day or longer, and if you subsequently buy a car from our showroom, we will refund the entire hire fee. What are you waiting for?
Be the First to Know
Stay up to date with the latest from SLSHOP by subscribing to our newsletters. We update our readers with key announcements, new stories and of course… cars that are fresh into stock. Be the first to know and you might just sneak a car on your driveway before anyone else gets a chance.