1968 Mercedes-Benz 280SL Automatic Pagoda (W113) #2264 Silver with Blue Leather
Stock Number:

2264

Make / Model:

Mercedes-Benz / 280SL Pagoda (W113) with Blue Leather

Mileage:

109000

Paint Colour:

Astral Silver

Interior Colour:

Blue Leather

Year:

1968
1968 Mercedes-Benz 280SL Automatic Pagoda
Silver with Navy Blue Leather and Blue Fabric Soft top
109,000 miles
When it comes to the beautiful Paul Bracq designed Mercedes-Benz Pagoda, it is the Right Hand Drive, European 280SL Automatic that is the most coveted model.
Built in 1968, this restored 280SL is every inch the Pagoda that Mercedes-Benz enthusiasts flock to.
Little is known about the early life of this UK ordered 280SL, but the lack of early documentation is more than countered by the impressive paper trail that begins in 1983. On the 15th March of that year a Mr K Evans purchased the car, a diligent owner who would care for and cherish it until 2001, a period of 19 years.
In 2001 ownership passed to the fourth keeper, Mr F, with whom the car would stay until present, or roughly two decades. For the past 40 years this car has been cared for by just two owners.
Upon acquiring the car in 2001, Mr F enjoyed the car for three years before seeking out a specialist who could transform the 280SL into his perfect classic Mercedes-Benz. Between 2005 and 2007 the car was stripped to bare component parts, with the shell undergoing repairs to the areas that time had attacked. New panels, new parts and labour produced a not insignificant bill, all of which is detailed within the file, along with a photo record of the restoration.
The work completed on this car was extensive, and one should not underestimate the amount of time, expertise and finance that a job like this would consume in 2021. Finished to a very high standard, the way the car presents some 15 years later is testament to the work that was done.
Not only was it fully restored inside and out, but the engine was rebuilt at the same time.
Mr F went on to enjoy this car immensely, demonstrated by the impressive amount of classic car show entry stubs and flyers that are present in the paperwork. It's always a pleasure to see evidence of these cars being used and appreciated – This Pagoda has attended many local and national shows, even scooping the coveted 'Best Pagoda' trophy at SL Sunday 2017. This is no mean feat for a Pagoda.
The car has arrived to us in excellent order, with a small amount of work undertaken to ensure it reaches the SLSHOP standard. This included the refurbishment of the torque convertor, a refresh of the braking system and of course a full service.
Following these works the car drives and handles exactly as it should, and represents a chance for a new keeper to continue the care an attention and enjoyment that this car us accustomed to.
Being an older restoration, this is an opportunity to take advantage of the hard work and dedication that has already been invested in this car. It is a very high calibre Pagoda that has not been 'over restored', with the work done correctly to preserve the originality using the right materials. From the panel gaps around the body to the twin-loop carpets inside, and the way the headlamp chrome flitches meet the delicate cut of the front wing it is a very carefully maintained car, built and finished in the same way a Pagoda would have left the factory in 1968. The high quality continues inside, with the cabin feeling like new.
Present with the car is an impressive array of paperwork and documentation, all of which we have stored digitally for access by request. The original service book is present, detailing stamps as shown below. Along with the service book is the correct tan leather wallet containing the relevant manuals and all the correct keys. There is also an aftermarket remote central locking system which appears to be of very good quality.
What we have here is a 280SL Automatic that can be used and enjoyed, ready to be driven but capable of impressing judges on the lawns of any classic car show.
A delightful car in every way, a chance to make the most of the hard work and expense that has been undertaken by previous owners.
Coming from Mercedes-Benz collector and enthusiast, we hope this car will continue to appear and be appreciated at classic car shows nationwide.
Service Stamps in Book (not including services that show as document only):
| | | |
| --- | --- | --- |
| 9th March 1978 | 68,878 miles | |
| 19th March 1980 | 81,299 miles | |
| 21st February 2008 | 99,312 miles | |
| 13th October 2010 | 104,444 miles | |
| 13th June 2013 | 105,902 miles | Cartech Services Gloucester |
| 3rd April 2018 | 108,748 miles | |
Awards:
Best Pagoda, SL Sunday 2017
Classic Car Shows Attended (evidenced by documentation within the file):
Pershore Classic Car Show
Coleford Carnival of Transport
Leukemia Research Vintage Rally
Classics at the Castle
Cotswold Air Show
The Bluebell Run
Lister Tyndale Steam Rally
Wye Classic Car Run
Classics at the Castle
Coleford Carnival of Transport
Gloucester Steam and Vintage Extravaganza '09
Gloucester Steam and Vintage Extravaganza '08
Malvern Hills Classic Car Show
Why Choose SLSHOP?
Is it our unrivalled experience with three generations of SL? Is it our attention to detail, our award winning quality? Is it our selection of hand picked, superb cars for sale? Is it the family feel, the friendly faces and consistency of our work? Most people say it's all of these things.
A classic car offers a world of opportunities – it is an invitation to explore the open road and share life-affirming experiences with like-minded individuals.
Where will your Mercedes-Benz take you?
Bulkhead Corrosion
Although the R107 is renowned for build quality, there is one chink in the armour – the bulkhead. Many cars that present well from the outside are hiding internal rust. Water from outside the car should drain out through specially designed channels, but over time, these become blocked forcing water inside the car. Once water has breached the blower motor cover in front of the windscreen, it slowly wreaks havoc from inside out. This delicate area did not have rust protection from the factory, and as the metal deteriorates it the water ingress can lead to faulty electrics, damp carpets and musty smells inside the cabin.
All our cars come with a 36 month bulkhead warranty.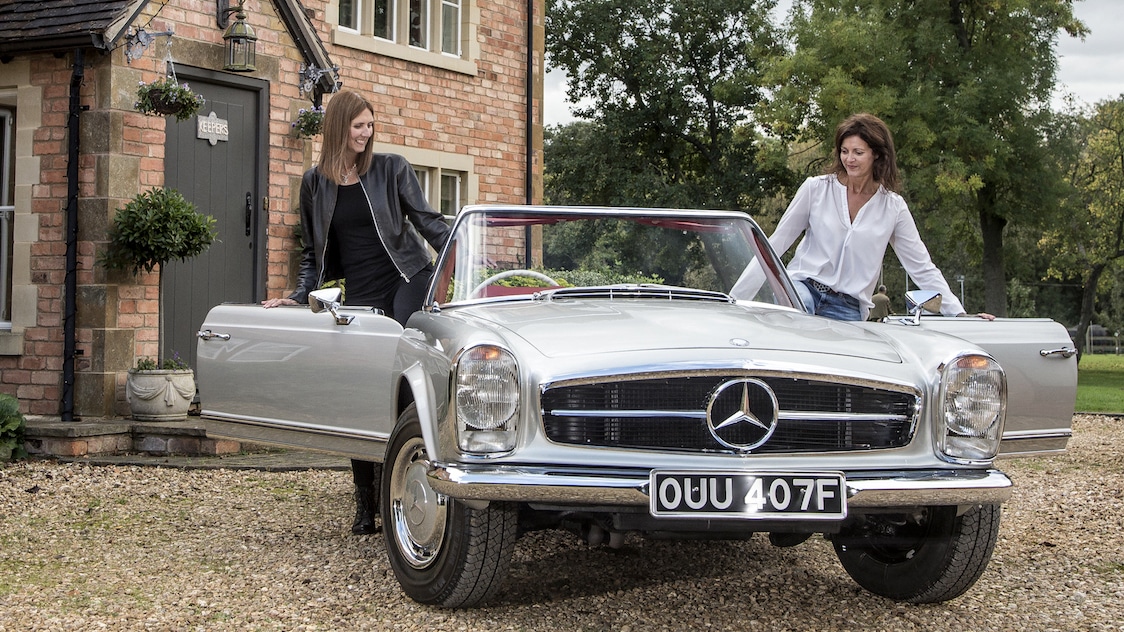 Next Steps: Experience
We believe in the capabilities of these classic cars, and want our customers to get out and use them. Welcome to Experience from The SLSHOP, aimed at helping you get more out of your classic Mercedes-Benz. We offer a number of trips, tours and events in the UK and abroad. See you there!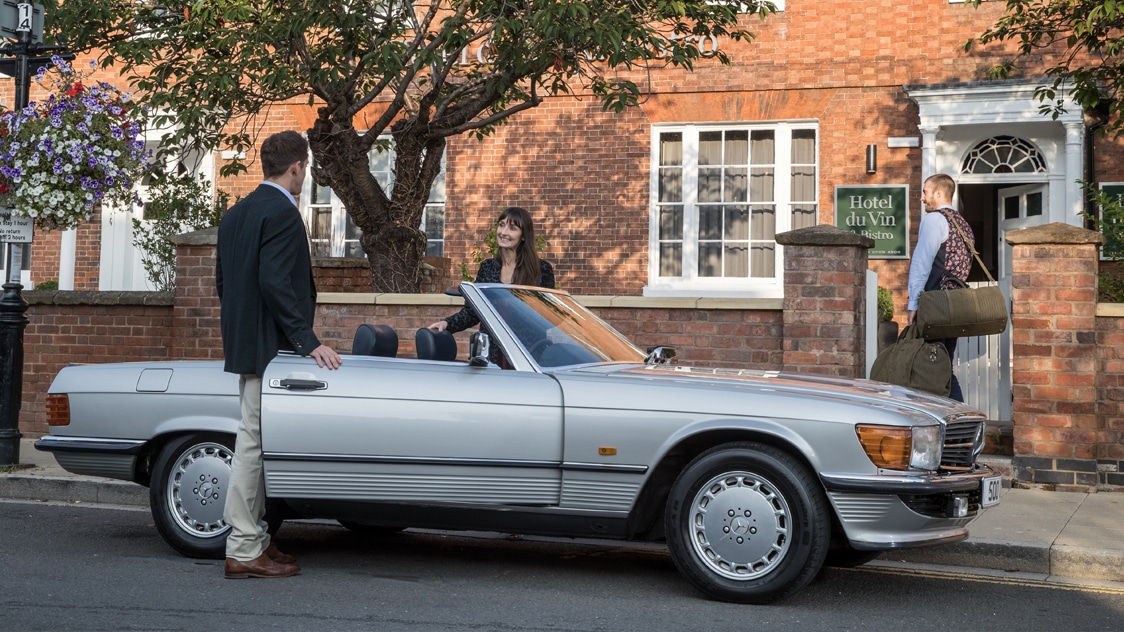 Next Steps: 24hr Test Drive
Tempted by an R107 SL but not sure if it's for you? Fancy trying a weekend at the wheel before you dive in? We offer a 24hr test drive through our hire business. Hire a classic Mercedes-Benz for a day or longer, and if you subsequently buy a car from our showroom, we will refund the entire hire fee. What are you waiting for?
STAY IN TUNE WITH SLSHOP MOMENTS
As part of SLSHOP's community of enthusiasts, you'll be the first to hear about events and tours, key product offers, exciting stories from owners around the world and of course… our latest additions to the showroom. So, be the first to know and you might just sneak a car on your driveway or take your car's condition to new heights with our exclusive replacement parts.