Mercedes Classic Cars For Sale at SLSHOP
Our 50,000 sq. ft facility is home to one of the largest collections of Mercedes Classic SLs for sale on the planet; with our core offering being the SL roadsters produced between the 1950s and the 2000s. At any given time, there are over 40 different classic Mercedes models for sale, each in a unique high-calibre specification and with a comprehensive history of strict servicing by former keepers. SLSHOP is the go-to location to sell or purchase a classic Mercedes-Benz.
As a servicing and restoration centre, SLSHOP's expertise spans other models from the Mercedes back catalogue, including saloons and coupes such as the W123, W124, W126 and older models such as the W111, W114 and W108s. This expertise allows us to hand-pick a range of Mercedes classic cars for sale in our showroom that don't fall into our core SL model range. Our passion for the heritage of Mercedes-Benz and our responsibility for preserving these vehicles often means we have between 5 and 10 non-SL classic Mercedes for sale.
In addition, our unrivalled database of Mercedes classic cars means we also offer a classic Mercedes consultancy service to source specific colour combinations and specifications on request. Our database extends beyond the UK, giving us access to vehicles that would not otherwise become available for sale without SLSHOP's international network of owners.
SELECTING A CLASSIC MERCEDES FOR SALE
Every SLSHOP certified classic Mercedes for sale has been hand-picked by our sales team according to specific criteria. We will ensure that the structural, cosmetic and mechanical integrity of the vehicle is of the highest standard before even considering selling the vehicle. This careful approach ensures we offer models that are worthy of your spiritual and financial investment.
PREPARING OUR MERCEDES CLASSIC CARS FOR SALE
With three separate workshops dedicated to different eras of Mercedes-Benz, we interrogate each classic Mercedes before it can take up a position in our showroom. Our craftsmen will inspect everything from the quality of seals to the functioning of the blower motor before covering substantial mileage out on the road in real-world conditions. We will outline the condition of the car and rectify any issues before the vehicle goes on sale. Therefore, each Mercedes classic car for sale is presented to you in an unrivalled and usable condition.
Having certified each model, you'll leave with your new classic Mercedes with a warranty appropriate to your chosen vehicle. Like a new car, a SLSHOP certified classic Mercedes-Benz is absent of any of the concerns found when purchasing privately or at auction.
Whether you choose a convertible, saloon or coupe, each vehicle goes through a deep cleaning and detailing process. The bodywork will be washed twice before being hand polished. The wheels, brightwork and plastics will be deep cleaned, as well as the inside and outside of each glass pane. The interior will also be deep cleaned and wet vacuumed, before being treated with the appropriate upholstery conditioner.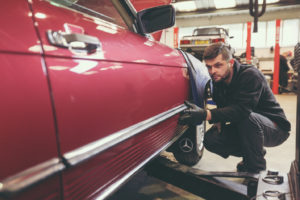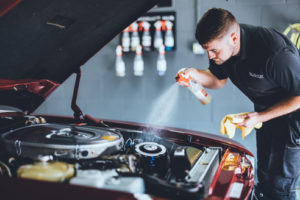 A SUPERCHARGED HANDOVER
We won't just hand over the keys and wave you down the drive. We'll help you get to know your new asset, outlining each control and things to look out for when storing and using your new classic Mercedes. You'll also meet our service department who will help you plan for your first annual service – we'll also arrange the collection and delivery of your vehicle if necessary. This is all part of our all-encompassing support programme centred around making life with a classic Mercedes easier.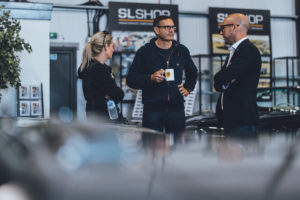 OUR CURRENT MERCEDES CLASSIC CARS FOR SALE:
With over 12 years of selling, restoring, servicing, and supplying the parts for a range of Mercedes models, we have been able to paint a clear and colourful picture of all the vehicles available on the continent. Utilising our reputation, database and community of owners, we can ensure that your specific desires are met. If you've not managed to find what you're looking for on SLSHOP MarketPlace, feel free to reach out to our sales team with your specific desires.
At SLSHOP, we have up to 60 hand-picked models of classic Mercedes SL for sale at any given time. We're the leading supplier of the R107 and W113 SL and one of the top classic Mercedes dealers UK. As such, we choose only the finest examples to add to our showroom.
All our cars are carefully selected on their merits. It takes something special to wear the SLSHOP badge of honour. That makes us the perfect place to get a Mercedes car valuation.
Bruce works tirelessly to match cars to customers. Can't see one you like? Interestingly, some cars get sold before they reach the showroom. Contact Bruce to discuss your requirements. Or you can join us for a digital stroll through the showroom of Mercedes SL for sale here.
STAY IN TUNE WITH SLSHOP MOMENTS
As part of SLSHOP's community of enthusiasts, you'll be the first to hear about events and tours, key product offers, exciting stories from owners around the world and of course… our latest additions to the showroom. So, be the first to know and you might just sneak a car on your driveway or take your car's condition to new heights with our exclusive replacement parts.