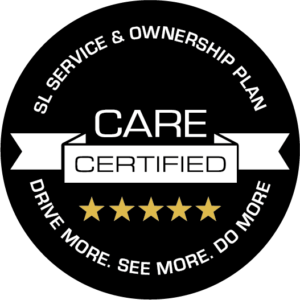 TAILORED SUPPORT FOR CLASSIC MERCEDES-BENZ SL OWNERS
As the world's leading expert on SL models, we understand that owners want to enjoy their vehicles all-year round, while also retaining mechanical, cosmetic and monetary strength over the long-term. CARE gives you Confidence and Real Enjoyment.
SLSHOP CERTIFIED SERVICING:
A PERSONALISED MONTHLY INVESTMENT PLAN TOWARDS YOUR FUTURE CERTIFIED SERVICING NEEDS

 
Our simple monthly investment plan prepares you for future servicing costs, giving you access to subsidised parts, labour, insurance and vehicle transportation. Free to join and free to leave.
 

ACCESS TO OUR DEDICATED MODEL AND MARKET EXPERTISE
You will have access to a devoted CARE Consultant, who understands what it is like to drive, improve and live with an SL. Join our family and share in the knowledge that will improve the value you receive from your SL.
WORLD-RENOWNED CERTIFIED MAINTENANCE
Certified maintenance will give you confidence in your vehicle and its future value. We'll encourage you to Drive More, See More and Do More with your investment.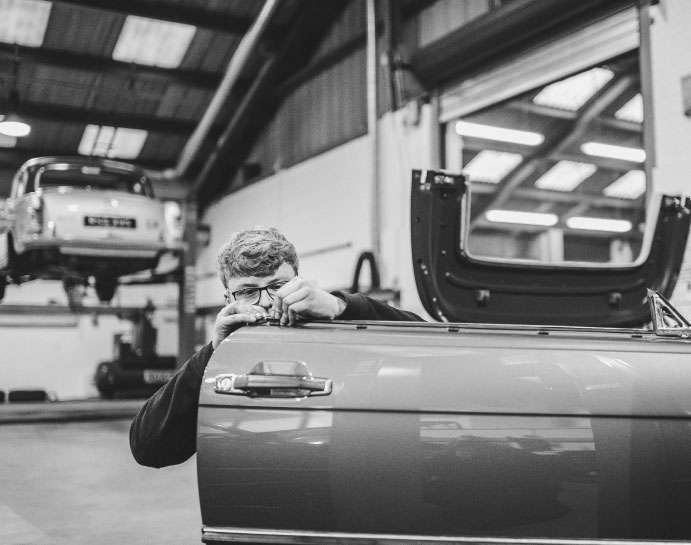 Planned Service and Maintenance
We'll get to know you and your SL to create a bespoke servicing and maintenance plan that suits your lifestyle. Your CARE Consultant will ensure you enjoy and protect the value of your SL.
Correct, certified servicing
Configured to your lifestyle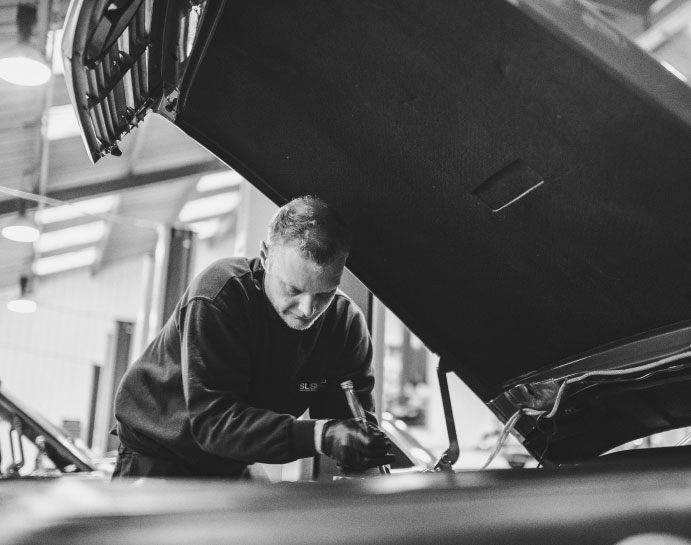 SUBSIDISED SLSHOP SERVICING AND PARTS
Your dedicated CARE Consultant and our highly-skilled craftsmen and women will take care of your bill with a whopping 8% reduction to your labour and parts costs.
Prevent a shortfall with your vehicle
Essential for the longevity of your vehicle
Your vehicle, in the hands of experts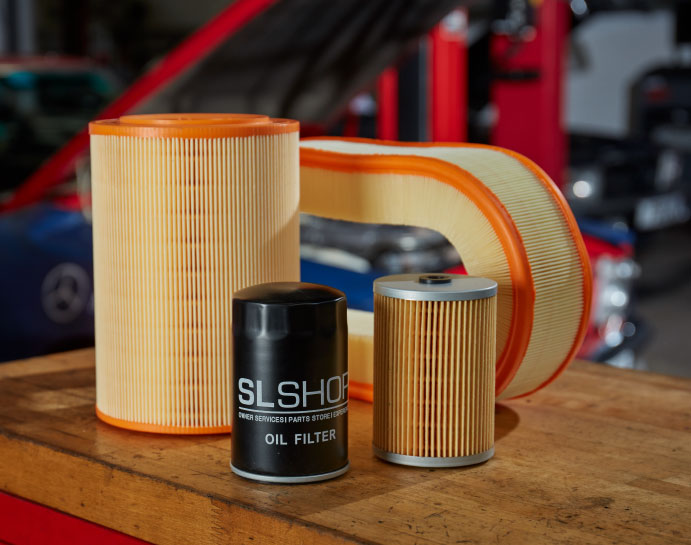 8% OFF All SLSHOP SERVICE PARTS
Expertly selected parts for your SL are available to buy through our web shop with an exclusive 8% discount. Ensure dependability and reliability of your SL by using only parts tried and tested in our world class workshops. Guaranteed and manufactured to exacting standards. 
We have created CARE because we understand that SL owners all share the same desire – to ensure their prized vehicle continues to be a joy to use for any occasion; with the reassurance that its value will increase over time.
Moreover, owners want access to the very best service and advice, and to be inspired to use these cars in the way Mercedes-Benz originally intended.
CARE from SLSHOP is a certified service and maintenance membership plan, designed to make life with your classic Mercedes-Benz SL easier and more enjoyable.
Through a long-term relationship with our CARE Consultants, your SL will be cared for by our expert team of passionate enthusiasts who know and understand you, your SL and your ownership journey. 
More than just a service plan, CARE gives you access to a range of exclusive discounts and services, as well as priority place on our trips, tours and experiences. With a fixed monthly payment, you can be sure your SL is in good hands, giving you the inspiration to see more, do more and drive more.
What are the benefits of a CARE account?
Free to join, our easy to open CARE account gives you immediate access to a raft of benefits, including discounts on labour, parts, Insurance and transportation. CARE also guarantees you a courtesy car when your SL is in our workshops. Alongside these benefits, CARE members are the first to hear about our events, with the first access to booking slots. There is no cost to becoming a CARE member, and we understand that every car and every owner is different… Simply establish a monthly payment with SLSHOP to begin your membership.
How does a CARE account work?
Members of our CARE program pay a monthly fee into a maintenance pot allocated to their account. This can be used for routine servicing, cosmetic improvement, ongoing renovation work or any other ambitions you have for your SL. 
This easy to manage maintenance package helps you budget for the annual servicing and maintenance of your classic SL. 
An example of CARE in action:
Mr Smith pays £65 per month into a CARE plan for his 280SL.
In year one, the car visits SLSHOP for an annual service, an A Service. No extra works are required on the day, so there is no bill to pay – a small surplus remains on the account.
In year two, the car has another annual service, this time just an oil and filter change. With the extra funds that are building up on the account, Mr Smith invests in a replacement chrome decklic escutcheon, as his is damaged from years of use.
In year three, the car is due a major service, but once again, with the funds available in the account, there is no bill to pay.
EXPERTS AS PASSIONATE AS YOU ARE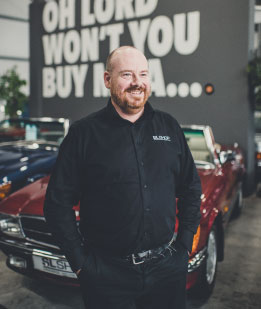 RUSSELL
If you have ever called us on the telephone, the chances are that you have spoken to to this man. Quite possibly the nicest chap you will ever meet. Russell (Bruce's brother-in-law) started with us in 2010 helping with workshop accounts. As well as being our resident IT expert, he has helped us set up the retail Parts business. For the past six years, Russell has escorted many customers through our workshop facilities, helping them get the most from their SLs.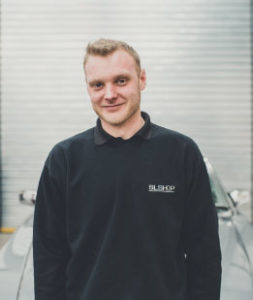 SIMON
As the longest serving employee, it is correct to say that what Simon doesn't know about 107 isn't worth knowing. Simon will diagnose, repair and restore; he will not rest until excellence is reached. Now leading the workshop training and support department, our business and our customers are benefiting from his immense knowledge and passion on a daily basis.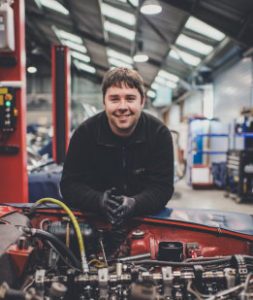 Dan
Perfection, perfection, perfection is how you sum up Dan's workshop output. Dan possess an innate attention to detail and problem solving mindset that cannot be taught. Dan's focus stretches from our Sportline  commissions to race rally and specialist 1960s models. If you've had your Pagoda set up at the SLSHOP, it's Dan you need to thank for making it run and drive the way it did when it rolled off the production line.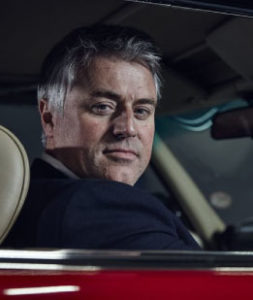 Bruce
Bruce needs no introduction. Known across the entire industry for his encyclopaedic knowledge of these cars. Bruce has owned, restored and driven them all. With his finger on the pulse of the market and unwavering passion for classic Mercedes–Benz, his understanding and passion flows through the SLSHOP.
DEDICATION MEETS INNOVATION