1989 Mercedes-Benz 420SL (R107) #2105 Just 1,500 Miles Signal Red with Mushroom Leather
Stock Number:

2105

Make / Model:

MERCEDES-BENZ / 420SL (R107) 1,500 Miles

Mileage:

1500

Paint Colour:

Signal Red

Interior Colour:

275 Mushroom leather

Year:

1989

Price:

£110,995
Interested in this car then call us now on 01789 337070
1989 Mercedes-Benz R107 420 SL
Signal Red (568) with Mushroom Leather (275) and Black Fabric Soft Top (9001)
Just 1,500 miles
The term 'time warp car' is not one that we here at The SLSHOP would use lightly, but this car certainly qualifies to wear that title.
Showing just 1,400 miles from new under the stewardship of one careful owner, this high specification 420SL is presented in 'out of the box' condition in every area.
This late-model 420SL was registered on 5th February 1990 on a 'G' plate, making it one of the very last cars before the baton was handed to the R129. Being a 420SL it features Cruise Control and Rear Seats, which would have added £298.47 and £655.73 to the total list price price of 37,950.00, giving a grand total of £38,904.20
It was delivered new to a Mr S in Hornchurch where it was supplied from the main dealer of Lancaster Europa Mercedes-Benz. The service book has three main dealer stamps, during the period of ownership locally the car was maintained by a local garage in Cornwall where fluids and regular exercise was maintained.
As far as we can tell, the soft top has only been dismounted for PDI purposes. All of the correct documents, wallets and brochures are present with the car, and the spare wheel, tool kit and and first aid kit remain in the same condition as the day this car left the factory. The factory seam sealer and underseal are all present as it left the factory in all the right places which is remarkable after 29 years, the engine decals and factory coloured markings are all present including the suspension and drive train which was displayed on the dealers PDi service.
Signal Red with Cream interior and rear seats is a highly desirable specification for all manner of SL enthusiasts.
Many regard it as the ultimate iconic edition of the R107 SL making this a highly prized asset for collectors and investors alike.
The real piece de resistance of this car is the presence of all four original tyres, which could be used for show purposes should the new owner decide to present the vehicle at concours events.
We cannot stress enough that cars of this calibre simply do not come on to the open market for sale – this really is the classic collectors dream.
For the full suite of high resolution photographs of this car, please contact Bruce.
1989 Mercedes-Benz R107 420 SL
FIN WDB1070472A101163
Model 420 SL
Engine 116964 22 002113
Transmission 722325 03 180736
Order Number 0 9 537 56296
Order Location GREAT BRITAIN
Interior LEATHER – BEIGE (275)
Paint 1 SIGNAL RED (568O)
Paint 2 SIGNAL RED (568O)
Approx. Build Date 1989-04
238 CITY DRIVE LIGHT FOR GREAT BRITAIN
256 REAR AXLE WITH LIMITED-SLIP DIFFERENTIAL
341 ADDITIONAL BLINKER LAMPS
362 RHD VEHICLES AS PER EC REGULATIONS (CONTROL CODE)
440 TEMPOMAT (CRUISE CONTROL)
461 INSTRUMENT WITH MILES IND. AND ENGLISH LEGEND
524 PAINTWORK – PRESERVATION
565 REAR SEATS USED ON SL MODELS
583 ELECTRIC WINDOW LIFTERS (FRONT DOORS)
592 HEAT-INSULATING GLASS, ALL-AROUND, HEATED REAR WINDOW PANE, BAND FILTER
603 HEADLAMP WIPER UNIT AND OIL FOR REAR AXLE WITH LIMITED-SLIP DIFFERENTIAL, IN CANISTERS AND CONTAINERS
613 HEADLAMP LEFT-HAND TRAFFIC
682 FIRE EXTINGUISHER
740 BLACK SOFT TOP FABRIC 9001
Why Choose SLSHOP?
Is it our unrivalled experience with three generations of SL? Is it our attention to detail, our award winning quality? Is it our selection of hand picked, superb cars for sale? Is it the family feel, the friendly faces and consistency of our work? Most people say it's all of these things.
A classic car offers a world of opportunities – it is an invitation to explore the open road and share life-affirming experiences with like-minded individuals.
Where will your Mercedes-Benz take you?
Bulkhead Corrosion
Although the R107 is renowned for build quality, there is one chink in the armour - the bulkhead. Many cars that present well from the outside are hiding internal rust. Water from outside the car should drain out through specially designed channels, but over time, these become blocked forcing water inside the car. Once water has breached the blower motor cover in front of the windscreen, it slowly wreaks havoc from inside out. This delicate area did not have rust protection from the factory, and as the metal deteriorates it the water ingress can lead to faulty electrics, damp carpets and musty smells inside the cabin.
All our cars come with a 36 month bulkhead warranty.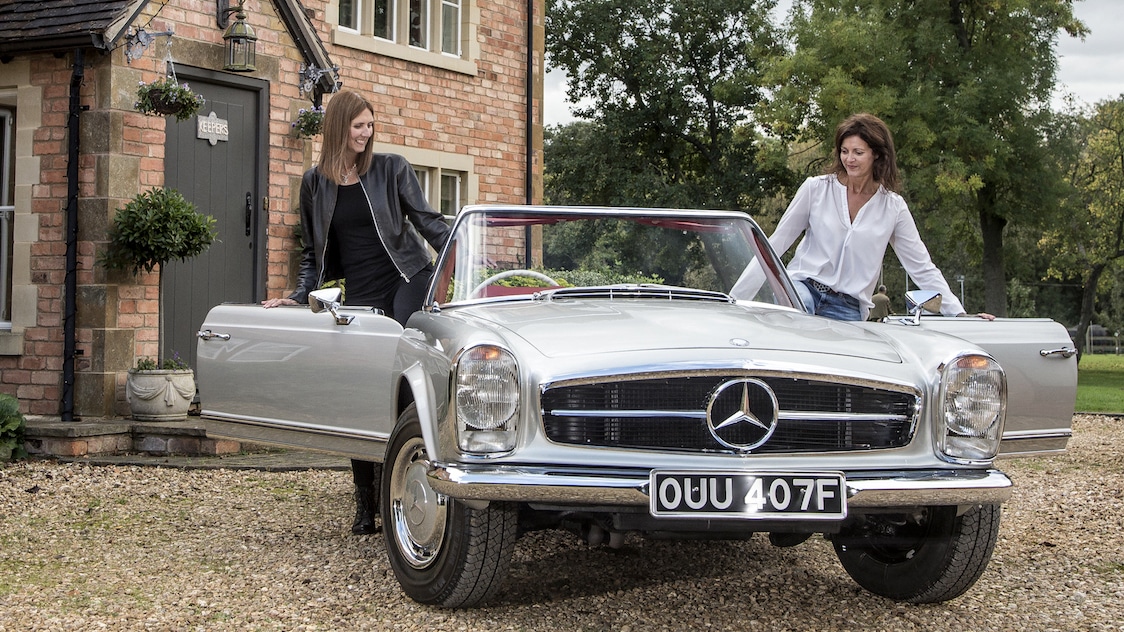 Next Steps: Experience
We believe in the capabilities of these classic cars, and want our customers to get out and use them. Welcome to Experience from The SLSHOP, aimed at helping you get more out of your classic Mercedes-Benz. We offer a number of trips, tours and events in the UK and abroad. See you there!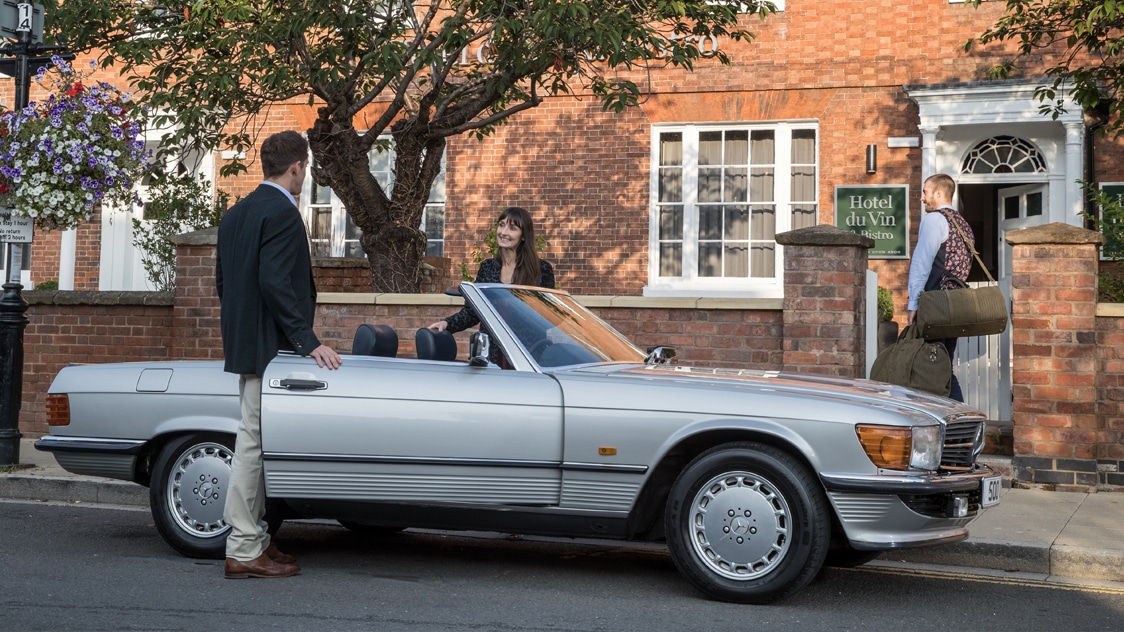 Next Steps: 24hr Test Drive
Tempted by an R107 SL but not sure if it's for you? Fancy trying a weekend at the wheel before you dive in? We offer a 24hr test drive through our hire business. Hire a classic Mercedes-Benz for a day or longer, and if you subsequently buy a car from our showroom, we will refund the entire hire fee. What are you waiting for?
Be the First to Know
We don't mind whether you are in the market for one of our awesome cars or just interested in seeing whats new and whats going on in the market. Pop your details in here to receive updates on all thats "hot" in the showroom.