2007 Mercedes-Benz SL500 (R230) #2221 Bright Blue Metallic with Grey Leather *SOLD*
Stock Number:

2221

Make / Model:

Mercedes-Benz / SL500 (R230) with Grey Nappa Leather

Mileage:

36368

Interior Colour:

Grey Semi Aniline Nappa Leather (808)

Year:

2007
2007 Mercedes-Benz SL500 (R230)
Bright Blue Metallic (345) with Grey Semi Aniline Nappa Leather (808)
36,368 miles (2007, 57 plate)
Arriving in 2001, the Mercedes-Benz R230 took the SL from the 1980s into the new world. Gone were the straight lines and angles of the R129, replaced by the curves and sweeping lines of the new Mercedes-Benz design direction.
From launch the 'new' SL was available a choice of V6 or V8 engines, just like the R129. The outgoing SL320 became the SL350, whilst the SL500 retained the V8 engine until 2006. For the 2006/7 model year, new engines were rolled out across the entire range, encompassing SL350, SL500, SL550, SL600 and the AMG models, being SL55 and SL65. These new engines coincided with a mild facelift, with the R230 being given a more aggressive leading edge thanks to a restyled bumper. Revised air intakes, chrome surrounds on the fog lamps, new alloy wheels some neat interior upgrades make these 'end of line' R230s very desirable cars.
The biggest change introduced with the 2006 facelift was the move from the 5 speed automatic gearbox to the 7G-Tronic. Combined with the all-new 5.4 litre (still naturally aspirated) engine, this gave a 0-60 time of 5.4 seconds from a rated output of 387bhp. This 5.4 litre engine was an absolute master stroke, offering spadefuls of performance whilst remaining reliable and straight forward to maintain.
The car shown here is a 2007 model, built in August of that year. Finished in Bright Blue Metallic with Grey Leather and 19 inch 'AMG' Double Spoke Alloy Wheels, it looks every inch the muscle car that it is. Aesthetically a late R230 offers oodles of style without unnecessary distractions, it's a shape that's understated yet bold. Generations that followed would introduce more angles, more aggression and less fluidity to the style, making these late R230s some of the best looking SLs of the last decade.
Mercedes-Benz SL equipment levels have always been high, and the specification list of this car is extensive. Highlights include electronically adjustable heated seats, xenon headlights, automatic climate control, command navigation, park ironic system and of course the two most sought after options in R129 and R230 SLs… A glass panoramic roof and a wooden gear knob (instead of leather).
The colour combination and mileage of this fantastic SL500 make it the ideal candidate for garage, a car that's ready to be used and shown in equal capacity.
As a practical classic and a usable sports car, the R230 has a lot of offer. The vario folding roof takes just 16 seconds (20 for pre facelift pre 2006 models). The R230 doesn't have rear seats like the Pagoda, R107 and R129 that went before it, instead offering just a luggage bay for storage.
An appreciating modern classic and the last of the titans, an understated naturally aspirated German muscle car fitted with the full-fate fiver point five litre V8.
They simply don't make them like this anymore.
Just lovely.
Service and Maintenance Details:
6,948 miles 23rd July 2009 (Mercedes-Benz Bromley)
10,505 miles 23rd August 2010 (Mercedes-Benz Bromley)
11,392 miles 24th June 2011 (Mercedes-Benz Bromley)
13,165 29th May 2012 (Mercedes-Benz Bromley)
17,081 miles 9th May 2013 (Mercedes-Benz Bromley)
19,421 miles 9th April 2014 (Mercedes-Benz Bromley)
34,482 miles 1st August 2019 (Mercedes-Benz Coventry)
36,258 miles 23rd June 2020 (Mercedes-Benz Coventry)
205B OWNERS MANUAL AND SERVICE RECORD – ENGLISH
220 PARKTRONIC SYSTEM (PTS)
249 INTERIOR AND EXTERIOR MIRROR,AUTOMATICALLY DIMMING
250B MOBILO LIFE/EUROPE SERVICE PACKAGE
283B AIRBAGLABLE – ENGLISH
284 SELECTOR LEVER, WOOD
289 LEATHER STEERING WHEEL WITH TRIM INSERT
335B INSTRUMENT CLUSTER/HU LANGUAGE – ENGLISH
345U BRIGHT BLUE – METALLIC PAINT
383B BATTERY LABEL – ENGLISH
386 UNIVERSAL TELEPHONY PACKAGE
401 FRONT SEAT CLIMATE CONTROL
415 GLASS ROOF (ROADSTER)
427 AUTOMATIC TRANSMISSION 7-SPEED
461 INSTRUMENT WITH MILES IND. AND ENGLISH LEGEND
477 TIRE PRESSURE LOSS WARNER
487 ABC SUSPENSION (ACTIVE BODY CONTROL)
500 ELECTRIC FOLDING OUTSIDE MIRROR
527 COMAND DVD APS WITH NAVIGATION
537 L GREAT BRITAIN AND NORTHERN IRELAND
581 AUTOMATIC CLIMATE CONTROL
5 XXL EUROPE
618 BI-XENON HEADLAMPS FOR LEFT-HAND TRAFFIC
619 CORNERING ILLUMINATION
644 AMG 19″ DOUBLE-SPOKE WHEELS WITH MIXED TIRES
666 PRODUCT PROT.F.TRANSPORT VEH. W/O TIE-DOWN HOOKS
669 SPARE WHEEL / FOLDING WHEEL
673 HIGH-CAPACITY BATTERY
736 TRIM PIECES – ASH TREE WOOD BLACK (2A70)
800A LEATHER/NAPPA/SEMI-ANILINE
808 CHANGE OF MODEL YEAR, THE LAST FIGURE SHOWING THE NEW MODEL YEAR
808A LEATHER/NAPPA/SEMI-ANILINE – GRAY
819 CD CHANGER
875 HEATED SCREEN WASH SYSTEM
882 SENSOR SYSTEM AND ANTITHEFT ALARM SYSTEM
983 COC PAPER EURO 4 TECHNOLOGY W/O REG. CERT. PART II
989 IDENTIFICATION LABEL UNDER WINDSHIELD
A22 NEW CONVERTER GENERATION
A24 JOINT FLANGE, 4-ARM 120
A38 M – VALVE BODY ASSEMBLY WITH VGS 2
A44 SOFTWARE 3
A49 CONVERTER WITH 3 FRICTION DISKS
F230 SERIES PRODUCTION 230
G904 TRANSMISSION CODE VERSION 04
GA AUTOMATIC TRANSMISSION
HA REAR AXLE
K11 ADAPTIVE STOP LIGHT FLASHING
K13 CONTROL CODE FOR SERVICE INTERVAL 25000 KM
M273 V8-GASOLINE ENGINE M273
M55 CAPACITY 5,5 LITRE
N99 CONTROL CODE BREMEN PLANT
NQ2 CONTROL CODE BREMEN PLANT
R RIGHT-HAND STEERING
R01 SUMMER TIRES
U72 DVD PLAYER WITH REGIONAL CODE 2, EUROPE, JAPAN
V03 SPEED- + LOADINDEX 98W
VL FRONT AXLE HALF, LEFT
VR FRONT AXLE HALF, RIGHT
Why Choose SLSHOP?
Is it our unrivalled experience with three generations of SL? Is it our attention to detail, our award winning quality? Is it our selection of hand picked, superb cars for sale? Is it the family feel, the friendly faces and consistency of our work? Most people say it's all of these things.
A classic car offers a world of opportunities – it is an invitation to explore the open road and share life-affirming experiences with like-minded individuals.
Where will your Mercedes-Benz take you?
Bulkhead Corrosion
Although the R107 is renowned for build quality, there is one chink in the armour – the bulkhead. Many cars that present well from the outside are hiding internal rust. Water from outside the car should drain out through specially designed channels, but over time, these become blocked forcing water inside the car. Once water has breached the blower motor cover in front of the windscreen, it slowly wreaks havoc from inside out. This delicate area did not have rust protection from the factory, and as the metal deteriorates it the water ingress can lead to faulty electrics, damp carpets and musty smells inside the cabin.
All our cars come with a 36 month bulkhead warranty.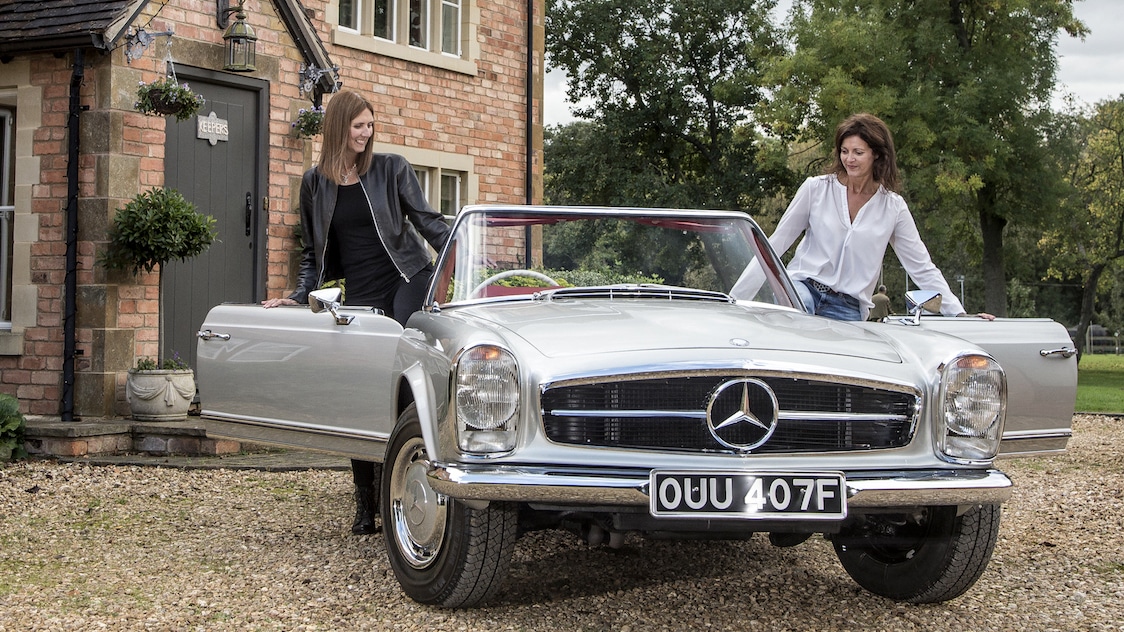 Next Steps: Experience
We believe in the capabilities of these classic cars, and want our customers to get out and use them. Welcome to Experience from The SLSHOP, aimed at helping you get more out of your classic Mercedes-Benz. We offer a number of trips, tours and events in the UK and abroad. See you there!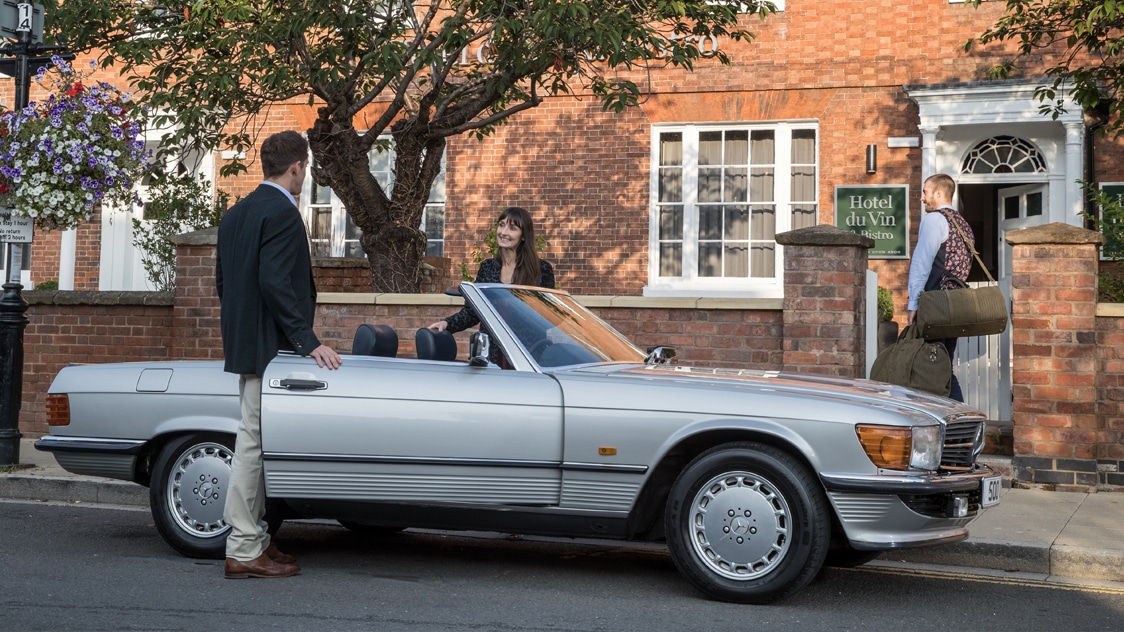 Next Steps: 24hr Test Drive
Tempted by an R107 SL but not sure if it's for you? Fancy trying a weekend at the wheel before you dive in? We offer a 24hr test drive through our hire business. Hire a classic Mercedes-Benz for a day or longer, and if you subsequently buy a car from our showroom, we will refund the entire hire fee. What are you waiting for?
STAY IN TUNE WITH SLSHOP MOMENTS
As part of SLSHOP's community of enthusiasts, you'll be the first to hear about events and tours, key product offers, exciting stories from owners around the world and of course… our latest additions to the showroom. So, be the first to know and you might just sneak a car on your driveway or take your car's condition to new heights with our exclusive replacement parts.