2006 Mercedes-Benz SL350 (R230) #2161 *SOLD* Silver with Black Leather
Stock Number:

2161

Make / Model:

Mercedes-Benz / SL350 (R230) with Black Leather

Mileage:

73000

Paint Colour:

Silver

Interior Colour:

Black

Year:

2006
2006 Mercedes-Benz SL350 (R230)
73,000 miles
Iridium Silver Metallic (775) with Anthracite Leather Interior (201)
A superb example of the R230 SL in Iridium Silver with Anthracite Leather.
Fitted with the sublime 3.7 litre V6 engine and 5-speed automatic transmission. Crucially the SL350 utilised traditional suspension, not the complicated ABC system adopted by the 5.0 litre V8 model.
Specification includes Electric Mirrors, DVD with Navigation, Automatic Climate Control, Xenon Headlamps, CD Changer, Heated Seats, Heated Screenwash, Alarm System, Adaptive Stop Light and much more.
Accompanying this car is a large folder of invoices and receipts, as well as the original leather wallet.
The service book shows 7 stamps, all of which are Mercedes-Benz main dealers, with intervals at 18k, 22k, 28k, 36k, 44k, 61k, 68k.
This car has gone through our strict quality control and pre-sales check program, and will be serviced by SLSHOP for the new owner.
An accomplished modern classic ready for a motoring adventure with a new custodian.
2006 Mercedes-Benz SL350 (R230)
FIN WDB2304672F114934
Model SL 350
Engine 112973 32 003966
Transmission 722644 06 150018
Order Number 0 5 537 33936
Order Location GREAT BRITAIN AND NORTHERN IRELAND
Interior LEATHER – BLACK/ANTHRACITE (201A)
Paint 1 IRIDIUM SILVER – METALLIC FINISH (775U)
Release Date 2005-10-13
Delivery Date 2005-10-13
Code Description
200 A LEATHER
201 A LEATHER – BLACK/ANTHRACITE
205 B OWNERS MANUAL AND SERVICE RECORD – ENGLISH
220 PARKTRONIC SYSTEM (PTS)
221 B SIGN COOLANT/REFUELING – ENGLISH
250 B MOBILO LIFE/EUROPE SERVICE PACKAGE
283 B AIRBAGLABLE – ENGLISH
284 SELECTOR LEVER, WOOD
289 LEATHER STEERING WHEEL WITH TRIM INSERT
386 UNIVERSAL TELEPHONY PACKAGE
423 5-SPEED AUTOMATIC TRANSMISSION
461 INSTRUMENT WITH MILES IND. AND ENGLISH LEGEND
500 ELECTRIC FOLDING OUTSIDE MIRROR
527 COMAND DVD APS WITH NAVIGATION
537L GREAT BRITAIN AND NORTHERN IRELAND
581 AUTOMATIC CLIMATE CONTROL
5XXL EUROPE
617 XENON HEADLAMPS, LEFT-HAND TRAFFIC
660 AMG DOUBLE-SPOKE WHEELS 18″ WITH MIXED TIRES
666 PRODUCT PROT.F.TRANSPORT VEH. W/O TIE-DOWN HOOKS
669 SPARE WHEEL / FOLDING WHEEL
673 HIGH-CAPACITY BATTERY
731 TRIM PIECES – WOOD BURRED WALNUT VENEER
775U IRIDIUM SILVER – METALLIC FINISH
806 YEAR OF MODIFICATION
819 CD CHANGER
873 SEAT HEATER FOR LEFT AND RIGHT FRONT SEATS
875 HEATED SCREEN WASH SYSTEM
882 SENSOR SYSTEM AND ANTITHEFT ALARM SYSTEM
983 COC PAPER EURO 4 TECHNOLOGY W/O REG. CERT. PART II
989 IDENTIFICATION LABEL UNDER WINDSHIELD
F230 SERIES PRODUCTION 230
GA AUTOMATIC TRANSMISSION
HA REAR AXLE
K11 ADAPTIVE STOP LIGHT FLASHING
M112 V6-GASOLINE ENGINE M112
M37 DISPLACEMENT 3.7 LITERS
N99 CONTROL CODE BREMEN PLANT
NQ7 CONTROL CODE BREMEN PLANT
NS1 CONTROL CODE BREMEN PLANT
Q26 CONSUMPTION-OPTIMIZED TIRES
R RIGHT-HAND STEERING
U72 DVD PLAYER WITH REGIONAL CODE 2, EUROPE, JAPAN
VL FRONT AXLE HALF, LEFT
VR FRONT AXLE HALF, RIGHT
Why Choose SLSHOP?
Is it our unrivalled experience with three generations of SL? Is it our attention to detail, our award winning quality? Is it our selection of hand picked, superb cars for sale? Is it the family feel, the friendly faces and consistency of our work? Most people say it's all of these things.
A classic car offers a world of opportunities – it is an invitation to explore the open road and share life-affirming experiences with like-minded individuals.
Where will your Mercedes-Benz take you?
Bulkhead Corrosion
Although the R107 is renowned for build quality, there is one chink in the armour – the bulkhead. Many cars that present well from the outside are hiding internal rust. Water from outside the car should drain out through specially designed channels, but over time, these become blocked forcing water inside the car. Once water has breached the blower motor cover in front of the windscreen, it slowly wreaks havoc from inside out. This delicate area did not have rust protection from the factory, and as the metal deteriorates it the water ingress can lead to faulty electrics, damp carpets and musty smells inside the cabin.
All our cars come with a 36 month bulkhead warranty.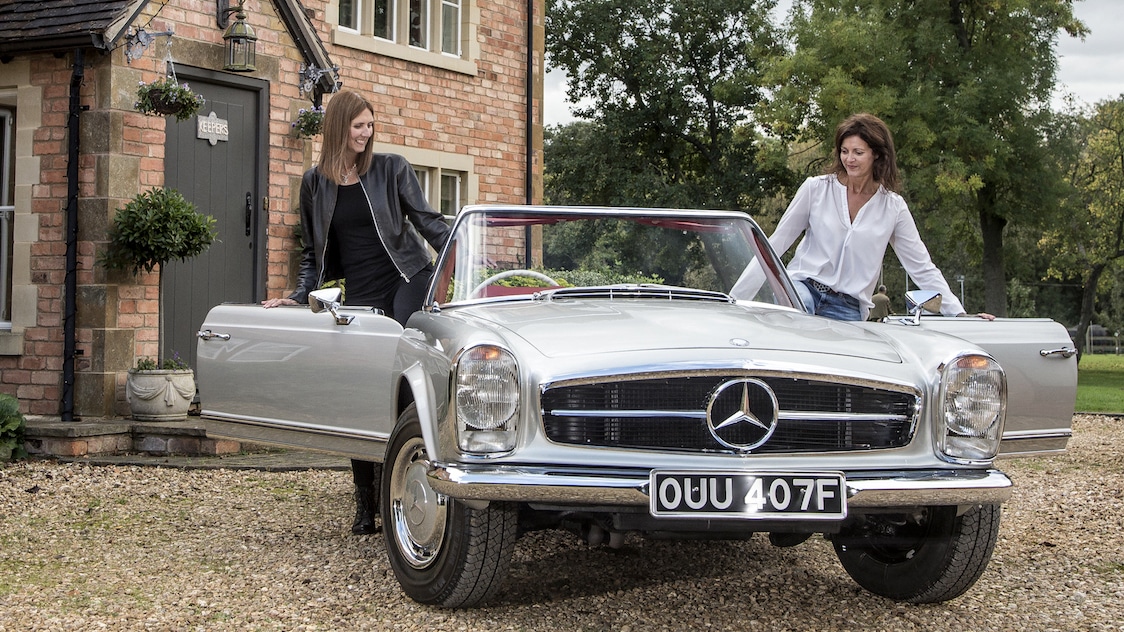 Next Steps: Experience
We believe in the capabilities of these classic cars, and want our customers to get out and use them. Welcome to Experience from The SLSHOP, aimed at helping you get more out of your classic Mercedes-Benz. We offer a number of trips, tours and events in the UK and abroad. See you there!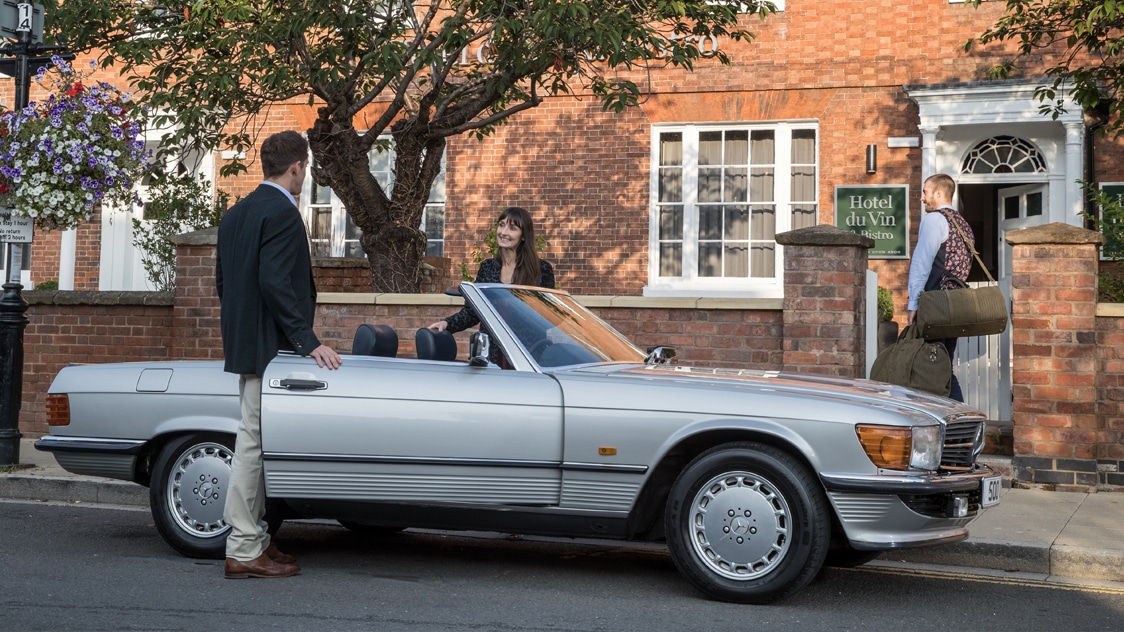 Next Steps: 24hr Test Drive
Tempted by an R107 SL but not sure if it's for you? Fancy trying a weekend at the wheel before you dive in? We offer a 24hr test drive through our hire business. Hire a classic Mercedes-Benz for a day or longer, and if you subsequently buy a car from our showroom, we will refund the entire hire fee. What are you waiting for?
Be the First to Know
Stay up to date with the latest from SLSHOP by subscribing to our newsletters. We update our readers with key announcements, new stories and of course… cars that are fresh into stock. Be the first to know and you might just sneak a car on your driveway before anyone else gets a chance.