2000 Mercedes Benz SLK 320 (R170) #2201 Silver with Siam Leather *SOLD*
Stock Number:

2201

Make / Model:

Mercedes-Benz / SLK320 (R170) with Quartz Siam Leather

Mileage:

50000

Paint Colour:

Brilliant Silver

Interior Colour:

Quartz & Siam Beige Leather (215A)

Year:

2000
2000 Mercedes Benz SLK 320 (R170)
Brilliant Silver Metallic (744) with Quartz & Siam Beige Leather (215A)
49,677 miles (when photographed May 8th 2020)
The name SLK was derived from sportleicht (sporty), leicht (light), and kurz (short). It was the first Mercedes-Benz to wear an SL nameplate and carry a four cylinder engine since the late 1950s.
As a modern equivalent to the 190SL roadster, the SLK shared the 94 inch wheelbase of the original Hollywood icon.
This was also car that introduced the world to the wonders of the mass produced vario folding roof, a genius piece of design that allows this car to switch between tin top and no top at the flick of a switch.
Now becoming sought after as a usable modern classic, the R170 SLK is finding it's feet in the classic car world.
With it's V6 engine and throaty soundtrack, the SLK320 is the more serious big brother of the fun four cylinder SLK230 Kompressor.
The 3.2 litre SLK320 offers more grunt thanks to it's naturally aspirated 6 cylinder M111 power plant; with 215bhp compared to around 190bhp of the four supercharged SLK230.
These 6 cylinder SLKs make superb tourers, offering coupe levels of comfort with ample boot space.
This example boasts the rare and desirable Quartz & Siam Beige Leather, a delightful two-tone interior that has aged beautifully. The R170 SLK was available in a wide range of colour and trim finishes, some of which no longer look appealing – not so with this one, this car looks as good today as it did when it was fresh in the showroom almost 20 years ago.
Luxuries such as electrically adjustable heated seats, 10 cd changer, dual zone climate control and the smooth 5 speed automatic gear box make covering great distances a pleasure.
The history record shows services at:
12,261 miles
14,661 miles
31,214 miles
42,460 miles
43,376 miles
43,591 miles
46,941 miles (SLSHOP)
49,224 miles
Presenting a superb opportunity to get into a smartly presented early style SLK with V6 power, this is one very usable and highly enjoyable modern classic.
210A LEATHER
423 5-SPEED AUTOMATIC TRANSMISSION
441 STEERING COLUMN, ADJUSTABLE
461 INSTRUMENT WITH MILES IND. AND ENGLISH LEGEND
551 ANTI-THEFT/ANTI-BREAK-IN WARNING SYSTEM
560 ELECTRIC. ADJUSTABLE DRIVER SEAT L. AND R.
613 HEADLAMP LEFT-HAND TRAFFIC
668 PACKAGING FOR SHIPPING VEHICLES WITH TIE-DOWN HOOK
669 SPARE WHEEL / FOLDING WHEEL
673 HIGH-CAPACITY BATTERY
756 RADIO MB AUDIO 10 CD WITH VK/RDS
801 AEJ 00/1 R 170 AEJ 99/2
833 INVALID/GREAT BRITAIN,ADDITIONAL PARTS
873 SEAT HEATER FOR LEFT AND RIGHT FRONT SEATS
875 HEATED SCREEN WASH SYSTEM
882 INTERIOR SAFEGUARD
984 COC DOC., DELETION OF VEHICLE REGISTRATION DOC.
989 IDENTIFICATION LABEL UNDER WINDSHIELD
Why Choose SLSHOP?
Is it our unrivalled experience with three generations of SL? Is it our attention to detail, our award winning quality? Is it our selection of hand picked, superb cars for sale? Is it the family feel, the friendly faces and consistency of our work? Most people say it's all of these things.
A classic car offers a world of opportunities – it is an invitation to explore the open road and share life-affirming experiences with like-minded individuals.
Where will your Mercedes-Benz take you?
Bulkhead Corrosion
Although the R107 is renowned for build quality, there is one chink in the armour – the bulkhead. Many cars that present well from the outside are hiding internal rust. Water from outside the car should drain out through specially designed channels, but over time, these become blocked forcing water inside the car. Once water has breached the blower motor cover in front of the windscreen, it slowly wreaks havoc from inside out. This delicate area did not have rust protection from the factory, and as the metal deteriorates it the water ingress can lead to faulty electrics, damp carpets and musty smells inside the cabin.
All our cars come with a 36 month bulkhead warranty.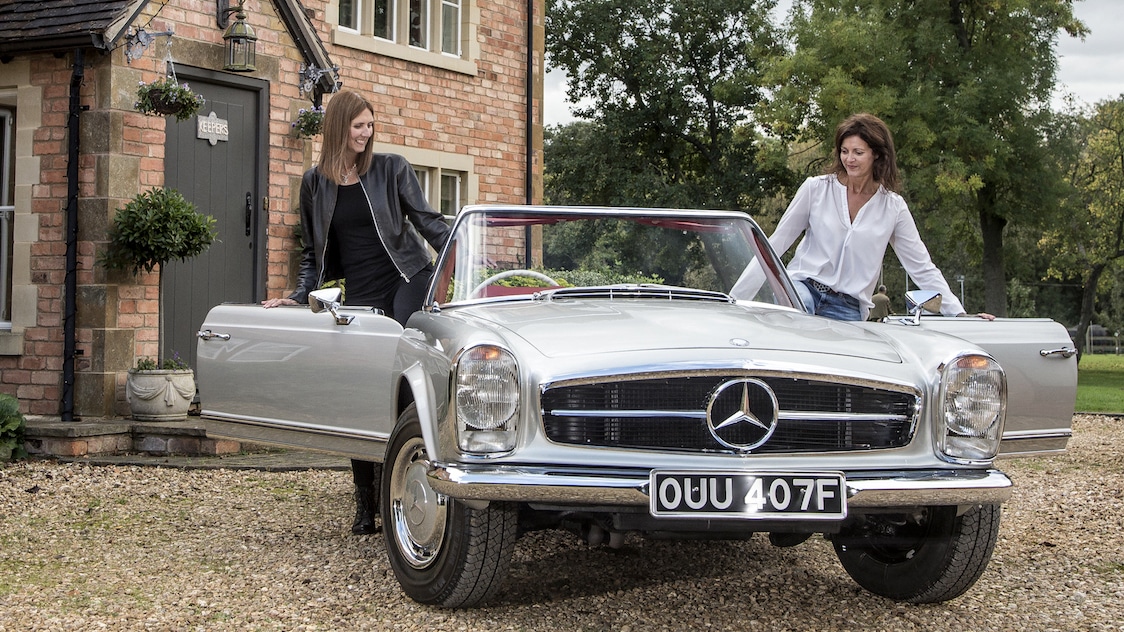 Next Steps: Experience
We believe in the capabilities of these classic cars, and want our customers to get out and use them. Welcome to Experience from The SLSHOP, aimed at helping you get more out of your classic Mercedes-Benz. We offer a number of trips, tours and events in the UK and abroad. See you there!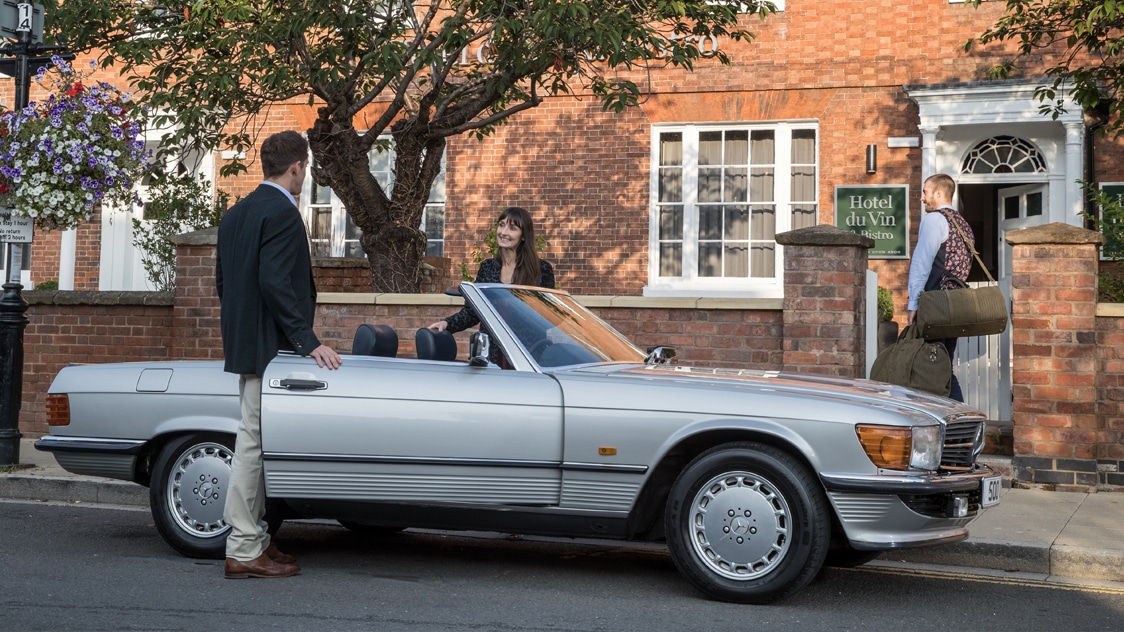 Next Steps: 24hr Test Drive
Tempted by an R107 SL but not sure if it's for you? Fancy trying a weekend at the wheel before you dive in? We offer a 24hr test drive through our hire business. Hire a classic Mercedes-Benz for a day or longer, and if you subsequently buy a car from our showroom, we will refund the entire hire fee. What are you waiting for?
STAY IN TUNE WITH SLSHOP MOMENTS
As part of SLSHOP's community of enthusiasts, you'll be the first to hear about events and tours, key product offers, exciting stories from owners around the world and of course… our latest additions to the showroom. So, be the first to know and you might just sneak a car on your driveway or take your car's condition to new heights with our exclusive replacement parts.