1998 Mercedes-Benz SL320 (R129) #2207 Azurite Blue with Saffron Nappa Leather 85,939 miles
Stock Number:

2207

Make / Model:

Mercedes-Benz / SL320 (R129) with Saffron Nappa Leather

Mileage:

85939

Paint Colour:

Azurite Blue

Year:

1998
1998 Mercedes-Benz SL320 (R129) Azurite Blue with Saffron Nappa Leather
Azurite Blue (366) with Saffron Nappa Leather (234)
Azurite Blue Hard Top (366) with Dark Blue Fabric Soft Top (5010)
85,939 Miles
When Mercedes-Benz introduced the R129 SL, it caused major issues for customers who were waiting on a final edition R107.
The R107 had been in showrooms for almost two decades, and automotive styling, tastes, fashion and technology had gone through a seismic shift between 1971 and 1989. Society had moved on. The R129 would spearhead a new type of car, focused on safety, comfort and performance. It was a world away from the oh-so-popular R107, and would be an instant hit. The iconic chrome, side mouldings and bumpers that defined the R107 were long gone, replaced by clean, understated styling with lashings of technology – this was the new era of the Mercedes-Benz SL, and buyers signed up in droves – often leaving an embarrassing cancelled R107 order in the process. The popularity of the R129 meant that some 'cancelled order' R107 SLs would languish in showrooms for some years before finding buyers, and we've seen R107s that weren't sold and registered until well into the 1990s – including an R107 500SL on a 1992 J Plate! Such was the allure and attraction of the R129 that buyers just had to have it.
Like the R107, the R129 was first available as an inline-six or V8, offering two inline-six engines (300SL and 300SL-24) a the iconic 5.0 litre V8 (500SL). These were joined by the 12 litre variant in in June 1992 (SL600).
For Autumn 1993 both 300SL models were replaced with upgraded engines, now split between 2.8 litre (SL280) and 3.2 litre (SL320), both based on the M104 engine. For the first time the SL moniker preceded the engine designation, the first change to SL badging in almost 50 years!
In 1996 Mercedes-Benz began to develop a replacement for the R129, so the model benefitted from a facelift and a range of new engines that hit showrooms in 1998.
This final swan song of the R129 introduced the world to the M112 engine, the first V6 from Mercedes-Benz. Buyers now had a choice of the SL280 V6, SL320 V6 and SL500 V8 (all of which were new engines), along with continued production of the SL600 V12.
Aesthetically these final year cars were improved inside and out. In the cabin, new soft nappa leather seating, a restyled steering wheel, an improved dial display, the passenger was given a stowage net on the transmission tunnel and the audio systems were upgraded. Outside the R129 was given larger wheels as standard, with more wheel choices available from the showroom. These improvements boosted the appeal of the SL, and a range of special edition cars and glorious metallic colours ensured it was a strong seller right up until the R230 arrived in 2001.
When it comes to desirability, buyers like to go for a very early or very late R129 – although it has to be said this isn't set in stone!
These late model cars are well equipped and have a more aggressive, sporting look when compared with an early R129 SL, but personal taste is the biggest factor in choosing one of these cars. The R129 comes from an era where styling was subtle, the engine did the talking with no need for gaping holes, huge vents and multiple spoilers – that era would soon follow.
The R129 is the last of the dinosaurs, an early incarnation of the modern grand tourer, understated and yet glamorous, capable and refined. They make excellent second, third or fourth cars, offer intercontinental luxury and an impressive turn of performance regardless of which engine you choose.
The car shown here has been known to SLSHOP for some time, and that was sold by us to the current owner in 2013.
The deliciously deep Azurite Blue paintwork on this late model R129 is perfectly contrasted by the Saffron Nappa Leather. A blue Mercedes with cream will always be a winning combination for the clean lines of an R129 SL.
Specified by the first owner with burred walnut trim, and heated seats, this SL320 is exactly the right combination for an R129 SL. The mileage is backed up by a comprehensive service record and large file of receipts.
Fitted with the superb 3.2 litre V6 M112 engine, the SL320 provides just over 220bhp. The V6 engine feels lively and engaging – when combined with perfectly weighted steering and comfortable seats, this is a car well suited to long distance touring.
Captivating the very best of the era, this car is ready to be used and enjoyed. It is sure to impress on the grassy greens of your local classic car show, the waterfronts of Southern Europe and lengthy distance in-between!
This car has been known to SLSHOP for a while, and was sold by us 5 years ago. Now back in the showroom for a new owner to enjoy, it has just been given a major service including the crucial gearbox oil, seal and filter. The alloy wheels have been refurbished, and two new brake hoses were fitted as the outcome of our pre-sale inspection process.
A beautiful R129 that comes from a loving home, a car we are proud to showcase in our showroom.
Service and Maintenance Dates:
Registered 10th November 1998
PDI 20th October 1998
3,414 miles       31st March 1999
20,577 miles     28th September 2001
27,002 miles     8th January 2003
32,018 miles     26th February 2004
40,301 miles     23rd February 2006
54,772 miles     14th February 2008
64,586 miles     27th October 2009
71,254 miles     8th May 2011
77,902 miles     12th July 2013 (SLSHOP)
80,033 miles     24th August 2014
82,308 miles     2nd July 2015
84,443 miles     22nd June 2017
85,372 miles     21st June 2018
Paint 1 AZURITE BLUE – METALLIC (366O)
Paint 2 AZURITE BLUE – METALLIC (366O)
Interior LEATHER NAPPA – SAFFRON (234A)
200A LEATHER
441 STEERING COLUMN, ELECTRICALLY ADJUSTABLE
461 INSTRUMENT WITH MILES IND. AND ENGLISH LEGEND
472 ELECTRONIC STABILITY PROGRAM (ESP)
500 OUTSIDE REAR VIEW MIRROR LH AND RH FOLDING
533 SPEAKERS FRONT AND REAR – WITHOUT RADIO
565 REAR SEATS USED ON SL MODELS
600 HEADLAMP WIPER/WASHER
613 HEADLAMP LEFT-HAND TRAFFIC
668 MODE OF PACKING VE III WITH STYROPOR BUMPER RAILS
731 WOOD TRIM, BURRED WALNUT ROOT
744 DARK BLUE SOFT TOP FABRIC 5010
809 CHANGE OF MODEL YEAR, THE LAST FIGURE SHOWING THE NEW MODEL YEAR
833 ADDITIONAL PARTS FOR GREAT BRITAIN VEHICLE VERSION
873 SEAT HEATER FOR LEFT AND RIGHT FRONT SEATS
984 COC DOC., DELETION OF VEHICLE REGISTRATION DOC.
Why Choose SLSHOP?
Is it our unrivalled experience with three generations of SL? Is it our attention to detail, our award winning quality? Is it our selection of hand picked, superb cars for sale? Is it the family feel, the friendly faces and consistency of our work? Most people say it's all of these things.
A classic car offers a world of opportunities – it is an invitation to explore the open road and share life-affirming experiences with like-minded individuals.
Where will your Mercedes-Benz take you?
Bulkhead Corrosion
Although the R107 is renowned for build quality, there is one chink in the armour – the bulkhead. Many cars that present well from the outside are hiding internal rust. Water from outside the car should drain out through specially designed channels, but over time, these become blocked forcing water inside the car. Once water has breached the blower motor cover in front of the windscreen, it slowly wreaks havoc from inside out. This delicate area did not have rust protection from the factory, and as the metal deteriorates it the water ingress can lead to faulty electrics, damp carpets and musty smells inside the cabin.
All our cars come with a 36 month bulkhead warranty.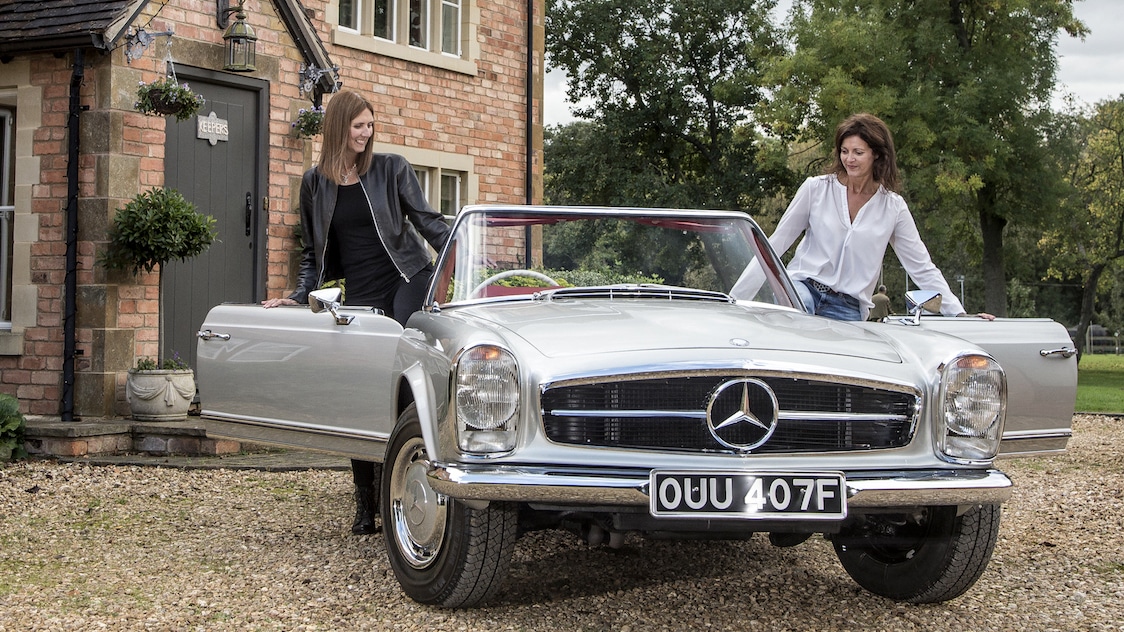 Next Steps: Experience
We believe in the capabilities of these classic cars, and want our customers to get out and use them. Welcome to Experience from The SLSHOP, aimed at helping you get more out of your classic Mercedes-Benz. We offer a number of trips, tours and events in the UK and abroad. See you there!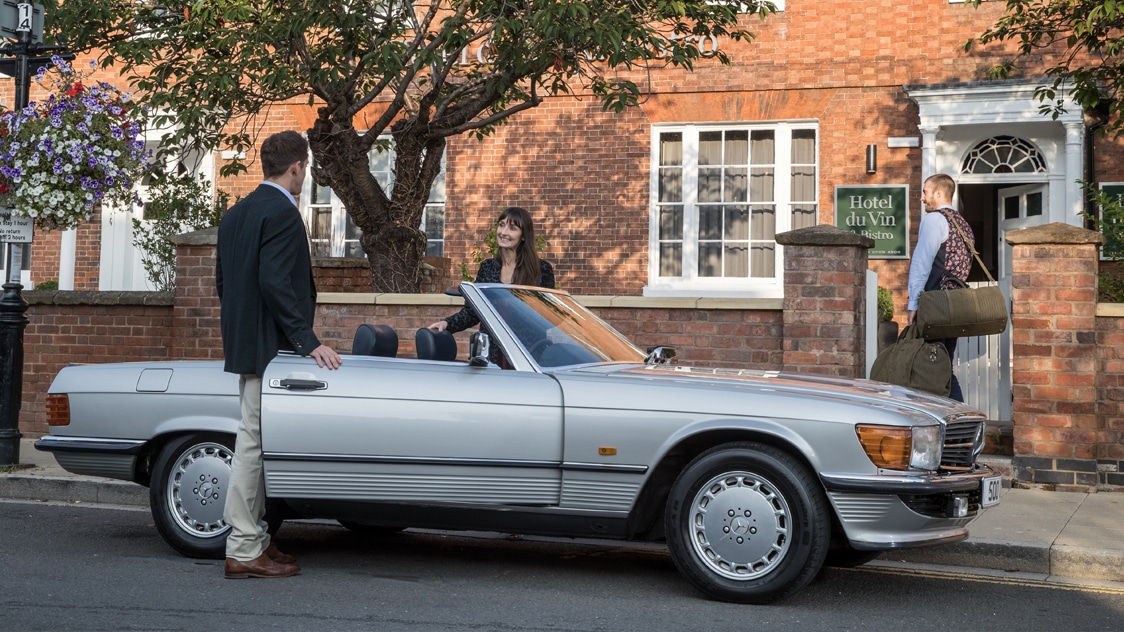 Next Steps: 24hr Test Drive
Tempted by an R107 SL but not sure if it's for you? Fancy trying a weekend at the wheel before you dive in? We offer a 24hr test drive through our hire business. Hire a classic Mercedes-Benz for a day or longer, and if you subsequently buy a car from our showroom, we will refund the entire hire fee. What are you waiting for?
STAY IN TUNE WITH SLSHOP MOMENTS
As part of SLSHOP's community of enthusiasts, you'll be the first to hear about events and tours, key product offers, exciting stories from owners around the world and of course… our latest additions to the showroom. So, be the first to know and you might just sneak a car on your driveway or take your car's condition to new heights with our exclusive replacement parts.