1998 Mercedes-Benz SL320 (R129) #2275
Stock Number:

2275

Make / Model:

Mercedes-Benz / SL320

Mileage:

66161

Paint Colour:

Azurite Blue

Interior Colour:

Gary Napa Leather (238A)

Year:

1998

Price:

£22,995
Interested in this car then call us now on 01789 337070
The R129 SL carried the distinguished SL pedigree into a new era, offering the distinctive Germanic lines symbolic of the Super Leicht insignia, but with the technological flare of the tail end of the 20th Century.
The six-cylinder R129 SL320 you see here was ordered new in 1998; the same year the model received a facelift. By this stage, the accomplished technology found within the R129 had been further refined and the SL320 also received the new M112 3.2 L 18-valve SOHC V6 with 221hp.
To show off the distinctive lines penned by Bruno Sacco, the body is finished in Azurite Blue Metallic (3660), paired with a Gray (238A) Napa leather and Burred Walnut Root wood trim throughout the interior. The leather is in top order with few age-related marks and the seats are firm, offering driver and passenger complete comfort. All electronic assets are in order, with the heated and electronically adjustable seats functioning smoothly with the position memory function. The previous owner has also fitted an aftermarket head unit to offer a more connected driving experience.
Since registration the vehicle has been enjoyed annually with maintenance and service works carried out religiously to enable continued enjoyment and dependability. All works carried out over the course of the last 24 years have been documented and will be provided to the new owner for inspection. Notable work carried out more recently includes new suspension mounts, door window glass and door panels, as part of an annual service.
An R129 SL with a service history of complete care is becoming harder to find, and this example is ready to delight and inspire a new owner to enjoy effortless top-down adventures at the wheel of the last of the over-engineered SLs.
For more information please contact [email protected]
Code Description
200 A LEATHER
241 FRONT SEAT LH ELECTRIC ADJUSTABLE WITH MEMORY
242 FRONT SEAT RH ELECTRIC ADJUSTABLE WITH MEMORY
249 AUTOMATICALLY DIPPING INSIDE REAR VIEW MIRROR
441 STEERING COLUMN, ELECTRICALLY ADJUSTABLE
461 INSTRUMENT WITH MILES IND. AND ENGLISH LEGEND
472 ELECTRONIC STABILITY PROGRAM (ESP)
500 OUTSIDE REAR VIEW MIRROR LH AND RH FOLDING
501 OUTSIDE REARVIEW MIRROR LEFT AND RIGHT WITH MEMORY
533 SPEAKERS FRONT AND REAR – WITHOUT RADIO
565 REAR SEATS USED ON SL MODELS
600 HEADLAMP WIPER/WASHER
617 XENON HEADLAMPS, LEFT-HAND TRAFFIC
644 LIGHT-ALLOY-WHEEL 5-SPOKE-DESIGN 17″
668 MODE OF PACKING VE III WITH STYROPOR BUMPER RAILS
731 WOOD TRIM, BURRED WALNUT ROOT
744 DARK BLUE SOFT TOP FABRIC 5010
809 CHANGE OF MODEL YEAR, THE LAST FIGURE SHOWING THE NEW MODEL YEAR
833 ADDITIONAL PARTS FOR GREAT BRITAIN VEHICLE VERSION
873 SEAT HEATER FOR LEFT AND RIGHT FRONT SEATS
984 COC DOC., DELETION OF VEHICLE REGISTRATION DOC.
Why Choose SLSHOP?
Is it our unrivalled experience with three generations of SL? Is it our attention to detail, our award winning quality? Is it our selection of hand picked, superb cars for sale? Is it the family feel, the friendly faces and consistency of our work? Most people say it's all of these things.
A classic car offers a world of opportunities – it is an invitation to explore the open road and share life-affirming experiences with like-minded individuals.
Where will your Mercedes-Benz take you?
Bulkhead Corrosion
Although the R107 is renowned for build quality, there is one chink in the armour – the bulkhead. Many cars that present well from the outside are hiding internal rust. Water from outside the car should drain out through specially designed channels, but over time, these become blocked forcing water inside the car. Once water has breached the blower motor cover in front of the windscreen, it slowly wreaks havoc from inside out. This delicate area did not have rust protection from the factory, and as the metal deteriorates it the water ingress can lead to faulty electrics, damp carpets and musty smells inside the cabin.
All our cars come with a 36 month bulkhead warranty.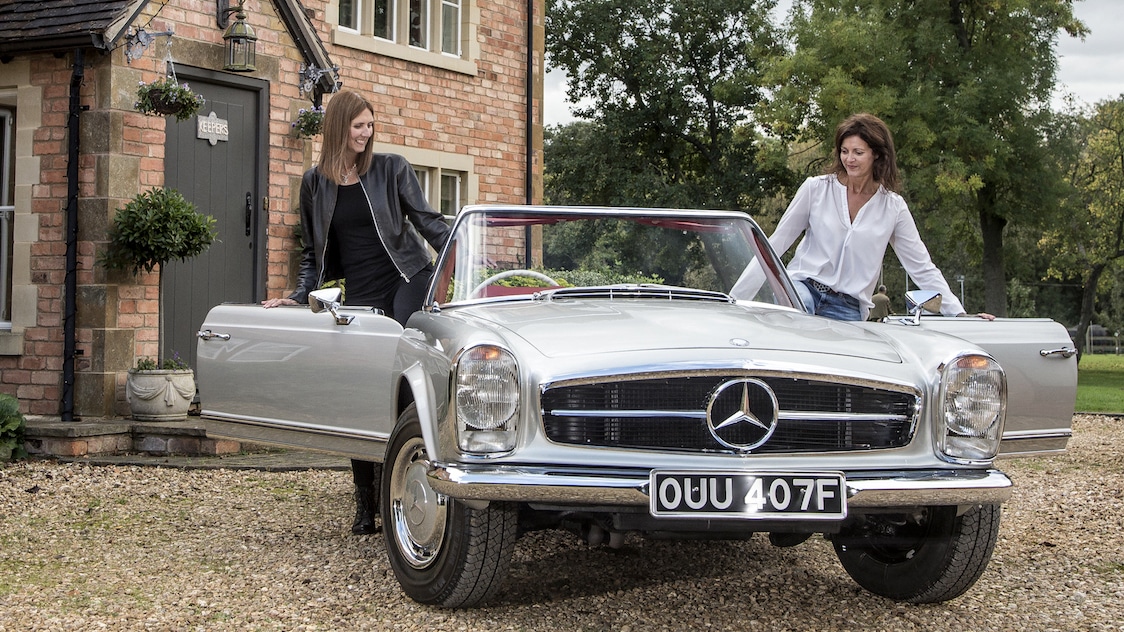 Next Steps: Experience
We believe in the capabilities of these classic cars, and want our customers to get out and use them. Welcome to Experience from The SLSHOP, aimed at helping you get more out of your classic Mercedes-Benz. We offer a number of trips, tours and events in the UK and abroad. See you there!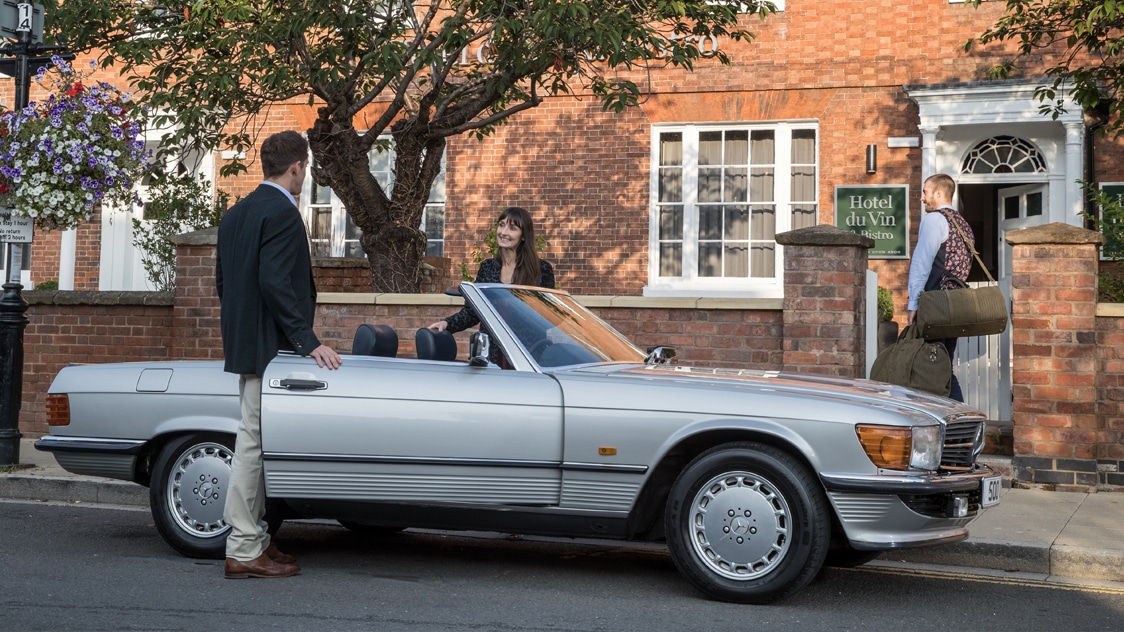 Next Steps: 24hr Test Drive
Tempted by an R107 SL but not sure if it's for you? Fancy trying a weekend at the wheel before you dive in? We offer a 24hr test drive through our hire business. Hire a classic Mercedes-Benz for a day or longer, and if you subsequently buy a car from our showroom, we will refund the entire hire fee. What are you waiting for?
STAY IN TUNE WITH SLSHOP MOMENTS
As part of SLSHOP's community of enthusiasts, you'll be the first to hear about events and tours, key product offers, exciting stories from owners around the world and of course… our latest additions to the showroom. So, be the first to know and you might just sneak a car on your driveway or take your car's condition to new heights with our exclusive replacement parts.