1998 Mercedes-Benz SL500 (R129) #2277 Designo Vario Paint with Grey Leather
Stock Number:

2277

Make / Model:

Mercedes-Benz / SL500 (R129) with Grey Leather

Mileage:

26000

Paint Colour:

I

Interior Colour:

Grey Leather

Year:

1998
1998 Mercedes-Benz SL500 Special Edition (R129)
Designo Vario Color 1 – Green-Blue (017) with Grey Leather (268) and
Panoramic Glass Hardtop (415) with Blue Fabric Soft Top (5010)
26,000 miles
(more photos of the car are available than are shown on the website. Please email Joe for the full photo suite)
In 1957 Mercedes-Benz unveiled the 300SL Roadster to the world, starting a lineage of grand touring cars under the Sport Leicht name. 40 years (and four generations) later in 1997, Mercedes-Benz celebrated the launch of the Roadster with a very special '40th Anniversary Edition' of the SL.
Of 500 cars built worldwide, just 150 were offered in Right Hand Drive. These special cars featured Designo paintwork, AMG wheels and 'special edition' badging on the sills and ashtray cover. The paint finish on this particular SL is one of the finest shades offered throughout R129 production, known as Designo Vario I Green-Blue. This is a metallic finish that has two personalities, ranging from deep ocean blue to tropical green depending on the light in which you catch it. It is a rare and desirable colour, complimented by soft grey leather.
Inside there's all the usual refinements that a 500SL has to offer, with the Special Edition being equipped with the half-wood steering wheel – a lovely thing to hold as you waft along in luxury. The seats are extra soft luxury leather, making this car a very comfortable tourer. The electronic folding soft top is blue, whilst the matching removable hardtop is classed by Mercedes-Benz as option code 415 or Glass Roof… better known as panoramic. This large tinted glass roof is a lovely thing to have on an R129.
When it comes to the drive and handling, this SL is propelled by the most powerful variant of the 5.0 litre V8. The R129 used two different versions of the M119 engine, in both 322hp and 302hp. Due to changes in emissions, cars built after 1998 lost a little horsepower, whilst pre 1995 cars were predominately fitted with 4 speed gearboxes – making the 1995-98 cars some of the best in the range.
AMG Monobloc wheels complete the picture, the wheel of choice for many R129 enthusiasts. This wheel is a style that encompasses the bold direction that the R129 introduced, a product of the closer relationship between Mercedes-Benz and AMG upon which the R129 capitalised and one of the defining features of a Special Edition.
This car has been known to SLSHOP for a number of years, belonging to a friend and client for whom we have sourced and sold a handful of cars. It comes with an impeccable service record, showing a life of care and attention that verifies the low mileage. The most recent service was in 2017, and the car has been in managed storage with SLSHOP ever since.
When it comes to the R129 SL, buyers have a diverse choice of available cars, but for ultimate desirability a car has to stand out from the crowd. This is one of the finest examples we have come across, a rare chance to acquire an established modern classic.
| | | |
| --- | --- | --- |
| Mileage | Date | Location |
| PDI | 18th June 1998 | Mercedes-Benz Greenoaks |
| First Registion | 15th September 1998 | |
| 2,934 miles | 15th May 2000 | Mercedes-Benz Puttocks Limited |
| 6,340 miles | 25th June 2002 | Mercedes-Benz Puttocks Limited |
| 8,909 miles | 5th August 2004 | Mercedes-Benz Tony Purslow Aldershot |
| 10,066 miles | 9th September 2005 | Mercedes-Benz Tony Purslow Aldershot |
| 10,928 miles | 6th September 2006 | Mercedes-Benz Tony Purslow Aldershot |
| 11,105 miles | 25th March 2008 | Mercedes-Benz Tony Purslow Aldershot |
| 11,154 miles | 9th June 2009 | Mercedes-Benz Tony Purslow Aldershot |
| 13,426 miles | 18th March 2010 | Mercedes-Benz Direcyt |
| 17,780 miles | 1st March 2012 | Unipart Centre Days Garage |
| 19,574 miles | 6th March 2013 | Unipart Centre Days Garage |
| 23,274 miles | 26th February 2015 | Unipart Centre Days Garage |
| 25,300 miles | 20th April 2016 | Mercedes-Benz Chichester |
| 25,990 miles | 1st September 2017 | SLSHOP |
(car has been in storage with SLSHOP since the last service)
200A LEATHER
241 FRONT SEAT LH ELECTRIC ADJUSTABLE WITH MEMORY
242 FRONT SEAT RH ELECTRIC ADJUSTABLE WITH MEMORY
249 AUTOMATICALLY DIPPING INSIDE REAR VIEW MIRROR
284 SELECTOR LEVER, WOOD
289 WOOD/LEATHER STEERING-WHEEL
331 CASSETTE COMPARTMENT
415 GLASS ROOF (R129)
461 INSTRUMENT WITH MILES IND. AND ENGLISH LEGEND
501 OUTSIDE REAR VIEW MIRROR, RIGHT, HEATED (R.H.D.)
512 RADIO MB SPECIAL WITH TRAFFIC NEWS DECODER (VK), WITH RDS
565 REAR SEATS USED ON SL MODELS
600 HEADLAMP WIPER/WASHER
617 XENON HEADLAMPS, LEFT-HAND TRAFFIC
668 MODE OF PACKING VE III WITH STYROPOR BUMPER RAILS
744 DARK BLUE SOFT TOP FABRIC 5010
808 CHANGE OF MODEL YEAR, THE LAST FIGURE SHOWING THE NEW MODEL YEAR
819 CD CHANGER IN THE TRUNK – ALPINE
833 ADDITIONAL PARTS FOR GREAT BRITAIN VEHICLE VERSION
984 COC DOC., DELETION OF VEHICLE REGISTRATION DOC.
P05 SPECIAL MODEL – R129 "DESIGNO" FOR GREAT BRITAIN
Why Choose SLSHOP?
Is it our unrivalled experience with three generations of SL? Is it our attention to detail, our award winning quality? Is it our selection of hand picked, superb cars for sale? Is it the family feel, the friendly faces and consistency of our work? Most people say it's all of these things.
A classic car offers a world of opportunities – it is an invitation to explore the open road and share life-affirming experiences with like-minded individuals.
Where will your Mercedes-Benz take you?
Bulkhead Corrosion
Although the R107 is renowned for build quality, there is one chink in the armour – the bulkhead. Many cars that present well from the outside are hiding internal rust. Water from outside the car should drain out through specially designed channels, but over time, these become blocked forcing water inside the car. Once water has breached the blower motor cover in front of the windscreen, it slowly wreaks havoc from inside out. This delicate area did not have rust protection from the factory, and as the metal deteriorates it the water ingress can lead to faulty electrics, damp carpets and musty smells inside the cabin.
All our cars come with a 36 month bulkhead warranty.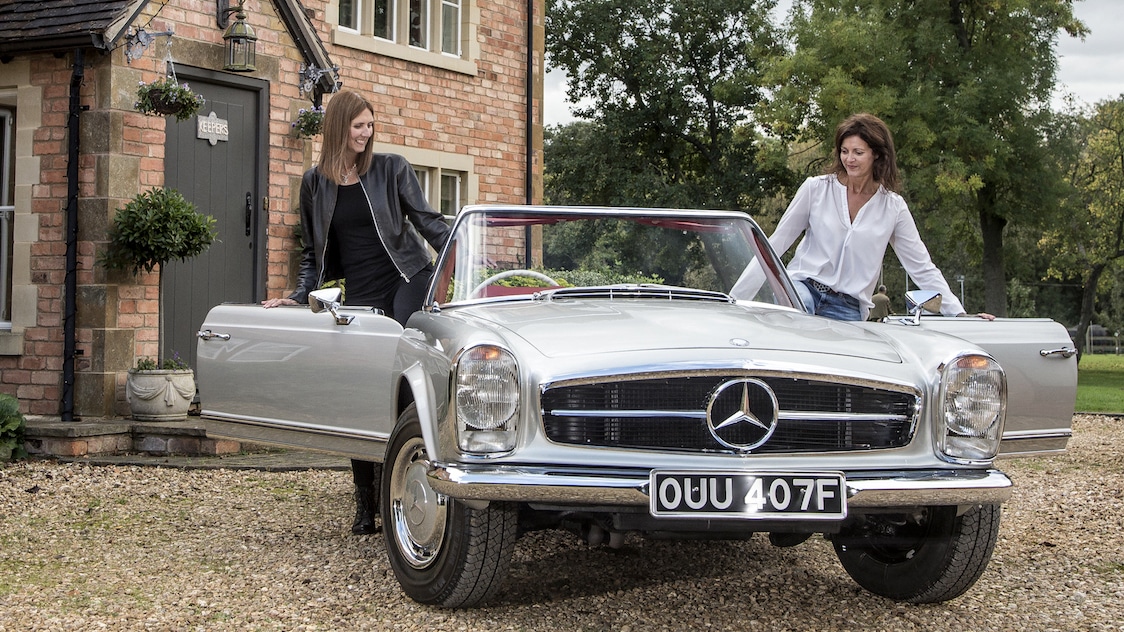 Next Steps: Experience
We believe in the capabilities of these classic cars, and want our customers to get out and use them. Welcome to Experience from The SLSHOP, aimed at helping you get more out of your classic Mercedes-Benz. We offer a number of trips, tours and events in the UK and abroad. See you there!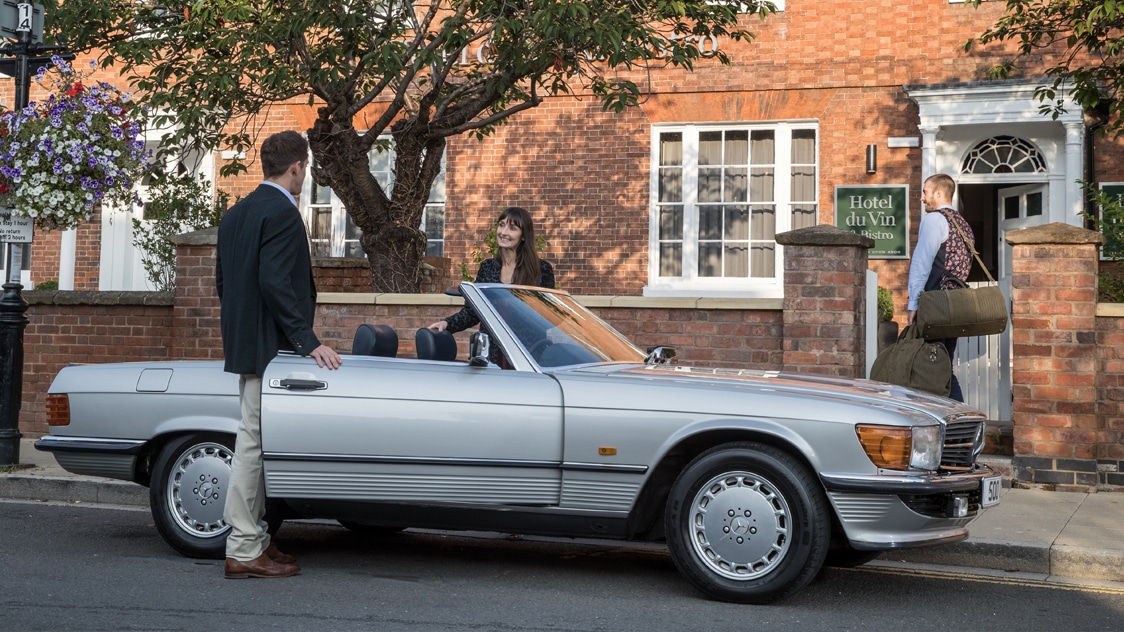 Next Steps: 24hr Test Drive
Tempted by an R107 SL but not sure if it's for you? Fancy trying a weekend at the wheel before you dive in? We offer a 24hr test drive through our hire business. Hire a classic Mercedes-Benz for a day or longer, and if you subsequently buy a car from our showroom, we will refund the entire hire fee. What are you waiting for?
Be the First to Know
Stay up to date with the latest from SLSHOP by subscribing to our newsletters. We update our readers with key announcements, new stories and of course… cars that are fresh into stock. Be the first to know and you might just sneak a car on your driveway before anyone else gets a chance.