1989 Mercedes-Benz 300SL (R107) #2225 Signal Red with Beige Leather
Stock Number:

2225

Make / Model:

Mercedes-Benz / 300SL (R107) with Beige Leather

Mileage:

29554

Paint Colour:

Signal Red

Interior Colour:

Beige Leather

Year:

1989
1989 Mercedes-Benz 300SL
Signal Red (568) with Beige Leather (275) and
Signal Red (568) Hard Top with Black Fabric Soft Top (9001)
29,554 miles
In late 1988 the first owner of this car sat down with a dealer to discuss part exchanging their 280SL for the newer 300SL. We may never know the exact conversation, but the end result was a completed order form for an Arctic White 300SL with Black Leather.
In the time between the order being placed and the car arriving, the customer had a change of heart… It just had to be Signal Red with Beige. A phone call was made, and the order form was amended. The car you see here is the same vehicle discussed in those phone calls and letters more than 30 years ago.
Finding a car with an impeccable history and a documented communication trail is a true delight in the world of classic cars, and the intriguing last minute change of mind for the first owner is a lovely addition to the history file of what is a very lovely car.
An Arctic White with Black Leather 300SL would be a lovely car, but we're very glad the first owner was swayed by Signal Red.
This exceptionally low mileage 300SL was sold by us in 2017, and now returns to the showroom to be passed to a new custodian.
Accompanying this car is an impressive array of paperwork detailing the entire history of the car, dating back to 1989. The service book is present and stamped correctly, as you would expect with a car of this calibre.
Also present is the original order form rom Normand (Mayfair) Ltd, dated 14th November 1988. This shows the Signal Red with Cream Beige Leather, Black Soft Top, Air Conditioning and Rear Seat options, with the interesting choice of deleting the rear 300SL badge. There is also a note that the dealer installed equipment was to be the Rear Boot Spoiler, Blaupunkt Toronto Speakers with Electric Aerial, UltraSonic Alarm and Isolator switch.
The communication between the original owner and the dealer is contained within letters that are present with the history file, along with the original order form (with Arctic White crossed out!)
Comes complete with the original leather wallet, containing the service book with stamps detailed as below. Also present is the Owners Manual, Sales and Service Guide, Workshop Directory, Becker Operating Manual and some tax discs dating back to 1990.
We particularly like the hand written note that looks rather old, on Hotel De L'Europe note paper, detailing the correct frequencies for radio stations. Naturally Classic FM was to be programmed in the number 1 spot, followed by Radio 2, CBC, Radio 4 and Capital in that order! A nice little touch that could show this car was enjoyed in Amsterdam on a touring holiday.
A lovely car with very low mileage and documented history dating back to the day it was built.
A car to suit the connoisseur and collector alike.
Service History Details:
PDI Stamped 1st March 1989
Registered 3rd March 1989
632 miles 18th April 1989
2,032 miles 29th January 1990
4,222 miles 23rd January 1991
7,075 miles 21st January 1993
9,207 miles 21st January 1994
11,505 miles 19th January 1995
14,414 miles 22nd July 1996
15,575 miles 16th January 1998
16,250 miles 13th January 1999
16,963 miles 17th December 1999
17,702 miles 1st December 2000
18,949 miles 21st November 2002
19,644 miles 6th November 2003
20,686 miles 21st October 2004
21,300 miles 26th October 2005
22,262 miles 23rd October 2006
24,738 miles 5th November 2007
26,130 miles 4th September 2008
26,551 miles 18th August 2009
27,795 miles 19th August 2011
28,277 miles 8th August 2013
28,549 miles 19th August 2015
28,783 miles 26th January 2017
29,005 miles 17th April 2018
29,612 miles 28th May 2019
Further photographs are available on request, please contact Bruce
238 No code designation available
260 TYPE DESTINATION ON TRUNK LID – ELIMINATION
275A LEATHER PEBBLE
341 ADDITIONAL BLINKER LAMPS
362 RHS IN ACC. WITH EU REGULATION
461 INSTRUMENT WITH MILES IND. AND ENGLISH LEGEND
524 PAINTWORK – PRESERVATION
565 REAR SEATS USED ON SL MODELS
568 No code designation available
585 No code designation available
592 ALL-ROUND WD-GREEN GLASS,HEATED REAR WINDOW-VSG
613 LAMP UNIT – ASSYMETRICAL, LH TRAFFIC
682 FIRE EXTINGUISHER
740 BLACK SOFT TOP FABRIC 9001
Why Choose SLSHOP?
Is it our unrivalled experience with three generations of SL? Is it our attention to detail, our award winning quality? Is it our selection of hand picked, superb cars for sale? Is it the family feel, the friendly faces and consistency of our work? Most people say it's all of these things.
A classic car offers a world of opportunities – it is an invitation to explore the open road and share life-affirming experiences with like-minded individuals.
Where will your Mercedes-Benz take you?
Bulkhead Corrosion
Although the R107 is renowned for build quality, there is one chink in the armour – the bulkhead. Many cars that present well from the outside are hiding internal rust. Water from outside the car should drain out through specially designed channels, but over time, these become blocked forcing water inside the car. Once water has breached the blower motor cover in front of the windscreen, it slowly wreaks havoc from inside out. This delicate area did not have rust protection from the factory, and as the metal deteriorates it the water ingress can lead to faulty electrics, damp carpets and musty smells inside the cabin.
All our cars come with a 36 month bulkhead warranty.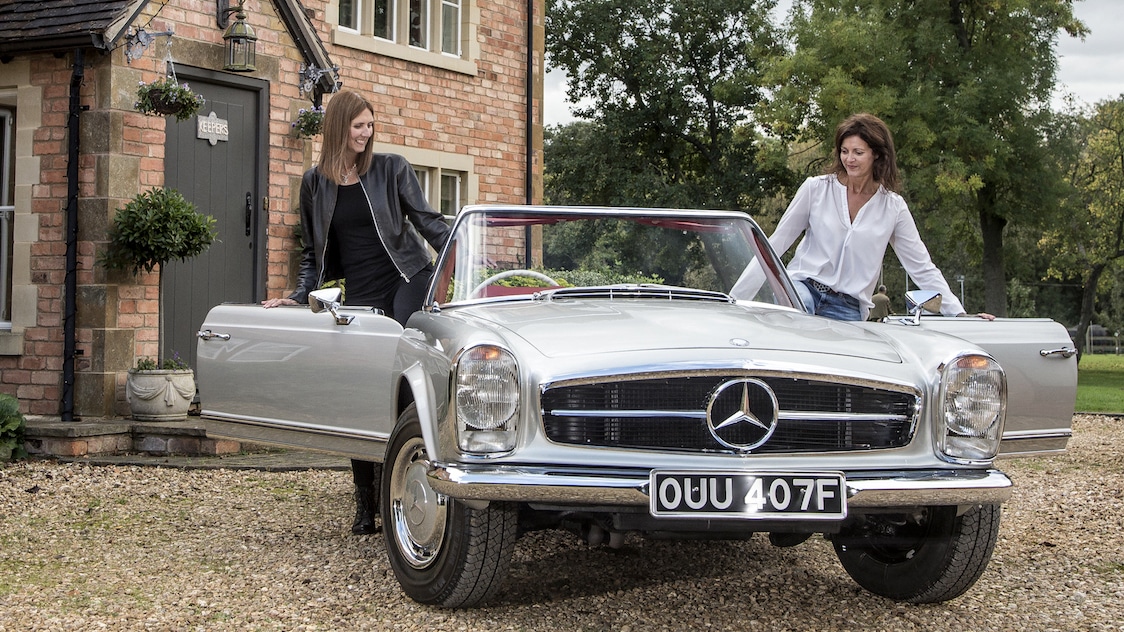 Next Steps: Experience
We believe in the capabilities of these classic cars, and want our customers to get out and use them. Welcome to Experience from The SLSHOP, aimed at helping you get more out of your classic Mercedes-Benz. We offer a number of trips, tours and events in the UK and abroad. See you there!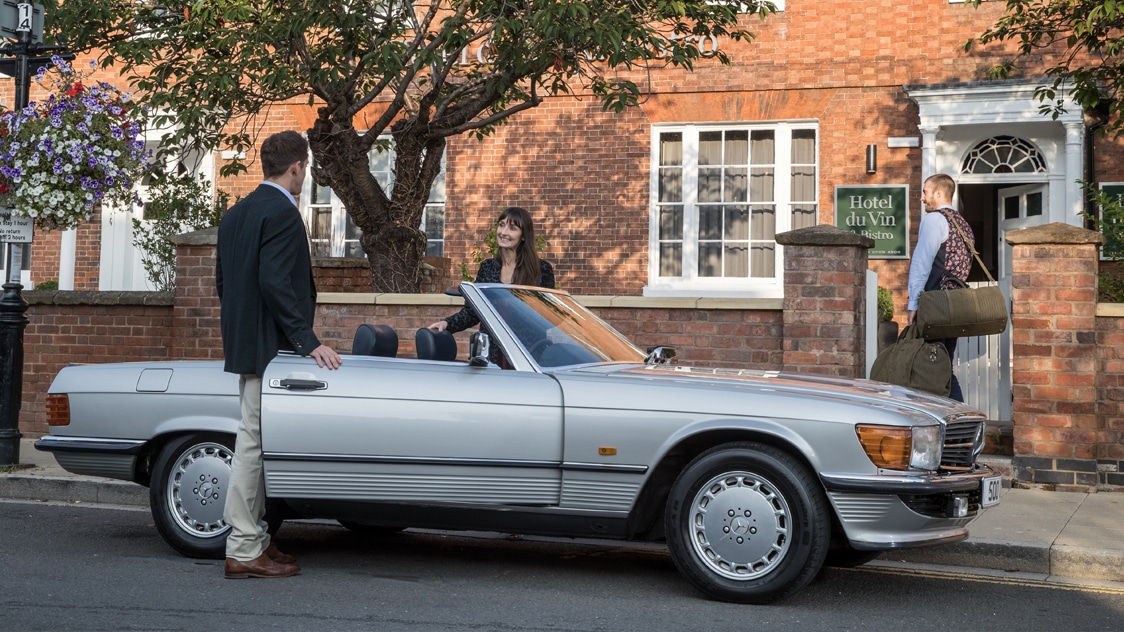 Next Steps: 24hr Test Drive
Tempted by an R107 SL but not sure if it's for you? Fancy trying a weekend at the wheel before you dive in? We offer a 24hr test drive through our hire business. Hire a classic Mercedes-Benz for a day or longer, and if you subsequently buy a car from our showroom, we will refund the entire hire fee. What are you waiting for?
STAY IN TUNE WITH SLSHOP MOMENTS
As part of SLSHOP's community of enthusiasts, you'll be the first to hear about events and tours, key product offers, exciting stories from owners around the world and of course… our latest additions to the showroom. So, be the first to know and you might just sneak a car on your driveway or take your car's condition to new heights with our exclusive replacement parts.