1989 Mercedes-Benz 300SL (R107) #2211 Pine Green with Fir Green Leather *SOLD*
Stock Number:

2211

Make / Model:

Mercedes-Benz / 300SL (R107) with Fir Green Leather

Mileage:

41901

Paint Colour:

Pine Green

Interior Colour:

Fir Green Leather (276)

Year:

1989
1989 Mercedes-Benz 300SL (R107)
Pine Green Metallic (254) with Fir Green Leather (276) and Black Fabric Soft Top (9001)
41,901 miles
1 Previous Owner
Production of the Mercedes-Benz R107 spanned 18 years, and in that time the SL was available in no less than 17 different shades of green. Pine Green is rare, appearing only for the last three years of the R107 timeline. Being a metallic paint, this colour would have added £583.44 to the list price, or £1,539.04 in equivalent money today.
Pine Green Metallic is rare to find on an SL, but the addition of Fir Green Leather (276) makes this a colour combination we at SLSHOP have not come across before. The green scheme encompasses the carpets and lower dashboard, and unusually for a 107, the upper dashboard too. On many cars, green on green would be an odd combination, but with this R107 the result is fantastic.
Metallic paint isn't the only expensive factory option that this car enjoys. Front Leather Seats (276) with Seat Heating (873) and Rear Leather Seats (565), An Outside Air Temperature Gauge (240), Paintwork Preservation (524), , Behr Air Conditioner (585) and a Fire Extinguisher (682) added a total of £4,941.91 to the list price of £32,750, giving a total 'new' price for this 300SL of £37,244.91 – equating to just under £100,000 in today's money. A period Blaupunkt stereo completes the picture, with the grey head unit and gold typeface perfectly complimenting the green upholstery and wood veneer inside the cabin. The way the colours combine inside this car is just superb.
Interestingly this 300SL was ordered from Rose & Young in Caterham, Surrey. The site was once a beautiful Art Deco car dealership, which Surrey residents will know from local news. After the dealer vacated the premises, the building fell into disrepair and has been the subject of much debate over recent decades regarding the future of the site. An interesting connection to the past, and another curious feature of what is a very enticing Mercedes-Benz.
Ordered in March of 1989, this car shows a pre-delivery inspection date and stamp on 2nd August 1989, showing as Rose & Young. The original order form is present with the car, both in terms of the hand written dealer note and the printed Mercedes-Benz confirmation.
All three original dealer brochures are with the car, the complete SL brochure, colour pamphlet and interior finish booklet, all with original dealer stickers on the cover. A very nice addition to a very original car.
Also accompanying the car is the original manufacturers book pack in original Mercedes-Benz clear wallet, as well as the original Mercedes-Benz vehicle order conformation… detailing the unusual colour combination and confirming the factory options.
The service book intervals are detailed below, with the only MOT certificates missing being 2003 and 2002.
MOT mileage (documented)
2019        41,890 miles
2018        41,761 miles
2017        41,641 miles
2016        41,468 miles
2015        41,385 miles
2014        41,317 miles
2013        41,249 miles
2012        40,938 miles
2011        38,354 miles
2010        37,411 miles
2008        36,037 miles
2007        33,365 miles
2006        25,890 miles
2005        20,723 miles
2004        20,083 miles
2003        (missing)
2002        13,274 miles
2002        (missing)
2000        11,564 miles
1999        11,012 miles
1998        10,762 miles
1997        10,508 miles
1996        9,727 miles
1995        8,028 miles
1994        7,200 miles
1993        6,076 miles
1992        4,718 miles
Service Interval Stamps
6,098 miles 10th March 1993
7,923 miles 11th November 1994
10,409 miles 9th March 1997
11,012 miles 1st June 1999
12,213 miles 7th June 2001
15,768 miles 19th June 2003
20,083 miles 21st April 2004
25,8990 miles 6th May 2006
33,365 miles 26th July 2007
not shown 8th August 2018
This is a fine looking car, inside and out, a certain head turner and one to be shown.
With just the mileage just about to click over to 42,000 and one previous owner, this well cared for SL represents an opportunity to get behind the wheel of a rare and prestigious looking car in an unusual colour.
We are unlikely to find another.
238 CITY DRIVE LIGHT FOR GREAT BRITAIN
240 OUTSIDE TEMPERATURE INDICATOR
260 TYPE DESTINATION ON TRUNK LID – ELIMINATION
341 ADDITIONAL BLINKER LAMPS
362 RHD VEHICLES AS PER EC REGULATIONS (CONTROL CODE)
461 INSTRUMENT WITH MILES IND. AND ENGLISH LEGEND
524 PAINTWORK – PRESERVATION
565 REAR SEATS USED ON SL MODELS
585 BEHR AIR CONDITIONER AND ELECTRIC WINDOW LIFTERS (FRONT DOORS)
592 HEAT-INSULATING GLASS, ALL-AROUND, HEATED REAR WINDOW PANE, BAND FILTER
613 HEADLAMP LEFT-HAND TRAFFIC
682 FIRE EXTINGUISHER
740 BLACK SOFT TOP FABRIC 9001
873 SEAT HEATER FOR LEFT AND RIGHT FRONT SEATS
Why Choose SLSHOP?
Is it our unrivalled experience with three generations of SL? Is it our attention to detail, our award winning quality? Is it our selection of hand picked, superb cars for sale? Is it the family feel, the friendly faces and consistency of our work? Most people say it's all of these things.
A classic car offers a world of opportunities – it is an invitation to explore the open road and share life-affirming experiences with like-minded individuals.
Where will your Mercedes-Benz take you?
Bulkhead Corrosion
Although the R107 is renowned for build quality, there is one chink in the armour – the bulkhead. Many cars that present well from the outside are hiding internal rust. Water from outside the car should drain out through specially designed channels, but over time, these become blocked forcing water inside the car. Once water has breached the blower motor cover in front of the windscreen, it slowly wreaks havoc from inside out. This delicate area did not have rust protection from the factory, and as the metal deteriorates it the water ingress can lead to faulty electrics, damp carpets and musty smells inside the cabin.
All our cars come with a 36 month bulkhead warranty.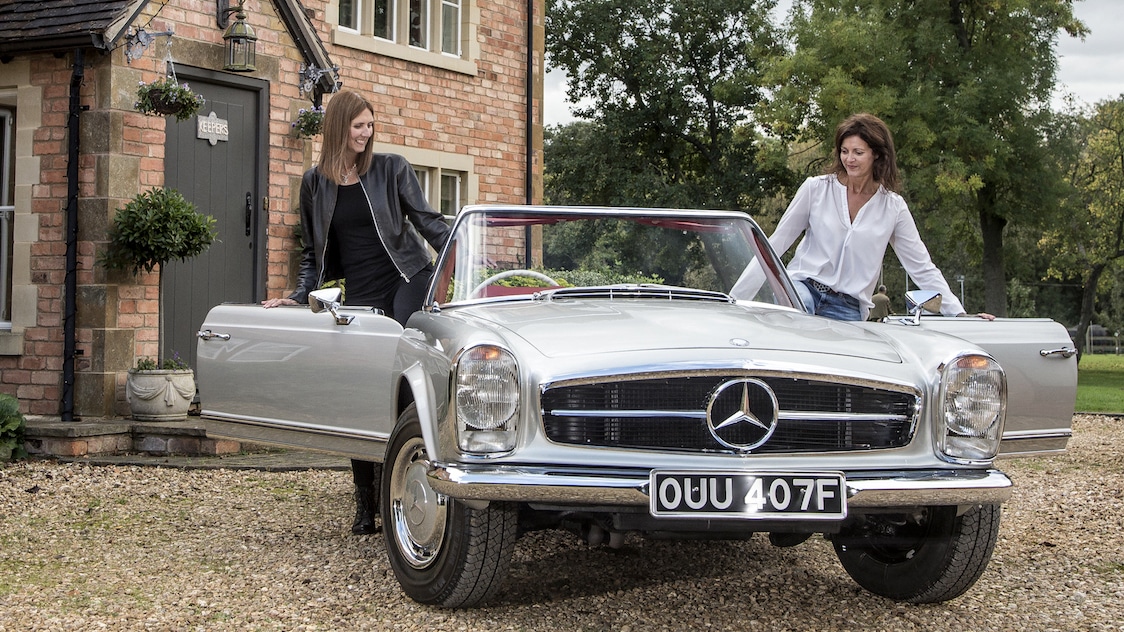 Next Steps: Experience
We believe in the capabilities of these classic cars, and want our customers to get out and use them. Welcome to Experience from The SLSHOP, aimed at helping you get more out of your classic Mercedes-Benz. We offer a number of trips, tours and events in the UK and abroad. See you there!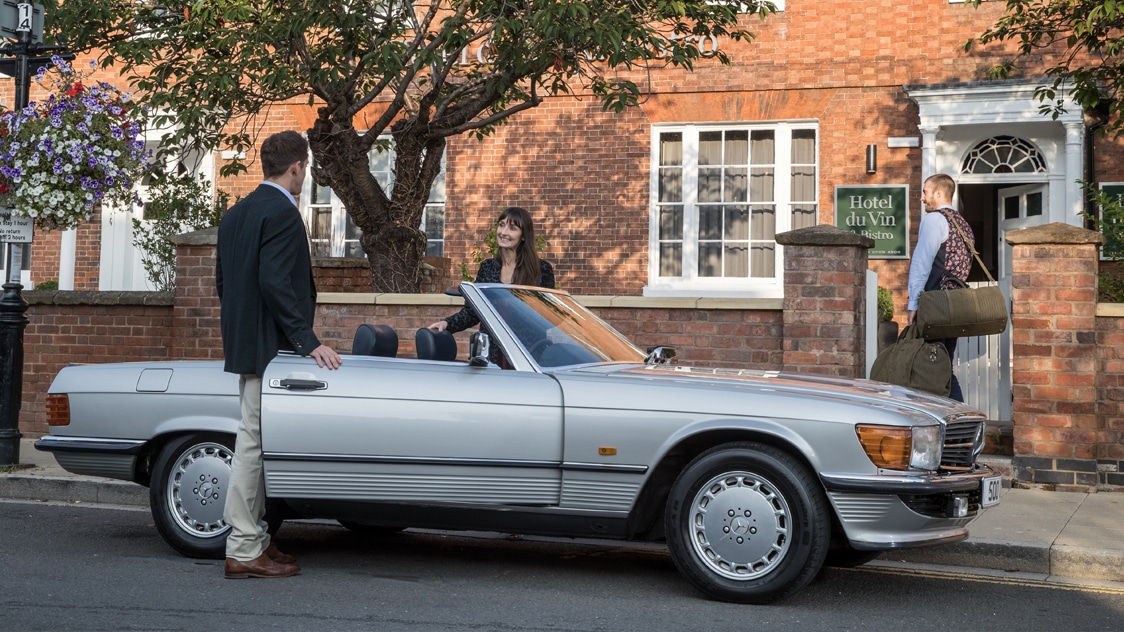 Next Steps: 24hr Test Drive
Tempted by an R107 SL but not sure if it's for you? Fancy trying a weekend at the wheel before you dive in? We offer a 24hr test drive through our hire business. Hire a classic Mercedes-Benz for a day or longer, and if you subsequently buy a car from our showroom, we will refund the entire hire fee. What are you waiting for?
STAY IN TUNE WITH SLSHOP MOMENTS
As part of SLSHOP's community of enthusiasts, you'll be the first to hear about events and tours, key product offers, exciting stories from owners around the world and of course… our latest additions to the showroom. So, be the first to know and you might just sneak a car on your driveway or take your car's condition to new heights with our exclusive replacement parts.