1988 Mercedes-Benz 500SL (R107) #2262 Signal Red with Beige Leather
Stock Number:

2262

Make / Model:

Mercedes-Benz / 500SL (R107) with Beige Leather

Mileage:

65947

Paint Colour:

Signal Red

Interior Colour:

Beige Leather

Year:

1989
1989 Mercedes-Benz 500SL (R107)
Signal Red (568) with Beige Leather (275) and
Signal Red Hard Top (568) with Black Fabric Soft Top (9001)
65,947 miles
The Mercedes-Benz R107 SL has captured hearts and minds across multiple generations of automotive enthusiasts, but it is the late 500SL that remains the most desirable. With a capable five-litre V8 engine, 242 horsepower and levels of luxury unrivalled by competitors, it's no surprise that these cars command a premium in the marketplace.
If a 5.0 litre V8 is the most sought after power plant for an R107 SL, then Signal Red has to be the most desirable colour. Synonymous with the shape of the R107 thanks to Hollywood movies, the red colour has always been associated with this shape SL. Available from 1971 until production ended in 1989, Signal Red is the colour we see most often – but very rarely do we find this shade combined with a five litre car.
Not only does the SL shown here combine the most in demand engine with the ultimate colour, it's also a very well specified car indeed.
First registered on January 5th 1989, it was ordered from new with an Outside Air Temperature Gauge, Leather Seating with Leather Rear Seats, Seat Heaters for the front seats, a Fire Extinguisher and Paintwork Preservation, all cost options that would have added almost £2,000 on to the list price of £41,700.
The final purchase price with options totalled £43,667, an equivalent of more than £115,000 today.
First purchased by Cantor & Silver Limited, a contact lens manufacturing company, the SL changed hands in March 1990 when it was purchased by a Mr Smith. For the next four years it would remain with Mr Smith, wearing the cherished registration SLU42.
In July 1994 it was sold to Mrs Mackmurray, who kept it for two years before selling it to a Mr Tredwin in 1996. Another two years later Mr Morrisroe purchases the car in July 1998, although he kept it just three months, selling it to Mr Garside in the October of that year.
Mr Garside kept the SL for 9 years, selling it to a gentleman in Ireland in 2004 from whom the car has arrived today.
The service history is fully documented, showing a car that has been consistently cherished and adored by the former keepers. A well stamped service book is present in the original and correct document wallet, with the original manuals and booklets. Also present is the original instruction card for the cruise control, something that we like to find in the book pack as they often go missing – these were designed to hang on the cruise control stalk when the car left the first dealer.
An almost complete MOT history is accompanied by a thick stack of tax discs, further signs that point to a life of careful maintenance.
This is a fantastic and rare opportunity to acquire a Signal Red 500SL. Regular visitors to our website will appreciate that although we see a good number of Signal Red cars, this is the first 5.0 example to attend SLSHOP for some time.
Prior to arriving at SLSHOP this car underwent significant preparation, with a receipt on file totalling almost £10,000. This work includes (but is not limited to) four new Michelin tyres, a myriad of weather seals around the car, rear pads and discs, front grille inserts, front subframe bushes, engine mounts, propshaft couplings, anti roll bar bushes, a new battery and more.
The car was also serviced before arrival, making it ready to be enjoyed by the next keeper.
A high specification car, in the perfect colour combination with some choice options. Not to be missed.
Further photos are available, please email us.
Service Book Stamps:
| | | |
| --- | --- | --- |
| 0 miles | 5th January 1989 | First registered |
| 842 miles | 13th January 1989 | Motox Banbury |
| 6,312 miles | 23rd March 1989 | Motox Banbury |
| 12,199 miles | 28th September 1989 | Arlington Northampton |
| 18,204 miles | 14th March 1990 | HMG Bromley |
| 25,879 miles | 1st March 1994 | Puttocks Mercedes-Benz |
| 26,902 miles | 24th June 1994 | HMG Bromley |
| 31,855 miles | 22nd February 1996 | Sunningdale Carraige |
| 35,328 miles | 10th December 1996 | Mercedes-Benz Bromley |
| 40,610 miles | 29th December 1997 | Mercedes-Benz Bromley |
| 56,214 miles | 10th May 2007 | Delaceys of Huddersfield |
| 57,440 miles | 4th April 2008 | NTEC Auto Repairs |
| 61,867 miles | 29th August 2012 | NTEC Auto Repairs |
| 63,234 miles | 17th September 2014 | NTEC Auto Repairs |
MOT Mileage:
| | |
| --- | --- |
| 30,954 miles | 1995 |
| 32,527 miles | 1996 |
| 37,345 miles | 1997 |
| 41,972 miles | 1998 |
| 49,484 miles | 2000 |
| 50,710 miles | 2001 |
| 52,470 miles | 2002 |
| 53,776 miles | 2005 |
| 52,272 miles | 2006 |
| 56,296 miles | 2007 |
| 59,632 miles | 2009 |
| 60,555 miles | 2010 |
| 61,398 miles | 2011 |
| 62,033 miles | 2012 |
| 62,556 miles | 2013 |
| 63,336 miles | 2014 |
| 64,135 miles | 2015 |
| 64,408 miles | 2016 |
| 65,049 miles | 2017 |
| 65,510 miles | 2018 |
| 65,796 miles | 2020 |
238 CITY DRIVE LIGHT FOR GREAT BRITAIN
240 OUTSIDE TEMPERATURE INDICATOR
256 REAR AXLE WITH LIMITED-SLIP DIFFERENTIAL
341 ADDITIONAL BLINKER LAMPS
362 RHD VEHICLES AS PER EC REGULATIONS (CONTROL CODE)
440 TEMPOMAT (CRUISE CONTROL)
461 INSTRUMENT WITH MILES IND. AND ENGLISH LEGEND
507 OUTSIDE REAR VIEW MIRROR, LEFT AND RIGHT, HEATED (ELECTRICALLY ADJUSTABLE ON THE RIGHT)
512 RADIO BECKER EUROPA CASSETTE
524 PAINTWORK – PRESERVATION
531 AUTOMATIC ANTENNA
565 REAR SEATS USED ON SL MODELS
592 HEAT-INSULATING GLASS, ALL-AROUND, HEATED REAR WINDOW PANE, BAND FILTER
603 HEADLAMP WIPER UNIT AND OIL FOR REAR AXLE WITH LIMITED-SLIP DIFFERENTIAL, IN CANISTERS AND CONTAINERS
613 HEADLAMP LEFT-HAND TRAFFIC
682 FIRE EXTINGUISHER
740 BLACK SOFT TOP FABRIC 9001
873 SEAT HEATER FOR LEFT AND RIGHT FRONT SEATS
Why Choose SLSHOP?
Is it our unrivalled experience with three generations of SL? Is it our attention to detail, our award winning quality? Is it our selection of hand picked, superb cars for sale? Is it the family feel, the friendly faces and consistency of our work? Most people say it's all of these things.
A classic car offers a world of opportunities – it is an invitation to explore the open road and share life-affirming experiences with like-minded individuals.
Where will your Mercedes-Benz take you?
Bulkhead Corrosion
Although the R107 is renowned for build quality, there is one chink in the armour – the bulkhead. Many cars that present well from the outside are hiding internal rust. Water from outside the car should drain out through specially designed channels, but over time, these become blocked forcing water inside the car. Once water has breached the blower motor cover in front of the windscreen, it slowly wreaks havoc from inside out. This delicate area did not have rust protection from the factory, and as the metal deteriorates it the water ingress can lead to faulty electrics, damp carpets and musty smells inside the cabin.
All our cars come with a 36 month bulkhead warranty.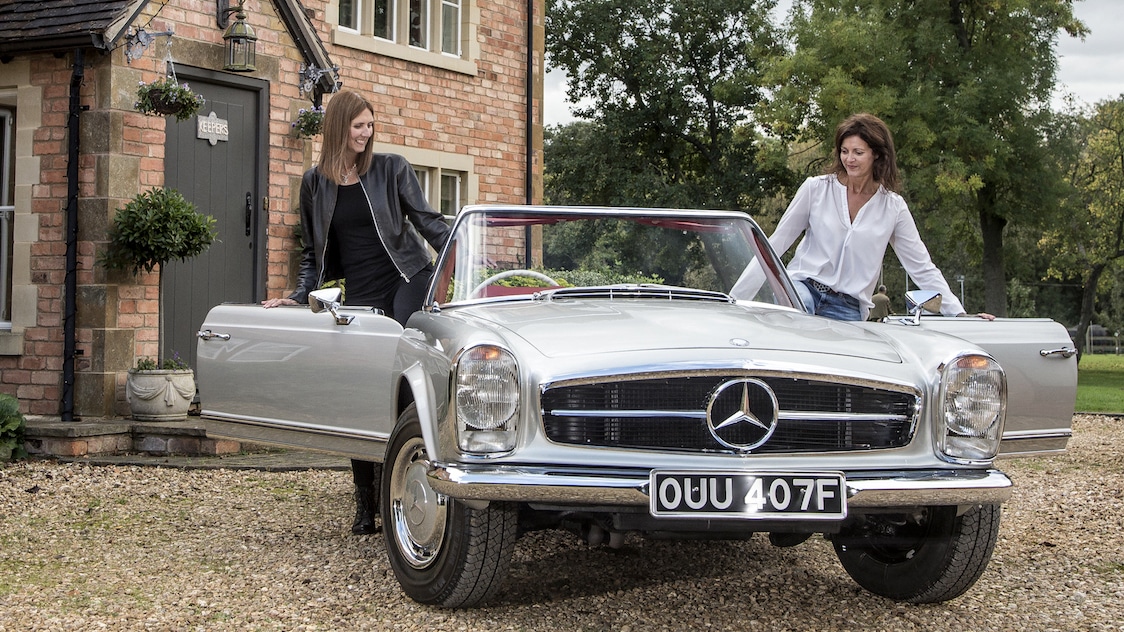 Next Steps: Experience
We believe in the capabilities of these classic cars, and want our customers to get out and use them. Welcome to Experience from The SLSHOP, aimed at helping you get more out of your classic Mercedes-Benz. We offer a number of trips, tours and events in the UK and abroad. See you there!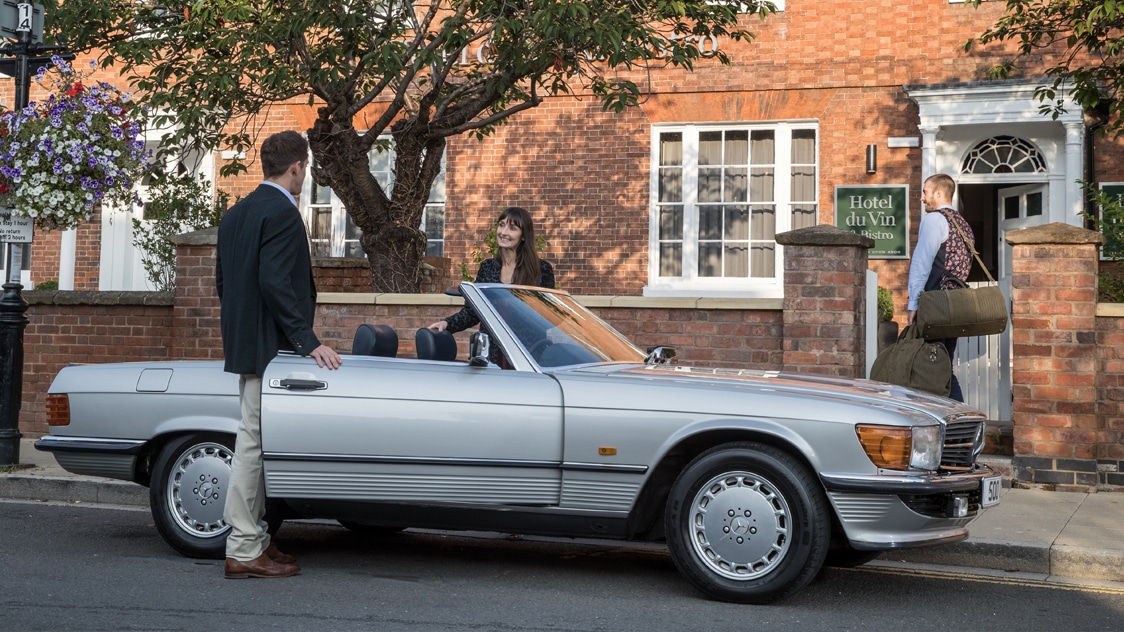 Next Steps: 24hr Test Drive
Tempted by an R107 SL but not sure if it's for you? Fancy trying a weekend at the wheel before you dive in? We offer a 24hr test drive through our hire business. Hire a classic Mercedes-Benz for a day or longer, and if you subsequently buy a car from our showroom, we will refund the entire hire fee. What are you waiting for?
STAY IN TUNE WITH SLSHOP MOMENTS
As part of SLSHOP's community of enthusiasts, you'll be the first to hear about events and tours, key product offers, exciting stories from owners around the world and of course… our latest additions to the showroom. So, be the first to know and you might just sneak a car on your driveway or take your car's condition to new heights with our exclusive replacement parts.