1988 Mercedes-Benz 300SL (R107) #2327 Blue Black with Beige Leather
Stock Number:

2327

Make / Model:

Mercedes-Benz / 300SL (R107) with Beige Leather

Mileage:

63000

Paint Colour:

Blue/Black

Interior Colour:

Beige Leather

Year:

1988

Price:

£55,995
Interested in this car then call us now on 01789 337070
1988 Mercedes-Benz 300SL (R107)
Blue Black Metallic (199) with Beige Leather (275) with
Blue Black Metallic (199) Hardtop and Black Fabric Soft Top (740)
63,000 miles
This delightful car was first inspected by Lancaster Europa on 28th March 1988, ordered new in the fantastic shade of Blue Black Metallic over Beige Leather. The metallic paintwork and leather interior were expensive options, and the first owner equipped the car with cruise control and the factory paint preservation, on top of the list price of £32,750… a total of £33,631 or around £88,000 when adjusted to today's money. This was a very expensive car for it's time.
Lancaster Europa cared for the car throughout the first 5 years and 25,000 miles of this cars life, before a combination of independent specialists and Mercedes-Benz dealers took over the maintenance of the car until 2013.
First arriving at SLSHOP to be prepared for sale, the car went through a comprehensive service and check over when it was sold by us to the current owner almost a decade ago. Now that the current owner is looking to move onto automotive pastures new, we are proud to offer this beautiful SL for sale once more. Serviced by us for the last three stamps in the book, we can attest that this car is of the finest calibre, and a rare thing to find being a 300SL in the desirable and smart shade of Blue Black.
Present with the car is a comprehensive service history file, including the leather wallet with book packs and service book, the contents of which are detailed below. A significant pile of paperwork is also present in the folder, dating back to when the car was new – testament to many years of careful ownership.
This car has been used and enjoyed sparingly and diligently since 1988, and represents an excellent chance to buy one of the finest motorcars of this era. From the well built, over-engineered solidity to the finish of the chrome, that big iconic steering wheel and the way that straight six engine sings through the gears, this is a car to behold and in which to indulge. They don't make them like they used to, and this one is really rather lovely.
| | | |
| --- | --- | --- |
| PDI | 28th March 1988 | Lancaster Europa Mercedes-Benz |
| 765 miles | 9th May 1988 | Lancaster Europa Mercedes-Benz |
| 4,865 miles | 2nd August 1988 | Lancaster Europa Mercedes-Benz |
| 9,129 miles | 27th October 1988 | Lancaster Europa Mercedes-Benz |
| 18,689 miles | 16th May 1989 | Lancaster Europa Mercedes-Benz |
| 23,067 miles | 15th August 1989 | Lancaster Europa Mercedes-Benz |
| 24,979 miles | 16th July 1991 | Lancaster Europa Mercedes-Benz |
| 33,998 miles | 2nd June 1994 | 2 Mills Prestige Cars |
| 37,093 miles | 19th December 1995 | Corner Garage Mercedes Specialists |
| 40,593 miles | 1st May 1997 | JA Parker 7 Acres |
| 42,287 miles | 8th August 1998 | JA Parker 7 Acres |
| 43,264 miles | 29th November 2000 | Motorforce Chichester |
| 43,637 miles | 21st June 2001 | Mercedes-Benz Portfield |
| 45,823 miles | 3rd July 2002 | Mercedes-Benz Portfield |
| 49,415 miles | 7th July 2004 | Mercedes-Benz Tony Purslow |
| not stated | 11th July 2003 | Mercedes-Benz Tony Purslow |
| 51,279 miles | 7th October 2006 | Mercedes-Benz Tony Purslow |
| 51,571 miles | 16th August 2007 | Mercedes-Benz Tony Purslow |
| 55,990 miles | 8th October 2010 | MBA Mercedes Specialists |
| 57,679 miles | 20th April 2012 | SS Motors |
| 59,263 miles | 9th July 2013 | The SLSHOP |
| 60,771 miles | 16th April 2015 | The SLSHOP |
| 62,532 miles | 12th April 2017 | The SLSHOP |
238 CITY DRIVE LIGHT FOR GREAT BRITAIN
341 ADDITIONAL BLINKER LAMPS
362 RHD VEHICLES AS PER EC REGULATIONS (CONTROL CODE)
440 TEMPOMAT (CRUISE CONTROL)
461 INSTRUMENT WITH MILES IND. AND ENGLISH LEGEND
507 OUTSIDE REAR VIEW MIRROR, LEFT AND RIGHT, HEATED (ELECTRICALLY ADJUSTABLE ON THE RIGHT)
524 PAINTWORK – PRESERVATION
583 ELECTRIC WINDOW LIFTERS (FRONT DOORS)
592 HEAT-INSULATING GLASS, ALL-AROUND, HEATED REAR WINDOW PANE, BAND FILTER
613 HEADLAMP LEFT-HAND TRAFFIC
682 FIRE EXTINGUISHER
740 BLACK SOFT TOP FABRIC 9001
Why Choose SLSHOP?
Is it our unrivalled experience with three generations of SL? Is it our attention to detail, our award winning quality? Is it our selection of hand picked, superb cars for sale? Is it the family feel, the friendly faces and consistency of our work? Most people say it's all of these things.
A classic car offers a world of opportunities – it is an invitation to explore the open road and share life-affirming experiences with like-minded individuals.
Where will your Mercedes-Benz take you?
Bulkhead Corrosion
Although the R107 is renowned for build quality, there is one chink in the armour – the bulkhead. Many cars that present well from the outside are hiding internal rust. Water from outside the car should drain out through specially designed channels, but over time, these become blocked forcing water inside the car. Once water has breached the blower motor cover in front of the windscreen, it slowly wreaks havoc from inside out. This delicate area did not have rust protection from the factory, and as the metal deteriorates it the water ingress can lead to faulty electrics, damp carpets and musty smells inside the cabin.
All our cars come with a 36 month bulkhead warranty.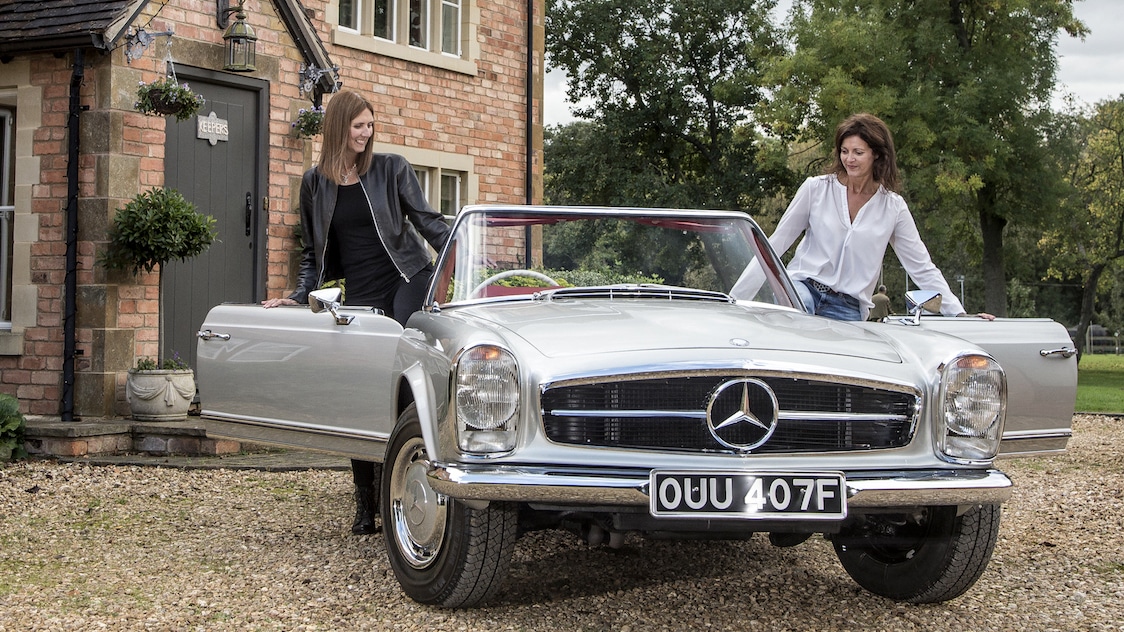 Next Steps: Experience
We believe in the capabilities of these classic cars, and want our customers to get out and use them. Welcome to Experience from The SLSHOP, aimed at helping you get more out of your classic Mercedes-Benz. We offer a number of trips, tours and events in the UK and abroad. See you there!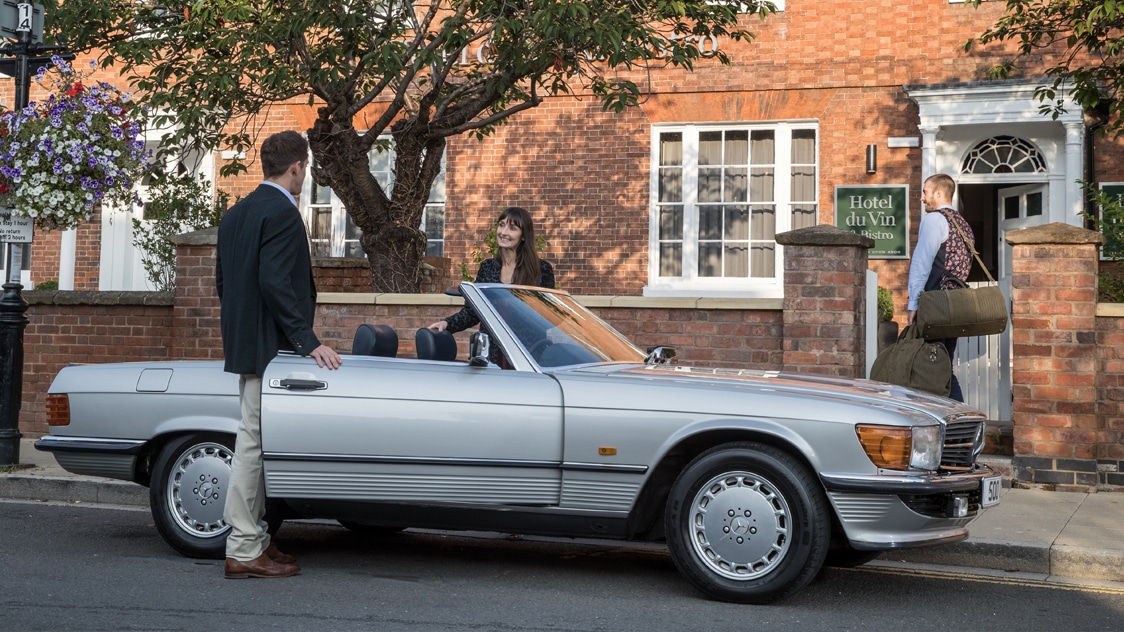 Next Steps: 24hr Test Drive
Tempted by an R107 SL but not sure if it's for you? Fancy trying a weekend at the wheel before you dive in? We offer a 24hr test drive through our hire business. Hire a classic Mercedes-Benz for a day or longer, and if you subsequently buy a car from our showroom, we will refund the entire hire fee. What are you waiting for?
Be the First to Know
Stay up to date with the latest from SLSHOP by subscribing to our newsletters. As often as we can, we update our readers with key announcements, new stories and of course… Classic Mercedes SL for sale that are fresh into stock. So, be the first to know and you might just sneak a car on your driveway before anyone else gets a chance.