1987 Mercedes -Benz R107 500 SL #2330
Astral Silver (735) with Brazil Leather (273) / 500 SL
£57,995
SLSHOP showroom listing
Overview of this Mercedes -Benz
1987 Mercedes-Benz 500 SL (R107) Astral Silver (735) with Brazil Leather (273) and a Dark Brown Soft Top (8023)
Flagship R107 SL in Low Mileage Format with Period Style Interior Finish
It is rare that we come across a low mileage 500 SL in 2022. As the flagship R107 variant in its heyday and still today, a 500 SL with sub-100,000 miles on the clock are becoming less common throughout the market. Those with the low mileage examples are more inclined to keep hold of them to either enjoy or them or sit tight in the hope it will be of value for their children or grandchildren. This is why we are delighted to offer you a…
Unique opportunity to acquire a low mileage 500 SL…
Manufactured at the end of 1986, this 500 SL would be delivered to Hertfordshire, to an owner that had specified an unusual combination of Light Ivory (6230) with Brazil Leather (273). Unusual because the lighter exterior was more reflective of the decade before, not the darker more conservative colours of the 1980s.
In its first few years of ownership, the owner travelled quite the distances, racking up 6,409 miles within the first eight months of ownership. And hence why we have stressed how unusual it is to find a low mileage 500 SL in the modern day. Over the years, the vehicle has seen several different homes, but has been cherished to the same degree.
Updated for the modern day:
More recently, this 500 SL has been subject to a colour change, requiring the whole vehicle to be stripped down. During the process, no structural issues were found, avoiding the need for any minor restoration work. What followed was a careful and meticulous repaint process in Astral Silver (735). This repaint cost in excess of £10,000 and has been carried out to the highest standards In the factory correct colour.
Inside the interior has remained the same, with the deep Brazil Leather (273) in lovely condition; with no rips or stains to the front or rear, merely the creases expected from leather. The 500 SL came was the highest specification option available in the UK and featured things like Cruise Control as standard.You can find out more about the options here. The 500SL's M117 five-litre V8 produced 242bhp and 289lb ft of torque, compared to the 215bhp/238lb ft of the 420SL and the 185bhp/188lb ft of the three-litre straight-six 300SL.
As you can see from the service and MOT records, the former owners have gone to extreme lengths to keep this vehicle in order. More recently a number of improvements have been made and some of these include:
4 refurbished wheels and tires
New Centre Wood Pack around the ash tray and window switches
Rocker Cover gaskets
Distributor cap
New set of leads
Anti-roll bar bushes
This is just a selection of the works carried out. We invite interested parties to view the vehicle and peruse the extensive paperwork accompanying the vehicle.
To find out more information about this rare opportunity, speak to [email protected]
History: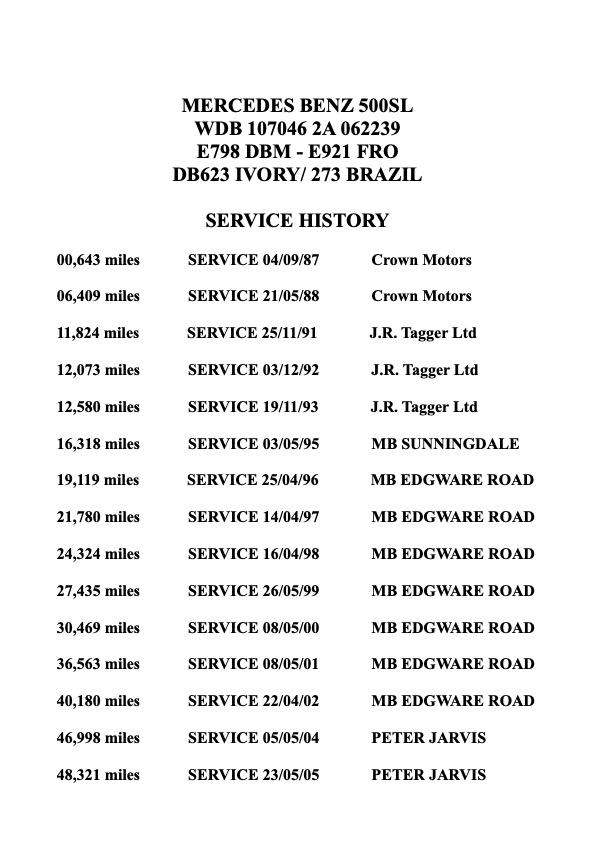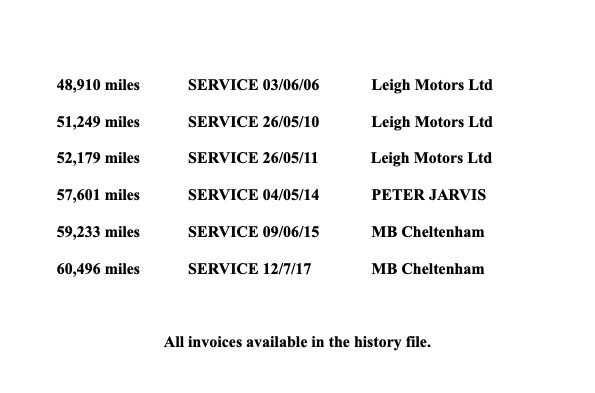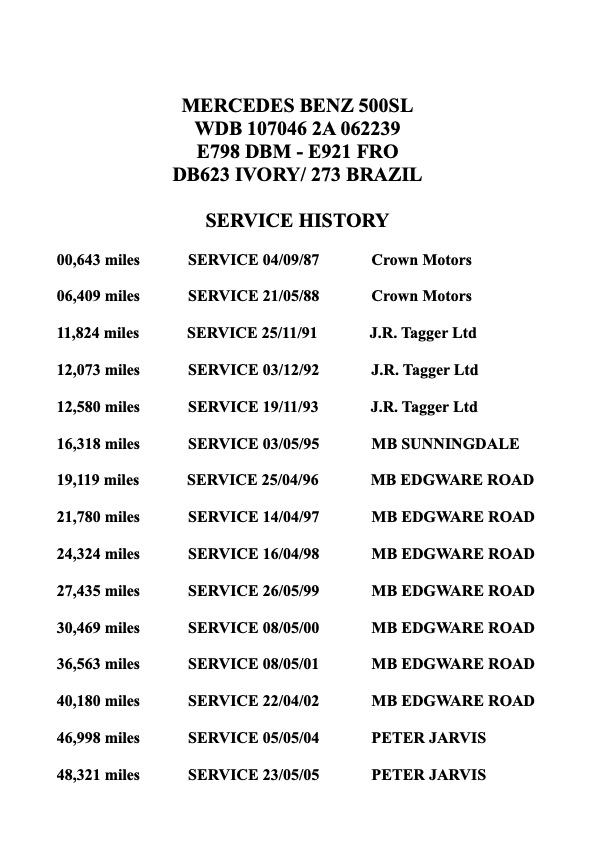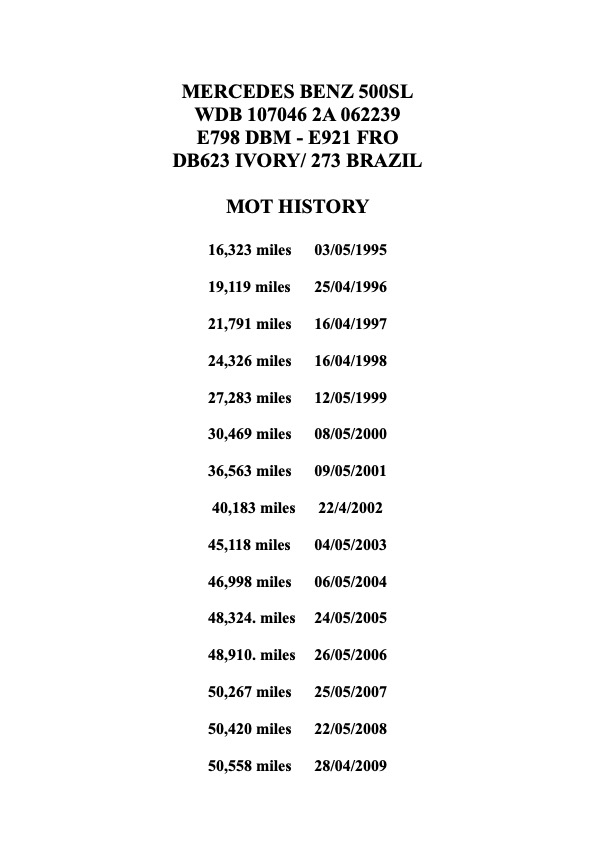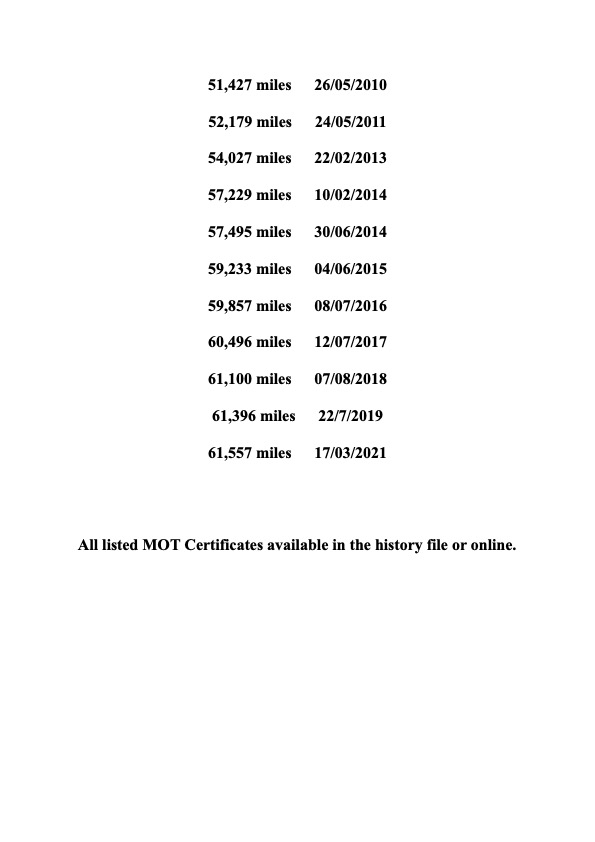 Optional Extras:
Code & Description
238 CITY DRIVE LIGHT FOR GREAT BRITAIN
256 REAR AXLE WITH LIMITED-SLIP DIFFERENTIAL
341 ADDITIONAL BLINKER LAMPS
362 RHD VEHICLES AS PER EC REGULATIONS (CONTROL CODE)
440 TEMPOMAT (CRUISE CONTROL)
461 INSTRUMENT WITH MILES IND. AND ENGLISH LEGEND
507 OUTSIDE REAR VIEW MIRROR, LEFT AND RIGHT, HEATED (ELECTRICALLY ADJUSTABLE ON THE RIGHT)
524 PAINTWORK - PRESERVATION
592 HEAT-INSULATING GLASS, ALL-AROUND, HEATED REAR WINDOW PANE, BAND FILTER
603 HEADLAMP WIPER UNIT AND OIL FOR REAR AXLE WITH LIMITED-SLIP DIFFERENTIAL, IN CANISTERS AND CONTAINERS
613 HEADLAMP LEFT-HAND TRAFFIC
682 FIRE EXTINGUISHER
746 FOLDING TOP FABRIC 8023, DARK BROWN
£57,995
About The Mercedes -Benz
61860
1987
Automatic
Astral Silver (735)
Brazil Leather (273)
Petrol
Book A Viewing or Video Walk Around
Bruce Greetham
Sales Director
Protect Your Assets with SLSHOP.
Take your ownership experience to the next level by joining CARE, our certified servicing investment plan. We'll manage your servicing and maintenance while you enjoy your vehicle and take advantage of a range of exclusive benefits. Start investing today at NO COST to you.
Our world-leading collection of vehicles, our unrivalled warranty and servicing plans, our award-winning craftsmen and our dedication to the Mercedes-Benz community. These are the reasons we have sold over 1000 cars to enthusiasts and collectors based in over 100 different countries.
Discover everything you need to know about Mercedes-Benz SLs with the world's largest specialist. An exhaustive source of information for buying, selling and owning a classic Mercedes-Benz SL.
Frequently Asked Questions