1986 Mercedes-Benz 420SL (R107) #2098 Thistle Green with Cream Sports Check
Stock Number:

2098

Make / Model:

Mercedes-Benz / 420SL (R107) with Cream Fabric

Mileage:

30955

Paint Colour:

Thistle Green

Interior Colour:

Cream Sports Check

Year:

1986
1986 Mercedes-Benz R107 420 SL (R107)
30,995 miles
Thistle Green (881) with Mushroom Sports Check (075) and Dark Brown Fabric Soft Top (8023)
A fantastic opportunity to acquire an exceptionally low mileage 420 SL.
From 1986 to 1989 the SL was available in four variants, 300SL, 420SL, 500SL and 560SL. The 560SL was never available in Europe.
Of the three European choices, the 300SL and 500SL are far more numerous than the 420SL, with just over two thousand made.
Further bolstering the rarity of this car is the Thistle Green paintwork. Thistle Green appeared in 1980, available to SL owners until 1986. The colour of this early 1986 car is greatly complimented by the Dark Brown Fabric Soft Top as seen in the photos… The first owner clearly had an eye for the smaller details and opted for brown instead of black for the soft top. Further increasing the appeal of the car is the addition of rear seating, an expensive option in 1986 and highly desirable today.
Accompanying this car is the original 1986 Mercedes-Benz Recommended Price List, which shows the 420SL at £29,150. The rear seats would add a further £320.17 to the price, giving an equivalent total in 2020 of £ 90,146.10 – an expensive car indeed.
The colour green has an interesting history with the Mercedes-Benz SL, with no less than 17 different shades available throughout the 18 year production run. In the last decade, darker hues have proven more popular, leading to a decrease in the number of high calibre cars in these shades. In recent years we have seen a resurgence in the brighter and more unusual colours, a renewed interest int he vibrance of the time.
A 420SL in Thistle Green makes for a fantastic combination, and isn't a car we come across often.
Showing just 30,000 miles on the odometer, this car shows more than 9 stamps in the service book and has been known to us for some time.
The Pre Delivery inspection stamp is from David J Sparshatt Ltd (Mercedes-Benz) and dated 18th April 1986. This same stamp appears at 1,671 miles, 5,397 miles, 12,083 miles, 16,993 miles and 19,958 miles. The car falls under the care of Ashley Motor Repairs, Hants showing stamps at 24,497 miles and 26,686 miles. In 2017 the car began it's servicing life with The SLSHOP, with our stamp in the service book appearing at 30,183 miles.
There are numerous receipts and invoices on file detailing various works in recent years, all of which are in line with the age of the vehicle. These show good maintenance throughout the life cycle of this SL.
The first keeper of this car owned it until 2007, at which point it moved to a new owner before arriving at The SLSHOP in 2017. This car was sold by us three years ago, and now we are once again being given the chance to find a new home for this exceptional 420SL.
A rare car, in a beautiful colour combination, showing exceptionally low mileage.
Not to be missed.
256 REAR AXLE WITH LIMITED-SLIP DIFFERENTIAL
341 ADDITIONAL BLINKER LAMPS
461 INSTRUMENT WITH MILES IND. AND ENGLISH LEGEND
507 OUTSIDE REAR VIEW MIRROR, LEFT AND RIGHT, HEATED (ELECTRICALLY ADJUSTABLE ON THE RIGHT)
565 REAR SEATS USED ON SL MODELS
583 ELECTRIC WINDOW LIFTERS (FRONT DOORS)
592 HEAT-INSULATING GLASS, ALL-AROUND, HEATED REAR WINDOW PANE, BAND FILTER
603 HEADLAMP WIPER UNIT AND OIL FOR REAR AXLE WITH LIMITED-SLIP DIFFERENTIAL, IN CANISTERS AND CONTAINERS
613 HEADLAMP LEFT-HAND TRAFFIC
682 FIRE EXTINGUISHER
746 FOLDING TOP FABRIC 8023 DARK BROWN
Why Choose SLSHOP?
Is it our unrivalled experience with three generations of SL? Is it our attention to detail, our award winning quality? Is it our selection of hand picked, superb cars for sale? Is it the family feel, the friendly faces and consistency of our work? Most people say it's all of these things.
A classic car offers a world of opportunities – it is an invitation to explore the open road and share life-affirming experiences with like-minded individuals.
Where will your Mercedes-Benz take you?
Bulkhead Corrosion
Although the R107 is renowned for build quality, there is one chink in the armour – the bulkhead. Many cars that present well from the outside are hiding internal rust. Water from outside the car should drain out through specially designed channels, but over time, these become blocked forcing water inside the car. Once water has breached the blower motor cover in front of the windscreen, it slowly wreaks havoc from inside out. This delicate area did not have rust protection from the factory, and as the metal deteriorates it the water ingress can lead to faulty electrics, damp carpets and musty smells inside the cabin.
All our cars come with a 36 month bulkhead warranty.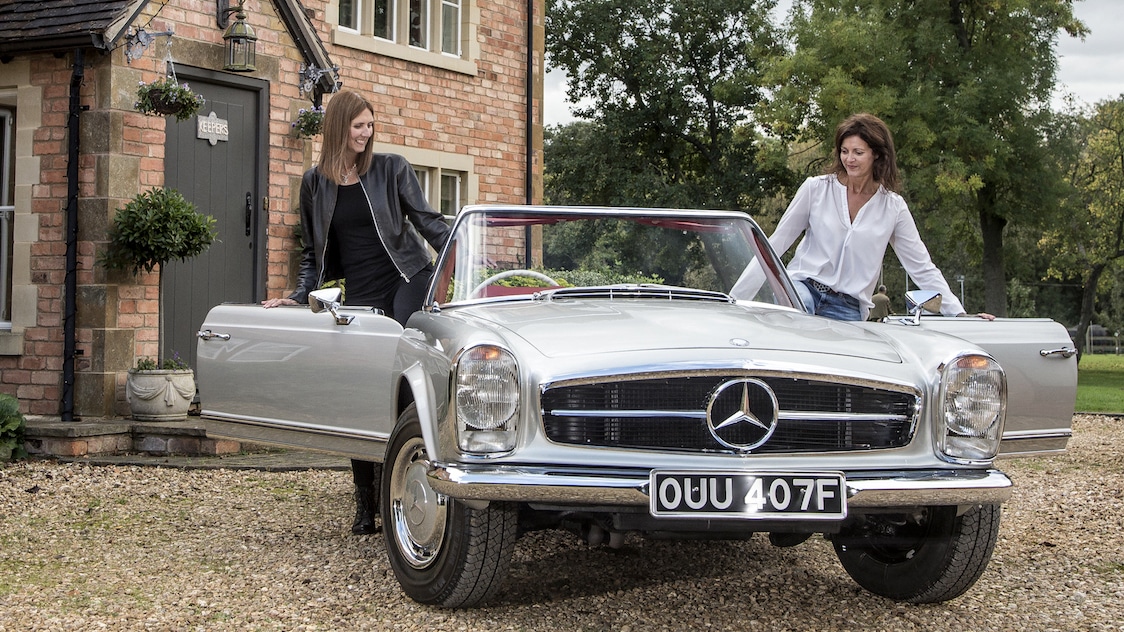 Next Steps: Experience
We believe in the capabilities of these classic cars, and want our customers to get out and use them. Welcome to Experience from The SLSHOP, aimed at helping you get more out of your classic Mercedes-Benz. We offer a number of trips, tours and events in the UK and abroad. See you there!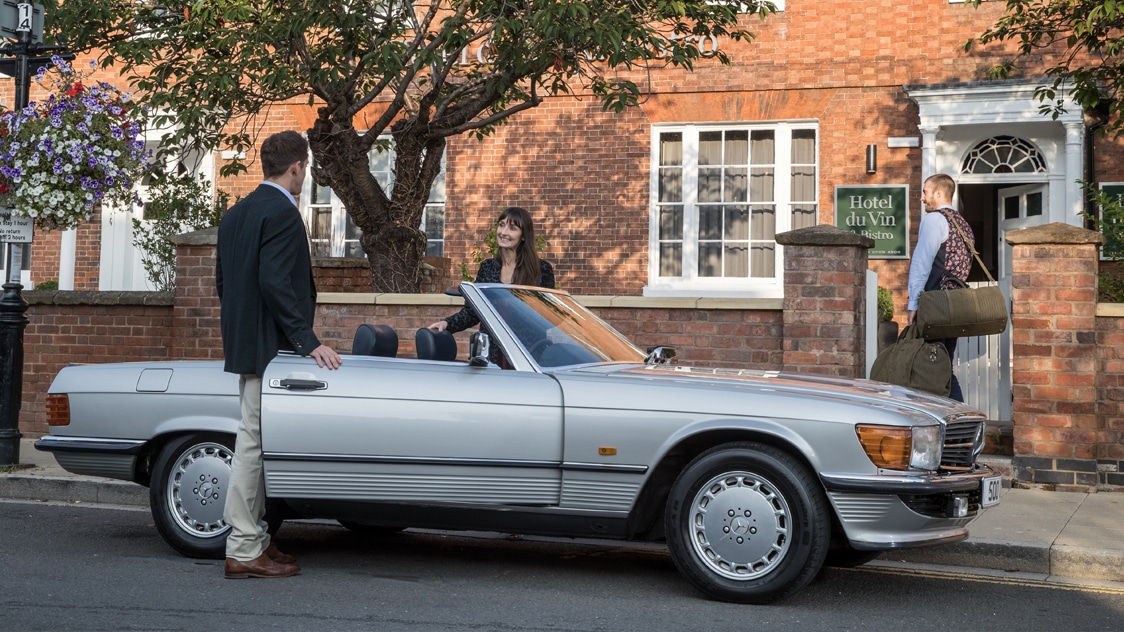 Next Steps: 24hr Test Drive
Tempted by an R107 SL but not sure if it's for you? Fancy trying a weekend at the wheel before you dive in? We offer a 24hr test drive through our hire business. Hire a classic Mercedes-Benz for a day or longer, and if you subsequently buy a car from our showroom, we will refund the entire hire fee. What are you waiting for?
Be the First to Know
Stay up to date with the latest from SLSHOP by subscribing to our newsletters. We update our readers with key announcements, new stories and of course… cars that are fresh into stock. Be the first to know and you might just sneak a car on your driveway before anyone else gets a chance.