1986 Mercedes-Benz 500SL (R107) Anthracite Grey with Beige Leather
Stock Number:

0000

Make / Model:

Mercedes-Benz / 500SL (R107) with Beige Leather

Mileage:

27582

Paint Colour:

Anthracite Grey

Interior Colour:

Beige

Year:

1986
1986 Mercedes-Benz 500SL (R107)
Anthracite Grey Metallic (172) with Beige Leather (275) with
Anthracite Grey Metallic Hardtop (172) and Black Fabric Soft Top (9001)
27,000 miles
On the 1st of February 1989 and Mrs E Finn drove her 1987 Austin Montego Vanden Plas to Mercedes-Benz Bramley. The Vanden Plas might have been the Crème de la crème of British saloon cars of the late 1980s, but with a part exchange allowance of £6,250, there was still quite a gap between the value of her four-door Montego and the £39,619 sticker price of her chosen Mercedes-Benz.
After the bankers draft had cleared, Mr and Mrs Finn left the dealership in their two-year old 500SL, the second owners of the car. The odometer reading on the day was just 8,500 miles.
Seven years and 10,000 miles later Mrs and Mrs Finn were still the custodians of this fine 500SL, although the paperwork demonstrates that a move from Surrey to Scotland has taken place. With the mileage showing 19,013 on the odometer, this 500SL attends Murray Motor Company in Glasgow in December 1996 where it undergoes a full service.
100 miles and 2 years later, the SL once again returns to for it's annual service in February of 1998
In December 2006 with the odometer showing 20,164 miles the car attends Parks of Hamilton for an annual service, then again in December 2007 barely 300 miles later, at 20,478 miles.
Another three years and 300 miles pass before the next service, once again at Parks of Hamilton, now known as Bentley Glasgow. The odometer shows just 20,714 miles.
The final document from Bentley Glasgow details the fitment of two new fuel pumps in 2011, with the mileage stated as 20,746.
Between 1989 and 2016 Mr and Mrs Finn cherish and adore this car, using it sparingly and always ensuring it was maintained to a high standard.
In 2016 the car was sold to the current keeper, at which point it first appears on the SLSHOP radar. Since 2016 this car has undergone a complete transformation, with the owner choosing SLSHOP to embark upon a comprehensive restoration to turn this into one of the finest R107 SLs in the country. All of the work is documented on the file that is present with the car, with a summary sheet showing a total spend of £60,000.
Since the work was completed the car has been used and enjoyed, proudly displayed alongside a collection of Mercedes-Benz cars including one of the finest 560SECs in existence.
A simply wonderful 500SL with an excellent story, an ex SLSHOP restoration car, cherished and adored since new.
275 LEATHER CHAMPIGNON
238 URBAN DRIVING LIGHTS UK
240 OUTDOOR TEMPERATURE DISPLAY
256 REAR AXLE WITH LOCKING DIFFERENTIAL
259 RADIO BECKER GRAND PRIX CASSETTE ELEKTRONIC STEREO LMU
275A LEATHER PERFORATED CREAM BEIGE
341 ADDITIONAL FLASHING LIGHTS
362 RIGHT-HAND DRIVE VEHICLE ACCORDING TO EC REGULATION (CONTROL CODE)
461 INSTRUMENTS IN ENGLISH
507 EXTERIOR MIRROR LEFT + RIGHT HEATABLE (LEFT ELECTRICALLY ADJUSTABLE)
531 AERIAL AUTOMATICALLY
543 SUN VISORS WITH MAKEUP MIRROR ILLUMINATED LEFT AND RIGHT
551 BURGLAR AND THEFT ALERT SYSTEM
580 AIR CONDITIONER
592 THERMAL-INSULATING GREEN GLASS ALL AROUND, HEATABLE REAR WINDOW, BAND FILTER
Why Choose SLSHOP?
Is it our unrivalled experience with three generations of SL? Is it our attention to detail, our award winning quality? Is it our selection of hand picked, superb cars for sale? Is it the family feel, the friendly faces and consistency of our work? Most people say it's all of these things.
A classic car offers a world of opportunities – it is an invitation to explore the open road and share life-affirming experiences with like-minded individuals.
Where will your Mercedes-Benz take you?
Bulkhead Corrosion
Although the R107 is renowned for build quality, there is one chink in the armour – the bulkhead. Many cars that present well from the outside are hiding internal rust. Water from outside the car should drain out through specially designed channels, but over time, these become blocked forcing water inside the car. Once water has breached the blower motor cover in front of the windscreen, it slowly wreaks havoc from inside out. This delicate area did not have rust protection from the factory, and as the metal deteriorates it the water ingress can lead to faulty electrics, damp carpets and musty smells inside the cabin.
All our cars come with a 36 month bulkhead warranty.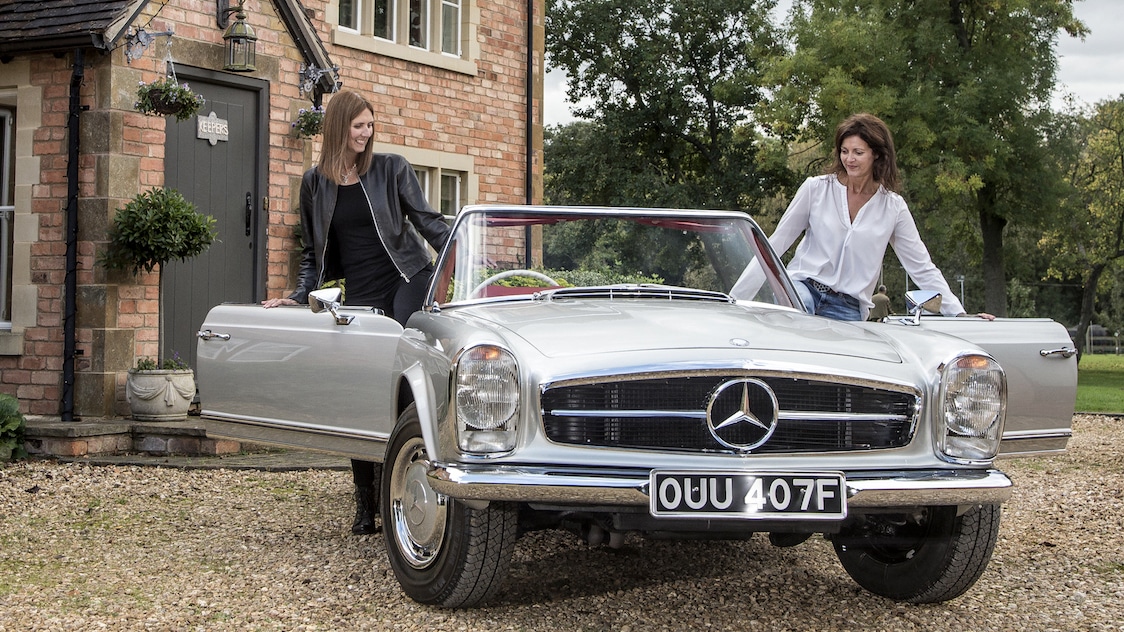 Next Steps: Experience
We believe in the capabilities of these classic cars, and want our customers to get out and use them. Welcome to Experience from The SLSHOP, aimed at helping you get more out of your classic Mercedes-Benz. We offer a number of trips, tours and events in the UK and abroad. See you there!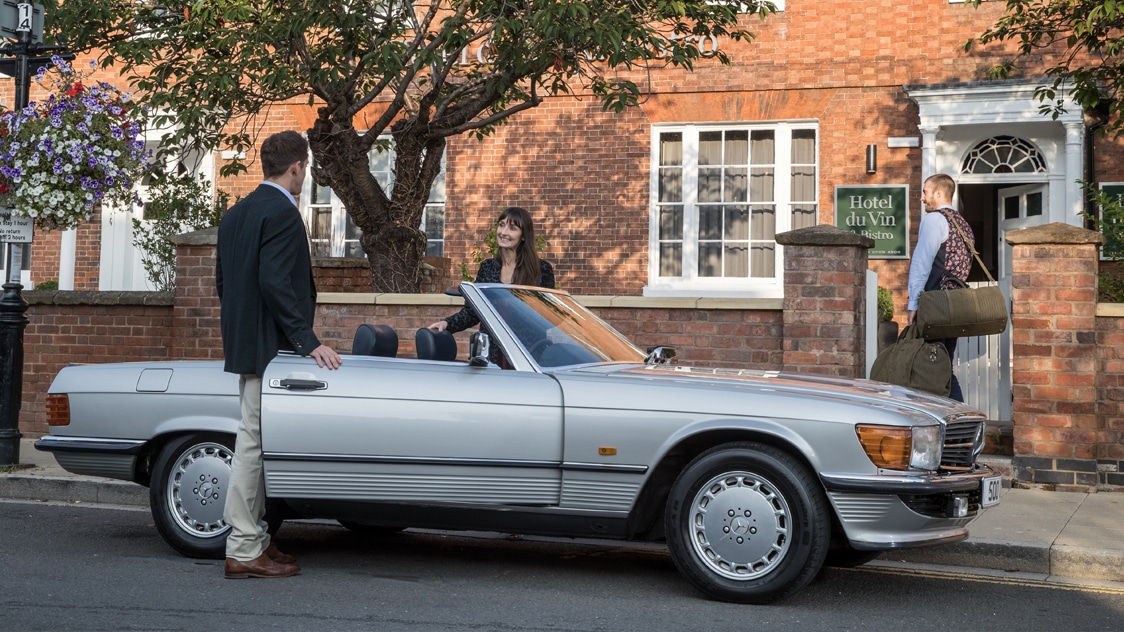 Next Steps: 24hr Test Drive
Tempted by an R107 SL but not sure if it's for you? Fancy trying a weekend at the wheel before you dive in? We offer a 24hr test drive through our hire business. Hire a classic Mercedes-Benz for a day or longer, and if you subsequently buy a car from our showroom, we will refund the entire hire fee. What are you waiting for?
STAY IN TUNE WITH SLSHOP MOMENTS
As part of SLSHOP's community of enthusiasts, you'll be the first to hear about events and tours, key product offers, exciting stories from owners around the world and of course… our latest additions to the showroom. So, be the first to know and you might just sneak a car on your driveway or take your car's condition to new heights with our exclusive replacement parts.