1976 Mercedes-Benz 450SEL 4.5 (W116) #2029 Light Ivory with Black Leather
Stock Number:

2029

Make / Model:

MERCEDES-BENZ / 450SEL 4.5 (W116) Black Leather

Mileage:

53000

Paint Colour:

Light Ivory

Interior Colour:

Black Leather

Year:

1976

Price:

£17,995
Interested in this car then call us now on 01789 337070
1976 Mercedes-Benz 450SEL (W116)
Light Ivory (623H) with Black Leather
53,000 miles
The perfect car for 2022… 50 years of the 116 S Class, 1972 to 2022.
Please contact Joe for further details and photographs.
Road Tax Exempt. ULEZ Exempt.*
The Mercedes-Benz 116 launched in 1972, replacing the 108 series which itself was introduced to supersede the W111 – the famous 'fintail' design of the 1960s. Coming from a long line of luxurious saloon cars from Mercedes-Benz, the 116 was the first to officially use the term S Class.
This would be a seminal car in Mercedes-Benz history, with an emphasis on safety, modern technology and luxury setting it apart from the competition. Almost half a million 116 saloons would be built before the 126 arrived in 1980.
With the arrival of the 116 came a raft of passenger car 'firsts' from Mercedes-Benz, including padded door trim around the windows, padded steering wheel , safety padding on the dashboard, dual asymmetric windscreen wipers, headrest with a centre depression, rain water flow management system, pedestrian focused exterior design, ribbed tail lights to keep them cleaner for longer and more. It was also one of the first passenger cars available with an air bag and ABS. As a class leading car in both luxury and safety, the S Class became the quintessential chauffeur driven saloon – a trend that has continued to this day.
At launch in 1972 the W116 had a choice of three engines – two six-cylinder 2.8 litre variants (one with a carburettor and the other with Bosch D-Jetronic fuel injection) and a 3.5 litre V8. A year later in 1973 the 4.5 litre V8 joined the range, introducing the world to the 450SE and SEL, with the L being the 100mm longer. In 1974 the 450SE would win European Car of The Year.
Despite the 1973 Oil Crisis Mercedes-Benz launched the 450SEL 6.9, a performance version of the 116 saloon with the largest engine installed in a post-war Mercedes at the time. With displacement of 6834cc and almost 290hp, the '6.9' became an automotive icon and continues to be the most desirable 116 amongst collectors. Of the 473,035 units made, less than 8,000 were the high performance 6.9.
Although the market is besotted with the more exclusive 6.9, this larger engine also comes with a great deal of responsibility and mechanical fragility. For real world, day to day use, a 4.5 litre 450 is a more sensible choice for most enthusiasts.
The 450SEL shown here has been owned by SLSHOP since 2016, when it was purchased for occasional use. For the last few years it has been used for promotional photographs, magazine articles, and day trips. It has appeared at local classic car shows and been driven by journalists and photographers, taking on lofty roles such as front-page magazine photo shoots and more humble day-to-day trips to the local coffee shop. It has even appeared on a school run on a number of occasions.
Finished in Light Ivory with Black Leather, it benefits from some choice options including Headlamp Wash Wipe (600), Heat Insulating Glass (592) and Behr Air Conditioner (580). Standard features that make this the perfect classic for regular use include the automatic gearbox, electric windows all round, central locking and of course, a large opening sunroof.
Inside there is plenty of space for passengers front and rear, with the big steering wheel giving a real sense of occasion.
The history file shows a picture of a carefully looked after car, with all Main Dealer service stamps from 1976 to 1990, with an SLSHOP stamp dated 2016 when the car first appeared on our radar. All the correct service books and manuals are present in the plastic sleeve, along with a detailed file on maintenance and many old MOTs.
This is a cherished and well-loved member of the SLSHOP family, a car that we have enjoyed and one that we will be sorry to wave down the drive.
An excellent opportunity to get behind the wheel of a desirable and low mileage 450SEL, one of the finest saloon cars built by Mercedes-Benz and the grandfather of today's S Class.
The perfect form of transport to use for Goodwood, for events, for touring and as we have proven… the school run.
PDI
9th September 1976
Majestic Garage (MB) Somerford, Christchurch
577 miles
20th September 1976
Majestic Garage (MB) Somerford, Christchurch
5,388 miles
9th August 1977
Majestic Garage (MB) Somerford, Christchurch
11,069 miles
20th October 1977
Majestic Garage (MB) Somerford, Christchurch
19,212 miles
4th July 1978
Majestic Garage (MB) Somerford, Christchurch
20,879 miles
2nd July 1979
Majestic Garage (MB) Somerford, Christchurch
25,051 miles
20th May 1980
Majestic Garage (MB) Somerford, Christchurch
28,862 miles
3rd September 1981
Majestic Garage (MB) Somerford, Christchurch
32,510 miles
1st November 1982
Majestic Garage (MB) Somerford, Christchurch
39,016 miles
10th June 1985
Majestic Garage (MB) Bournemotuth
42,310 miles
18th June 1990
Majestic Garage (MB) Bournemotuth
52,600 miles
29th November 2016
SLSHOP Limited
Incredibly rare in this condition and very smart transport for four.
*(All vehicles built on or before 1979 are exempt from road tax, on a one year rolling basis, assuming no further changes to this in forthcoming budgets)
3 Speed Automatic
Central locking
Electric Sunroof
Electric Windows
Power Steering
Heated Rear Screen
Period Hub caps
592 HEAT-INSULATING GLASS, ALL-AROUND, HEATED REAR WINDOW PANE (LAMINATED GLASS), BAND FILTER
580 BEHR AIR CONDITIONER
600 HEADLAMP WIPER/WASHER
622 VERSION FOR GREAT-BRITAIN
Why Choose SLSHOP?
Is it our unrivalled experience with three generations of SL? Is it our attention to detail, our award winning quality? Is it our selection of hand picked, superb cars for sale? Is it the family feel, the friendly faces and consistency of our work? Most people say it's all of these things.
A classic car offers a world of opportunities – it is an invitation to explore the open road and share life-affirming experiences with like-minded individuals.
Where will your Mercedes-Benz take you?
Bulkhead Corrosion
Although the R107 is renowned for build quality, there is one chink in the armour – the bulkhead. Many cars that present well from the outside are hiding internal rust. Water from outside the car should drain out through specially designed channels, but over time, these become blocked forcing water inside the car. Once water has breached the blower motor cover in front of the windscreen, it slowly wreaks havoc from inside out. This delicate area did not have rust protection from the factory, and as the metal deteriorates it the water ingress can lead to faulty electrics, damp carpets and musty smells inside the cabin.
All our cars come with a 36 month bulkhead warranty.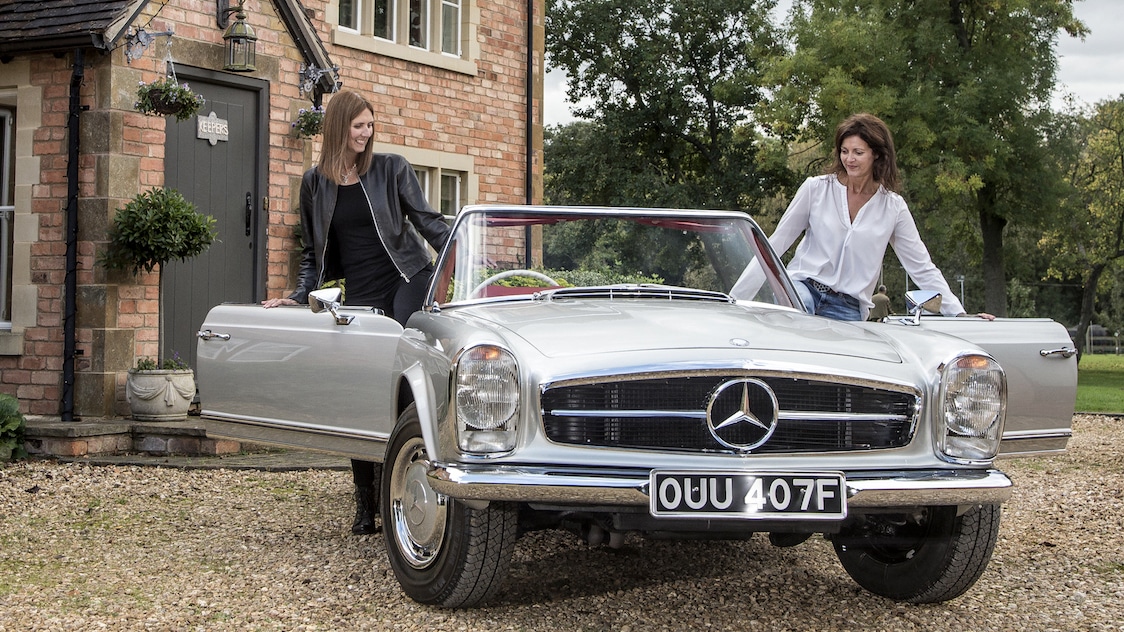 Next Steps: Experience
We believe in the capabilities of these classic cars, and want our customers to get out and use them. Welcome to Experience from The SLSHOP, aimed at helping you get more out of your classic Mercedes-Benz. We offer a number of trips, tours and events in the UK and abroad. See you there!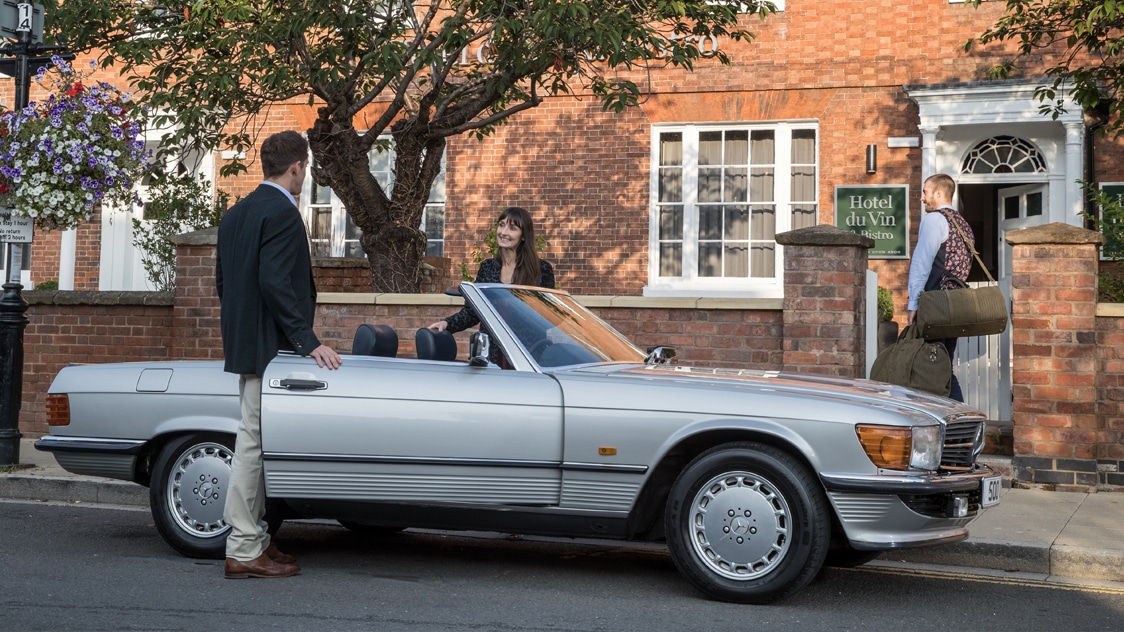 Next Steps: 24hr Test Drive
Tempted by an R107 SL but not sure if it's for you? Fancy trying a weekend at the wheel before you dive in? We offer a 24hr test drive through our hire business. Hire a classic Mercedes-Benz for a day or longer, and if you subsequently buy a car from our showroom, we will refund the entire hire fee. What are you waiting for?
Be the First to Know
Stay up to date with the latest from SLSHOP by subscribing to our newsletters. We update our readers with key announcements, new stories and of course… cars that are fresh into stock. Be the first to know and you might just sneak a car on your driveway before anyone else gets a chance.