1972 Mercedes-Benz 350SL (R107) Beige Metallic with Bamboo MB Tex #2193 *SOLD*
Stock Number:

2193

Make / Model:

Mercedes-Benz / 350SL (R107) with Bamboo MB Tex

Mileage:

55830

Paint Colour:

Brown

Interior Colour:

Bamboo MB Tex

Year:

1972
1972 Mercedes-Benz 350SL (R107)
Beige Metallic (462) with Contrasting Bamboo MB Tex Interior (167) with
Beige Metallic Hardtop (462) and Dark Brown Fabric Soft Top (8023)
55,874 miles
Built from 1971 until 1989, the Mercedes-Benz R107 achieved an impressive 18 year production run. With only minor cosmetic changes during this almost two-decade span, it has always been the later (post 1986) cars that have enjoyed the lions share of the market.
In recent years we have seen a shift in demand. As the Pagoda has grown in financial stature, buyers searching for that more classic look are seeking out good examples of early R107s. With their narrower track, more traditional, simpler styling and delightfully basic interiors, these early cars have developed a following amongst buyers and it's a following that they rightfully deserve.
After decades languishing in the shadows behind the younger, 86 to 89 siblings, early cars have gotten incredibly hard to find in good condition. As tastes have changed through the decades, the bright yellow, orange and green hues that were so popular in the 1970s have all but disappeared. When a good quality, early R107 arrives in the showroom in a splendid original colour, it really does stand apart from the usual suspects for which SLSHOP are well known.
This beautiful 1972 Mercedes-Benz 350SL is notable in that it is not finished in Signal Red, Classic White or any shade of blue… it is instead resplendent in it's factory correct Beige Metallic with matching painted hub caps. Being a 1972 this is a very early R107 and not something that we come across every day.
The retro colour scheme continues fourfold inside, with the wonderful and very rare Contrasting Bamboo MB Tex interior. Noted for the lack of headrests, this is a car that looks and feels quite different to the late model R107s to which we have all become accustomed.
Offering a slice of 1960s or early 1970s style for a fraction of the price of an entry level Pagoda, this beautiful and rare early car is sure to be a head turner at any classic car show or restaurant car park to which you might happen to take it. It doesn't even have headrests – these would have been a cost option.
Present with this car is the original, tan coloured plastic wallet complete with manuals and service book, detailing service work undertaken by just two main dealers on the Channel Islands for the majority of it's life. More recently the car has had more than £8,000 lavished upon it to prepare it for our showroom, including the all important timing chain check, work to replace the steering pump, brake hoses, exhaust pipe and a plethora of other improvements. It was given a service just before being photographed for the showroom.
A fine looking car, the like of which we aren't likely to see again. Park yourself on the fine two-tone Bamboo interior with your favourite pair of sunglasses and enjoy a very unique, early R107 SL.
| | | |
| --- | --- | --- |
|  7th June 1972 |  674 miles |  Jacksons Garage Jersey |
|  10th March 1976 |  3,387 miles |  Jacksons Garage Jersey |
|  26th April 1978 |  5,163 miles |  Jacksons Garage Jersey |
|  17th October 1979 |  7,243 miles |  Jacksons Garage Jersey |
|  3rd June 1980 |  7,651 miles |  Jacksons Garage Jersey |
|  21st November 1986 |  11,974 miles |  Jacksons Garage Jersey |
|  4th August 1987 |  16,422 miles |  Jacksons Garage Jersey |
|  2nd February 1988 |  20,203 miles |  Jacksons Garage Jersey |
|  18th May 1988 |  22,262 miles |  Jacksons Garage Jersey |
|  19th January 1989 |  26,408 miles |  Jacksons Garage Jersey |
|  4th September 1989 |  28,584 miles |  Jacksons Garage Jersey |
|  2nd February 1990 |  33,019 miles |  Falles Jersey |
|  4th October 1990 |  36,205 miles |  Falles Jersey |
|  11th November 1991 |  38,411 miles |  Falles Jersey |
|  11th October 1993 |  42,913 miles |  Falles Jersey |
|  11th June 1996 |  44,009 miles |  Falles Jersey |
|  27th July 1998 |  46,500 miles |  Falles Jersey |
|  2nd April 2015 | 51,848 miles |  (Illegible) |
Beige Metallic (462)
Contrasting Bamboo MB Tex Interior (167)
Beige Metallic Hardtop (462)
Dark Brown Fabric Soft Top (8023)
55,874 miles
No headrests
Very early metal gate gear shift
Both outside mirrors
Body coloured painted hub caps
Very original
Why Choose SLSHOP?
Is it our unrivalled experience with three generations of SL? Is it our attention to detail, our award winning quality? Is it our selection of hand picked, superb cars for sale? Is it the family feel, the friendly faces and consistency of our work? Most people say it's all of these things.
A classic car offers a world of opportunities – it is an invitation to explore the open road and share life-affirming experiences with like-minded individuals.
Where will your Mercedes-Benz take you?
Bulkhead Corrosion
Although the R107 is renowned for build quality, there is one chink in the armour – the bulkhead. Many cars that present well from the outside are hiding internal rust. Water from outside the car should drain out through specially designed channels, but over time, these become blocked forcing water inside the car. Once water has breached the blower motor cover in front of the windscreen, it slowly wreaks havoc from inside out. This delicate area did not have rust protection from the factory, and as the metal deteriorates it the water ingress can lead to faulty electrics, damp carpets and musty smells inside the cabin.
All our cars come with a 36 month bulkhead warranty.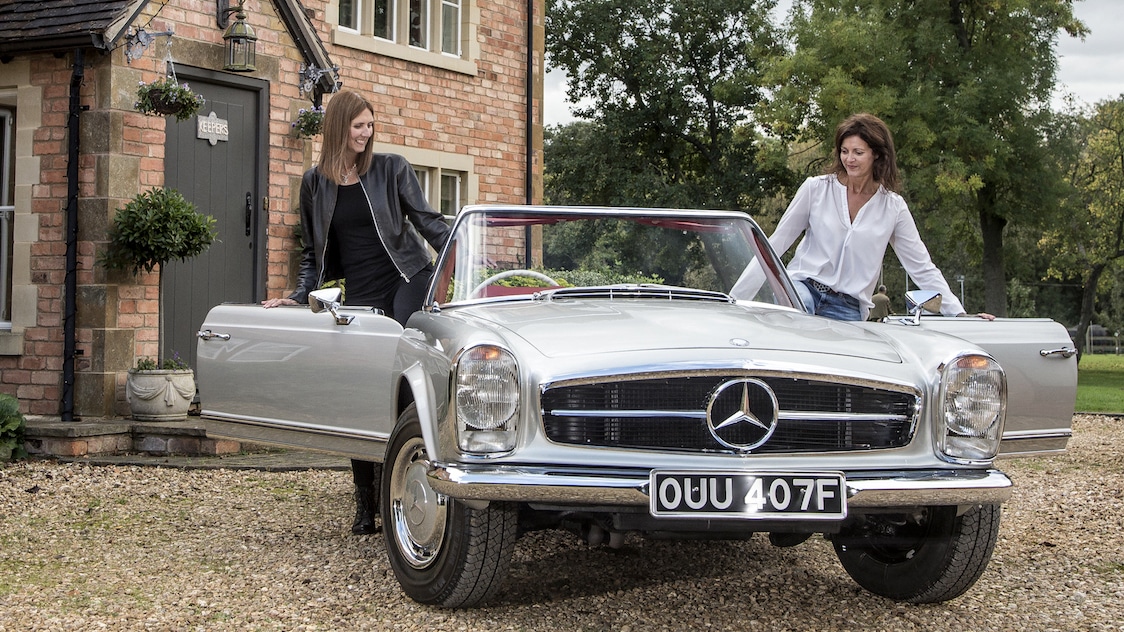 Next Steps: Experience
We believe in the capabilities of these classic cars, and want our customers to get out and use them. Welcome to Experience from The SLSHOP, aimed at helping you get more out of your classic Mercedes-Benz. We offer a number of trips, tours and events in the UK and abroad. See you there!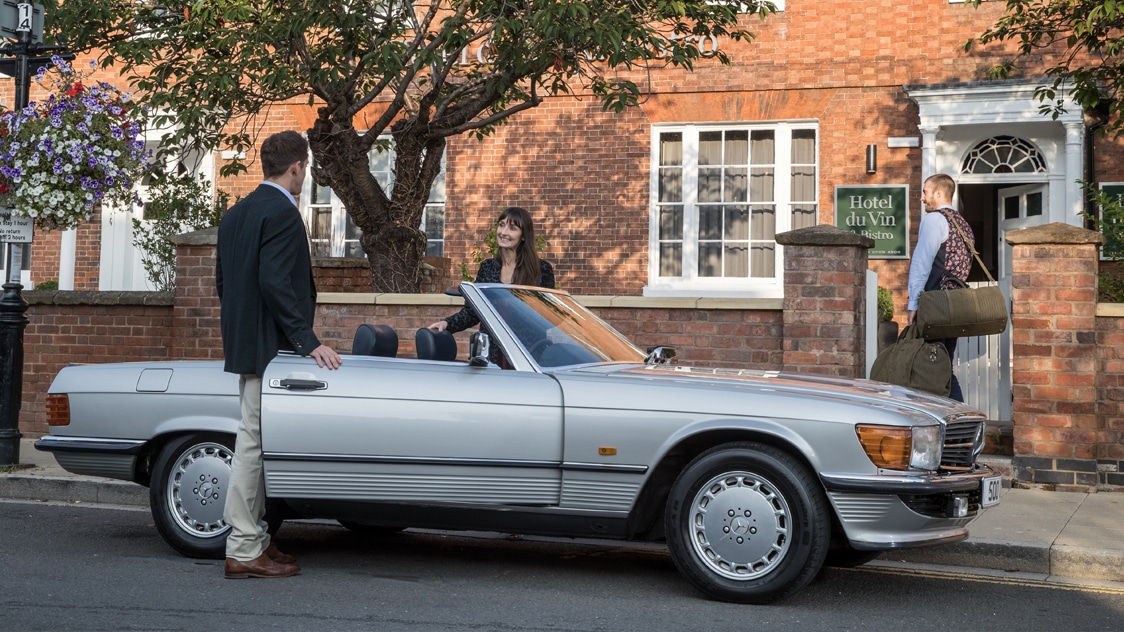 Next Steps: 24hr Test Drive
Tempted by an R107 SL but not sure if it's for you? Fancy trying a weekend at the wheel before you dive in? We offer a 24hr test drive through our hire business. Hire a classic Mercedes-Benz for a day or longer, and if you subsequently buy a car from our showroom, we will refund the entire hire fee. What are you waiting for?
STAY IN TUNE WITH SLSHOP MOMENTS
As part of SLSHOP's community of enthusiasts, you'll be the first to hear about events and tours, key product offers, exciting stories from owners around the world and of course… our latest additions to the showroom. So, be the first to know and you might just sneak a car on your driveway or take your car's condition to new heights with our exclusive replacement parts.